The top dozen stories in Colorado golf for 2020
By Gary Baines – 12/30/2020
It's time to wrap up the top stories in Colorado golf for 2020 with our second installment in the series. In this one, we'll count down the top dozen stories of the year, then tack on some honorable-mention selections.
(For those who missed it, Part I of our series ran earlier this week. READ HERE.)
12. Ace Feats for Nelson, Lange: According to the National Hole-In-One Registry, the odds of a golfer making two holes-in-one in a single round are 67 million-to-1. Well, not one but two Coloradans beat those odds in 2020. Adam Nelson, a 35-year-old Scotsman and former Colorado State University golfer, scored two aces in one round at Lakewood Country Club in late July — from 205 yards and 135. (READ MORE) Three months earlier, 16-year-old Adam Lange of Golden posted two holes-in-one in a three-hole stretch at Green Valley Ranch Golf Club's par-3 course — from 60 yards out and from 105-110. For Lange, it marked the first two aces of his life. (READ MORE)
11. Schalk Denied Shot at Unprecedented Four-Peat: Hailey Schalk of Erie had a chance to do something no one in Colorado history — female or male — had ever done. But the opportunity fell by the wayside not because she didn't make the grade, but because that opportunity was unceremoniously nixed. Schalk, then a Holy Family High School senior, was trying to become the first Colorado golfer to win individual titles in four state high school tournaments. She prevailed as a freshman, sophomore and junior to tie Cherry Creek's Lynn Ann Moretto (1995, '96 and '97) and Mullen's Ashley Tait (2002, '04 and '05) as three-time individual champions. But in April, the Colorado High School Activities Association announced that it was canceling the 2020 spring sports and activities season, including that for girls golf, due to safety concerns regarding Covid-19.
Making it even more difficult to swallow was that the 4A state tournament in which Schalk would have been competing was scheduled for Colorado National Golf Club in Erie, her home course. For her entire high school career, Schalk won or shared titles in every tournament in which she competed except one. (READ MORE)
Also canceled for Schalk was the U.S. Women's Amateur Four-Ball Championship, for which she and Charlotte Hillary had qualified. However, Schalk, now a University of Colorado freshman, rebounded with victories in an AJGA event, the Colorado National Women's Amateur and the CGA Women's Brassie (with Erin Houtsma). She also paired with CU teammate Alisha Lau in qualifying for the 2021 U.S. Women's Four-Ball.
10. Ogden Leaves Cherry Hills for Job at Muirfield Village: The PGA head professional position at Cherry Hills Country Club is unquestionably one of the most prestigious such jobs in Colorado — and very possibly the most prestigious. After all, no other course in the state has hosted a U.S. Open, or as many PGA Championships or USGA championships, or a PGA Tour event in the last decade. But after 13 years as Cherry Hills' head pro, John Ogden departed the club in the fall to accept a high-profile position out of state, Ogden, a significant figure in Colorado golf for nearly a quarter-century, will become the director of golf at Jack Nicklaus' Muirfield Village Golf Club in Dublin, Ohio, home to the PGA Tour's Memorial Tournament. (READ MORE)
9. DU's Zanusso Ties NCAA Women's Record With 61: Even though Anna Zanusso of the University of Denver saw her freshman season cut short by the cancellation of the 2020 NCAA Championships, the Italian standout still had a very memorable first season of college golf. In February, she tied the women's NCAA single-round scoring record by firing an 11-under-par 61 at the Westbrook Invitational in Peoria, Ariz., where the next day she posted her second individual victory of the season. (READ MORE) Around the same time, Zanusso received an invitation to compete in the second Augusta National Women's Amateur, though that event was later canceled, with her invite now good for the 2021 championship. (READ MORE)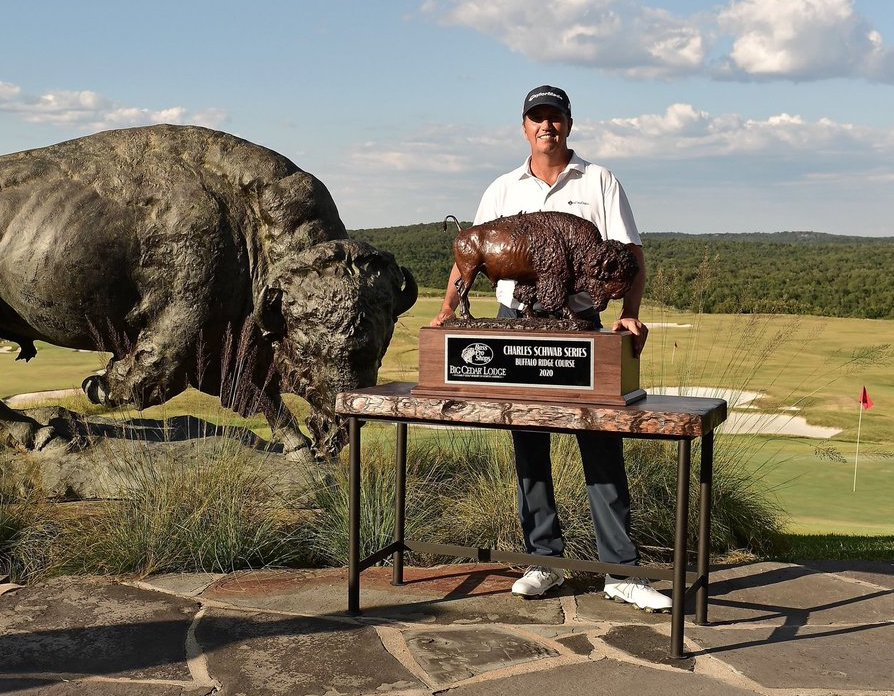 8. Parker's Bertsch Wins in Second Start on PGA Tour Champions: Colorado Golf Hall of Famer Mark Wiebe won in his first start on PGA Tour Champions. Dale Douglass did so in his second start (and third). Hale Irwin notched a victory in his fifth start. Shane Bertsch of Parker — who like Wiebe, Douglass and Irwin has spent years as a Colorado resident — in 2020 joined the fraternity by quickly winning on the Senior Circuit. The former Colorado Open champ, the medalist in Champions Q-school last December, won in his second start, at the Charles Schwab Series at Bass Pro Shops Big Cedar Lodge, which is certainly a mouthful. And Bertsch prevailed in stellar fashion, making eagle on the first playoff hole to beat some stellar players in that three-man playoff, including Bernhard Langer and Kenny Perry. For Bertsch, who has never won in 194 career PGA Tour starts, it was certainly memorable to get a PGA Tour Champions victory pretty much right off the bat. (READ MORE)
7. Reopening of City Park GC After Redesign of Historic Course: City Park Golf Course in Denver dates back more than a century, so when changes are made to the facility, it's no small matter. And in the case of City Park GC, the changes were major — as in a total redesign of the course and a new clubhouse. But in late August, 34 months after being closed, City Park GC reopened, with the Denver City Amateur marking the first big event at the new facility. The site now serves as a stormwater detention area that helps protect some of the city's most at-risk neighborhoods from flooding. The new course was designed by Todd Schoeder, with World Golf Hall of Famer Hale Irwin serving as a consultant. (READ MORE) With the new City Park GC opening, the next new course in the state is scheduled to debut in July 2022 — RainDance National Golf Club in Windsor, designed by eight-time PGA Tour winner Fred Funk and Harrison Minchew. (READ MORE)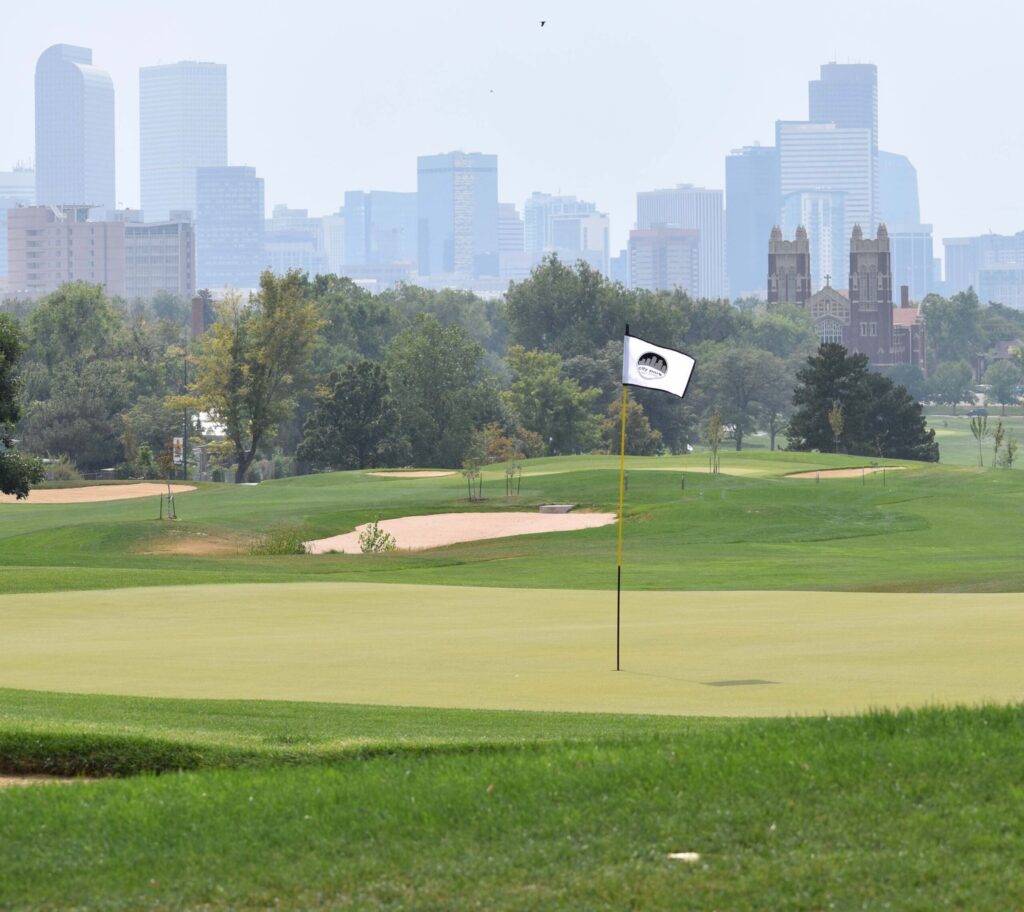 6. New Denver Resident Laird Returns to Winning on PGA Tour: In 2020, former Colorado State University golfer Martin Laird strengthened his ties to the Centennial State by moving to the Denver area. And in October, he had another big life event as the Scotsman won on the PGA Tour for the fourth time — and the first in 7 1/2 years. The victory at the PGA Tour's Shriners Hospitals for Children Open was Laird's second in Las Vegas, and earned him $1.26 million. He made a 23-foot birdie putt on the second hole of a playoff to prevail. Laird, who was in the field on a sponsor exemption, won four months after undergoing surgery on his left knee. (READ MORE)
5. Prater's CGA Major Sweep, Part of Stellar 2020: It's not often that any player, much less a mid-amateur, sweeps the CGA's two major championship titles — the Amateur and the Match Play — in the same calendar year. But Colin Prater, a 25-year-old high school science teacher from Colorado Springs, pulled off the feat in 2020, becoming just the second player since 1985 to do so. To take it a step further, the former University of Colorado-Colorado Springs golfer also was low amateur in the CoBank Colorado Open. The last person before Prater to win the CGA Amateur and Match Play and take low-am honors at the Colorado Open in the same year was Gary Longfellow (1974), who won the Colorado Open outright. Prater's victory in the CGA Amateur was his second, following his 2016 win. (READ MORE)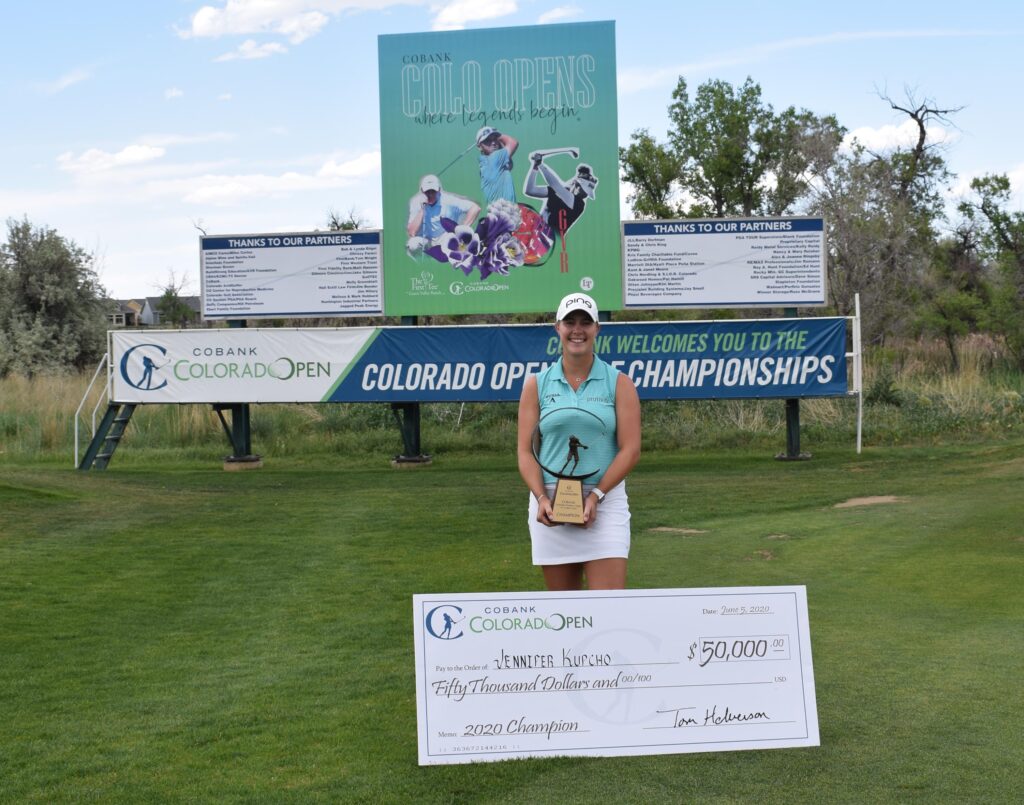 4. Kupcho Makes Colorado Women's Open Her First Pro Win and Competes in Colorado Open: Perhaps it was only fitting, given all that Jennifer Kupcho accomplished in amateur golf while growing up in Colorado, that she also recorded her first pro victory while in the Centennial State. With the LPGA Tour not holding tournaments in the late spring due to Covid-19 safety concerns, the Westminster product accepted an invitation to play in the CoBank Colorado Women's Open at Green Valley Ranch. Competing in the state for the first time in more than two years, the 23-year-old not only won, but she held off the No. 15-ranked female player in the world (Carlota Ciganda of Spain, winner of two LPGA Tour events) and set the tournament scoring record — relative to par — by a whopping five strokes. (READ MORE)
A month and a half later, Kupcho became just the second female ever to compete in the CoBank Colorado Open (after Sherry Andonian-Smith). And the 2019 Augusta National Women's Amateur champion barely missed making the 36-hole cut while playing in the same group as her older brother, Steven. (READ MORE) Later in the year, after the LPGA season resumed, Kupcho posted her second runner-up finish on that circuit at the ShopRite LPGA Classic on Oct. 4. (READ MORE)
3. 2020 U.S. Girls' Junior in Colorado Falls Victim to Covid-19 Concerns: The 2020 U.S. Girls' Junior was going to be a notable event in several respects besides being a national championship. It was supposed mark the first time a U.S. military course — in this case, Eisenhower Golf Club at the Air Force Academy — would host a USGA championship. And in another departure from the past, the Junior Golf Alliance of Colorado was to have served as the "host group" for the championship, partnering with the USGA in many respects. (The JGAC was attempting to raise $400,000 to help conduct the event.) But Covid-19 safety concerns nixed those plans — for the time being, at least — as the championship was canceled. Until 2020, the U.S. Girls' Junior had been each year since its debut in 1949. There's hope a Girls' Junior might be scheduled for Eisenhower GC in the near future, perhaps in 2023, the next year for which a site has yet to be announced. (READ MORE)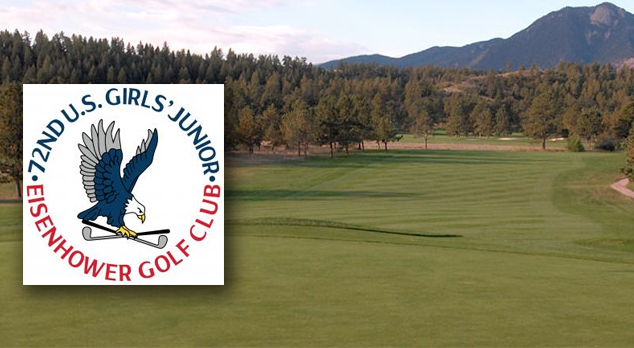 2. Covid-19 Wreaks Havoc in Golf Locally and Nationally: It wasn't so long ago — last spring, in fact — that nearly 70 Colorado public courses were closed for a time as government officials and course operators tried to get safety protocols in place regarding Covid-19. Some of those closures lasted as little as a few days, others for months, with privately owned public courses tending to reopen much quicker. And beyond that, the havoc Covid-19 wreaked in golf in 2020 was monumental, including in Colorado.
Locally, canceled were the 2020 U.S. Girls' Junior in the state (see No. 3 on our list) and all USGA qualifying tournaments except for for the men's and women's Amateur Four-Balls; exhibitions/clinics featuring Davis Love III and Lexi Thompson; two Colorado-based AJGA events; the girls state high school tournaments; the Colorado Golf Hall of Fame induction ceremony; the end of the spring season and all the postseason for college programs, plus the fall season for all the NCAA Division I programs in Colorado; the Hale Irwin Dinner and medal presentation; all Drive Chip & Putt qualifiers; IMG Junior World qualifying; Optimist Junior qualifying; the boys and girls Junior Americas Cup; the Navajo Trail Open; the Pacific Coast Amateur, etc., etc.
However, on the plus side, most big Colorado-based golf championships were conducted, including the entire CGA schedule, the three CoBank Colorado Open Championships, the Korn Ferry Tour's TPC Colorado Championship; the Colorado PGA and Junior Golf Alliance of Colorado's major tournaments, and the Rocky Mountain Open.
1. Surge in Rounds Played in Colorado and Nationally: Given the effect of Covid-19 on golf (see No. 2 on our list), it might seem counterintuitive in some ways that in at least one major respect 2020 was one of the best years ever for the game. That's the case both nationally and locally regarding the huge surge in the number of rounds played. Nationally, rounds through November were up a whopping 13.1 percent compared to the same period in 2019, according to Golf Datatech. And Colorado's increase was even bigger as 19.6 percent more rounds were played in the first 11 months of the year vs. 2019. Joe Beditz, president of the National Golf Foundation, in October called it "a startling turnaround following a disastrous start to the spring." One Colorado course operator said, "We couldn't have been much busier than we were."
So why was golf so successful while many other activities have taken a big hit during the pandemic?
As CGA executive director Ed Mate said in late April, "It's been a perfect storm for rounds. People's discretionary time has been increased because of working from home. The opportunities to do things have been increased in terms of what they can do with that discretionary time. And golf is one of the outlets" available while other forms of entertainment may be closed or limited.
And golf, by its nature, is safer in many respects than some other leisure activities. It's played outside, which helps considerably. And, "The definition of social distancing is 200 people on 200 acres," noted Dr. Owen Ellis, a high-level amateur golfer who helped the CGA navigate Covid-19 challenges in the spring. (READ MORE)
But can golf capitalize long-term on the 2020 growth when things get back to normal? That's the multi-million-dollar question as we peer into the future.
Honorable Mention Stories of the Year
— The Trans-Mississippi Amateur, which has produced champions such as Bryson DeChambeau, Collin Morikawa and Cameron Champ in recent years, will be played at Denver Country Club in 2022. (READ MORE)
— Former CGA Amateur champion and Colorado School of Mines golfer Marty Jertson played in the Waste Management Phoenix Open, PGA Championship and U.S. Open while keeping his day job at Ping.
— The New Broadmoor Caddie & Leadership Academy was scheduled to fully debut, but Covid-19 concerns delayed the first year of caddying for the program led by PGA professional Mark Kelbel. (READ MORE)
— The 2020 CGA Senior Match Play served as a pilot of sorts for other CGA match play championships as it adopted a pod-play system similar to the one used by the WGC-Dell Technologies Match Play that the PGA Tour conducts. (READ MORE)
— Colorado Sports Hall of Famer Peyton Manning teamed with Tiger Woods to fend off Phil Mickelson and Tom Brady on international TV in a match for Covid-19 relief. (READ MORE)
— Erik Billinger stepped down as University of Denver men's coach after six years to take a job with ACE Scholarships. (READ MORE)
— Kirsty Hodgkins ended a victory drought for University of Colorado golfers in the CGA Women's Match Play. (READ MORE)
— Erie's Hadley Ashton scored another stellar finish at the U.S. Kids World Championship, placing third. (READ MORE)
— The 2018 CGA Women's Match Play champion made it to the quarterfinals of U.S. Women's Amateur before falling; meanwhile, the Colorado Women's Open low-am was ousted in the semifinals. (READ MORE)
— Former DU golfer Chris Gilman fired a 59 to win an event on the Dakotas Tour. (READ MORE)
— Ashleigh Wilson became the first Coloradan to win four Junior Series Championships. (READ MORE)
— Lucas Schulte's final-hole eagle gave the senior the 5A individual title and his Valor Christian squad the team championship. (READ MORE)
— Coloradan Micah Rudosky placed 11th in his first national Senior PGA Professional Championship and earned a berth in the 2021 Senior PGA Championship. (READ MORE)
— With a new Montrose event and the return of an Aspen tournament, three AJGA stops are planned for Colorado in 2021. (READ MORE)
— Bryson DeChambeau, the extremely-long-hitting winner of the U.S. Open, to a large extent established and maintains his new bulked-up physique at Muscle Activation Techniques in Englewood, working out with MAT founder Greg Roskopf, who helped DeChambeau transform his body.
— Less than three years after finishing ninth in the CoBank Colorado Women's Open, Sophia Popov won the Women's British Open, and LPGA major.