Kupcho notches first pro win, fends off fellow LPGA player Ciganda and obliterates CoBank Colorado Women's Open scoring record
By Gary Baines – 6/5/2020
Jennifer Kupcho had won just about everything significant there was to win in girls and women's golf in Colorado.
… With one very notable exception: The CoBank Colorado Women's Open.
But after Friday, consider that item checked off the to-do list.
Kupcho, the 23-year-old born and raised in Colorado, not only won the CWO, but did it with an exclamation point at Green Valley Ranch Golf Club in northeast Denver. She both held off the No. 15-ranked female player in the world and set the tournament scoring record — relative to par — by a whopping five strokes.
Oh, and by the way, it marked Kupcho's first victory as a professional — worth $50,000 — and her first win period since claiming the Augusta National Women's Amateur title in early April 2019.
And she did it all in her first tournament in Colorado in more than two years — and just her second anywhere in the last six months.
"It's definitely really emotional," said Kupcho, who finished No. 39 on the LPGA money list in 2019 and recorded three top-five finishes despite not joining the tour until late May. "I was nervous coming down the final stretch. It's all the feelings you get when you're winning something big and you know what it means.
"It's definitely a good steppingstone. Hopefully it will help me get into that LPGA winning circle."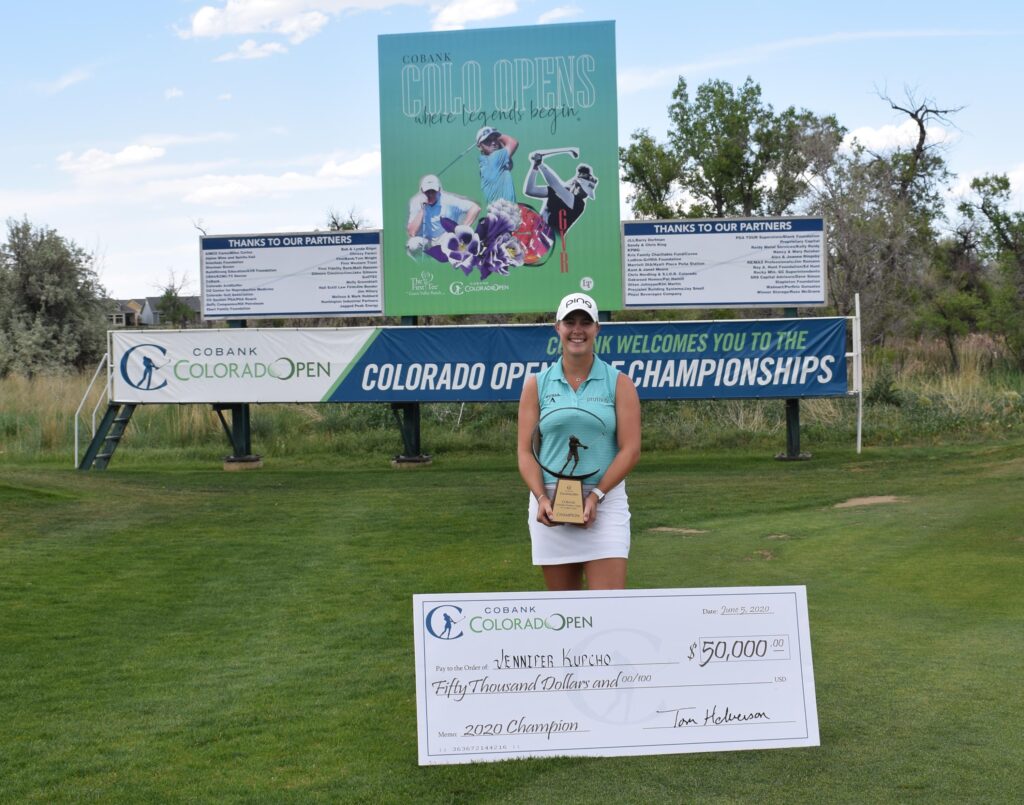 And making the accomplishment even more fulfilling was that she came out on top in a head-to-head matchup with Spaniard Carlota Ciganda, a two-time winner on the LPGA Tour and a four-time Solheim Cup player.
"We were both battling it out, and it's definitely real exciting to know she is a great player and has won on the LPGA. So I think that gives me a little of the mindset that I know I can do it (win) on the LPGA just because she has."
Kupcho had finished runner-up at the Colorado Women's Open twice as an amateur — in 2014 and '17 — and in all likelihood wouldn't have played at GVR this week had not Covid-19 wreaked such havoc on the LPGA schedule. This week, undoubtedly both Kupcho and Ciganda would have been competing at the U.S. Women's Open in Houston under normal circumstances.
Instead, despite the general public being asked not to attend the CWO this year for safety concerns related to the coronavirus, quite a few spectators — including fellow competitors, rules officials, volunteers, tournament organizers and media — had the pleasure of watching the Kupcho and Ciganda show by the end of Friday's round.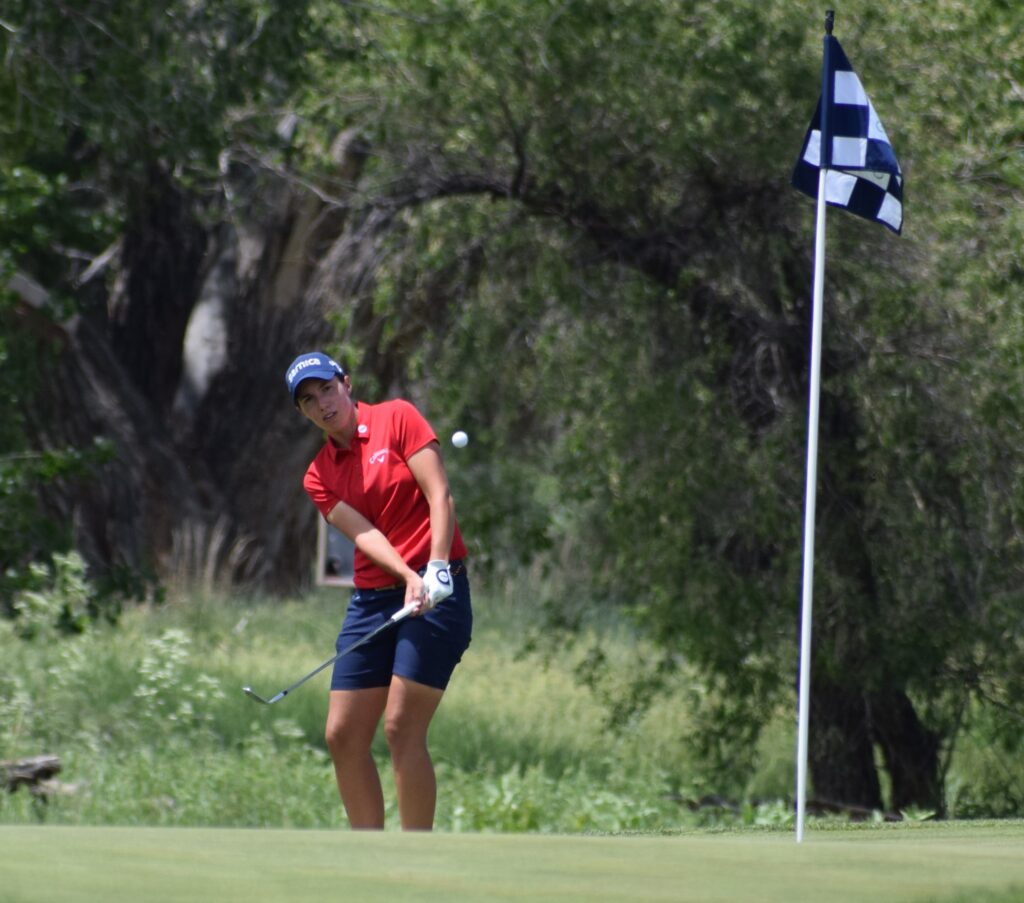 And the pair didn't disappoint. The two top-50-ranked female players in the world in this week's field matched scores of 65 and 68 on Thursday and Friday as Kupcho finished with a 16-under-par 200 total for three days and a three-stroke victory. The previous CWO scoring record relative to par was 11 under by Lauren Coughlin in 2016.
Tying for third at 205 on Friday were Kim Kaufman of Fort Worth, Texas and Bailey Tardy of Norcross, Ga. Former University of Colorado golfer Jenny Coleman placed fifth at 206 (68-69-69), meaning that four of the top five finishers (all but Tardy) were LPGA Tour regulars.
But Friday quickly became a two-person race for the title. Twice in the middle of the round, after starting the day three behind Kupcho, Ciganda narrowed her deficit to one stroke. But she never did catch her fellow member at Superstition Mountain east of Arizona.
"I think she's a great player," Ciganda said of Kupcho after the final round. "The driver, it doesn't seem like it goes far but it does. She hits this low bullet and it goes quite far. And I think she's a great putter, at least today. She made some really good putts and great speed putts. She's a solid player. I think she's going to do very good as a pro."
Ciganda, who posted top-10 finishes in three LPGA majors last year, cut Kupcho's lead from five strokes — after the third hole on Friday — to one at the turn on Friday. There was a two-stroke swing on No. 9 as Ciganda two-putted for birdie while Kupcho made bogey there after she hit her half-wedge approach over the green.
"I was definitely (still) confident but obviously she's a great player," Kupcho said of Ciganda. "We played a little match down in Arizona and she shot like 9 under and came back on the back nine ridiculously low. I knew she had fire and she wanted to win just as badly as I did, so I needed to keep it up."
Kupcho birdied the sometimes-treacherous 10th hole from 8 feet to go back up by two, but Ciganda countered with a 12-foot birdie of her own on 11.
Kupcho, the 2018 NCAA individual champion, went two ahead again on No. 12 after a nifty up-and-down birdie from behind the green where she hit a flop shot off hard pan and native grass to 10 feet and drained it.
"When I saw she was over (on 12), I didn't think she was going to get up and down," Ciganda said. "When she made that up and down and I didn't get the birdie, that was a good hole for her obviously. But two shots (difference), anything can happen on this course. I can make a birdie and she can make a bogey and we'd be even."
But Kupcho would par out her last six holes, twice getting up and down from off the green and once watching her approach clip leaves on the par-4 16th but still hitting the green in regulation and two-putting from long distance.
"I've obviously gotten ahead of myself in the (NCAA) national championship and lost (in 2017 after holding a late two-stroke lead with two holes to play)," she said. "I didn't want that to happen so I was just staying focused."
Ciganda, meanwhile, didn't make her first bogey of the day until the final hole, where her tee shot only avoided going into a penalty area thanks to ricocheting off a cart, then her second shot did find a penalty area.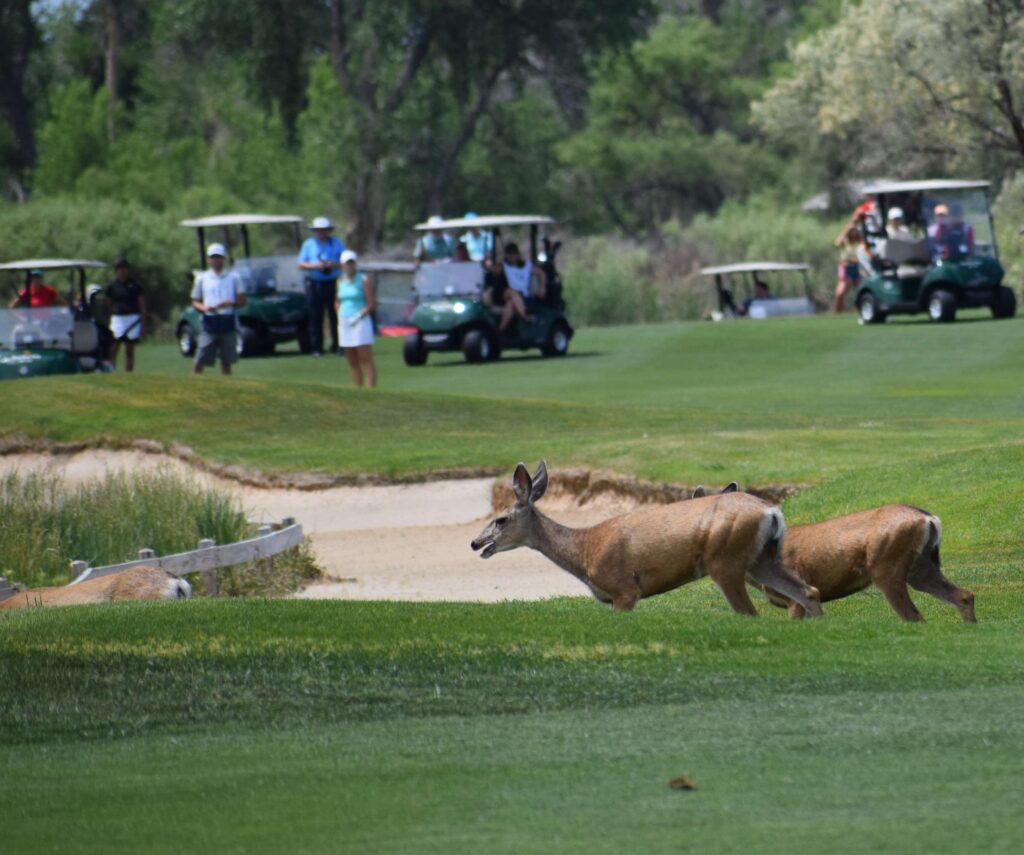 As if right on cue as things were looking very positive for Kupcho to win in her home state as the final group played No. 18, several deer strolled across the fairway between Kupcho and Ciganda and the green.
Asked to rank Friday's win among her many golf accomplishments, Kupcho said, "It's definitely up there. Any professional win is huge. And with this strength of field, it's a pretty good accomplishment."
Ciganda had been 5 under par for the day through 11 holes, with one of the birdies being a 40-foot bunker hole-out on No. 7 that was followed by Kupcho making a 3-foot birdie of her own.
"I'm happy I gave myself lots of chances," Ciganda said. "I think today was the most solid day I played tee to green. I had my chances. I didn't make enough putts on the front nine, but I'm happy the way I played, the way I thought. Thirteen under for three days is pretty good."
Meanwhile, Kupcho captured the title in front of her parents, Mike and Janet, her brother Steven and her boyfriend/caddie.
"That was really exciting," Jennifer said.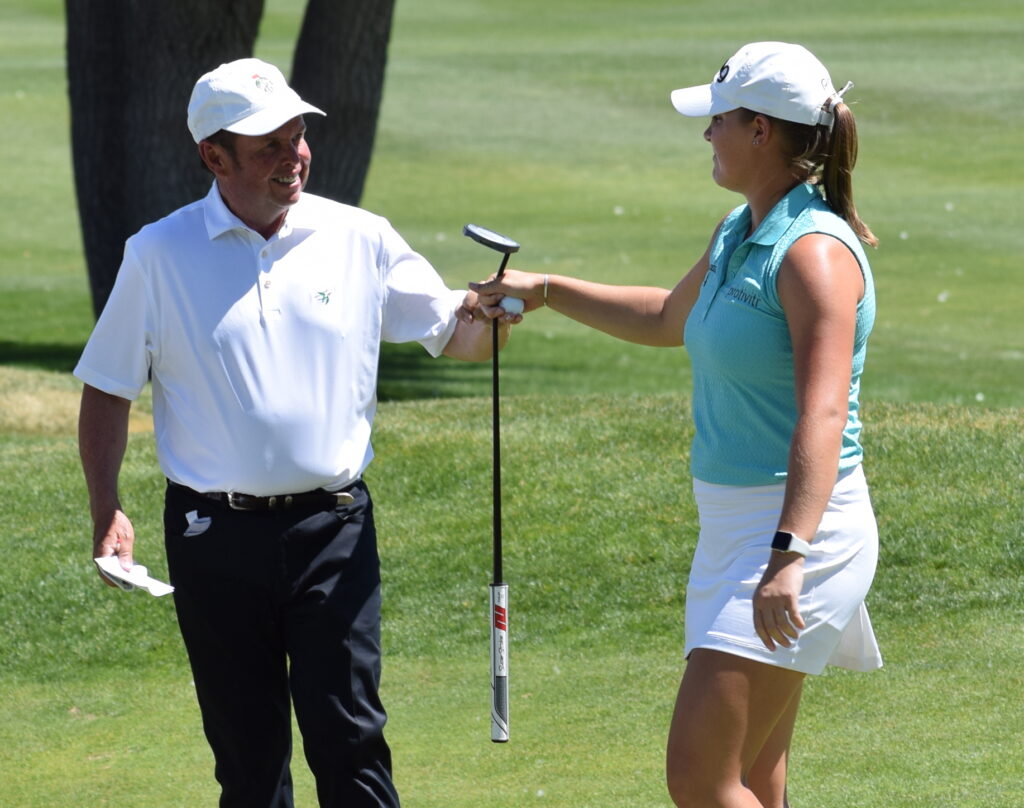 And just to make the tournament all-around good, Kupcho and amateur partner Pat Hamill, founder of the Colorado Open Golf Foundation, teamed up to capture the pro-am title by three strokes with a 27-under-par net better-ball total. It was Hamill's first pro-am victory after competing in the event since 2004.
"I've been the 'first loser' three times," Hamill noted. "… But this is awesome."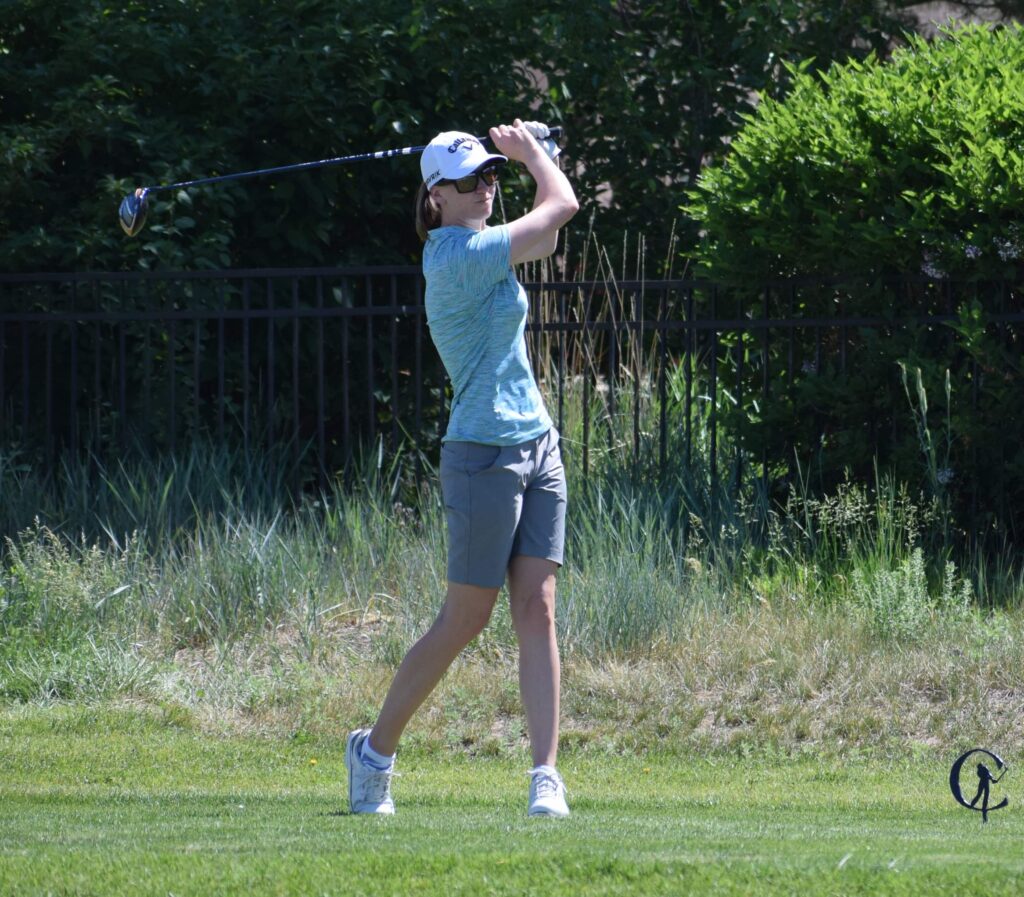 Another Top-10 for Former Buff Coleman: Coleman, the former CU standout, is no stranger to being in contention in significant golf tournaments. Last year on the Symetra Tour, for instance, she recorded nine top-10 finishes, including three runner-ups and there third places.
On Friday, Coleman did it again by placing fifth at the Colorado Women's Open for the second time. She carded three rounds in the 60s — 68-69-69 — to check in at 10-under-par 206 and earn $5,000.
Not bad considering Coleman hadn't played in a tournament since February.
"I'm pretty happy overall," she said. "It was a good solid tournament, especially after two months off and this is my first tournament since February. I had zero expectations. Just go out there and have fun."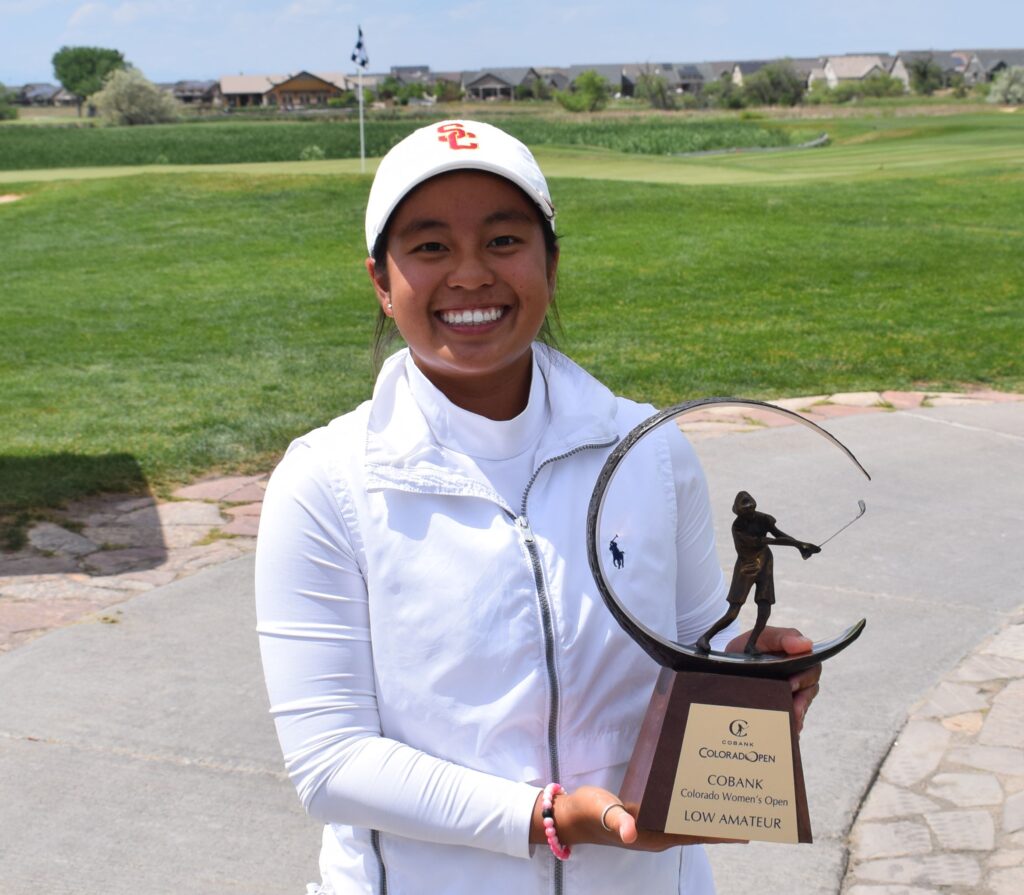 Colorado Debut a Success for Low-Amateur: Alyaa Abdulghany checks in at 5 feet tall, but she certainly came up big in her first time competing in Colorado.
The University of Southern California senior-to-be claimed CWO low-amateur honors by four strokes. She went 71-73-71 for a 1-under 215 total, tying for 15th place overall.
"This is my first official tournament coming back (since late February)," Abdulghany said. "Even after this, I don't know when my next one will be because of these really weird times. But I'm really thankful to be outside.
"It's great knowing that something like this (Covid-19) — and taking a couple of months off — doesn't really stop the game. It kind of motivates me to try and get back out there."
Abdulghany was an honorable mention All-American for the Trojans this past season. On Friday, the 21-year-old from Newport Beach, Calif., made three birdies and two bogeys in the final round.
Former Colorado State University golfer Ellen Secor, the 2018 U.S. Women's Amateur Four-Ball champion with Katrina Prendergast, placed second among the amateurs at 219.
The top Colorado amateur finisher was CU golfer Kelsey Webster of Boulder (77-72-72—221), who placed fifth.

For the final scores from the Colorado Women's Open, CLICK HERE.