The top stories in Colorado golf for 2020, Part I
By Gary Baines – 12/28/2020
Three hundred and sixty-two days down and just four yet to be completed this leap year. The very eventful 2020 — eminently memorable in both good and terrible ways — is quickly drawing to a close. So time's a wastin' for a countdown of the Colorado golf stories of the year, which we've compiled annually since 2009.
As has become our tradition in recent years, we pick the top 25 stories, add on some honorable-mention selections, and break the project into two installments. Nos. 25 through 13 on our story list will be published today, with the top dozen — and the honorable mention picks — coming later in the week.
So, without further ado, we give you our 2020 countdown of the top stories in Colorado golf.
25. Franklin's Four-Peat: Women's senior major golf championships for amateurs in Colorado date back to 1983. But until this year, no one had ever won more than three of them in a row. Kristine Franklin of The Ranch Country Club changed that in July when she won the CGA Women's Senior Match Play at Saddleback Golf Club, marking her fourth consecutive victory in women's senior majors. Franklin defeated Colorado Golf Hall of Famer Kim Eaton in the final, giving her two straight championships in the Senior Match Play to go along with two in a row in the Senior Stroke Play. That made three consecutive women's senior majors in which Franklin and Eaton finished 1-2. (READ MORE) In August, however, Franklin's streak came to an end as Marilyn Hardy of Dos Rios Golf Club won the CGA Women's Senior Stroke Play by six shots, with Franklin and Eaton tying for second.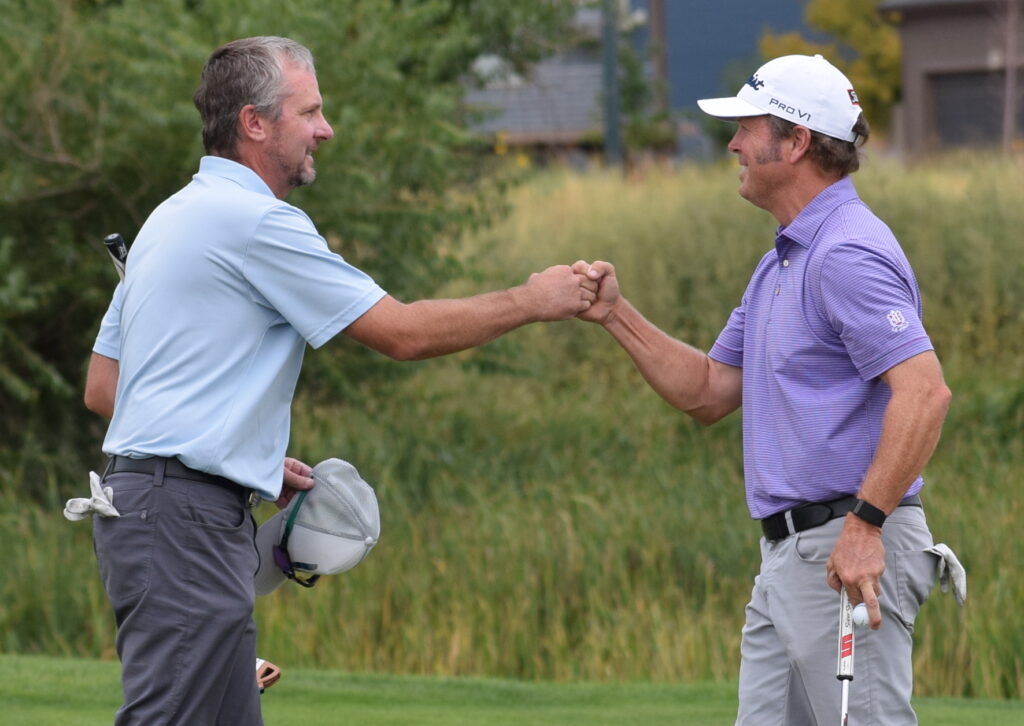 24. Ever So Close for Lindstrom: In the 20 times the CoBank Colorado Senior Open had been held prior to this summer,  a grand total of one had been won by an amateur — the first, in 1999, when John Olive prevailed. In fact, since then, the closest an amateur had come to the overall CSO title was two strokes, and double digits separated the top pro from the top amateur about as often as not. But that changed this year when Jon Lindstrom of Denver took Harry Rudolph — a friend and former amateur rival of Phil Mickelson — to a playoff in late August. Indeed, Rudolph had to sink a 35-foot putt on the final hole of regulation just to force a playoff. Then on the extra hole, Rudolph prevailed when Lindstrom took a double bogey after hitting his second shot into a penalty area. (READ MORE)
23. Colorado a Launching Pad for Zalatoris: Will Zalatoris starred as a Wake Forest men's golfer at roughly the same time Coloradan Jennifer Kupcho did on the women's side. So it made for an interesting storyline that, a month after Kupcho won the CoBank Colorado Women's Open for her first pro victory, Zalatoris earned his first pro win at the Korn Ferry Tour's TPC Colorado Championship at Heron Lakes in Berthoud. (READ MORE) If golf fans in Colorado didn't know Zalatoris at the time, he certainly should have come on their radar in September when he finished sixth in the U.S. Open and subsequently landed special temporary membership on the PGA Tour. Also of note regarding the 2020 TPC Colorado Championship, Coloradan Josh Seiple Monday qualified for his first Korn Ferry Tour start by shooting a competitive-course-record 11-under-par 61 at Riverdale Dunes in Brighton. (READ MORE)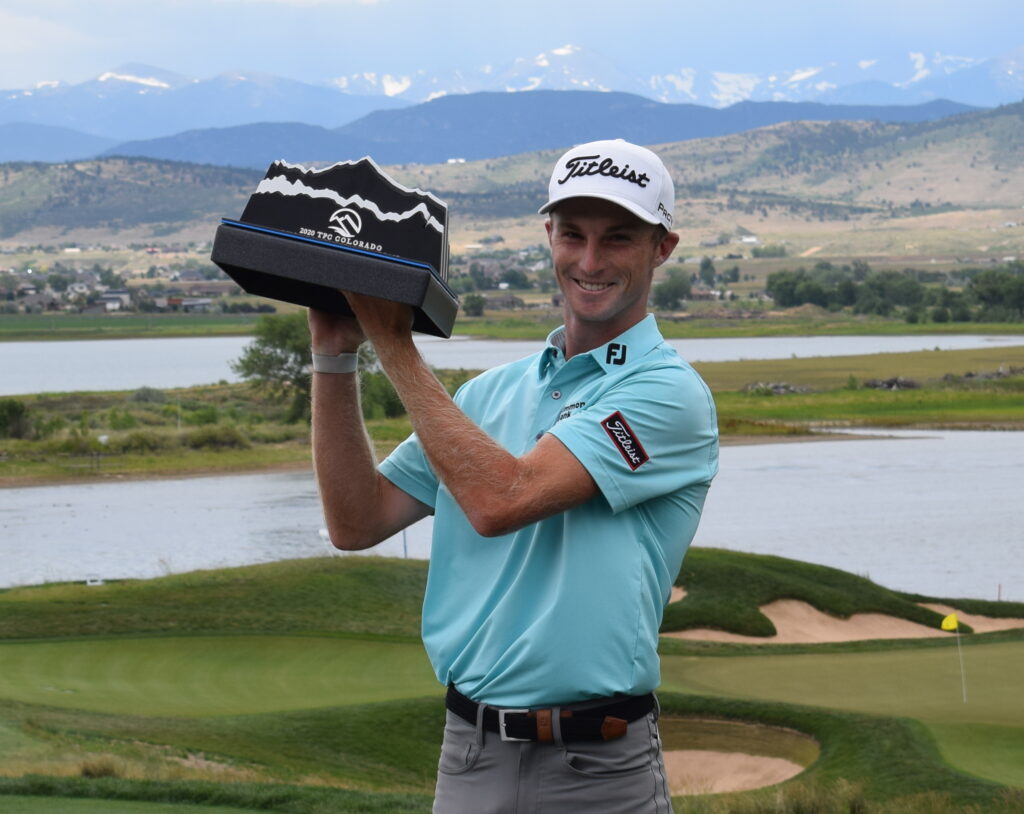 22. Six and Counting for Keffer, Rohrbaugh: Geoff Keffer, a  PGA Assistant professional at Lakewood Country Club who in September won his second Colorado PGA Professional Championship, is closing in on a state record. Keffer was named the Colorado PGA's Dow Finsterwald Player of the Year for the sixth time in 2020. The only person who has won the award more times — or as many, for that matter — is Colorado Golf Hall of Famer Bob Hold. The Denver native and West High School graduate was the Section's Player of the Year seven times in a period of nine years starting in 1966, including six in a row. Meanwhile in 2020, three-time Colorado PGA Professional Champion Doug Rohrbaugh of The Snowmass Club was named the Colorado PGA Senior Player of the Year for the third consecutive year and sixth time overall — the most in the history of the award. (READ MORE)
21. Braecklein Claims CGA Women's Stroke Play Title at Age 17: The CGA Women's Stroke Play is arguably the most prestigious women's amateur championship in the state, but it wasn't an experienced veteran who won it this year. Aubri Braecklein of Northglenn claimed the title as a 17-year-old in June at The Ranch Country Club. In the process, she became the youngest winner of the event in more than a dozen years, before which detailed records weren't kept. Braecklein said she had only been taking competitive golf seriously for about three years. The senior at Jefferson Academy will be playing her college golf at NCAA Division I Georgia State. (READ MORE)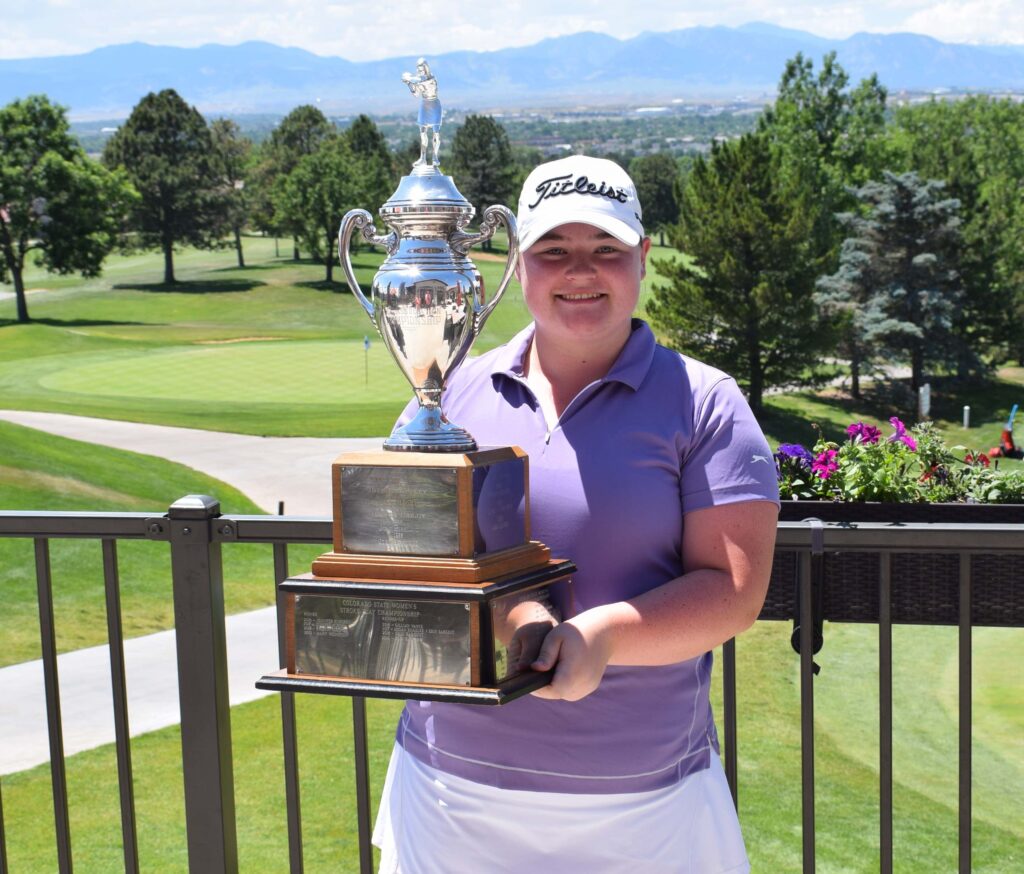 20. Gunner Wiebe Claims National Title: It isn't often that a golfer who grew up in Colorado wins a national championship, but such was the case in 2020 with Kent Denver graduate Gunner Wiebe. Wiebe, son of PGA Tour and PGA Tour Champions winner Mark Wiebe, prevailed in a 132-player field at the National Car Rental Assistant PGA Professional Championship, one of the PGA of America's national tournaments. Wiebe, champion at the 2010 CGA Match Play and now a resident of Sherman Oaks, Calif., has won the last two Southern California Assistant PGA Professional Championships. He became the third person with significant Colorado ties to claim the national PGA Assistants championship, joining Colorado Golf Hall of Famer Bill Loeffler (1992) and current Colorado resident Kyle Voska (2008). (READ MORE)
19. Different Kind of Denver Golf Expo Planned: The Denver Golf Expo, a fixture on the Colorado golf calendar for more than a quarter-century, will have a completely different look this winter due to Covid-19 safety concerns. In early November, Mark and Lynn Cramer, who have owned and operated the Expo since 2000, made the announcement that the show will go completely online/virtual in 2021. This winter's show, dubbed the Denver Golf CyberExpo, is scheduled for March 12-13. The DGE certainly isn't alone among golf trade shows that have canceled in-person events. For instance, the PGA Merchandise Show, which normally draws almost 40,000 people, and the Golf Industry Show also will be held only virtually in 2021. (READ MORE)
18. Clark Falls Just Short of First PGA Tour Victory: Denver native Wyndham Clark, who accomplished so much in Colorado and beyond as an amateur, seemed very much on the verge of his first PGA Tour win in early November at the Bermuda Championship. The Valor Christian grad and 2010 CGA Amateur champion led most of the final round — he was up by three at one point — and missed a 10-foot birdie attempt on the 72nd hole that would have secured the victory. But veteran Brian Gay claimed the trophy when he birdied the 18th hole twice that Sunday — once in regulation and once in a playoff. (READ MORE) Also in 2020, Clark shot a 61 at the Waste Management Phoenix Open and joined fellow Colorado native Mark Hubbard in competing in the first pro major of his career at the PGA Championship. 
17. Ivan Sweeps CGA Senior Majors and Wins Senior Match Play Days After His Mom's Death: Steve Ivan of Patty Jewett Golf Course had a memorable and emotional 2020 while competing in CGA championships. In late June at the CGA Senior Match Play at Highland Meadows, the former University of Colorado golfer rallied from a 4-down deficit to Robert Polk in the final to prevail in 20 holes just six days after Ivan's mom passed away. (READ MORE) Then in early October at Perry Park, Ivan completed a season sweep of the CGA senior majors by beating Polk in a playoff at the CGA Senior Amateur. He became the first winner of both senior majors in a single season since 2013. But had Wyoming resident John Hornbeck and Dan Dunkelberg not played each other's ball just short of the green on the 13th hole in the final round, Hornbeck would have won the Senior Am for the second straight year. (READ MORE)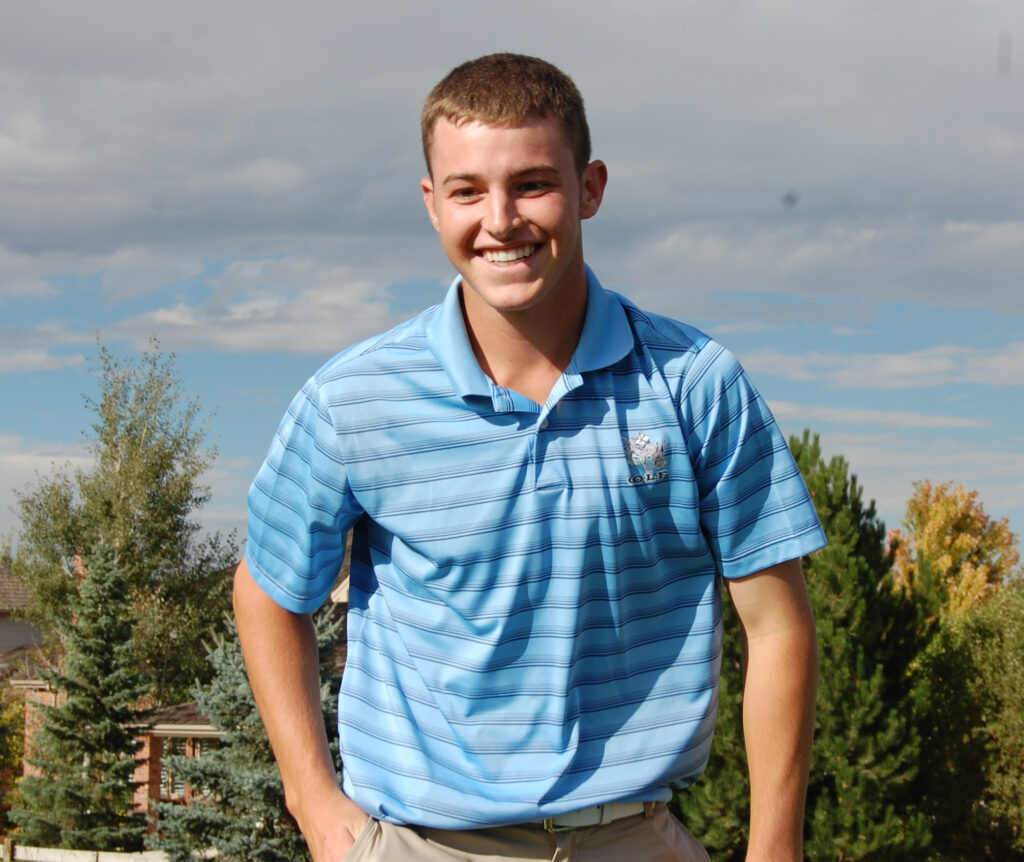 16. Deaths of Lee, Swinhart, Best: The year 2020 took several prominent people in Colorado golf at relatively young ages. "Cousin Ray" Best, co-host of the "In the Fairway" radio show, passed away in early February at age 47. (READ MORE) In November, Thorncreek PGA head golf professional Chris Swinhart died from a sudden medical condition while hunting in Kansas at age 48. And 2011 CGA Match Play champion and former Colorado School of Mines golf standout Michael Lee passed away on Dec. 22 at age 28 due to complications from Covid-19. (READ MORE)
15. Four of a Kind for Ott: AJ Ott of Fort Collins had anticipated being a professional last summer, but an expected fifth season of college golf at Colorado State — after the NCAA canceled the 2020 national championships due to Covid-19 — opened the door to a fourth consecutive U.S. Amateur berth for him. And Ott landed that spot, not through qualifying, as he had previously, but through his World Amateur Golf Ranking. Not many Coloradans in recent decades have competed in four straight U.S. Ams, but Ott became an exception. (READ MORE) And though he never made the 64-man match-play portion of the event, he got close on three occasions — in 2017, '19 and '20. (READ MORE) Ott joined CSU teammate Davis Bryant in earning NCAA Division I honorable mention All-American status for the 2019-20 season, and he won the CGA Fall Amateur.
14. Kent Moore Adds to CGA Legacy: In the course of three months in the fall, Colorado Golf Hall of Famer Kent Moore made two notable additions to his stellar CGA resume. In September, he won the CGA Super-Senior Match Play for the second time. In doing so, he claimed a CGA championship in his sixth different decade — from the 1970s to the 2020s. (READ MORE) Then in December, Moore was elected president of the CGA board of directors, the volunteer organization that oversees the association. Moore succeeded Janene Guzowski as president. (READ MORE)
13. Anguiano Threatens 30 Under Par at CoBank Colorado Open: Mark Anguiano, a pro from Playa Vista, Calif., put on a scoring exhibition at the CoBank Colorado Open in July at Green Valley Ranch Golf Club in winning his fourth tournament in less than a year and the $100,000 that went with this one. Anguiano set the tournament scoring record, relative to par, by a whopping five shots. With a 12-under 60 in the third round, he almost reached 30 under par, finishing at 29-under 259. (READ MORE)