Stellar showing in Super-Senior Match Play final gives Moore CGA titles in 6 different decades
By Gary Baines – 9/24/2020
Call Kent Moore a man for all ages.
At least regarding CGA championship victories, the title can't be disputed.
When the Colorado Golf Hall of Famer from Cherry Hills Country Club defeated Robert Polk of Colorado Golf Club 3 and 2 in the CGA Super-Senior Match Play final on Thursday afternoon, he won a CGA title in his sixth different decade.
Over the last 47 years, he's captured CGA championships in the 1973 Junior Match Play, the 1986 Amateur, the 1989 Match Play, the 1995 Mid-Amateur, the 2006 Senior Match Play, the 2014 Senior Amateur, the 2016 Super-Senior Amateur, the 2017 Super-Senior Match Play and the 2020 Super-Senior Match Play.
So the 64-year-old certainly deserves plenty of accolades not only for longevity of success but variety of it as he's won eight different CGA individual championships.
"Persistence, man. It's kind of funny," Moore said after his victory at Legacy Ridge Golf Course in Westminster.
"This one was special because I was like, 'Maybe you can win one in the next decade' because I've won one in every decade since the '70s. That would be a trivial goal, but a goal for me that was kind of fun."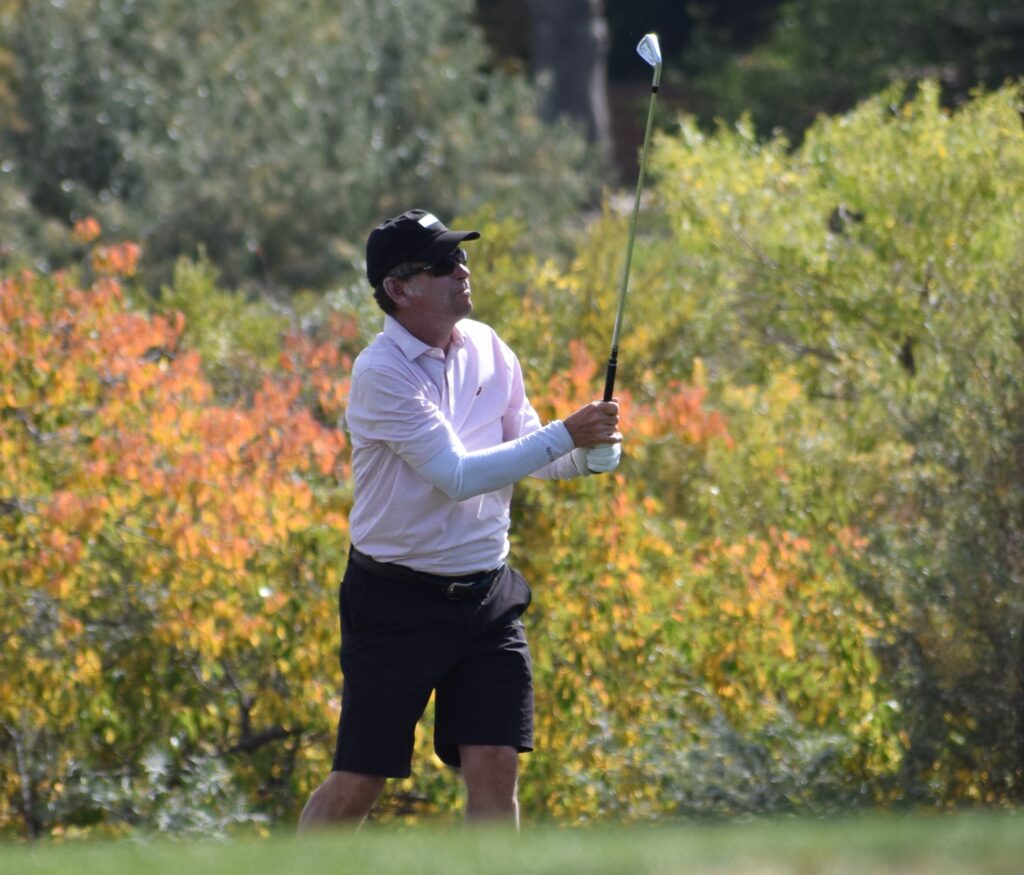 Ironically, considering his level of success, the CGA Super-Senior Match Play marks the first association individual event that he's won more than once.
"It's really fun," he said of the accomplishment. "The thing is, I didn't take a single lesson this year. I went back to all the other lessons I've had because I have notes and videos and all this stuff and that all helped. And I listened to Janet (his wife and a fellow Colorado Golf Hall of Famer, who gave him some tips). I found better ball-striking doing that. I'm probably hitting the ball better than I've ever hit it — even when I was in college" at Purdue.
Moore ran a super-senior gauntlet of sorts to claim the title on Thursday. In his final four matches, he beat Gary Albrecht, a two-time U.S. Senior Amateur qualifier; Robin Bradbury, a 2019 U.S. Senior Open qualifier; Dave Brown, the 2018 runner-up in the CGA Super-Senior Match Play; and Polk, a man with 13 CGA titles to his credit.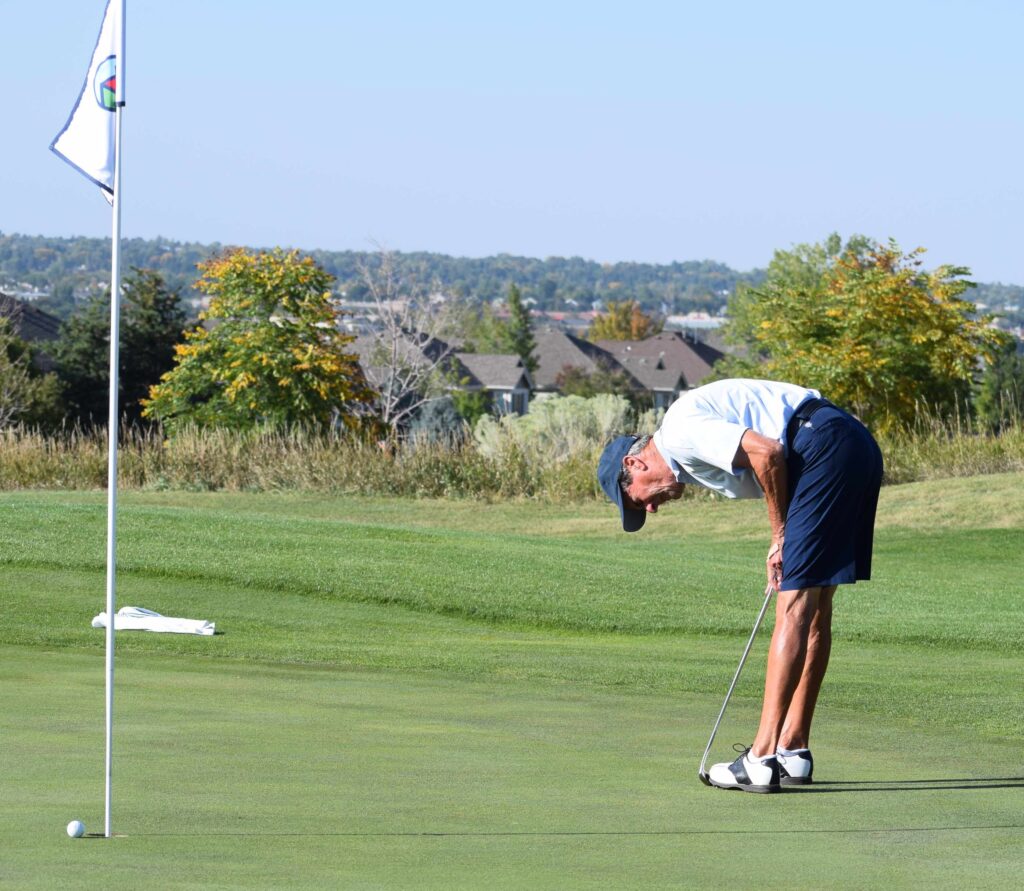 He earned the last two of those victories on Thursday, defeating Brown 6 and 5 in the morning semifinals and Polk 3 and 2 in the afternoon final.
Polk hadn't trailed at any time in his first four matches, but that changed when Moore birdied the first hole of the final and went on to post a 5-under-par 31 on the front nine, with two conceded putts in the 15-20-foot range.
Moore's only bogey of the day came on the par-5 11th, where he pushed his drive slightly and it went into the environmentally sensitive area. For Thursday's two matches, he made just two bogeys.
Meanwhile, "I just didn't have a thing this afternoon," said Polk, who was looking for his first victory in the Super-Senior Match Play. "I fought and fought and fought, and I just couldn't find a golf swing. … It was a successful tournament, but it's damn disappointing not to win.
"The last several holes I had some really good iron shots. I kept telling myself, 'Figure out a way to get to 18 — a par-5 that suits me better — but (Moore) just played better today. I don't know what he shot on the front, but it wasn't very much."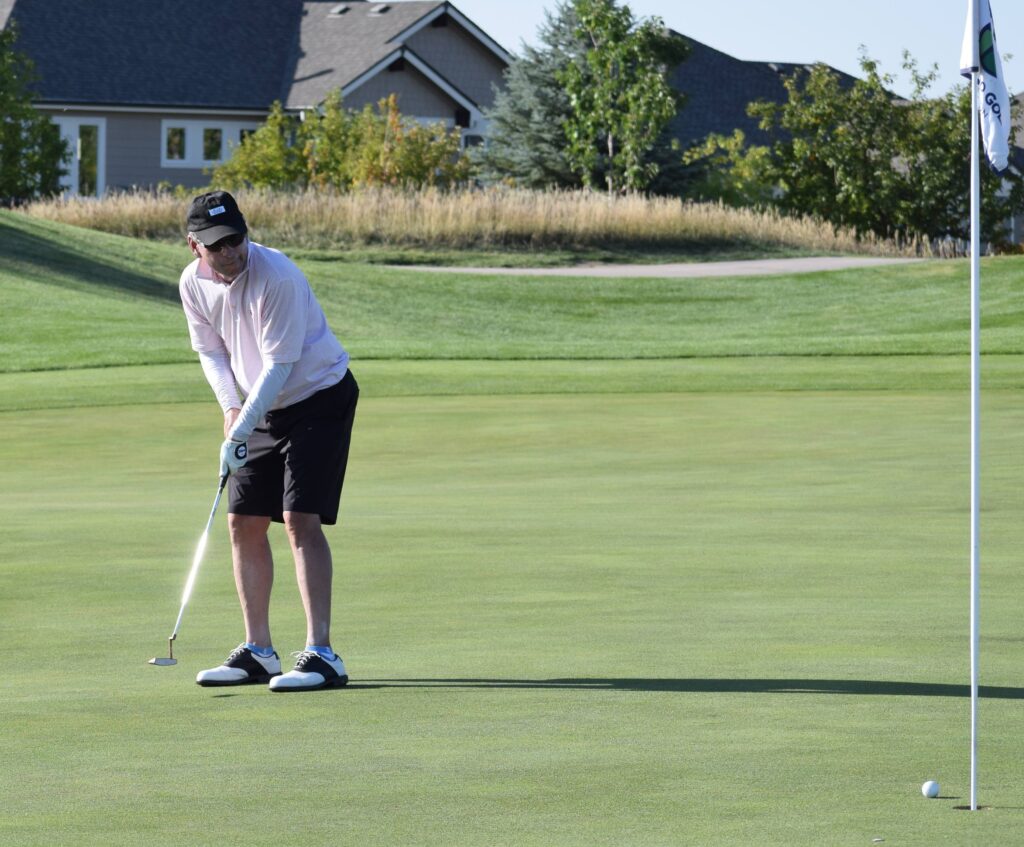 Moore's birdies on the front nine included a 12-foot putt on No. 1, a 6-footer on No. 3, a 9-footer on No. 6, a 33-foot pitch-in at No. 8, and a conceded 18-footer on No. 9 after Polk ran into a couple of nasty lies on the edge of the greenside bunker. With concessions, Moore needed just nine putts on the first nine holes. It's little wonder why he was 4 up at that point.
None of the first six holes of the match were halved as Moore made three birdies and Polk two during that stretch.
"Our start today, it was like, 'Oh my goodness, you can't win a hole without a birdie here,'" Moore said.
On the back nine, Moore carded six pars to go with the bogey on No. 11 — which was the only hole either player won on the back nine as Polk drained a 15-foot par putt. Polk could have cut his deficit to 2 down on No. 15, but he barely missed a 7-foot birdie attempt.
That "was a body blow because if you get to 2 down anything can happen," Polk said.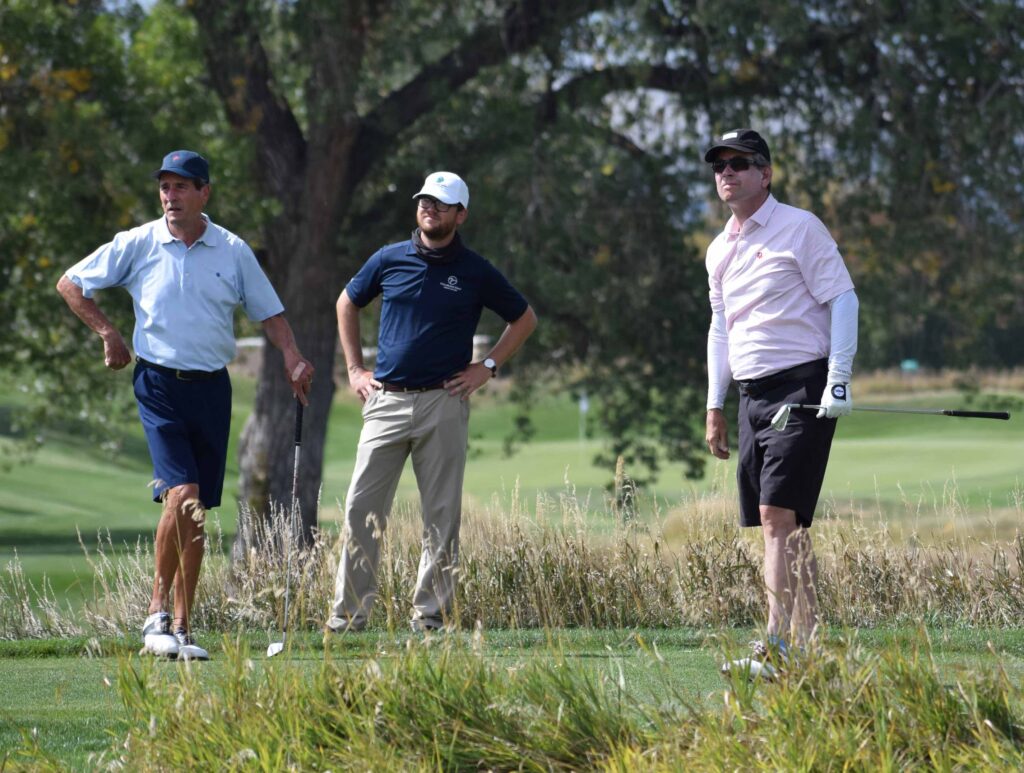 Appropriately, Moore closed things out by holing another lengthy putt, this time a 12-footer for par on No. 16 after his tee shot found the sand.
Told that he finished 4 under par for the 16 holes of the final, concessions included, Moore said, "That's about as good as I can play."
With Thursday's victory, Moore now has 14 CGA titles to his credit — nine in individual events and five in two-person team tournaments.
Moore and Polk are certainly no strangers to one another. Besides long being among the best senior players in the state, both serve on the CGA board of directors. Moore is currently the president-elect, and Polk chairs the Tournament Committee.
"We are best buddies, but we want to beat each other's brains in," Polk said with a laugh.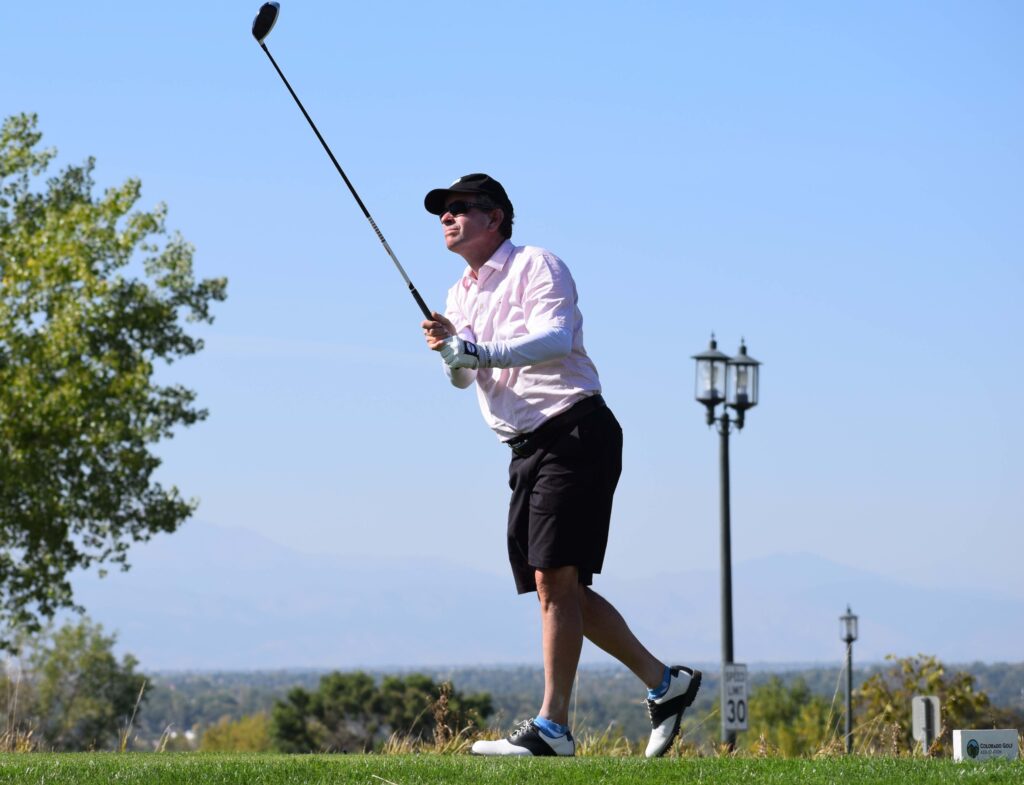 Earlier in the day, Polk advanced to the final by defeating Mark Udall of Coal Creek Golf Course, a former U.S. Senator and Congressman for Colorado, 3 and 2 in the semifinals.
None of Polk's five matches this week went further than No. 16 at Legacy Ridge.
This year, Polk made it to the finals of both the CGA Senior Match Play and the Super-Senior Match Play, but lost in each title match. But he did team with Bill Fowler to claim his fifth title in the CGA Senior Four-Ball.
A victory in the Super-Senior Match Play "would kind of round things out a little bit," Polk said regarding his CGA resume. "You just want more wins."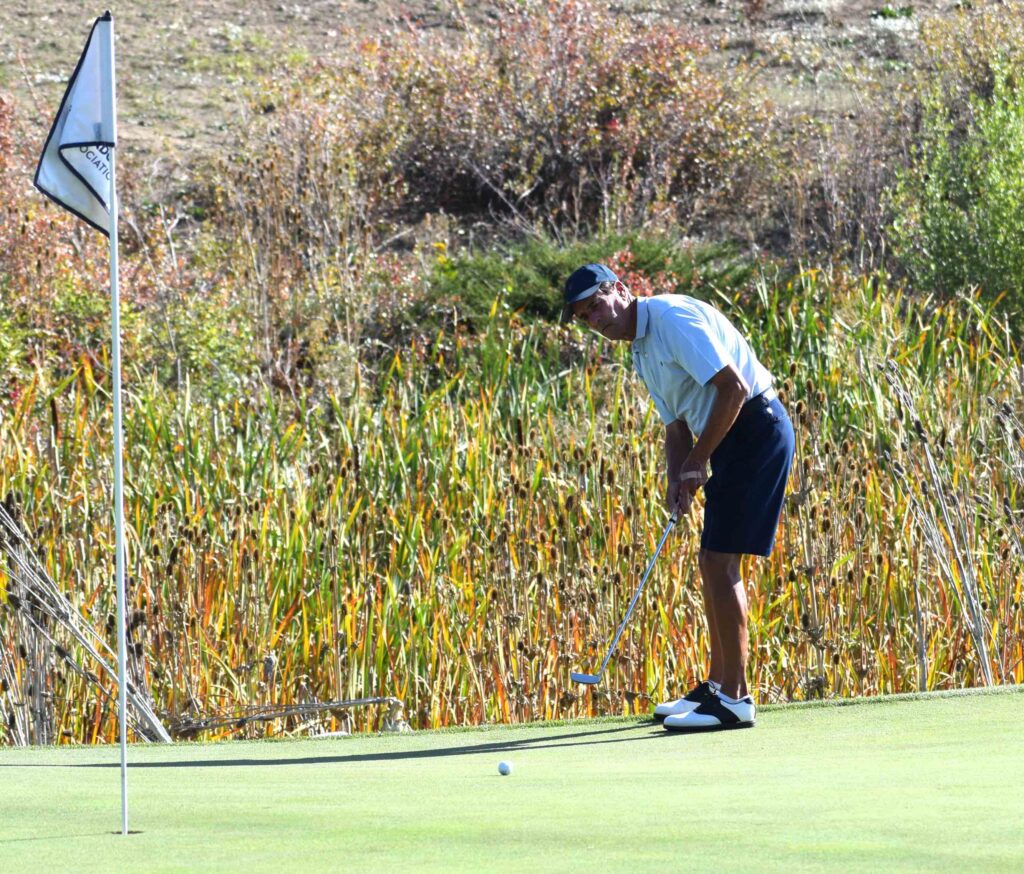 CGA Super-Senior Match Play Championship
At Legacy Ridge GC in Westminster
WEDNESDAY'S QUARTERFINALS
Dave Brown, DU Golf Club at Highlands Ranch, def. Rick George, Castle Pines GC, 3 and 2
Kent Moore, Cherry Hills CC, def. Robin Bradbury, Omni Interlocken Resort, 1 up
Mark Udall, Coal Creek GC, def. David Nelson, Columbine CC, 1 up
Robert Polk, Colorado GC, def. Kary Kaltenbacher, Glenmoor CC, a 6 and 5
THURSDAY'S SEMIFINALS
Kent Moore, Cherry Hills CC def. Dave Brown, DU Golf Club at Highlands Ranch, 6 and 5
Robert Polk, Colorado GC def. Mark Udall, Coal Creek GC, 3 and 2
THURSDAY'S FINAL
Kent Moore, Cherry Hills CC def. Robert Polk, Colorado GC, 3 and 2
To view the bracket from the Super-Senior Match Play, CLICK HERE.