Anguiano easily breaks tourney record, threatening 30 under par, and scores $100,000 victory in CoBank Colorado Open; Love's final-9 29 yields another top-4 finish; Prater becomes rare mid-am to claim low-amateur honors
Final CoBank Colorado Open Scores
By Gary Baines – 7/26/2020
Last September, things looked dire financially for Mark Anguiano, and he questioned whether he should continue as a full-time competitive pro golfer.
"I was in a really bad spot," the 27-year-old from Playa Vista, Calif., said on Sunday. "I didn't get through Q-school at all and I was in debt about $20,000."
Was he thinking about throwing in the towel regarding pursuing a playing career?
"Oh yeah, for sure," he said. "When you're that deep in debt, it's like, 'What are you supposed to do?' I thought about everything and talked to my parents about it. Luckily my dad had the right attitude about it. He said, 'Just keep playing. You're going to figure it out.' And I actually did figure it out with my game. I felt confident toward the end of last year. And I knew I could make up for that debt. And I've been playing super consistent since September of last year, and I'm really proud of that."
And the big payoff — literally and figuratively — came on Sunday when the former Cal State Fullerton golfer hit the jackpot by winning the CoBank Colorado Open at Green Valley Ranch Golf Club in northeast Denver. The $100,000 prize that went with the victory put a big smile on Anguiano's face and left him with a considerable sense of relief.
"I've never made a six-figure check before, so it's pretty amazing," he said. "The most I had made in a tournament was like $36,000 — that was the (PGA Tour Canada) win a couple of years ago — and I almost tripled that amount this week. It's pretty amazing that I can perform and make a living like this, especially making that much today. I'm excited for the future."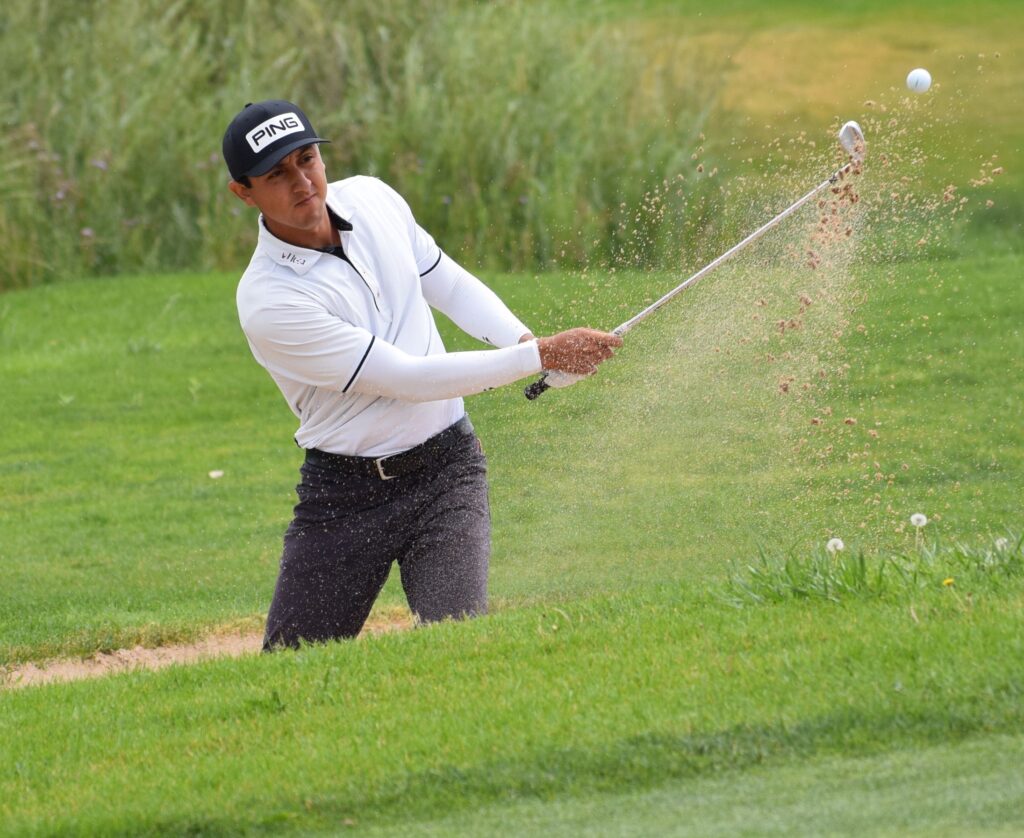 Anguiano has now won four times since September, with the others coming on the Golden State Tour (twice) and the Swingthought Tour. He estimates that he's now earned about $200,000 since his low point 10 months ago.
On Sunday, Anguiano not only made his mark with the $100k first prize, but in his first Colorado Open, he spread his name liberally into the tournament record book.
With the course softened by Friday and Saturday rain, he not only set the tournament scoring record relative to par, but he did so by five strokes. He even beat the tournament scoring mark regardless of par as his 29-under 259 bested Derek Tolan's 262 total in 2009 — a year when GVR played to a par-71 — by three.
Anguiano matched the single-round Colorado Open tournament record with a 12-under-par 60 on Saturday, and overall on the weekend, he went 60-65 (19 under par). And he played his final 48 holes without a bogey.
"Something clicked Saturday morning before I was teeing off," he said. "I have a score in mind to shoot each day, but I exceeded that by six or seven shots and still only won by a couple of shots."
Anguiano almost took down another barrier on Sunday — finishing a previously unthinkable 30 under par for four rounds. His eagle pitch on the final hole stopped about 6 inches short of the cup.
"That was my goal to try to get to 30 because the course is soft with all the rain," Anguiano said.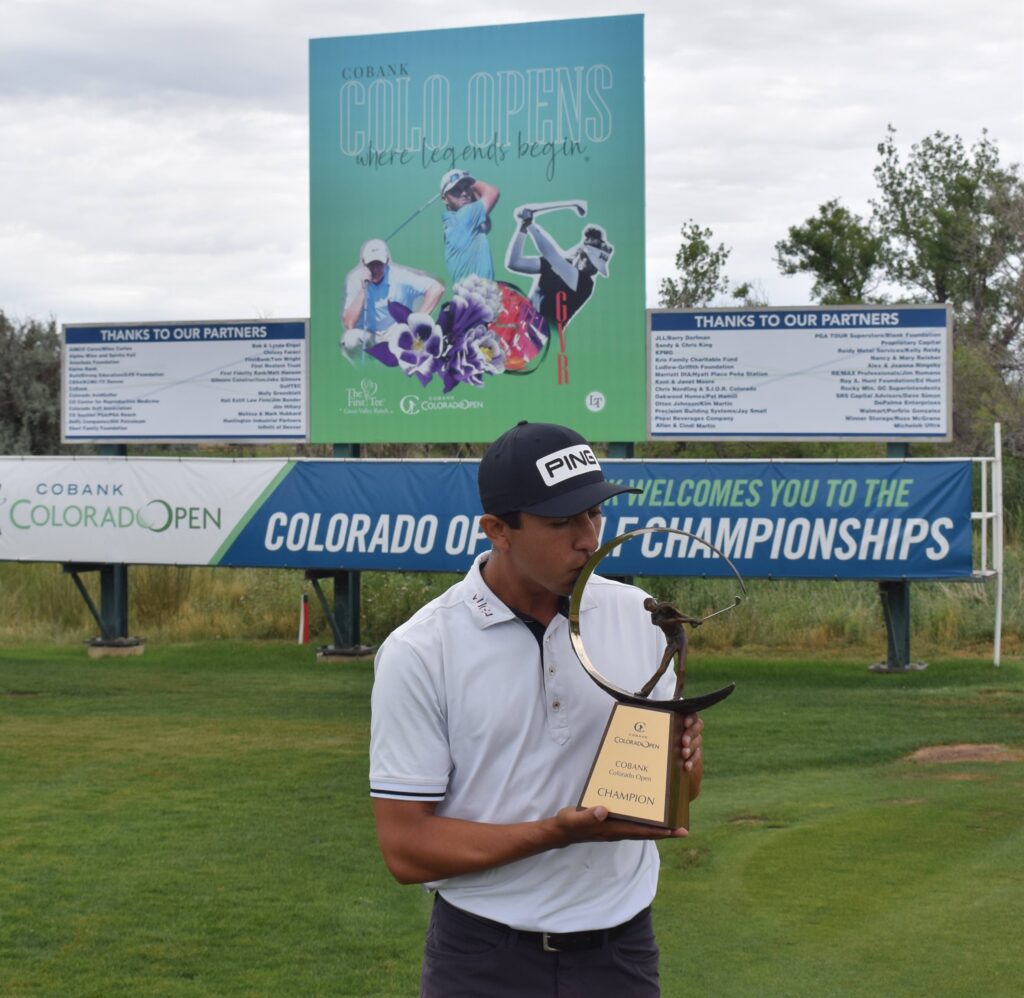 Even as well as he played, Anguiano wasn't a sure winner until that final pitch shot. Carson Jacobs of Tampa, Fla., who went into the final day tied for the lead with Anguiano, only trailed by one going into 18 after making a birdie on 16. Jacobs hit his second shot on the par-5 18th into a greenside bunker and after his third finished about 20 feet short, Anguiano ended the suspense with his nearly-holed pitch shot.
Jacobs closed with a 67 to finish two strokes back, earning $20,000.
"I played great," Jacobs said. "Anytime you shoot 27 under — that's definitely the lowest I've ever shot for four rounds — you can't be disappointed. He just played a little better.
"If you're going to lose, you want to lose to somebody who played really well. He shot 7 under, bogey-free. He won it, I didn't lose it."
Guatemalan Jose Toledo placed third at 262 after posting a 10-birdie 64 on Sunday. Jacobs and Toledo likewise bettered the previous 72-hole tournament scoring record relative to par, a mark set by 2019 champion Sam Saunders (-24). Denver resident James Love posted a final-round 63 — Sunday's best — to place fourth at 264, good for a $9,600 payday.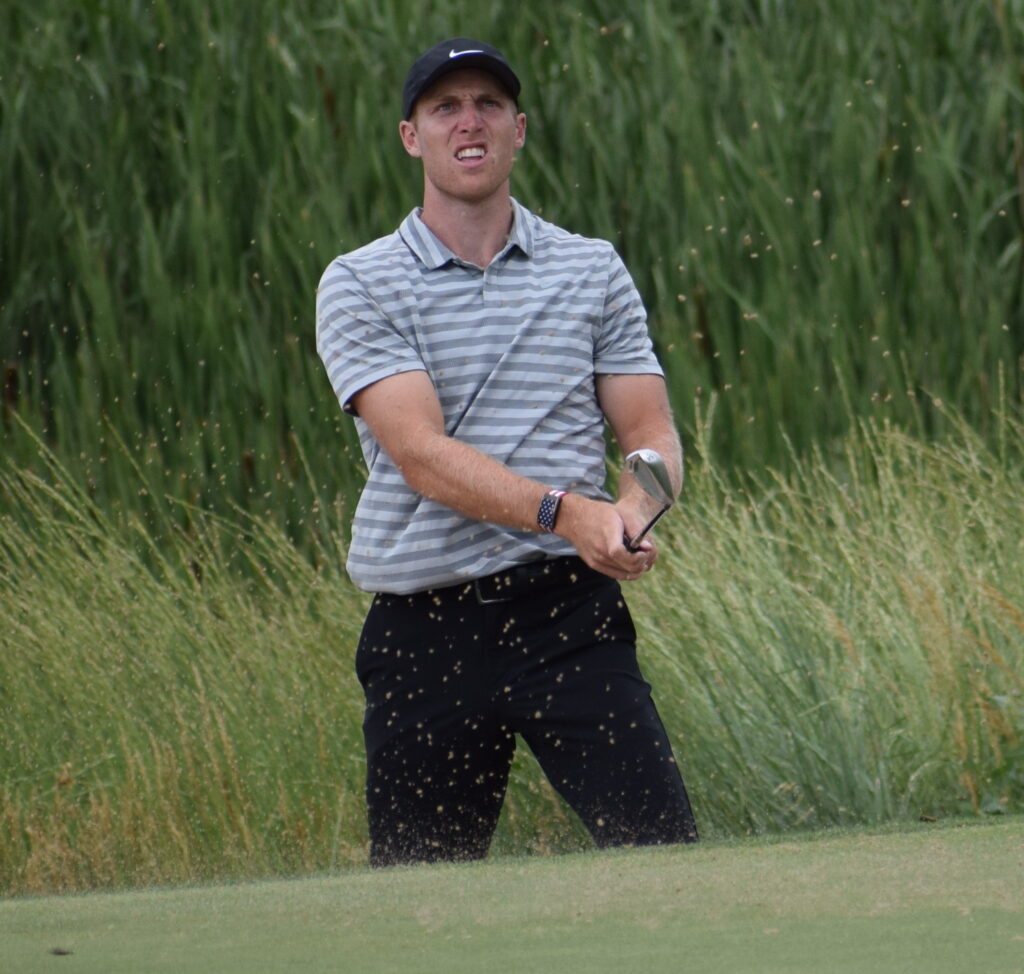 Anguiano never trailed on Sunday and grabbed the lead for good with a birdie on the fourth hole. From there on, his advantage consistently stayed in the one- or two-stroke range.
But the 14th and 15th holes proved pivotal. On the short, par-4 14th, Anguiano's tee shot hit the cart path near the green and bounded a full 80 yards past the flag. Wanting to minimize his risk for a bogey, he intentionally played his second shot into a greenside bunker where he'd have a relatively easy sand shot. And the calculation paid off as he made a 2 1/2-foot par. Jacobs, meanwhile, also got up and down for par out of the sand, but for a birdie, closing his deficit to one.
Then on 15, Anguiano struck what he called "probably the best 8-iron I've ever hit to a tucked right pin with the wind down off the right and with water right. I told myself just to commit. I did and hit a great shot to 12 feet. That was huge."
His birdie pushed the advantage back to two and he never did lose his lead down the stretch.
In the post-round trophy ceremony, Anguiano called the Colorado Open "like a major championship for mini tour (players). Guys want to come play it from all over the country. It's a big deal these days to come try to make some good money out here."
Later he admitted it wasn't always easy to keep this fact out of his mind: first place was worth $100,000, while second earned one-fifth as much.
"An $80,000 difference is a lot," he said. "I don't care who you are — how rich you are or how poor you are — that makes a big difference. But I'm proud of myself for doing such a good job sticking with the process and staying level-headed. I never got too up, never got too down.
"I just kept telling myself, 'It's just money. You can figure it out later on.' You almost have to trick yourself that way. Play it off like it's no big deal. But it still creeped in there in the back of my head. 'Wow, that's a big difference between first and second. Don't mess up.'"
And Anguiano didn't.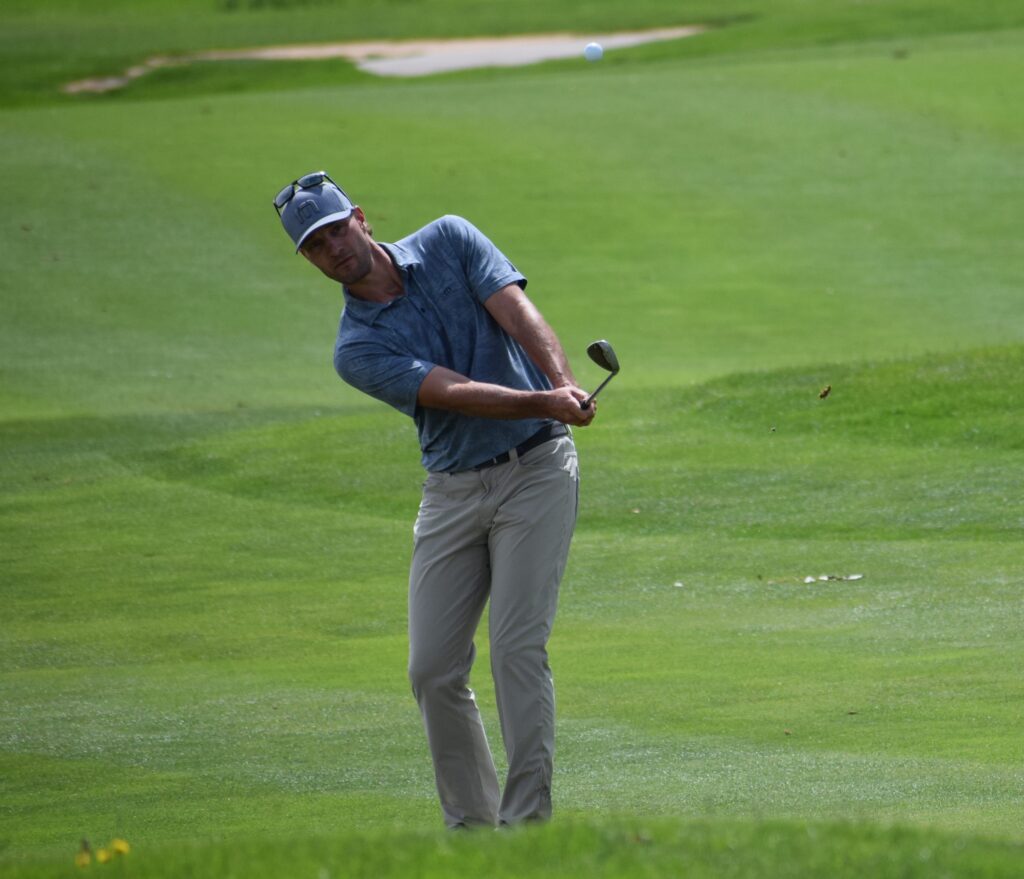 Just Love-ly — Another Top 4 Finish for Denver Resident: James Love, the longtime Denver resident and former University of Denver golfer, noted that he was playing his first tournament in a year — since the 2019 Colorado Open. But that didn't seem to faze the 36-year-old in the least.
A year after tying for second place in the Open, Love nearly matched that showing, ending up fourth on Sunday after a closing 9-under-par 63, the low round of the day.
"I've always played well here, but for whatever reason I never went low until the last couple of years," he said. "I don't play full-time anymore. This is my first tournament since I played here last year, so I really had no expectations whatsoever. I think I'd played (golf) maybe 12 times all year. But this course is nice to me. I hit it good here, so it's just about whether I can string some birdies together. Definitely I did on the weekend. 65-63 on the weekend is pretty decent."
Oh, and by the way, on Love's final nine holes he shot a cool 7-under-par 29. The longest of the seven birdies he made on the back nine was 5 feet.
"I knew I didn't really have much of a chance today with how far back I was (seven behind going into Sunday)," he said.
"So (at the turn) I was like, 'Let's just go blow the doors off this thing. I just hit at every pin and I had seven birdies. I was stuffing them in there pretty good."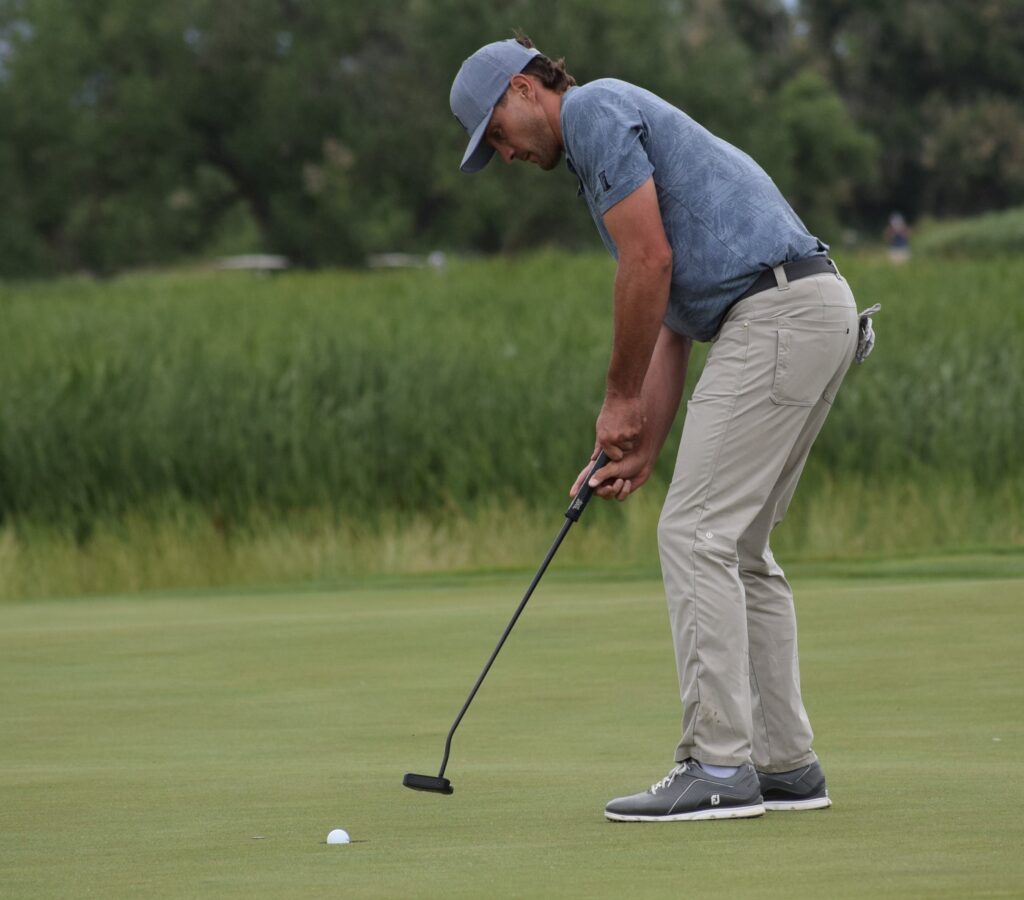 After about a dozen years of being a tour player based out of Denver — he won one event on PGA Tour Canada, in 2009 — Love has basically called it quits in that regard. He currently does some instruction work at Cherry Creek Country Club, mainly with junior golfers.
"When we had our firstborn. I just didn't want to do it again," he said of tour golf. "I love being a dad more than I love staying in hotels. It's not for me.
"I miss standing on the first tee on Thursday and teeing it up. I don't miss travel on Monday and preparation on Tuesday and Wednesday and staying in hotels. I chased it for 12 years.
"I'm still really good, but it just shows how good you have to be to make it. It wasn't like I didn't give it a shot. I wish I would have had the same mindset I've had the last couple of years where I really just don't care that much. That might have been the ticket."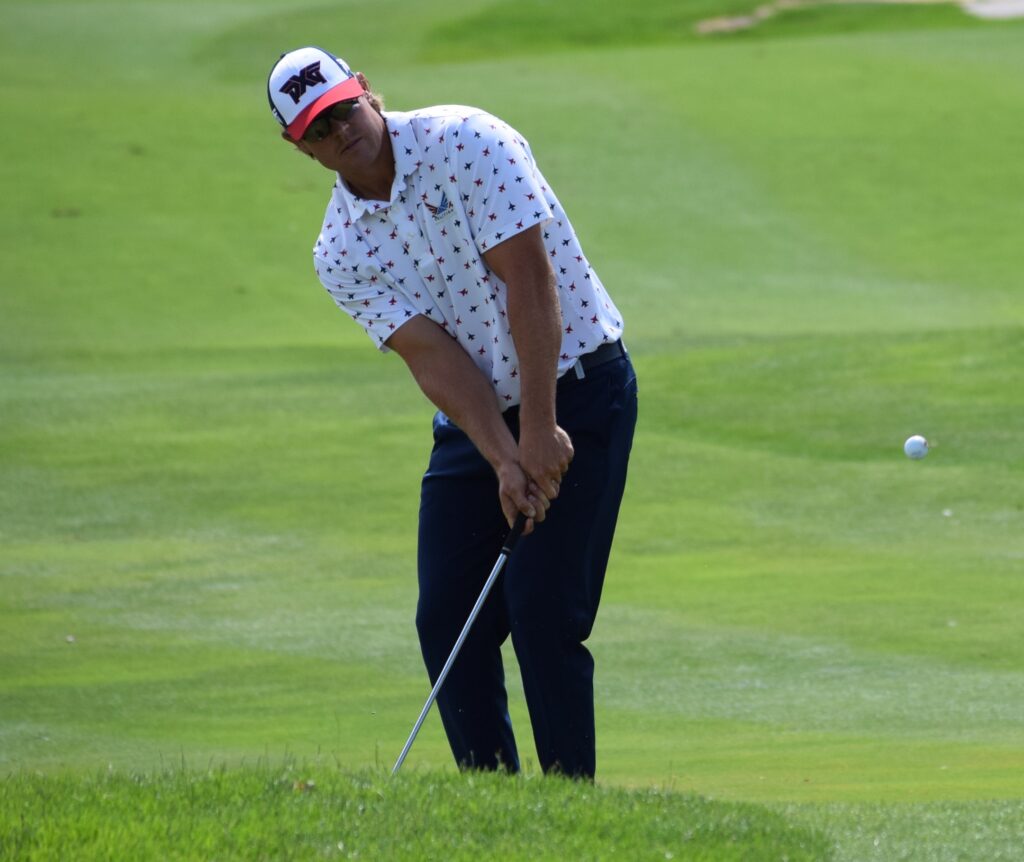 One other player with strong Colorado ties joined Love in finishing in the top 10 on Sunday. Kyle Westmoreland, a former Broomfield resident who now lives in Charleston, S.C., tied for eighth. The former Air Force Academy golfer shot 67 Sunday and posted a 19-under-par 269 total, earning $4,875.
Sharing 12th place at 271 on Sunday were two-time champion Derek Tolan of Erie and Nick Mason of Parker.

Mid-Amateur Prater Holds On for Low-Amateur Honors: Only two players in Colorado Open history have earned low-amateur honors in two straight years — Jim English Sr. in 1964 and '65, the first two years of the tournament, and Brian Kortan in 1992 and '93.
But on Sunday, AJ Ott of Fort Collins made a run at joining the select group. The Colorado State University golfer, who landed low-am last year, rallied with a bogey-free 4-under-par 68 on Sunday, but 2020 CGA Match Play champion Colin Prater of Colorado Springs edged him out.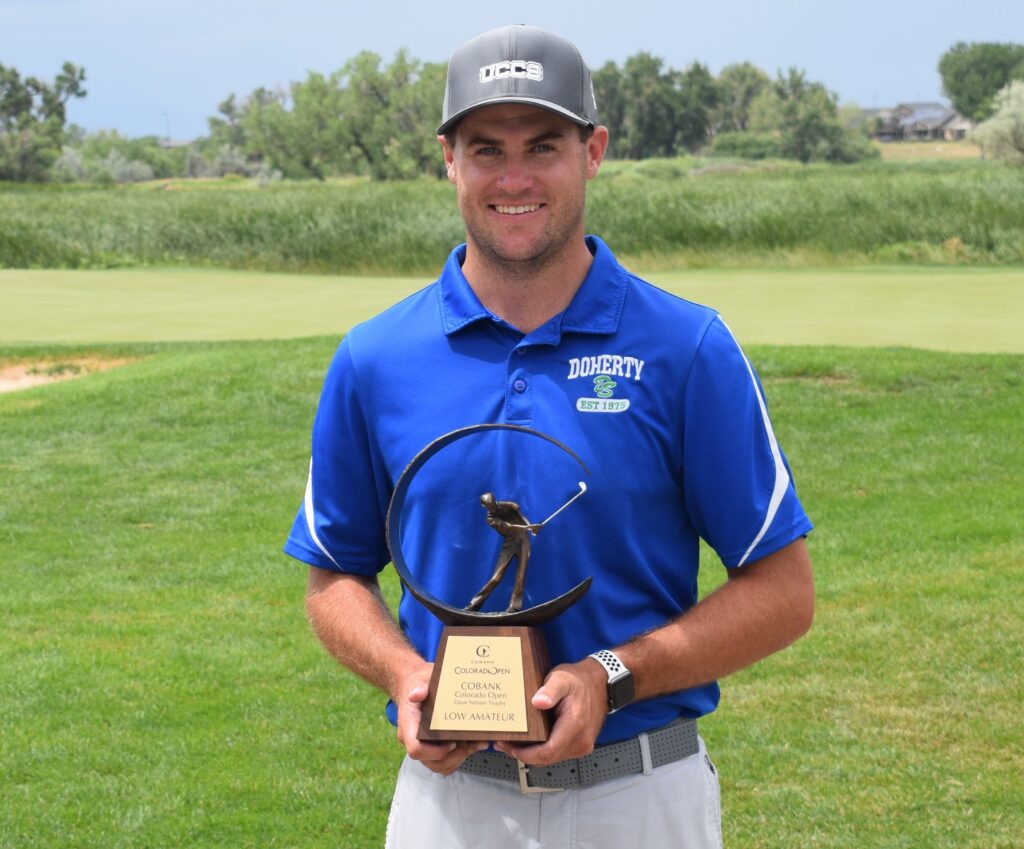 College-age players have pretty much cornered the market on low-amateur honors at the Colorado Open, but the 25-year-old Prater became the first mid-amateur to become low-am since Steve Irwin in 2006.
"I love setting a goal that is a little bit unattainable so something is driving you, pushing you," said Prater, a teacher at Doherty High School. "I felt my game was in good enough shape so that I could finish top 10 here (overall; he actually placed 34th). And I think I hit it well enough to finish top 10, but my putter the last three days did not want to work. But finishing low-am is awesome. It's definitely something to celebrate and yet something to push you to work a little bit harder next time too."
Prater, who led the amateurs after all four rounds this week, bogeyed two of his last three holes, but held on for a one-stroke win in the amateur competition.
The former University of Colorado-Colorado Springs golfer recorded four straight sub-par rounds despite battling a balky putter the final three days. He went 65-71-69-71 for a 12-under-par 276 total.
Joining Ott in a tie for second place among ams at 277 on Sunday was Cal McCoy of Highlands Ranch, a University of Denver golfer. McCoy matched Prater's final-round 71.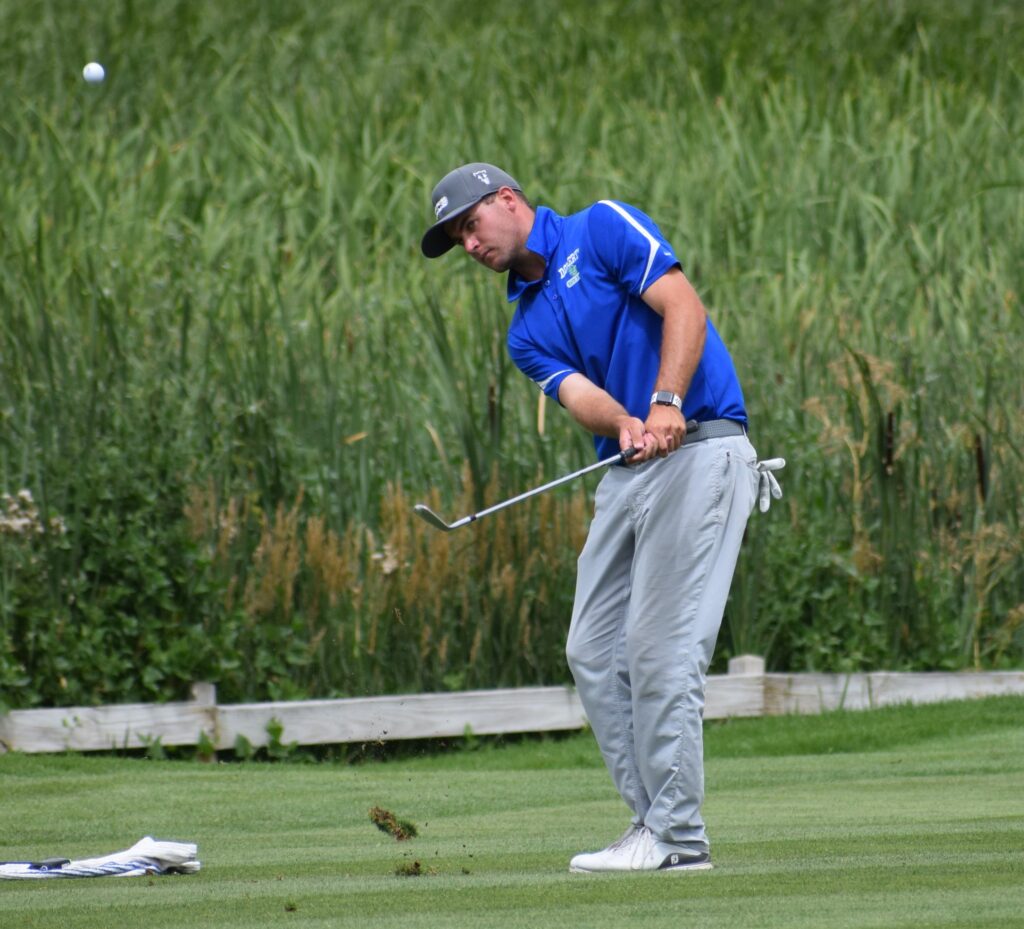 This year marked just the second time Prater has competed in the Colorado Open.
"So it feels cool" to finish tops among amateurs, he said. "I would have loved to have played the weekend a little bit better. Four under on the weekend the way I hit it is not very good. I just struggled on the greens."
Prater ended up with three birdies and two bogeys in the final round. On No. 18, bogey didn't come easy. He hit his tee shot left and it finished just a few inches into the environmentally sensitive area, resulting in a penalty. He hit his next into a fairway bunker, then left his fourth about 50 yards short of the green. But from there, a stellar pitch finished inside of 2 feet, which proved crucial.
Upcoming, Prater next week will attempt to sweep the major CGA amateur titles as CommonGround Golf Course will host the CGA Amateur.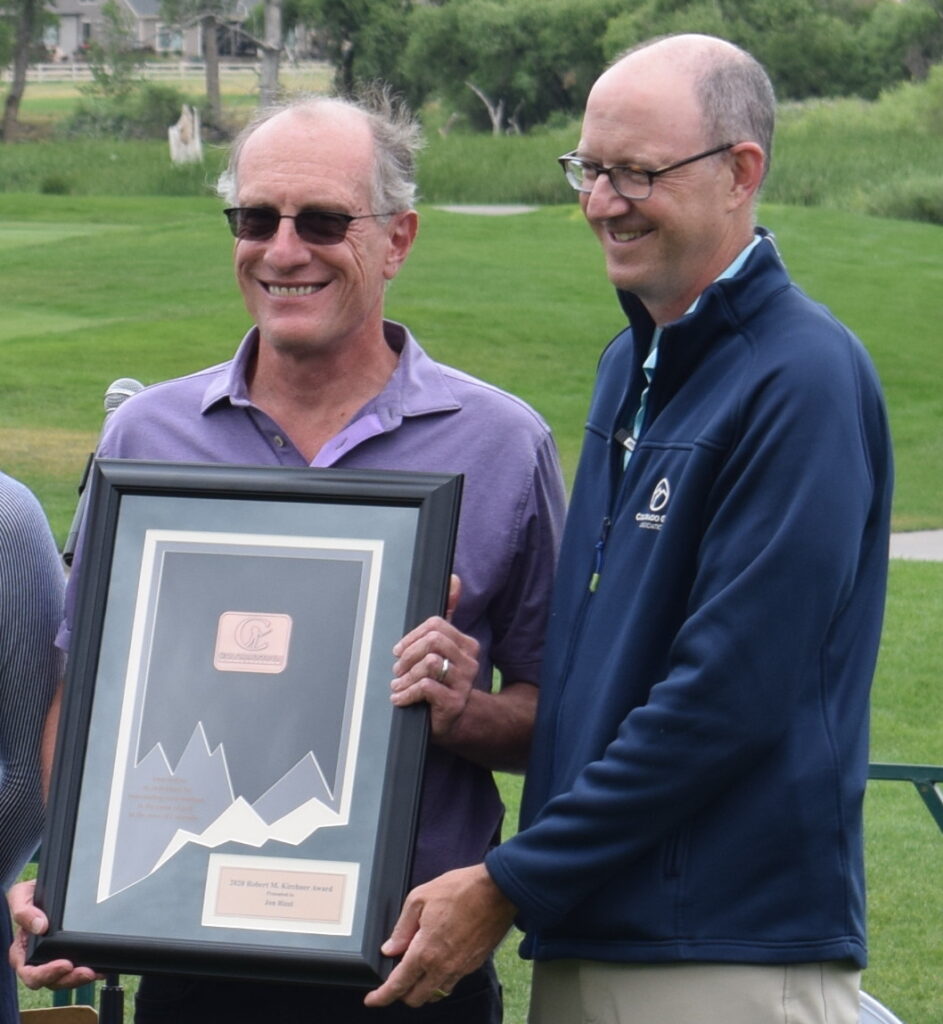 Notable: Jon Rizzi, the new executive director of the Colorado Golf Hall of Fame after being a founding editor of Colorado AvidGolfer magazine, received the Robert M. Kirchner Award on Sunday following the conclusion of the tournament. The award is named in honor of the founder of the Colorado Open and is given to an individual "for having contributed greatly to amateur golf, professional golf, and/or tournament golf in the state of Colorado." Past recipients of the Kirchner Award include such golf luminaries as Judy Bell, Jack Vickers, Pat Hamill, Ed Mate, Myron Craig, Les Fowler, Joan Birkland, Kent Moore, the CGA and the CWGA. Kirchner passed away in November at age 98. … Jennifer Kupcho, who earlier this week became just the second female to compete in the Colorado Open (before missing the cut by one), cart caddied for boyfriend Jay Monahan for Saturday's round before doing likewise on Sunday — but just for the first nine holes. After that, Kupcho made her way to the range at GVR, noting she starts playing tour golf next week. Kupcho's first LPGA event since January begins Friday in Toledo, Ohio. … Of the two PGA Tour winners that made the cut at the Colorado Open, Jonathan Kaye of Boulder and Chris DiMarco of Denver tied for 48th place at 9-under-par 279.