On a wild scoring day at CoBank Colorado Open, Anguiano matches tourney record with 60 and Tolan birdies his first 7 holes; Jacobs, Anguiano tie 54-hole Open scoring mark; Prater remains low am
By Gary Baines – 7/25/2020
The amazing scoring feats came one after another on Saturday at the CoBank Colorado Open — almost in numbing fashion:
— Two-time Open champion Derek Tolan of Erie birdied his first seven holes of the day and shot an 8-under-par 28 for his front nine — the lowest nine in tournament history — en route to a 9-under-par 63.
— Mark Anguiano of Playa Vista, Calif., had an equally stellar run during his round, playing his final eight holes in 8 under par and his final 11 in 10 under. His eagle on the 18th hole gave him a 12-under 60, which tied the tournament's single-round record, also held by Sam Saunders (2018) and Nick Mason (2007).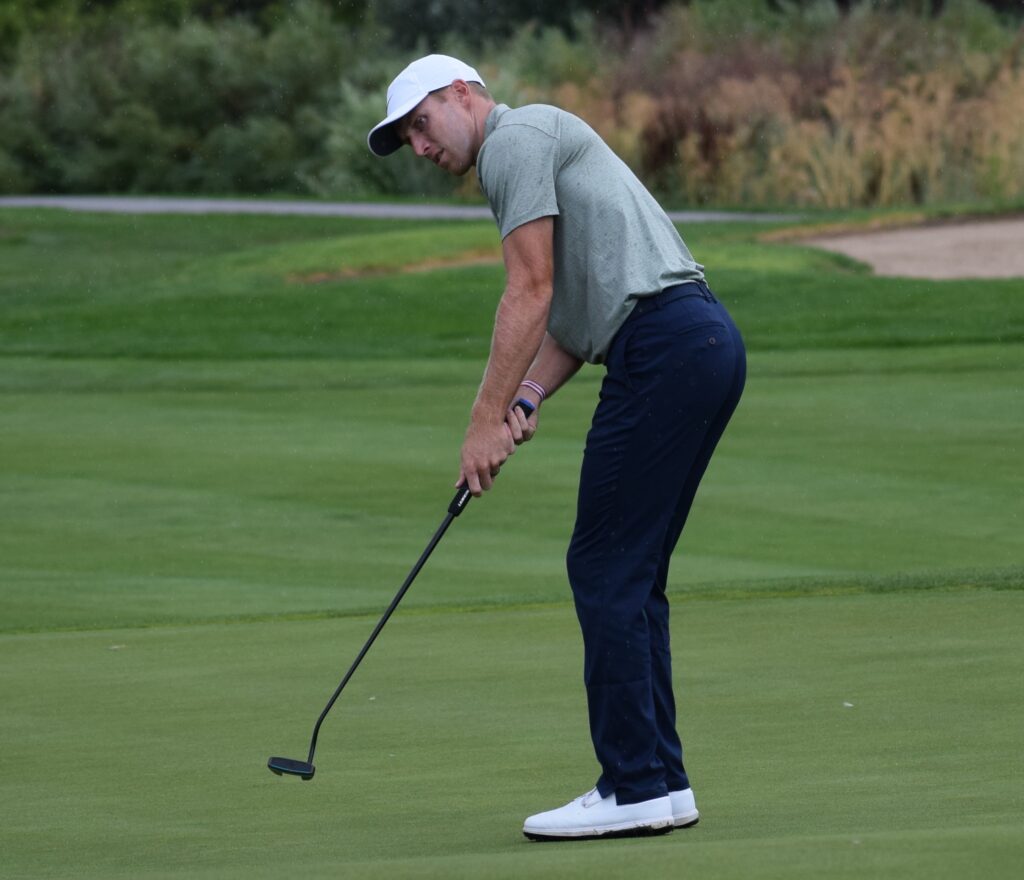 — Carson Jacobs of Tampa, Fla., made two eagles on par-4s, holing out with the same club — a 54-degree wedge — from 130 yards and on a green-side chip. He three-putted his final hole for a 10-under-par 62 on Saturday.
— With those outstanding rounds, Anguiano and Jacobs tied the Colorado Open's 54-hole scoring record relative to par — 22 under — set last year by Saunders.
"I'm going as low as possible," noted Ben Lanting of Highlands Ranch, who had a 67 Saturday and saw how things were shaping up scoring-wise. "There's a song by Ludacris I've been listening to a lot called, 'How low can you go.' It's kind of funny."
Scores were low in general this week, but an inch of rain on Friday left Green Valley Ranch Golf Club yielding even better totals on Saturday. The 67 players who completed the third round averaged a score of 68.66.
"The course is super gettable," said Colin Prater of Colorado Springs, the low amateur going into Sunday's final round. "The greens are money. It's pretty soft. You can pretty much go flag-hunting all day. If you're hitting it solid, you just fly right at it."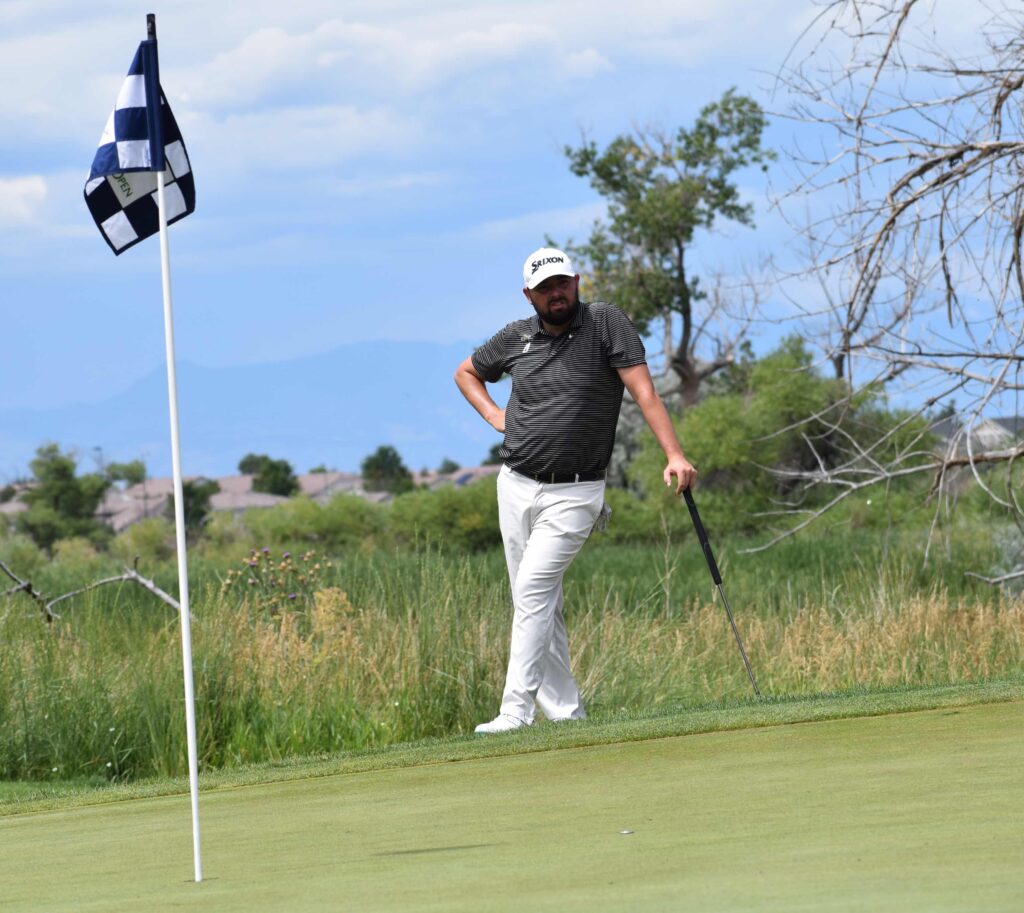 Added Tolan, who still holds the Colorado Open scoring record, at 262, set in 2009: "Now, with how soft it is, no matter how much they tuck the pins, you just laser it and fire it right next to the hole and it just stops."
It rained some more on Saturday afternoon — with the threat of lightning delaying play for about 25 minutes — which may keep the course relatively soft for Sunday's final round, where the $100,000 first prize will be up for grabs. Suffice it to say the tournament record, relative to par, of 24 under, appears very much in jeopardy.
On Saturday, a total of seven players shot 65 or lower. There was Anguiano's 60 and Jacobs' 62 to go along with two 63s and three 65s.
"I had an idea what to shoot, but I guess the course is playing so benign that a lot of guys are shooting below 65," Anguiano noted. "I thought I had to shoot 65-65 to have a chance to win this weekend, but clearly I misread that."
Anguiano, a 27-year-old who won an event on PGA Tour Canada two years ago, certainly didn't start his round as if he was going to match the course record. He parred the first two holes and was 2 under through seven. But starting on No. 8, the only holes he didn't birdie or eagle were Nos. 10 and 16.
He made five consecutive birdies beginning on No. 11, then went birdie-eagle to close out his round.
"Today, the swing clicked, and the putts started going in as well," Anguiano said. "I played the last 11 holes in 10 under. I played the right shot every time. I made a few 25 footers, but all the other birdies were probably within 6 feet, and I knocked all of them in.
"The conditions were soft from the weather yesterday and the wind switched to where it was downwind on most of the holes. It made a lot of the holes short."
But when Anguiano finished his round, even a 60 was not enough to earn him the lead. That belonged at the time to Jacobs, who shot 29 on the front nine and had made two eagles, eight birdies and a bogey through 17 holes. But three-putted for bogey on No. 18 to "settle" for a 62 and a share of the top spot.
Jacobs and Anguiano will go into Sunday's final round with 22-under-par 194 totals. The next-closest player on the leaderboard is Christopher Petefish of Cumming, Ga., who posted a 66 to trail the leaders by three.
Though Jacobs wasn't thrilled to close with a three-putt, he had few other complaints about a 62.
"It felt great. I feel like I have a good game-plan for this golf course, and I've been trusting that," the 26-year-old said. "I made two bogeys today and those were the only two I've made all week.
"When you hole out twice (on par-4s, Nos. 6 and 14), that obviously helps. But overall it's been great. I love this state, I love this golf course. It's just great to be here."
Speaking of loving Colorado, Jacobs comes originally from Hendersonille, Tenn., which produced the man who won the 2012 U.S. Amateur at Cherry Hills Country Club, Steven Fox.
"I know him very well," Jacobs said of Fox. "We played high school golf together, we travel quite a bit with (PGA Tour Latinoamerica). I've known him for years."
So maybe the former Vanderbilt golfer can join his fellow Hendersonville golfer in capturing a big tournament title in Colorado.
Jacobs just hopes GVR yields him another great day of scoring on Sunday.
"This golf course gives you a lot," he said. "The greens are just perfect. If you hit a lot of greens, you have a birdie chance on pretty much every hole. Then there's some short holes you take advantage of. They can add up pretty quick. The golf course is in great shape, so it's pretty susceptible to scoring right now."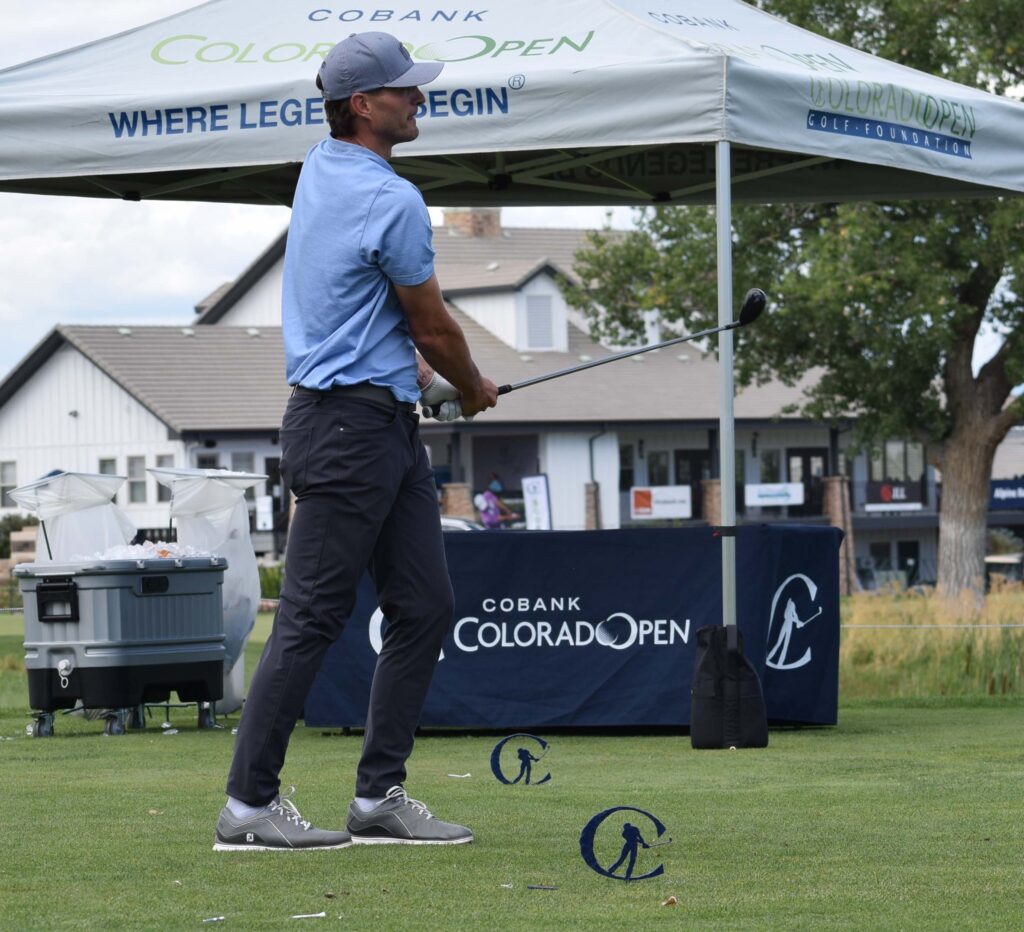 Tolan Took His Shot at 59: Coloradans — and players with strong Centennial State ties — certainly joined in the scoring fun on Saturday at Green Valley Ranch.
Four "locals" shot 65 or better in round 3 — Tolan (63), James Love of Denver (65), former University of Colorado golfer Jeremy Paul (65) and former Air Force Academy player Kyle Westmoreland (65) — and another four posted 67s: Lanting, Steven Kupcho of Westminster, amateur Cal McCoy of Highlands Ranch and two-time PGA Tour winner and two-time Colorado Open champion Jonathan Kaye of Boulder.
Love and Paul share eighth place going into Sunday at 15-under-par 201, while Tolan and Westmoreland are tied for 11th at 202.
Tolan shot up the scoreboard with a stellar ball-striking display en route to his 8-under 28 on his front nine — the back side at GVR. For six of his birdies in that stretch, he hit it inside of 5 feet, and the other two were inside of 10 feet.
"I was just laughing about it — especially the way it happened," said Tolan, a former University of Colorado golfer who now serves as an assistant coach for the Buffs. "I kept hitting everything to 2 feet or something. My caddie and I just joked about it.
"It was especially fun playing with two really good players on a really good golf team (Colorado State University's AJ Ott and Davis Bryant). "It was kind of fun — telling them to take notes. … This is how we do it (at CU)."
Tolan — who shot 8-under 28 on a nine once before, during qualifying for a Korn Ferry Tour event about five years ago in Wichita — was certainly contemplating 59 halfway through his round.
"This time I actually was thinking that," he confirmed. "I was trying to get that 31 on that (second) side. It kind of changed how I was going to play a few things because I don't know how many times I'm going to have a chance to shoot 59 in the Colorado Open. If it ends up going the other way, I don't care. At least I'm going to be fighting going for it. I played pretty good (on his back nine), but it was the difference of putts falling and not falling. And there are some tough pins on that front nine. You had to kind of putt defensively a little bit."
Meanwhile, Love is in position for another very strong finish at the Colorado Open after his eight-birdie round on Saturday. The former University of Denver golfer tied for second last year.
Paul, a native of Germany, is competing in his first Colorado Open and his first tournament in the state since his days at CU.
"It's nice to be back," the 26-year-old said. "I love Colorado. I still look back to the four years I had here at CU. It always feels like a second home. Probably if I didn't play golf (for a living), I'd probably live here somewhere. It's nice to finally play this event. I always played up in Canada, and that season is during the summer. It's nice that it worked out this year and that I got an opportunity to play here."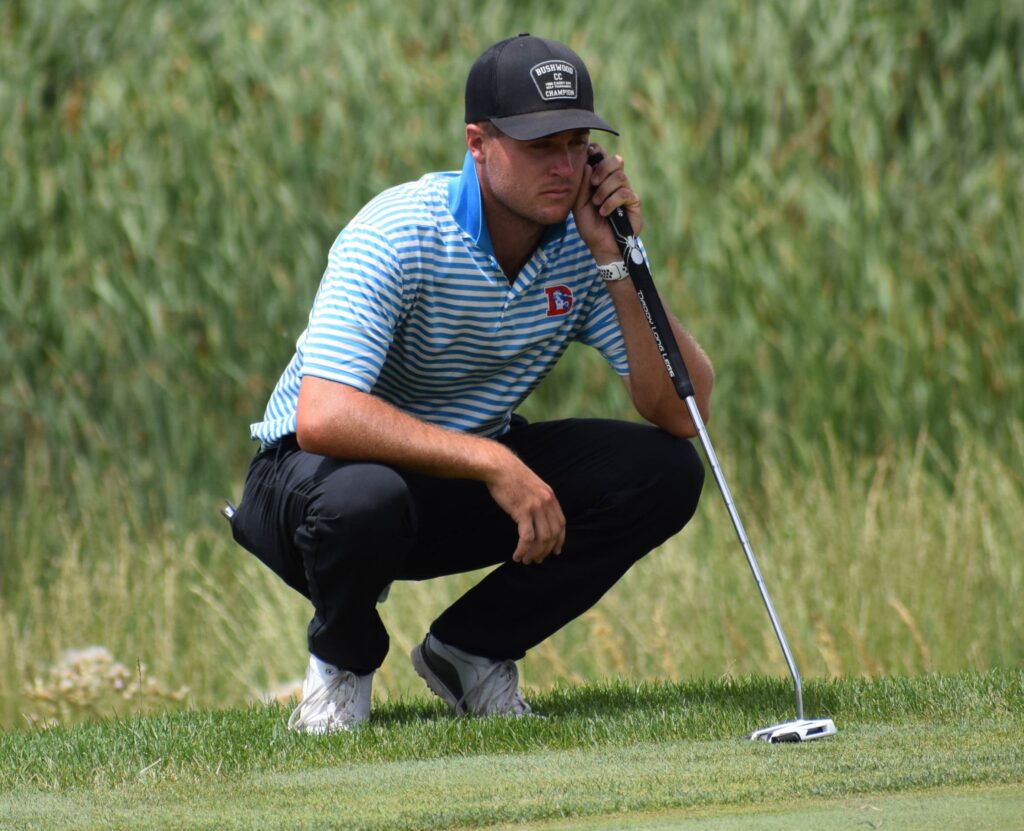 No Change at the Top Among Amateurs: Colin Prater of Colorado Springs led the amateur competition after rounds 1 and 2, and nothing changed on Saturday.
The 2020 CGA Match Play champion shot his third straight sub-par round — in this case a 3-under-par 69 on Saturday — and checked in at 11-under 205. That's one stroke better than University of Denver golfer Cal McCoy (67 Saturday) and two ahead of Nick Nosewicz of Aurora (69), the 2015 CGA Match Play champ.
Prater started the day with two straight birdies and added another on 18, but had just one in between, to go along with a water-ball bogey on No. 12.
"I hit it solid, but just couldn't buy a putt," he said. "I had an 80 footer on 13, and left the stick in thinking there's no way I'm going to make this. I hit it maybe a touch firm, it hit the middle of the stick and then horseshoes and comes out. That was the epitome of the day. I couldn't get a good break, a good bounce, couldn't make a putt. I had tons of looks — probably 10 or 11 inside 20 feet, and made two of them maybe. It was a little bit infuriating. I always get frustrated when I miss putts."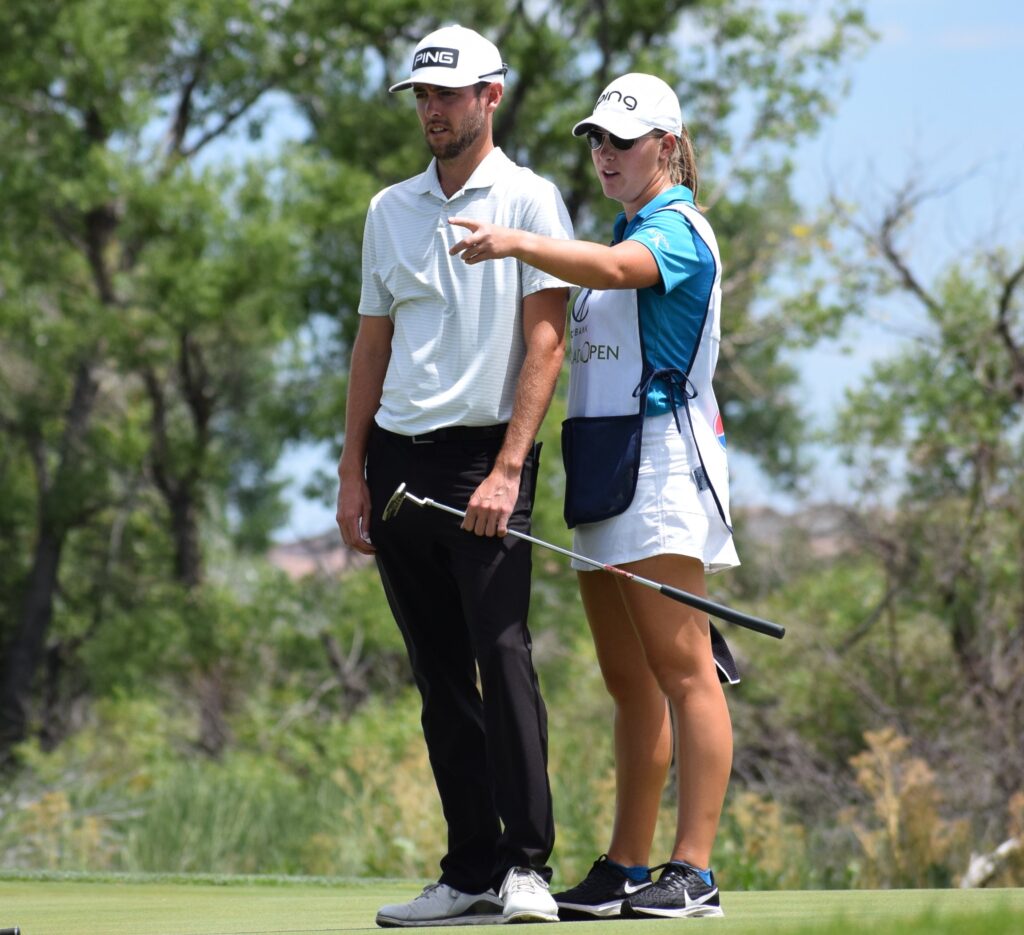 Notable: Colorado native Jennifer Kupcho, who this week became just the second female to compete in the Colorado Open, missed the 36-hole cut by one stroke, but that didn't keep her from returning to GVR on Saturday. A month after her boyfriend, Jay Monahan, caddied for her en route to her victory in the CoBank Colorado Women's Open, the roles reversed on Saturday, with Kupcho cart caddying for Monahan, who shot a 1-under-par 71 and stands at 5-under 211, in 61st place. … Canadian Hugo Bernard, who's tied for sixth place at 16-under-par 200, won the NCAA Division II individual and team titles at Green Valley Ranch Golf Club in 2016. … The leaders will tee off for the final round at 9:25 a.m. on Sunday. … The general public is not allowed to attend the tournament due to Covid-19-related safety concerns.