Harry Rudolph defeats Denver amateur Jon Lindstrom in playoff to win Colorado Senior Open 2 days after buddy Phil Mickelson won on PGA Tour Champions

Scoring: For all the results from the CoBank Colorado Senior Open, CLICK HERE.

By Gary Baines – 8/28/2020
Two weekends ago, Harry Rudolph played two practice rounds with his friend — and former junior golf and college rival — Phil Mickelson in Rancho Santa Fe north of San Diego.
Little did the two of them know that less than two weeks later, each of them would win the first significant senior titles of their career, two days apart.
Mickelson, a 44-time PGA Tour winner, did his part on Wednesday by prevailing in a PGA Tour Champions event in Ridgedale, Mo. As for Rudolph, his time to shine was on Friday, when he captured the title in unlikely fashion at the CoBank Colorado Senior Open at Green Valley Ranch Golf Club in northeast Denver.
Asked about his relationship with Mickelson — with whom Rudolph grew up and competed in San Diego, with the two later playing at rival universities in Arizona — Rudolph noted that the World Golf Hall of Famer was texting him on Thursday as he grabbed a share of the lead at GVR.
And now he and Mickelson can compare senior success stories.
"It's a big deal" to win the CSO, said Rudolph, who like Mickelson is 50 year-old senior rookie. "It's a major tournament. All the Colorado Open history is big. It's important. I'll definitely remember it.
"It was a really strong field this week, in my opinion. If you look at the top 30 or so guys (here) who have PGA Tour wins and Champions Tour wins and so on and so forth, to come out on top with all those guys in the field is good."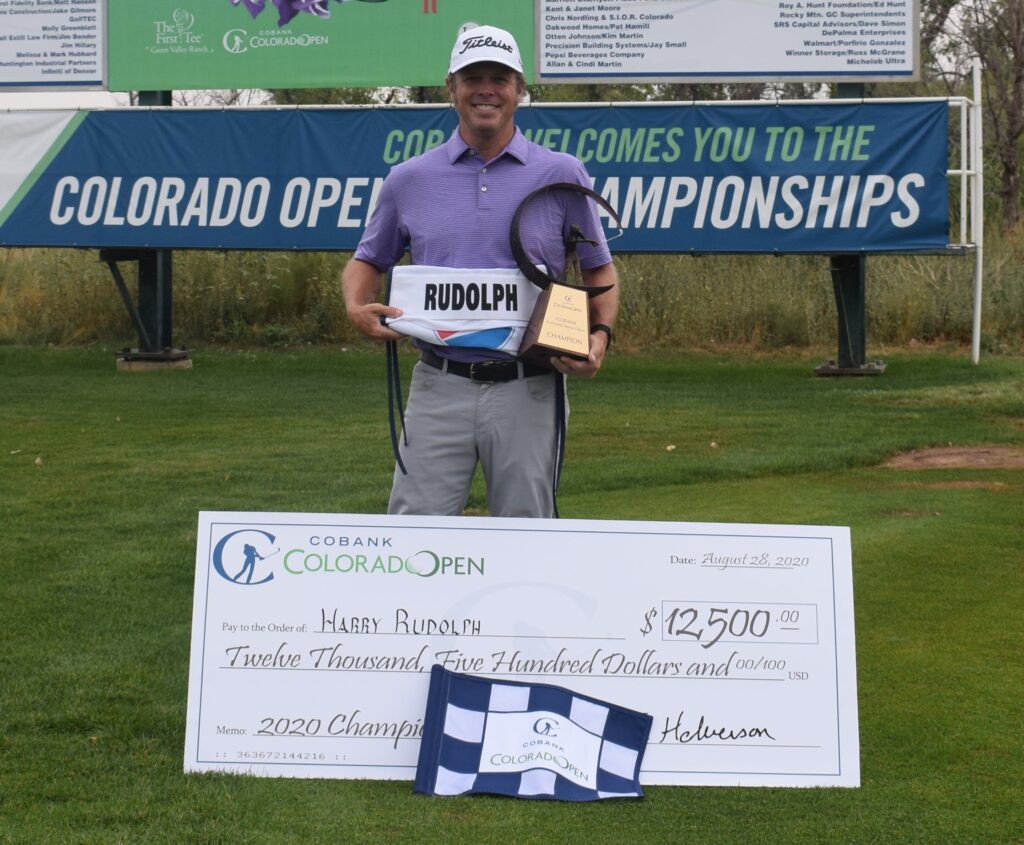 But it wasn't easy, though the La Jolla, Calif., resident came into the final hole of regulation with a one-stroke advantage. Jon Lindstrom of Denver, seeking to become the first amateur winner of the Colorado Senior Open since John Olive pulled off the feat in 1999, had finished a little earlier and was sitting one back of Rudolph.
But the former junior golf and University of Arizona standout refused to take the conservative route to victory on the par-5 18th, a right-bending hole with hazards on both the right and left. After a long drive left him in the light rough, about 245 yards to the hole, Rudolph opted to aim just left of the green, which would require his second shot to carry a sea of wetlands.
Normally, he said, his 4-iron should carry 240 yards, but in this case it didn't and his ball dropped into the hazard, much to his surprise as he was already halfway up the fairway when he was told he had to re-hit from a similar spot.
When one of Rudolph's playing partners, 2017 CSO champion Jeff Gallagher, was asked later about Rudolph's approach to his second shot, he said, "That's a really dumb decision, but it wasn't my decision, so …"
Now it appeared Lindstrom might win the tournament outright, as Rudolph laid up and hit his fifth shot to 35 feet short of the flag, with a large hump between his ball and the cup. Rudolph had to sink the tough putt for a bogey to force a playoff.
And, sure enough, he did just that, giving him a chance at the title after all, despite his game management on the hole.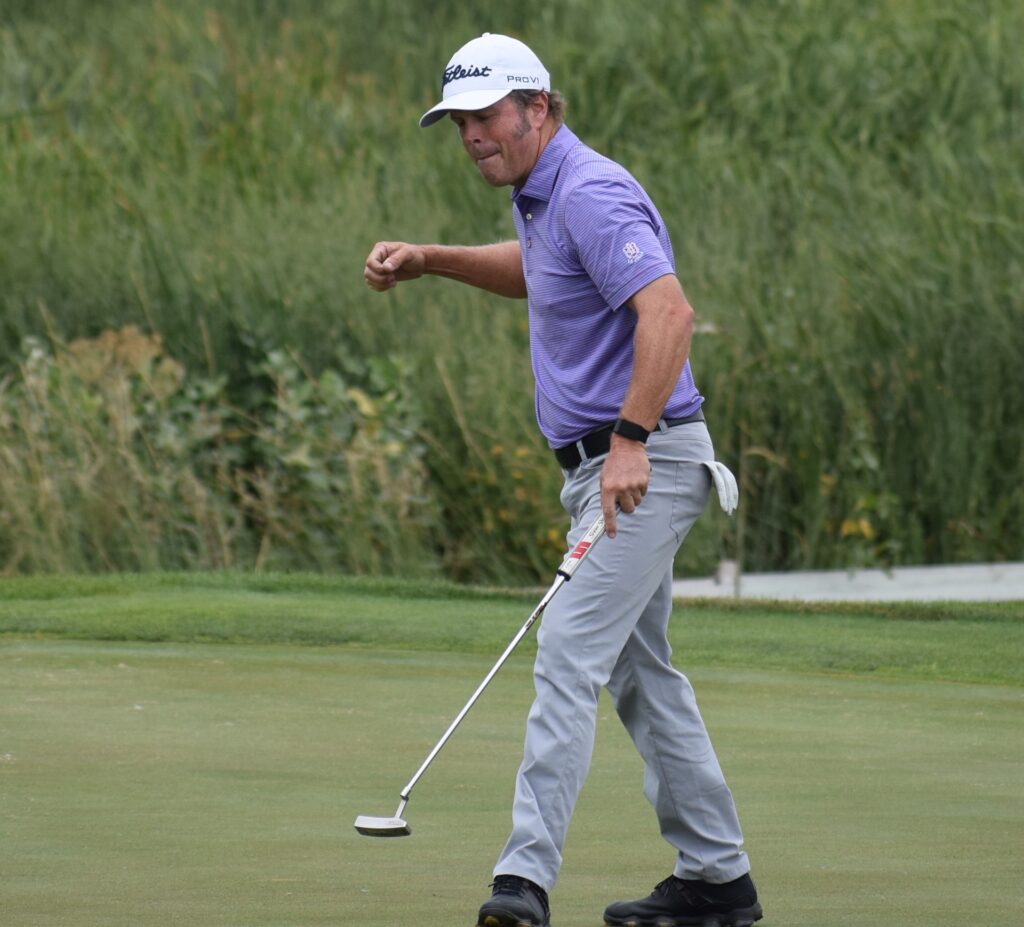 "When I saw him make that bomb, I thought it was at worst for par and probably for birdie, so I was packing up my car," Lindstrom noted.
Asked about the odd way things turned out on 18, Rudolph said, "I thought I made the smart play on the last hole (of regulation). I was aiming left (of the green) just to be safe. I figured as long as I hit it left and cleared it, the tournament would be over. Then all of a sudden I'm in the hazard, I'm laying up and Holy Cow!
"Honestly, I've never laid up on that hole, so I didn't even know what to do on a lay-up. I considered it, but I would have literally had to hit a little, tiny pitching wedge over there. I was just trying to play the shot that I felt like was called for. I didn't want to shy away from that. I was kind of challenging myself to hit the right shot. I knew if I hit the right shot, it was over. Unfortunately, it didn't clear.
"But to make the putt up and over the hill, I just kind of kept my head together. I didn't get too emotional about it, which was good. I stuck to my guns and made that putt and got into the playoff, which was pretty huge. It was fun to do that for my buddies who were out here watching. That's a big putt. I'll remember that for sure. And it wasn't an easy putt either, up and over the hill like that. To make that putt is a big deal."
Despite hitting his tee shot into the water on No. 12 — where he made bogey on a relatively easy par-5 — Gallagher also had a chance to join in the playoff. But he couldn't covert a 35-foot birdie of his own and had to settle for third place.
In sudden death on the 18th hole, the golf gods smiled on Rudolph again. He drove it in basically the spot as in regulation — in the light rough, a couple of feet from where his previous tee shot had settled. And again he was prepared to go at — or near — the green with his second shot.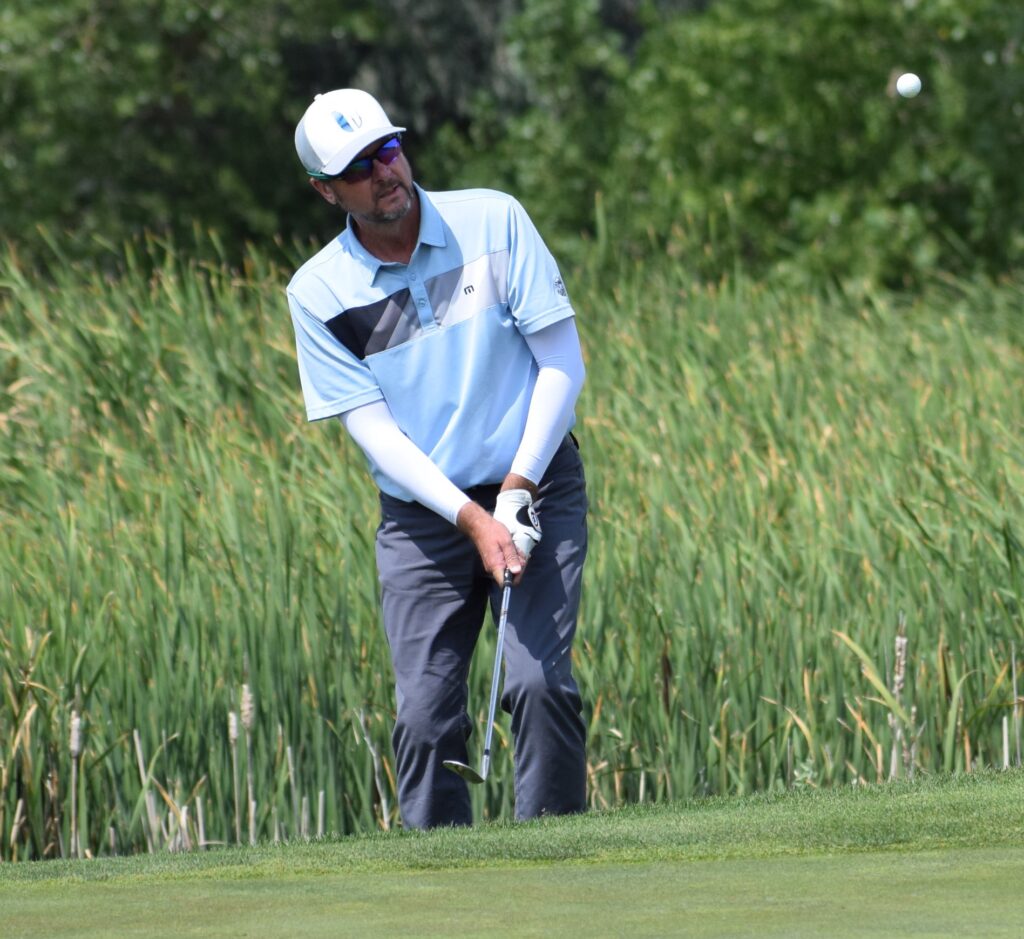 But Lindstrom, who drove into the fairway but further from the hole, changed Rudolph's mind. The three-time CGA Mid-Amateur champion pulled his 6-iron lay-up slightly, and it landed on the left side of the fairway and rolled over the cart path and down into the hazard. Because that hazard is an environmentally sensitive area, players aren't allowed to hit it from there, so after a penalty and a drop, Lindstrom faced a fourth short with his ball well above his feet, and squirted his ball along the ground across the fairway. 
From there, Lindstrom hit the green and two-putted from 20 feet for a double bogey. Knowing Lindstrom's troubles, Rudolph did take a very conservative route this time around and two-putted for a par and the victory.
"It would have been a little strategy had (Lindstrom) not gone into the hazard," Rudolph said. "Once he went into the hazard, I just chipped it down there and played conservatively, which is hard for me to do. I just don't that way. But it was the right way to play it in the playoff."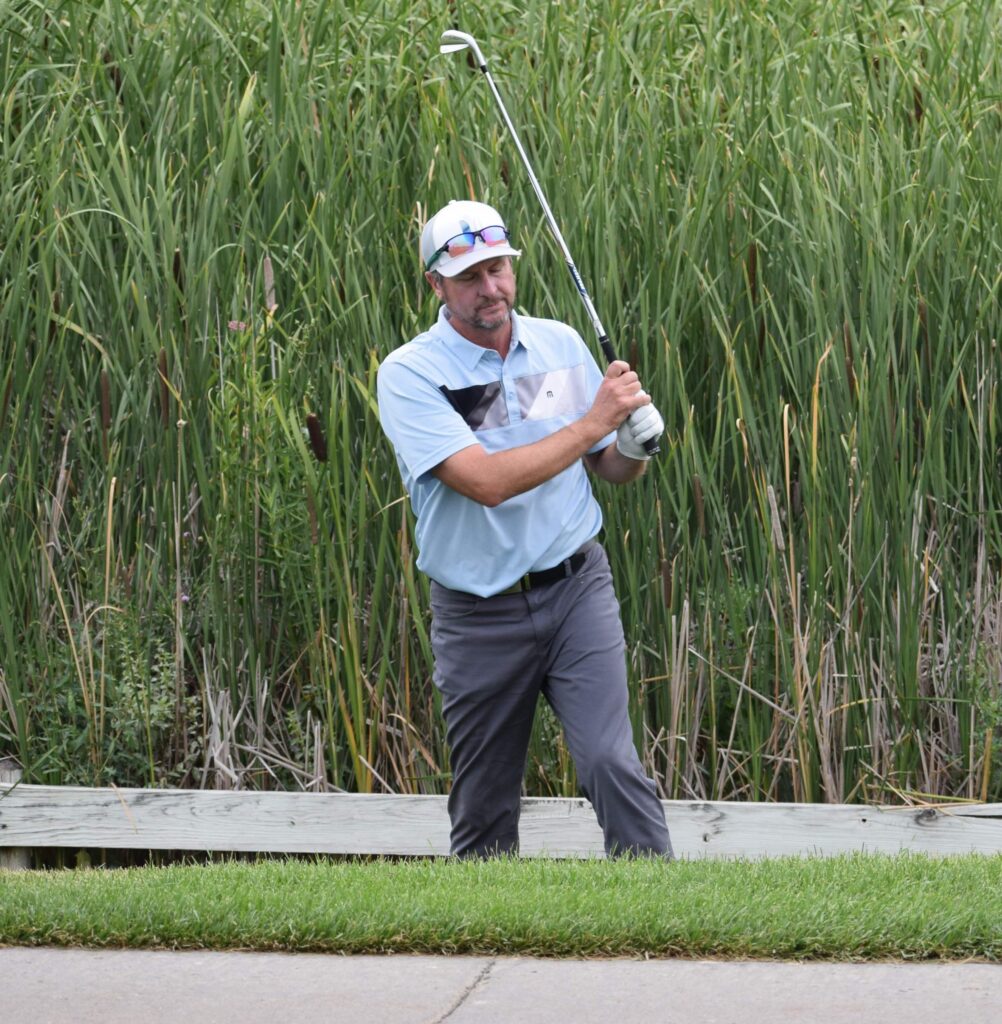 For Lindstrom, it was a tough way to end a day in which he posted the best score in regulation — by two strokes, a 4-under-par 68 — and had rallied from a three-stroke deficit to force a playoff.
"I have a hard time with the angle on that second shot (on the 18th hole)," the 52-year-old said. "If I was 10 yards closer I would have probably hit 3-wood and try to beat it up by the green. I did pull it, and obviously it went too far. I was just trying to chip a 6-iron down there, but I pulled it, so it went farther and it rolled out. Then after that drop, the ball was waist-high."
It marked the second instance in Lindstrom's two times playing the Colorado Senior Open in which he's been in contention on the final day. Two years ago, he ended up tying for sixth place, three shots behind the champion.
Asked his emotions after what transpired on Friday, Lindstrom said, "It was a good day. I played well today and had a chance. Obviously it would be kind of cool to win as an amateur, but I've got to work on my lay-up shots I guess."
Rudolph took an up-and-down route to his final-round 1-under-par 71 as he made six birdies and five bogeys on the day. With an 8-under 208 total, he earned a check of $12,500 — which would have come his way even if Lindstrom had won the playoff.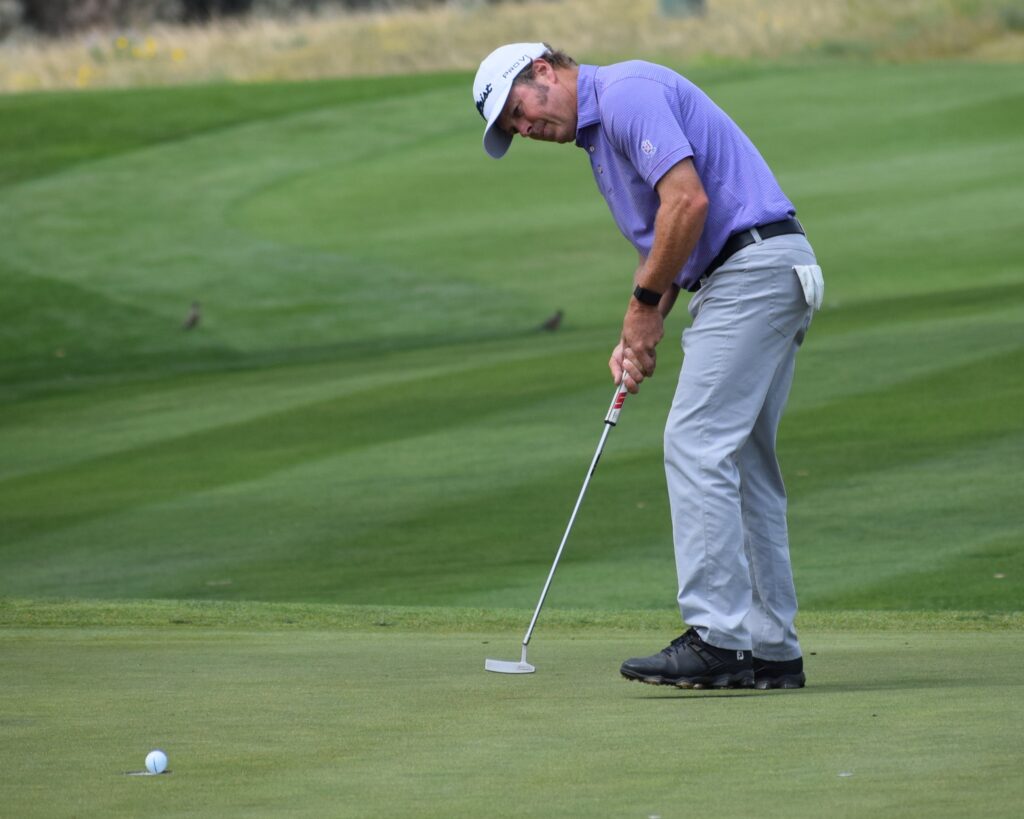 Lindstrom shot his second consecutive round of 68, this time carding five birdies and a bogey. That lone bogey came on the 17th hole, where he pulled a 6-iron a bit on the par-3 and it landed in the front bunker. He missed a 12-footer for par.
With his third-place finish, Gallagher ran his streak of top-10s in this event to four. He ended up at 209, earning $7,000.
"For somebody who doesn't play golf (very much), I played well," he said.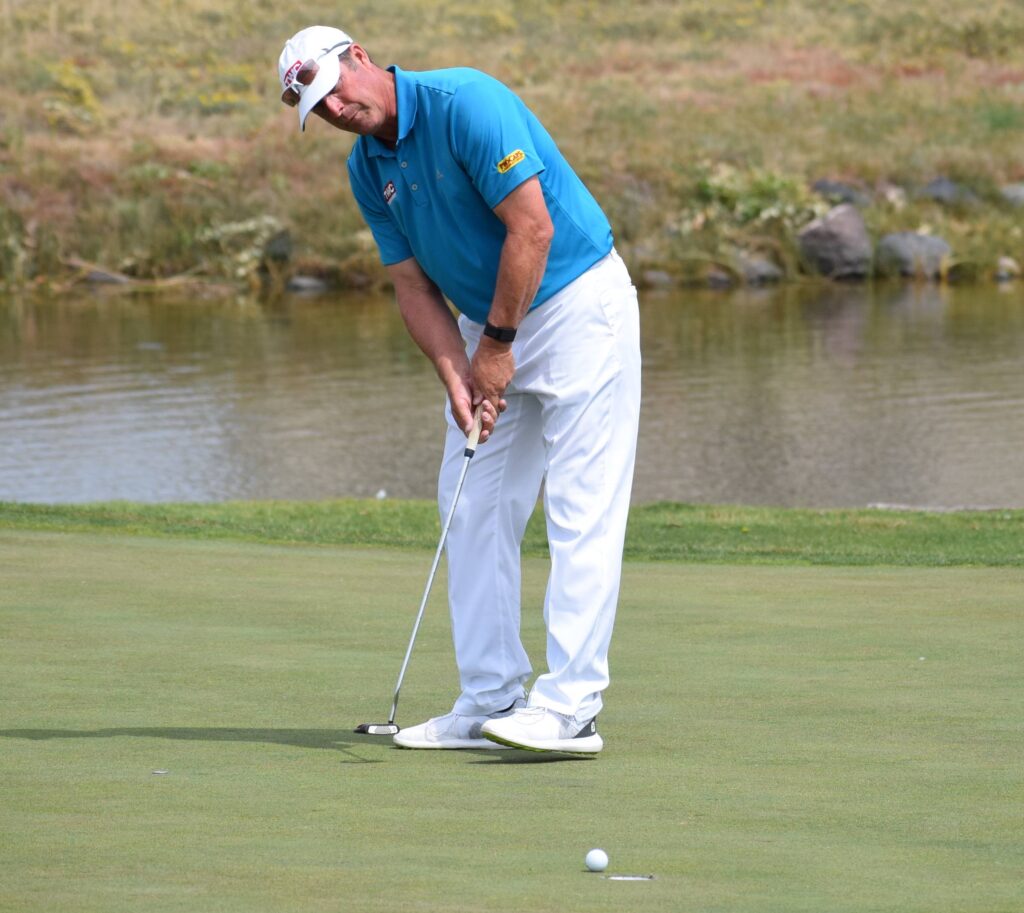 Canadian-born David Morland IV was also in contention on the back nine on Friday, but bogeyed two of his last four holes to finish two out of the playoff. He shot 71 in the final round. But he very well might particularly lament the triple-bogey 8 he made on the 18th hole on Thursday.
For Rudolph, Friday marks the second time he's earned a trophy at a Colorado Open championship as he was low amateur in the Colorado Open in 1991 at Hiwan Golf Club in Evergreen.
"This is going to give me some confidence, knowing I can hang in there when it matters," said Rudolph, who has gone amateur to pro to amateur to pro in his career. "It's a big steppingstone in that sense."

Although low-amateur honors were far from top of mind for Lindstrom on Friday, he did capture them for the second time in the two years in which he's competed in the Colorado Senior Open. The 52-year-old from Lakewood Country Club joins Olive, Kent Moore, Sean Forey and Eric Hoos in having been CSO low-am twice.
Despite losing in a playoff for the overall title, Lindstrom was able to smile about the situation.
"I get a trophy. It can't be that bad, right?," he said.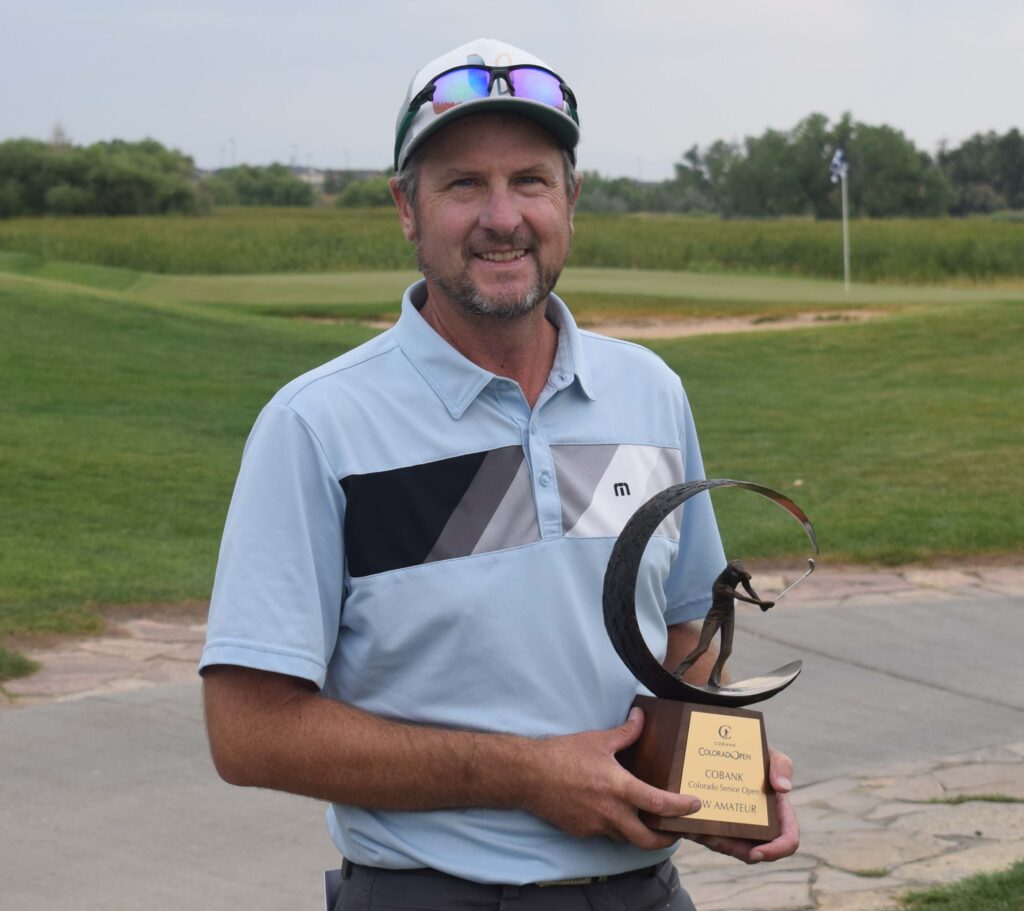 The amateur competition wasn't much of a competition at all on Friday as Lindstrom prevailed by 11 strokes. Placing second among ams was Moore (219 total), while David Nelson of Littleton and Mike Henry of Bloomington, Ill. (both 220) tied for third.
The previous time Lindstrom was CSO low-amateur, he prevailed by 10 shots over the next-best am.
Overall, Lindstrom's runner-up showing was the best by a Coloradan in the Colorado Senior Open since Doug Rohrbaugh of Carbondale won in 2013.
Lindstom's final-round 68 included five birdies, including a 30-foot chip-in on No. 5.
As it turned out, Lindstrom had a 15-foot birdie attempt on No. 18 in regulation that would have won the overall title outright, but he left his putt just inches short of the cup.
"I did not think (I was going to be in a playoff)," he said. "I wasn't watching the scoreboard at all today. I was just trying to shoot a number and see what happened. I was surprised.
"I was surprised the numbers weren't lower today. I thought I had to shoot 67 or 65 to get in, because I figured somebody behind us would shoot 68 and they were already two or three ahead of me."

Notable: This year marks the first time since 2003 that the Colorado Senior Open overall title has been decided by a playoff. … With Friday's victory, Rudolph earned a spot into the 2021 CoBank Colorado Open, where the first prize will be $100,000. … Bob Niger of Sacramento shared the lead going into Friday, but a final-round 78 dropped him to a ninth-place finish with a 215 total. But Niger did take super-senior honors for contestants 60 and over, prevailing by two over Gary Hallberg of Longmont and Ben Sauls of Jupiter, Fla. Niger earned $1,000 for that title and $1,400 more for his overall showing. … The top finish by a Colorado pro on Friday was 14th place by Chris Johnson of Castle Rock.