Steve Ivan of Colorado Springs rallies to capture CGA Senior Match Play title 6 days after his mom passes away
By Gary Baines – 6/26/2020
Steve Ivan had just played his seventh round of competitive golf in five days, but that wasn't why the Colorado Springs resident was squatting down with his left hand over his face next to the 18th green at Highland Meadows Golf Course in Windsor on Friday.
Ivan, who was playing in the final of the CGA Senior Match Play Championship for the third consecutive year, had just rallied from a 4-down deficit through six holes to defeat 2009 champion Robert Polk of Colorado Golf Club in 20 holes for the title.
But it was the backdrop of the victory that left the 58-year-old so emotional, fighting back tears. Just six days earlier, his mom Constance, a month shy of turning 90 years old, passed away in Pueblo, where Steve grew up. Constance and Ronald, Steve's dad who died in 2017, taught him to play golf in Pueblo back in the day.
"I didn't play for me at all this week. I played for my mom." Ivan said on Friday. "And I think she had a part in (the victory). I mean, when you're 4 down after six to a (very accomplished player), how do you come back?
"It was tough for me to come up this week. I debated whether to come to play at all. My brothers and sisters said, 'Go play. Go play for mom. Win it for mom.'"
In that sense, it was mission accomplished for the player from Patty Jewett Golf Course. Not only did Ivan join the ranks of golfers who have won both of the CGA's senior majors — the Senior Amateur and the Senior Match Play — but he kept alive a truly remarkable streak.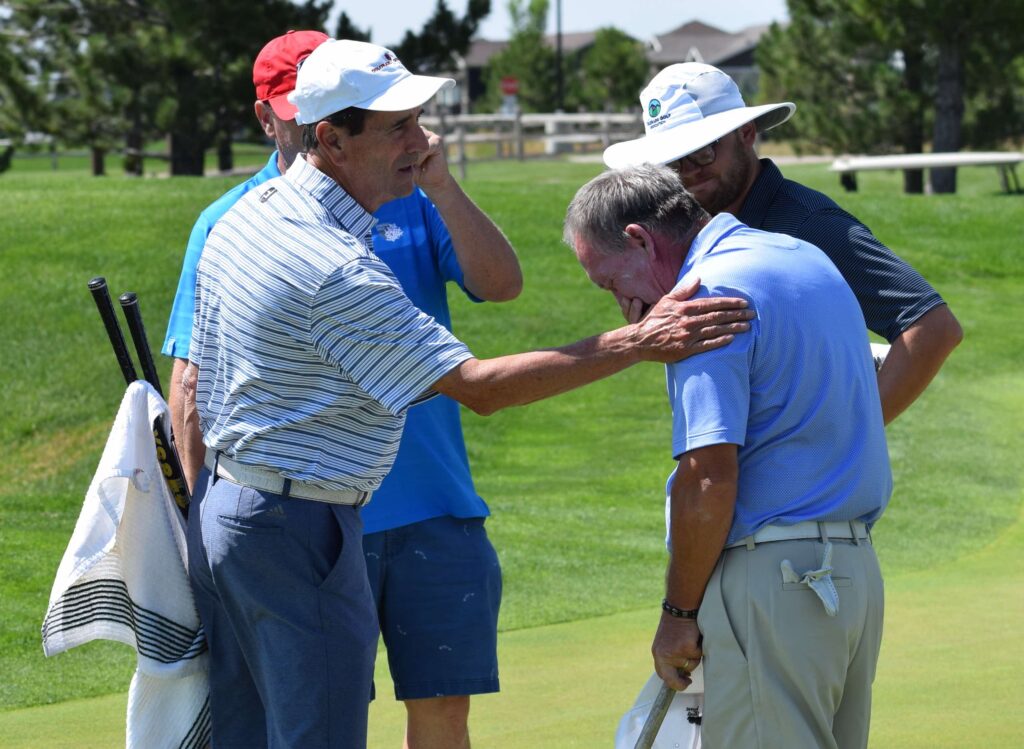 In the last six CGA senior majors, starting with the 2017 Senior Amateur, Ivan's finishes have gone first-second-second-second-second-first. And, just for good measure, he's finished runner-up among amateurs at both the 2018 and '19 CoBank Colorado Senior Opens.
"It's a lot of seconds — which isn't bad — but it's nice to get off that hump" with Friday's victory, he said. "But I'm proud that my game travels to different venues and (works well) in different formats. I'm able to adapt to the golf course and what it gives me. I absolutely love this place (Highland Meadows). I'd live here — not just because I won it. I think it's a great challenge."
On Friday, facing Polk, winner of 13 CGA championships, Ivan prevailed for the title when Polk conceded him a 4 1/2-foot birdie putt on the 20th hole. It was the third consecutive time the two had played the par-4 18th, and Ivan birdied the hole for the second time in those three tries. He sank a 3-foot birdie in regulation to force extra holes, then nestled a 50-degree wedge shot from 115 yards to 4 1/2 feet on hole No. 20. And when Polk mishit his 30-foot chip and failed to convert his 20-foot par putt, he conceded the match.
Ironically, it was the only time Polk trailed in the final.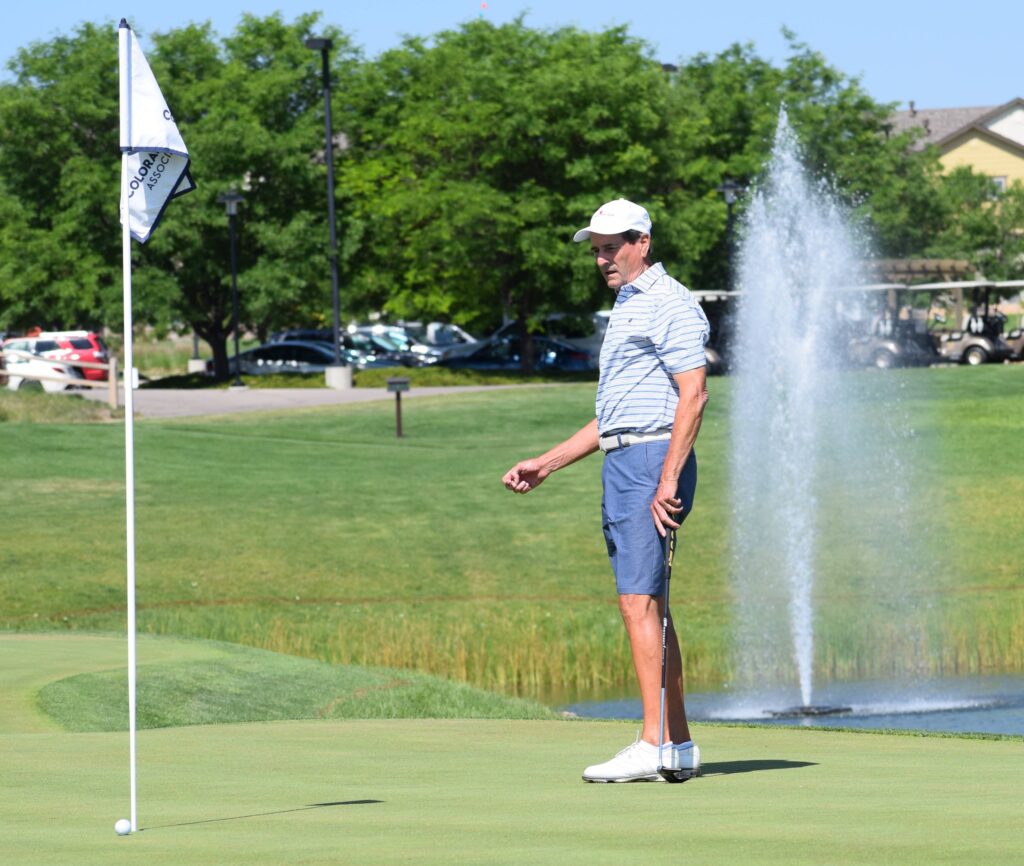 "Congratulations to Steve," said Polk, who at age 65 was attempting to become one of the oldest winners of the Senior Match Play. "He hung in there. I had him. You can't let a good player off the hook, and I let him off the hook and he took advantage of it."
Ivan said that when he had awoken at 2:39 a.m. on Friday, his first thought was how tired he was after six matches in the previous four days. But he also had another thought that he had to fight off.
"I started thinking of all these things I was going to say when I won," he said. "I'm like, 'The cart is way in front of that horse, Steve. Let's get back on track here.'"
And indeed, after losing in the past two Senior Match Play title matches 5 and 3 and 5 and 4, Friday's appeared to be shaping up like more of the same.
Polk birdied the first hole from 33 feet — and three of the first four. In fact, had Polk made a 7-foot attempt on 2, he would have started out with four consecutive birdies and been 4 up through 4. As it was, Polk built a 4-up lead through six holes. And when Ivan hit his wedge approach on No. 7 into a deep, sod-faced bunker, Polk was looking to pick up another hole.
But that's where Polk lost some of his mojo. With plenty of green to work with on the right, he instead followed Ivan into the deep bunker. And when Ivan hit a stellar sand shot to 18 inches for par and Polk made bogey, the momentum switched.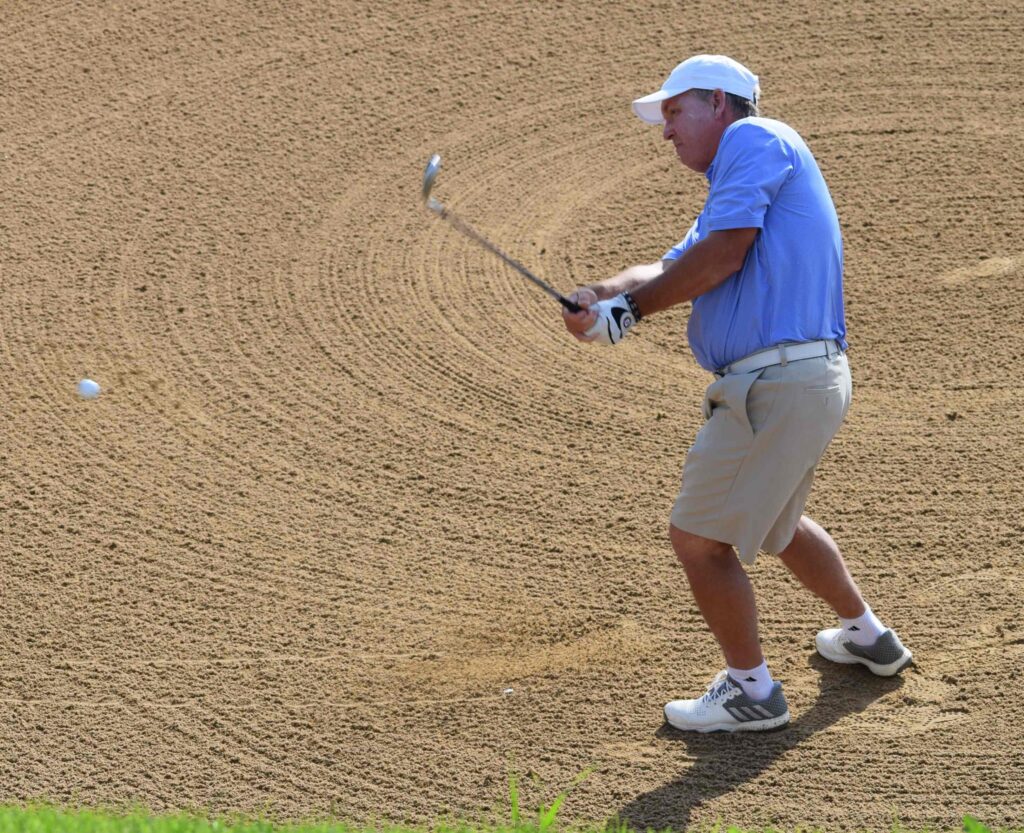 "I couldn't get out of my mind No. 7," Polk said. "I'm getting ready to go 5 up and I just hit a terrible second shot. But I kept telling myself you can't lose if you don't ever get behind."
Said Ivan: "I've played so many match plays. It's all about momentum. Even though I had a horrible shot with a 60-degree (wedge) into the gigantic bunker on 7, I'm like, 'OK, let's dig it out of there.' And where I saw my (bunker shot) end up, I go, 'OK, there's one.' And my buddy says, 'How do you eat a Porterhouse (steak)? One bite at a time.' You just never give up."
Those bites ended up coming in a hurry. In the six-hole stretch from 7 through 12, Ivan won four holes — three with pars and one with a birdie.
"I just kept saying, 'If you don't make bogeys, you can't lose,'" Polk said. "But I made three bogeys on the way in, and all of them were awful. You can't make bogey from where I had it. It's not like I hit a crooked drive or something because I drove it about as well as I'm going to drive it."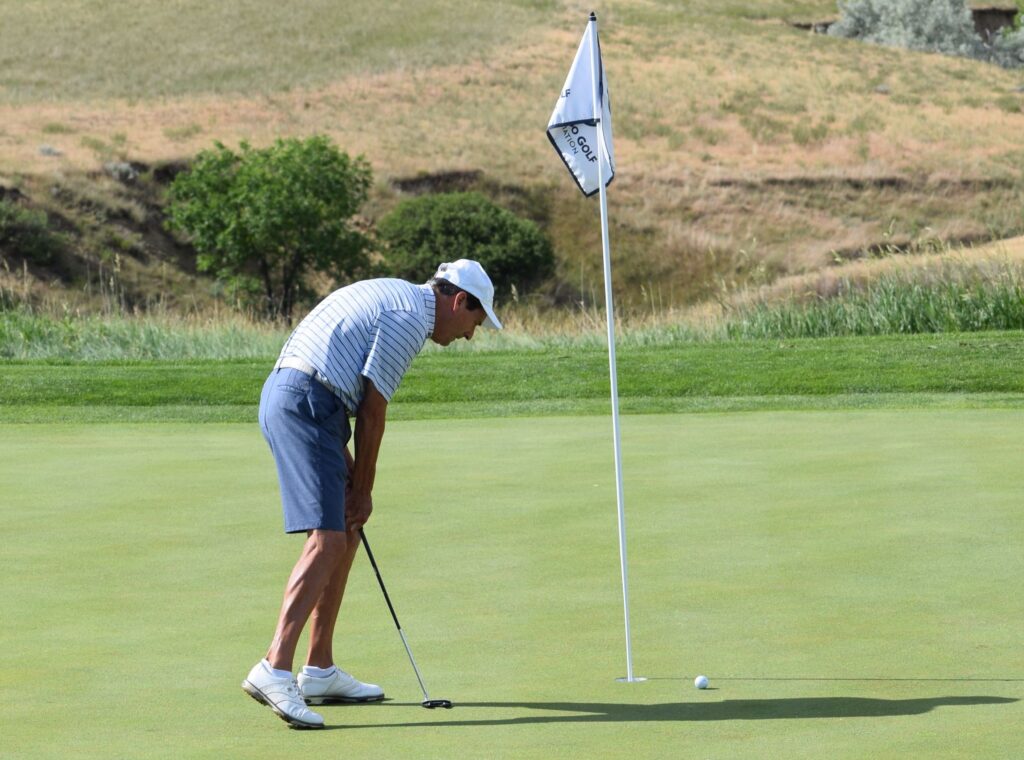 Hole 12 was particularly painful for Polk, who three-putted on the par-5 from 18 feet, missing a 3-foot par attempt.
"On 12 I hit a bad first putt but I hit a great second putt," he said. "I don't have any idea how it didn't go in. I'm going to get it out of the hole (thinking he had made it). I hit it exactly where I wanted to; it just didn't go in."
Still, Polk regained a 1-up lead on the par-3 16th, where he drained a 15-foot birdie putt. And he could have won the match had he made a 17-foot birdie on No. 17, an 8-foot birdie on No. 18 in regulation or a 12-footer on the first playoff hole. But all those missed, opening the door for Ivan, who birdied 18 twice in three tries.
"I just didn't make the putts I've been making," Polk said. "If I make the putts I've made in the prior six matches, I win. But for whatever reason I just didn't make as many putts today.
"I damn sure wanted to win, but I'm happy for Steve."
Both players scored well on Friday, with Ivan finishing 2 under par for 20 holes and Polk 1 under.
Overall, it marked the first extra-hole final in the CGA Senior Match Play since 2007. In fact, the 20-hole title match tied the longest on record for this event, though scores for all 51 years of the championship aren't available.
For Ivan, Friday marked his third CGA championship title. He won what is now the Colorado Junior Match Play in 1979 — before going to the University of Colorado and becoming a teammate of future U.S. Open winner Steve Jones — and the 2017 CGA Senior Amateur.
Ivan has relished competing against fellow seniors in recent years.
"Coming up and playing against the caliber that these guys are up here, that's what makes it a better victory for me because these guys can play," he said.
Ivan's victory marks the second CGA match play title in two weeks for Colorado Springs-based amateurs. A week ago, a player Ivan has mentored, Colin Prater, won the CGA Match Play.
CGA Senior Match Play
At Highland Meadows GC in Windsor
THURSDAY'S QUARTERFINALS
Robert Polk, Colorado GC, def. Scott Sullivan, Bookcliff CC, 3 and 1
Kent Moore, Cherry Hills CC, def. Victor Minovich, Foothills GC, 3 and 2
Steve Ivan, Patty Jewett GC, def. Gary Albrecht, CommonGround GC, 19 holes
Guy Mertz, TPC Colorado, def. John Hornbeck, Collindale GC, 3 and 2
THURSDAY'S SEMIFINALS
Robert Polk, Colorado GC, def. Kent Moore, Cherry Hills CC, 2 and 1
Steve Ivan, Patty Jewett GC, def. Guy Mertz, TPC Colorado, 5 and 3
FRIDAY'S FINAL
Steve Ivan, Patty Jewett GC, def. Robert Polk, Colorado GC, 20 holes
For all the results from the event, CLICK HERE.