Denver native Wyndham Clark 'bummed' after leading much of Sunday but falling in playoff to Brian Gay at Bermuda Championship; runner-up finish is Valor graduate's best ever on PGA Tour
By Gary Baines – 11/1/2020
It could have been paradise in more ways than one this past week in Bermuda for Denver native Wyndham Clark.
Besides spending time in the beautiful locale, Clark was on the verge of accomplishing so much on the Atlantic island. With a victory, he would have landed berths in the 2021 Masters and PGA Championship, along with a two-year exemption on the PGA Tour.
And, oh yes, it would have been his first PGA Tour win, a momentous occasion for any high-level player.
And just about any time people might have checked in on the Bermuda Championship scoreboard on Sunday, it was Clark's name they saw atop the leaderboard.
Except at the very end.
Brian Gay birdied the 18th hole two straight times — from 1 foot in regulation and from 12 feet in a playoff — to deny Clark that first Tour victory.
Despite shooting a final-round 65, Clark fell just short as he missed a 10-foot birdie attempt on No. 18 in regulation that would have secured the win. And he pulled a 7-foot birdie try on 18 in the playoff that would have extended sudden death.
Clark, the 2010 CGA Amateur champion, posted by far his best finish in 62 PGA Tour starts — his previous best was a fifth place — but falling just short certainly stung.
"I'm pretty bummed," the 26-year-old Valor Christian graduate said. "Obviously I would have liked to have won. I played so good. I just had a little mishap on 16 and 17 and then really didn't make those two putts on 18. I played great. It was a great tournament. Obviously I'm disappointed."
Clark trailed by one going into Sunday, but a stellar start — five birdies in his first seven holes — put him in the lead. And birdies on 10 and 11 left him 7 under through 11. In fact, Clark's lead was three at one point on Sunday. But he went 1 over in his final seven holes of regulation, plus the playoff, as he needed to get up and down for a bogey on the par-3 16th hole.
"I thought I made that putt on 17 and the same on 18," he said. "I had chances, I just didn't capitalize."
Clark's runner-up showing was worth $436,000.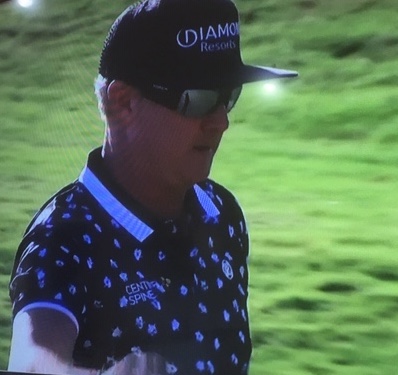 Gay, the only player in the top 14 going into Sunday who had more than one PGA Tour victory — he had four before this one — trailed by one after a three-putt bogey the par-5 17th. But the 48-year-old flagged his approach on 18, sinking a 1-foot birdie putt to tie.
Clark could have ended things had he drained his 10-foot birdie on 18 in regulation, but he ran it 3 feet by the hole and settled for par. Both he and Gay finished at 15 under par for 72 holes.
In the playoff, Gay rolled in his 12-foot birdie on 18, leaving Clark a 7-foot birdie to tie. But the former Coloradan missed left, giving Gay his fifth PGA Tour title, but first since January 2013.
For all the scores from Bermuda, CLICK HERE.