Franklin wins CGA Women's Senior Match Play for record fourth straight women's senior major title
By Gary Baines – 7/16/2020
Women's senior major golf championships for amateurs in Colorado date back to 1983. The Women's Senior Stroke Play, run for many years by the CWGA and now under the auspices of the CGA, has been contested 37 times and the CGA/CWGA Women's Senior Match Play 16 times.
But until Thursday, no one had ever won more than three consecutive women's senior majors in Colorado.
However, this week at Saddleback Golf Club in Firestone, Kristine Franklin of The Ranch Country Club went where no Colorado women's senior amateur had gone before.
The 54-year-old Westminster resident earned the CGA Women's Senior Match Play title on Thursday, becoming the first winner of four consecutive CGA women's senior majors.
Franklin defeated four-time champion Kim Eaton, a Colorado Golf Hall of Famer who resides in Arizona, 3 and 2 in Thursday's final, and now has won two straight Senior Match Plays and two Senior Stroke Plays in a row.
"It's hard to take in," she said when asked about the feat. "But it also means more pressure and more pressure to keep doing it. I started off the season really working hard on my game, so to see it start paying off is really good. I still didn't hit it as well as I wanted, but I worked so hard on my chipping and putting and it was neat to see it finally work out. But it's a lot more pressure to keep going."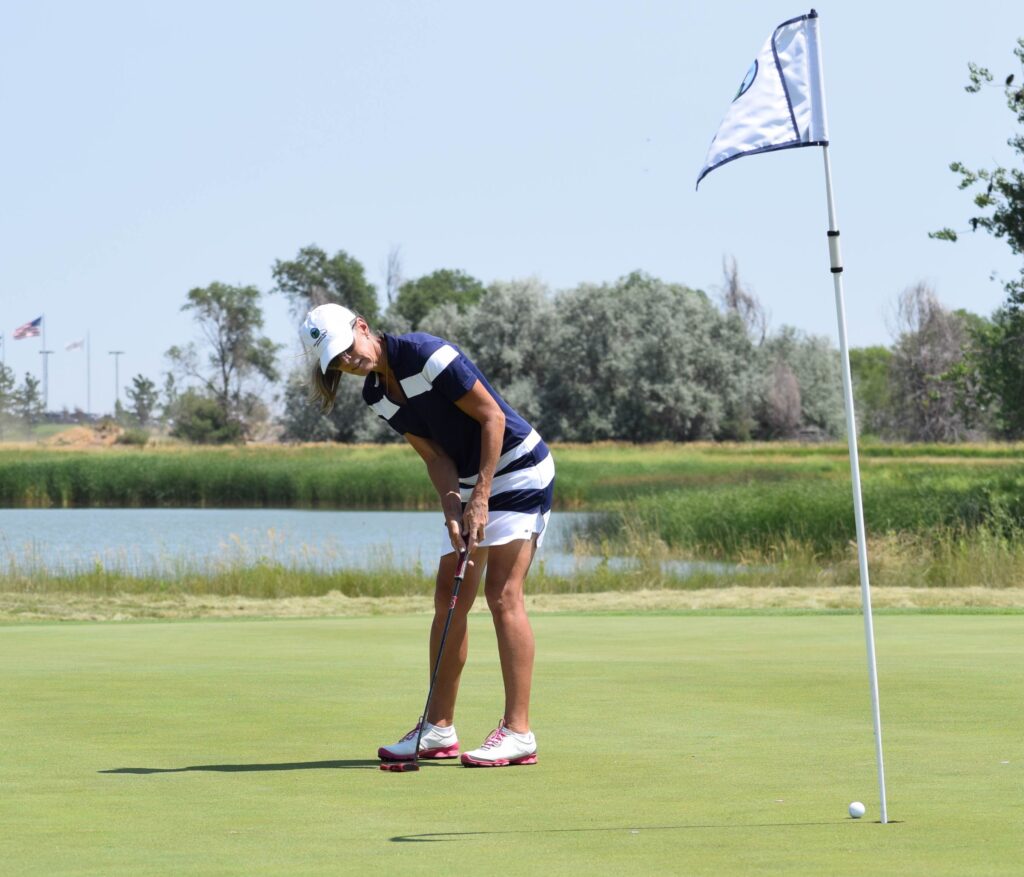 Interestingly, three players — other than Franklin — have won three straight CGA women's senior majors, with Eaton being one of them. She managed that feat in 2012-13, joining Patty Crigler (2002 through '04 Senior Stroke Play) and Lynn Larson (1996 through '98 Senior Stroke Play).
Franklin and Eaton have now finished 1-2 — in that order — in three CGA women's senior majors since 2018. But this week marked the first Senior Match Play where that was the case.
"It's neat to have won so many, but you still have to earn it," Franklin said. "There are six or seven really good players that you never know how it's going to go, especially in match play. It's a neat field."
Franklin, who sandwiched a tour professional career between stints as an amateur, now has five CGA/CWGA championships to her credit, with the recent senior titles being added to the CGA Women's Stroke Play she won in 1986 as Kris Hoos.
This week at Saddleback, Franklin claimed the title with husband Brent caddying for her. Brent Franklin, the associate head coach of the University of Colorado women's golf team, has been inducted into the Canadian Golf Hall of Fame after enjoying success as both an amateur and a pro.
"She played well," Brent said of his wife. "She played solid. She had three fairly tough matches this week. I'm very proud of her. She did well and hung in there."
Franklin never led against Eaton until she got up and down for par, sinking a 10-foot putt, on the 12th hole. A 5-footer for par won No. 14. And she hit her approach tight on No. 16, where her birdie putt was conceded after Eaton hit it into the water and failed to sink her bogey putt.
"I was really struggling to hit decent shots onto the green, but my short game really paid off," Franklin said. "When I missed, I was able to recover."
"My short game is way better than it ever was (as a pro). I was a way better ball-striker then, but I'm happy to now know that that will save you."
In that regard, Franklin said, the very challenging putting surfaces at her new home club, The Ranch, have paid dividends for her.
"That has been a real blessing," she said. "The greens are so tricky there, so your chipping and your putting and your touch and your visualization — being able to create shots — really helps a lot."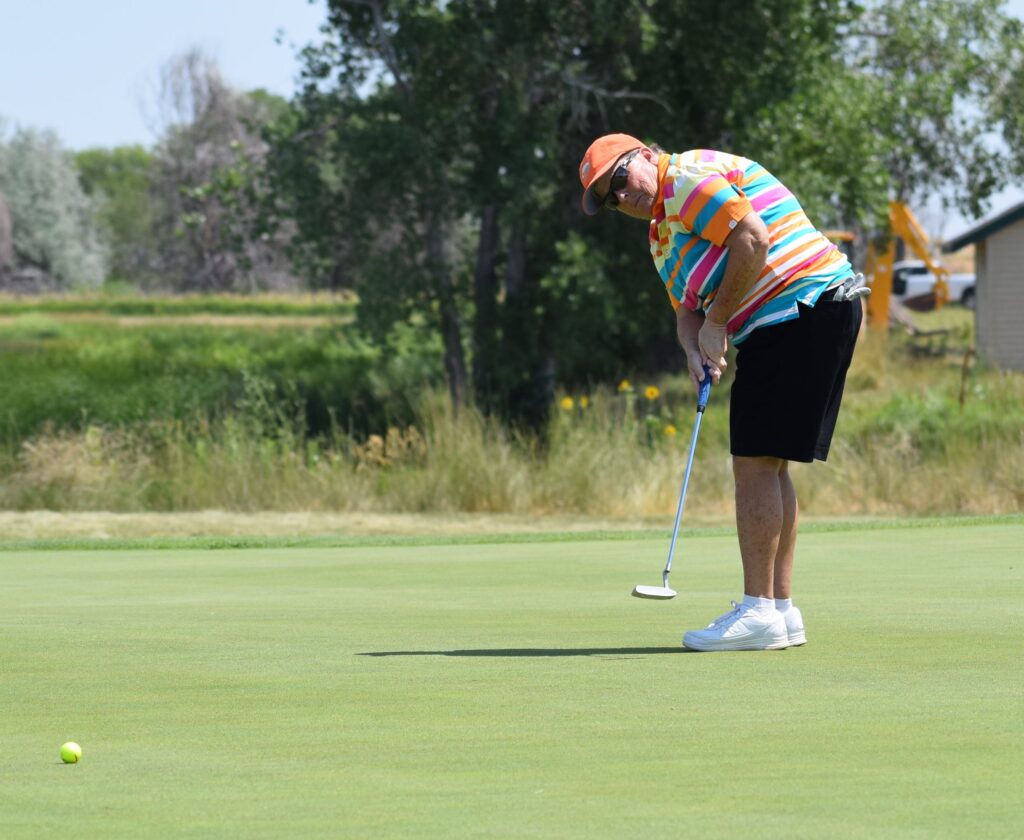 Eaton played well for the first 11 holes, but contributed to her own demise with uncharacteristically poor approach shots on 12 and 16 — the later going into the water fronting the green — and a mis-hit drive on 14.
"I hit bad shots that killed me, and I just couldn't make a putt on the back nine," Eaton said. "But I'm happy with the way I played (overall) and we had a good match. Kris is just really steady.
"I was just happy to get into the finals. I wasn't sure I was going to be able to swing when I got here because I'm pretty sure I have a tear in my (right) rotator cuff. It's painful, but you muddle through. I live in pain every day whether it's my feet, my knees, my shoulders. It just never ends."
For Eaton, the loss in the final means that her quest goes on for CGA/CWGA championship victory No. 26, which would give her the outright record for CGA/CWGA women's titles. She now shares that mark at 25 with fellow Colorado Golf Hall of Famer Carol Flenniken.
"It could be elusive," the soon-to-be-61-year-old Eaton said of No. 26. "I don't know. I'm trying. The older I get the harder it's going to be. I'm on borrowed time as it is now. I guess if I do, I do. If I don't, I've still had a good career in Colorado."
It should be noted the pairing that featured Franklin and Eaton on Thursday included a remarkable three Colorado Golf Hall of Famers — Eaton, Janet Moore and Christie Austin. And, for good measure, a fourth Hall of Famer was among the spectators: Larry Eaton. For the record, Moore defeated Austin 3 and 2 in the consolation finals for the senior championship flight.