Colorado Women's Open champ Jennifer Kupcho accepts invite to compete in CoBank Colorado Open; she'll be just second female contestant ever in the event
By Gary Baines – 7/17/2020
Jennifer Kupcho is no stranger to playing with and against males — some of whom compete in golf at a high level, including her brother, Steven — but it's mainly on a casual basis.
Next week, that will change.
For just the second time at the CoBank Colorado Open, a female will be among the competitors in the tournament. And, appropriately, that female will be arguably the best women's golfer ever produced by the state of Colorado — Kupcho, who's now a regular on the LPGA Tour.
Tournament officials announced on Friday that Kupcho, who last month won the CoBank Colorado Women's Open and set that event's scoring record by five strokes, will be among the 156 contestants for the Colorado Open, which runs Thursday through next Sunday (July 23-26) at Green Valley Ranch Golf Club in northeast Denver.
Asked about this new challenge, the 23-year-old Kupcho said in a text to ColoradoGolf.org:
"I'm looking forward to it. I'm excited to have the opportunity to compete and I love the challenge. I first learned the game by competing against my brother and frequently play with him and other guys at this level casually, so I feel like I know what I'm up against and I also know what I'm capable of."
After playing GVR in the 6,300-6,550-yard range for the Colorado Women's Open, Kupcho will see a course set-up of about 7,300 yards for a par-72 layout at next week's Colorado Open.
The stakes are larger, too, with the Colorado Open purse being $250,000, with $100,000 going to the champion — or to the low pro if the winner turns out to be an amateur. The Colorado Women's Open features a $150,000 purse, with $50,000 earned by the champion.
"I'm not really setting any expectations for myself, but plan to play my best, push myself, and continue to strive toward being the best player I can be," said Kupcho, who made the Colorado Women's Open her first professional victory. "Regardless of the outcome, I'm honored to have the opportunity to show that women can play alongside men."
And Kupcho certainly isn't just any female professional golfer. She currently sits No. 51 in the Rolex Women's World Golf Rankings.
For those wondering, the first woman to compete in the Colorado Open — and the CoBank Colorado Senior Open, for that matter — was Colorado PGA professional Sherry Andonian-Smith. She broke the ice in the CSO in 2014 and in the Colorado Open in 2016. In the latter, she missed the 36-hole cut after posting scores of 86-85 at GVR.
Unfortunately, as was the case with the 2020 Colorado Women's Open in early June, the general public won't be allowed to attend next week's event due to Covid-19-related safety concerns.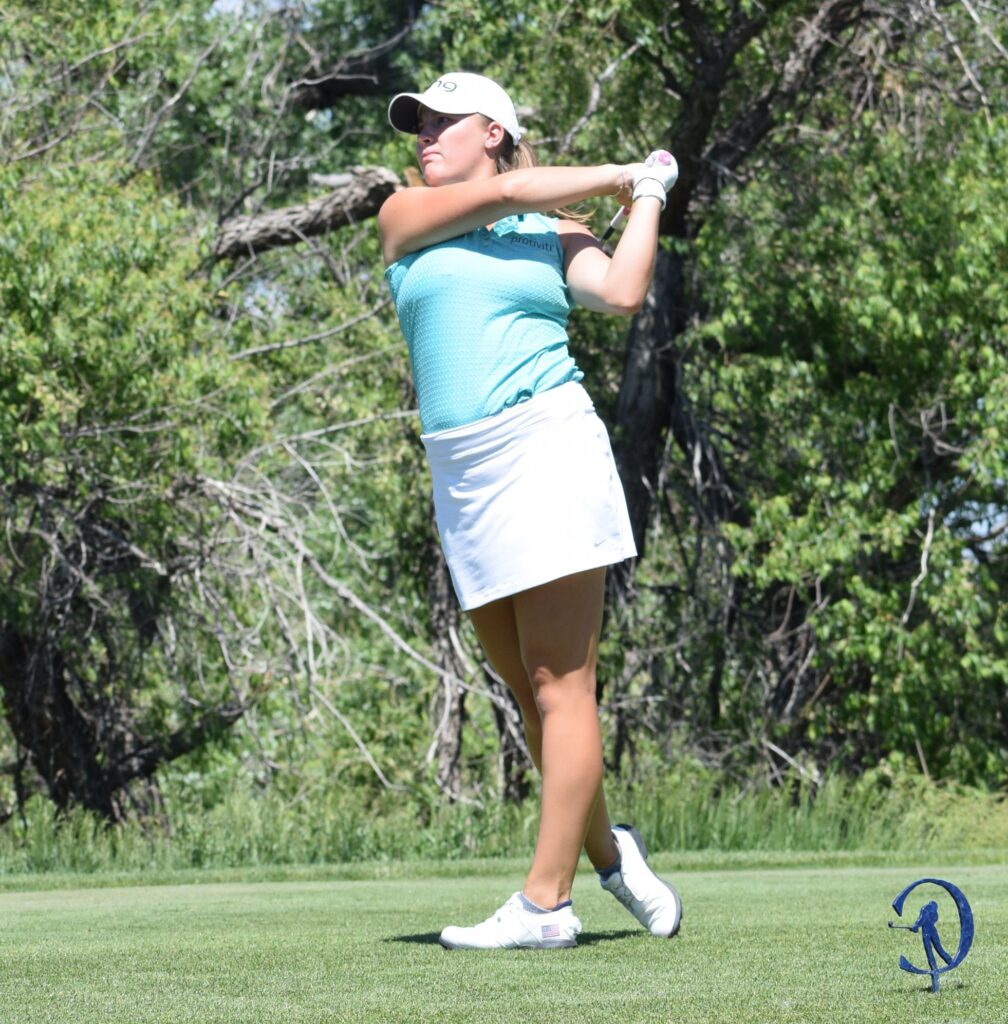 In any case, though, Kupcho is a stellar addition to the field — and one that will attract headlines.
"We were so honored to have her come back and play in the Colorado Women's Open, and the fact that she won was as good as we could have hoped for," said Kevin Laura, the CEO of The First Tee of GVR and the CoBank Colorado Open Championships. "But then for her to still be available and be able to play in the Colorado Open without having to get out of an LPGA event is beyond imaginable. We couldn't have hoped to get the good break we got in the Women's, and we get a second lucky break in the (Open)."
The Colorado Open falls a week before the LPGA Tour is scheduled to resume action following the Covid-19 interruption to tournament action. The first LPGA event back is the LPGA Drive On Championship in Toledo, Ohio, July 31-Aug. 2.
Kupcho, now a resident of Scottsdale, Ariz., is a little more than a year into her LPGA career after an amateur run that included winning the 2018 women's NCAA Division I individual title and the inaugural Augusta National Women's Amateur in 2019 as the top-ranked female amateur in the world. In her rookie LPGA season, which begin in late May 2019, Kupcho posted three top-five finishes, including a second place in the Evian Championship, a women's major. Despite playing only about half the season after completing her college eligibility at Wake Forest, Kupcho finished 39th on the 2019 LPGA money list with $525,432.
A good deal of the credit for having the idea to invite Kupcho to compete in the Colorado Open goes to tournament director Brandon Roll.
"We had a sponsor exemption available, and Brandon and I were trying to think of what players we should call," Laura said. "And Brandon said, 'What about Jennifer?' And I was like, 'Oh my God, that should have been the first name we thought of.' He called Jennifer that second and she said, 'Yeah, let me clear it with the LPGA, but I'll be in town.' Then we got her confirmation (this week).
"She never asked for (a spot in the field). We just kind of put that idea in her head."
When Kupcho won the Colorado Women's Open last month, it marked her first tournament in Colorado in more than two years, and her first significant competition anywhere since her 2020 LPGA debut in January, when she placed 19th in the Gainbridge LPGA at Boca Rio.
As an amateur in Colorado, Kupcho won five CWGA majors — normally by huge margins — and earned CWGA Player of the Year honors three times (2014, 2015, '16), along with the CWGA's highest honor, the President's Award (2017). She landed the Colorado Sports Hall of Fame's Amateur Athlete of the Year honor — regardless of sport or gender — for 2018. And she and Dale Douglass were the first two recipients of Hale Irwin Medals, which recognize outstanding Colorado golfers who exhibit competitiveness, resiliency and a proven record of winning.
Jennifer, who was born in Littleton and grew up in Westminster, won't be the only Kupcho in the field next week. Older brother Steven, the CGA Les Fowler Player of the Year in 2012 and a recent winner of a Dakotas Tour event, is also entered.
Among the other big names who will be featured in the field next week at GVR are three PGA Tour winners: part-time Boulder resident Jonathan Kaye, a former University of Colorado golfer who has won twice on Tour and twice in the Colorado Open; three-time PGA Tour champion Chris DiMarco, who's now a Colorado resident; and Grant Waite, winner of the 1993 Kemper Open on the PGA Tour.
DiMarco, 51, has posted three top-10 finishes on PGA Tour Champions, including a sixth place at last year's U.S. Senior Open. DiMarco (Cristian) and Waite (Osten) will compete with their sons.
In addition, 1998 Colorado Open champion Shane Bertsch of Parker, the medalist in qualifying for the 2020 PGA Tour Champions, is scheduled to tee it up at GVR, as will former PGA Tour player and current media personality Colt Knost. In all, 10 past Colorado Open winners are in the field, including recent champs Sam Saunders (2019) and Dru Love (2018, and the son of World Golf Hall of Famer Davis Love III); and Coloradans Kaye (2017), Zahkai Brown (2013) and Derek Tolan (2009 and '12). The amateur side features 2020 CGA Match Play champion Colin Prater of Colorado Springs, 2019 CGA Amateur winner Davis Bryant of Aurora, and AJ Ott of Fort Collins, who next month will compete in his fourth consecutive U.S. Amateur. Also in the amateur contingent is Broncos placekicker Brandon McManus. Likewise planning to play is pro Jay Monahan, who caddied for Jennifer Kupcho at the Colorado Women's Open and is her boyfriend.
For a full list of contestants, CLICK HERE.
"Having Jennifer and her brother play — and all these other great notables — it adds to probably one of our most experienced and recognizable fields in history," Laura said.