Kirsty Hodgkins ends victory drought for CU golfers in CGA Women's Match Play
By Gary Baines – 7/16/2020
University of Colorado women's golf head coach Anne Kelly perused the list once, then checked it again.
Much to her surprise, no CU golfer had won the CGA Women's Match Play title since Michelle Thomas in 1998.
Until Thursday, that is.
Kirsty Hodgkins, an Australian who's soon to be a fifth-year senior at CU, ended the drought at Saddleback Golf Club in Firestone on Thursday, ironically by defeating a former Buff, Erin Houtsma, in the scheduled 36-hole final, 4 and 3.
Both Hodgkins and Houtsma were coached at CU by Kelly, albeit nearly two decades apart.
Adding to the big day for the Buffs, Kristine Franklin of The Ranch Country Club, wife of CU women's associate head coach Brent Franklin, captured the senior championship to run her streak of victories in CGA women's senior majors to four. Both Kelly and Brent Franklin were on hand to witness the accomplishments by Hodgkins and Kristine Franklin, with Brent caddying for his wife.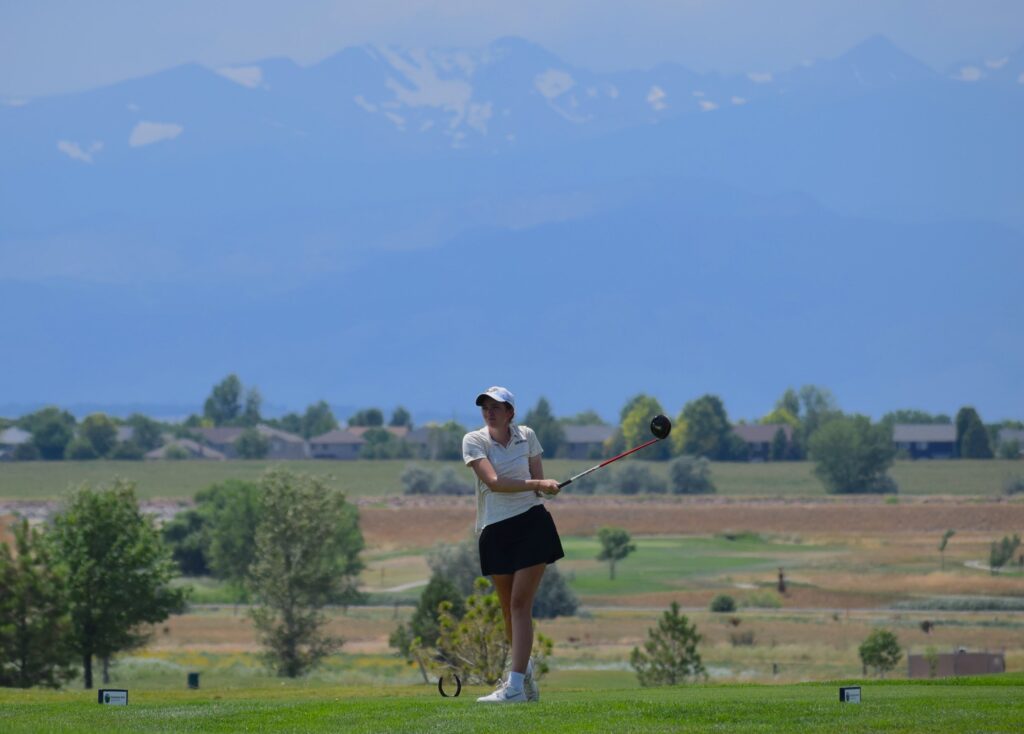 "It was great," said the 22-year-old Hodgkins, who is living in Boulder this summer. "CU has pretty much helped groom my game for the past four years. To give back a little bit by putting a CU name on the trophy is quite nice."
Added Houtsma, who won the 2005 Colorado Women's Open as a professional before regaining her amateur status: "It was an all-Buff final, and it felt really awesome. That's super special. It's not very often that an alum gets to come back and feel that connected to their school again. It was definitely cool having my old coach out there watching me again. It made me feel younger, and I think it made me play better today."
At age 40, Houtsma was attempting to become one of the rare mid-amateurs to win the CGA Women's Match Play, and she was right in it until the final few holes. In fact, through the first 22 holes of the match, neither player was more than 1 up. And Houtsma, winner of this year's CGA Women's Mid-Amateur Stroke Play title, won the 26th hole with a par to cut her deficit to 1 down.
"We went back-and-forth — 1 up, even, 1 down — for 27 holes," Houtsma said. "I think I played (the first) 27 holes in even par. I feel really great about the way I played. If I'm going to spend the day away from my kids and the week away from my kids, at least I want to play great and make my family proud."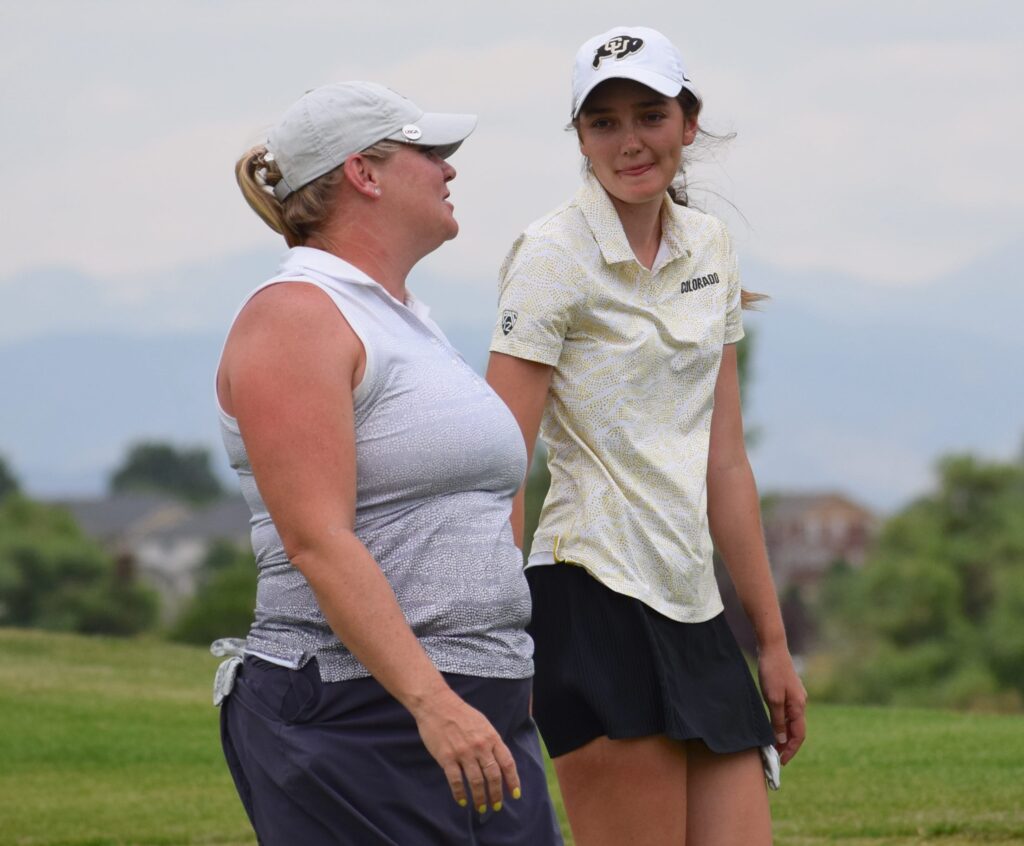 Hodgkins was 1 up through 29, then started to pull away. On the par-4 12th, she hit an approach to 18 inches and won the hole with a birdie. Then on No. 14, she stuck her iron to 3 feet and made another birdie to go 3 up. Then she finished things off with a par on No. 15, where Houtsma made a bogey.
"I think 12 definitely helped put a tiny bit of pressure on Erin," Hodgkins said. "That was probably the turning point."
Hodgkins has spent four years in Colorado, but Thursday marked her first tournament victory in the state, though she was the low amateur in the 2019 CoBank Colorado Women's Open. She finished fourth last month in the CGA Women's Stroke Play, her CGA tournament debut.
"Obviously our (college) season was cut short" by Covid-19 in March, she said. "I haven't been able to play a lot of tournaments. I played the Stroke Play a few weeks ago, then to win here against pretty much the same field as the Stroke Play is pretty good."
And next up, Hodgkins will be on a big stage as she's landed an exemption into the U.S. Women's Amateur, set for Aug. 3-9 in Rockville, Md.
This week, Hodgkins was the qualifying medalist in stroke play with a 7-under-par 65, then won her matches 6 and 4, in 19 holes, 3 and 1, and 4 and 3.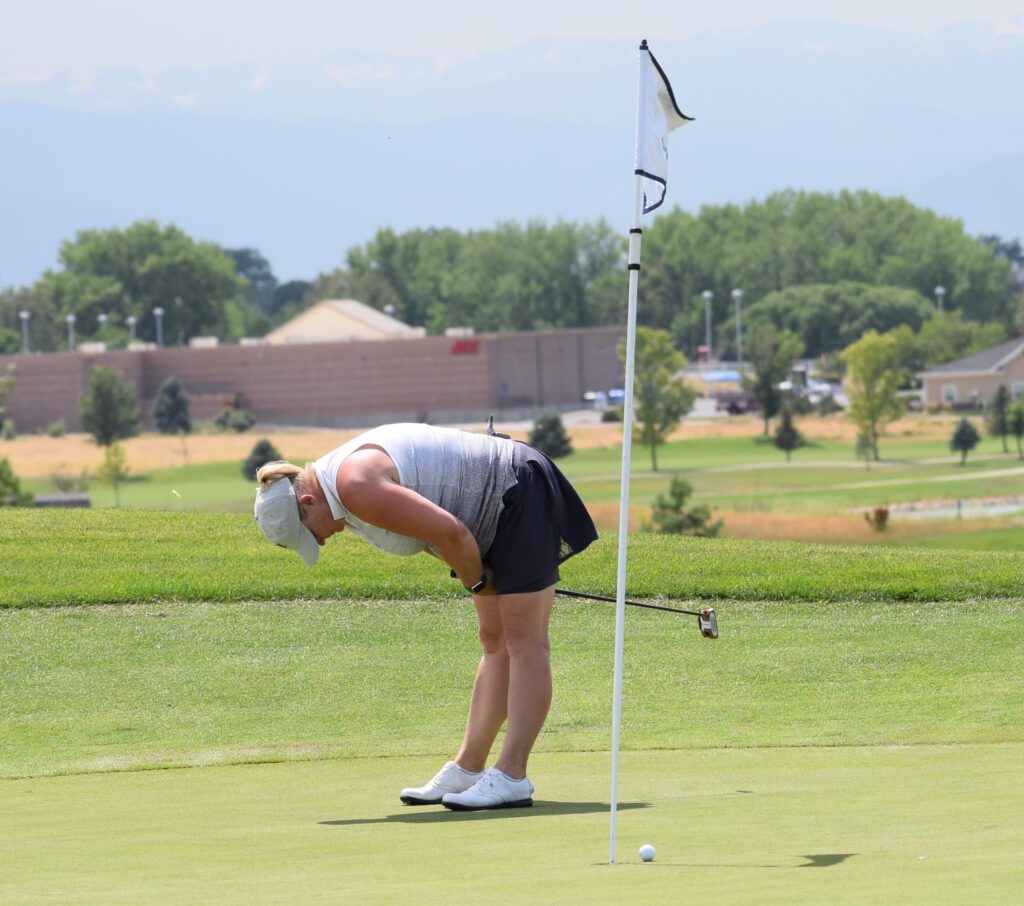 After watching the Hodgkins-Houtsma match wrap up, Brent Franklin applauded both contestants.
"It's exciting," he said. "It was great to see Erin play well. It was a heck of a match until the last three or four holes. Kirsty hit a couple of great shots to inch in front in the last five holes. But it's great for the University of Colorado golf."
Hodgkins' victory marks the third by an Australian in the last 15 years in the CGA Women's Match Play as Alison Whitaker won in 2006 and '10.
For the 33 holes of Thursday's match, Hodgkins was 2 under par.

CGA Women's Match Play
At Saddleback GC in Firestone
Thursday's Finals
Championship Flight (scheduled for 36 holes) — Kirsty Hodgkins, Colorado National GC, def. Erin Houtsma, Colorado National GC, 4 and 3
Championship Flight Consolation — Kellsey Sample, Southern Colorado eClub, def. Emma Bryant, Green Valley Ranch GC, 5 and 4
Senior Championship Flight — Kristine Franklin, The Ranch CC, def. Kim Eaton, Riverdale GC, 3 and 2
Senior Championship Flight Consolation — Janet Moore, Cherry Hills CC, def. Christie Austin, Cherry Hills CC, 3 and 2
First Flight — Caroline Jordaan, Cherry Hills CC, def. Jenna Chun, Metro Denver eClub, 1 up
First Flight Consolation — Courtney Andersson, DU GC at Highlands Ranch, def. Jessica Zapf, Pelican Lakes GC, 2 and 1
Second Flight — Lauren Lehigh, Northern Colorado eClub, def. Brett Permann, CommonGround GC, 5 and 4
Second Flight Consolation — Timbre Shehee, JGAC Club, def. Marie Jordaan, Cherry Hills CC, concession
Third Flight — Nancy Werkmeister, Foothills GC, def. Patty Smogor, Blackstone/Black Bear, 1 up
Third Flight Consolation — Lauren Brown, Colorado AG Passport, def. Leanna Rosenow, Colorado State Senior WGA, 3 and 1
Fourth Flight — Laura Wetzel, Coal Creek GC, def. Karen Chase, Foothills GC, 4 and 3
Fourth Flight Consolation — Kim Wells, West Woods GC, def. Karen Leuschel, Coal Creek GC, 6 and 5
Fifth Flight — Trish Swanson, Colorado State Senior WGA, def. Becky Finger, Riverdale GC, 4 and 3
Fifth Flight Consolation — Kay Boyle, Eagle Trace GC, def. Jennifer Tempas, Columbine, CC, 1 up
For all the results and match-play trees from Saddleback, CLICK HERE.