Month after fellow Wake Forest alum Kupcho won Colorado Women's Open, Zalatoris victorious at TPC Colorado Championship; Johnson breaks course record; Knous finishes strong
By Gary Baines – 7/4/2020
Demon Deacon Country seems to be ruling big-time Colorado golf so far in 2020.
A month ago, former Wake Forest golfer — and longtime Colorado standout — Jennifer Kupcho scored her first professional victory by claiming the title at the CoBank Colorado Women's Open.
And on Saturday, Will Zalatoris, a player who led the Wake Forest men's golf team at roughly the same time as Kupcho was atop the WF women's squad, made the Korn Ferry Tour's TPC Colorado Championship at Heron Lakes in Berthoud his first pro win.
As Kupcho noted earlier this week in a text message, "Will has always had the greatest work ethic and his game is unbelievable. I've never seen someone strike the ball so well. He's also a great competitor."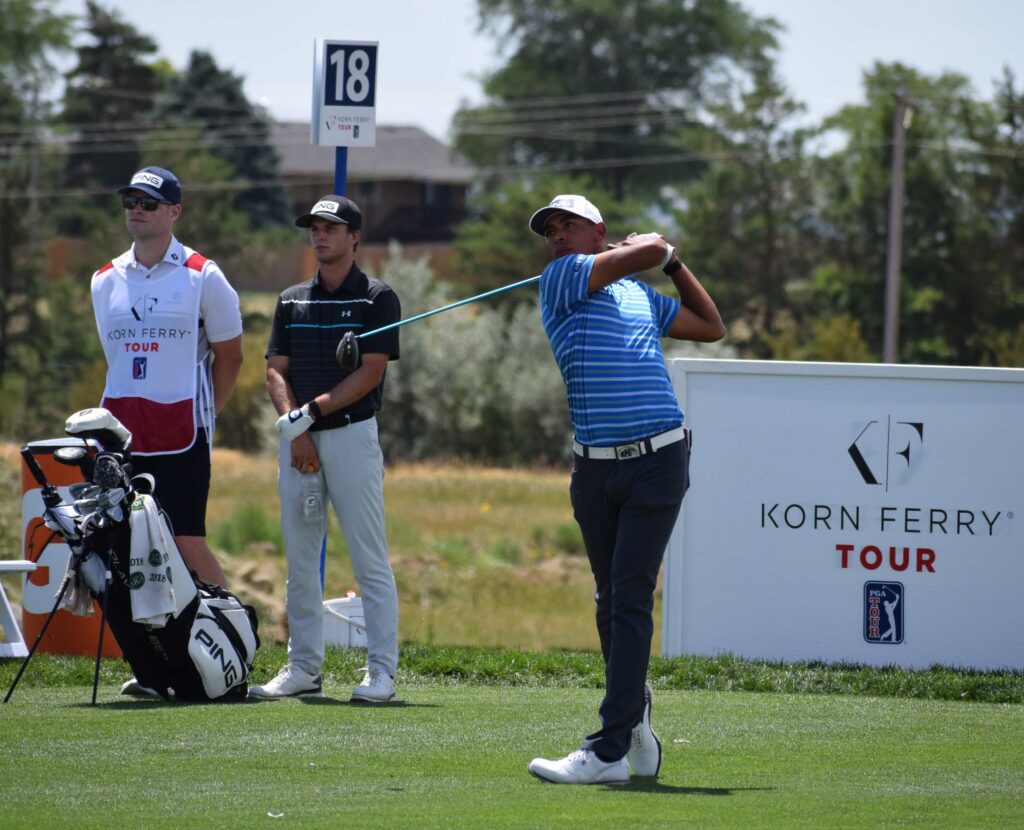 And on Independence Day, the American Zalatoris proved all of that in overcoming a hard-charging Chase Johnson — who shot shot a course-record 9-under-par 63 — to prevail by one for his first career Korn Ferry Tour victory. The win was worth $108,000.
"Finally," he said when asked his thoughts after tapping in a par putt on 18. "It's been probably (three) years since I won a golf tournament (a September 2017 college event when he was competing for Wake Forest). It still hasn't sunk in. That's the part that's kind of crazy. I told (my caddie) Ryan, 'We're going to the (U.S. Open, almost certainly, after moving into the top spot on the Korn Ferry's regular-season points list),' which is fun. And now we're one step closer to getting our (PGA Tour) card, so two more to go."
Indeed, if Zalatoris wins twice more on the Korn Ferry circuit in the 2020-21 wraparound season, he'll get an immediate promotion to the PGA Tour.
Saturday's victory caps a stellar one-month run for Zalatoris since the Korn Ferry Tour restarted last month following the Covid-19 shutdown. In that month, he's finished sixth, third, fourth and first in four tournaments. It's little wonder why he now sits atop the Korn Ferry Tour regular-season points list.
The 2014 U.S. Junior Amateur champion led or shared the lead after each round this week, matching the feat of 2019 TPC Colorado Championship winner Nelson Ledesma. In fact, Zalatorius' winning total of 15-under-par 273 was the same as Ledesma's last year.
The champion shot a 3-under-par 69 on Saturday to finish a stroke ahead of Johnson, who started the day in 20th place and teed off one hour and 39 minutes before Zalatoris did on Independence Day.
Four players tied for third place at 275 — Erik Barnes, Taylor Pendrith, Callum Tarren and Stephan Jaeger — with Jaeger closing with a 66.
But it would be false to say Zalatoris led wire-to-wire, even on Saturday. With him three-putting the second hole for bogey, he actually trailed by two strokes on the front nine as Barnes, Pendrith and Tarren were atop the scoreboard for a time.
But Zalatoris played the final 16 holes bogey-free — saving a par from 15 feet on No. 7, where he hit a poor wedge approach, and going 4 under par overall in that stretch.
When Johnson put the finishing touches on his 63, which featured 10 birdies, he and Zalatoris were tied for the top spot at 14 under par.
"This is what we all try to do — put ourselves in contention," Johnson said. "But actually going out there in the final round and posting a 63 to give yourself a chance, that's a huge confidence boost."
Indeed, Johnson, a former Kent State standout, was an improbable runner-up. He wasn't even planning to play at TPC Colorado because he didn't think he would get into the field. But an email last weekend made for a quick change of plans, with the result being just his second Korn Ferry Tour start ever. And with a second-place showing on Saturday, Johnson went from conditional status on the KF circuit to a regular on the tour, which is no small matter.
"I came out today, and it was kind of an all-or-nothing for my position here," Johnson said. "I knew I could do it. I figured if I could get off to a hot start on that front nine, which I really like, I could give myself a shot on the back nine. I hit something like 12 shots inside of 10 feet. The putter was hot, so I was able to take advantage of them."
The runner-up showing "was absolutely huge," he added. "With the conditional status I had prior to the whole corona break, it's just a question mark for someone in my situation. Coming down the back nine (Saturday), I was like, 'OK, I feel secure here. It freed me up a little bit, honestly.' After today, it's a huge relief. Now I feel like I can kind of pick the schedule out and play more freely, which usually leads to better play. I'm excited for what my future holds this year."
After a bogey on 17, where he drove his ball right, into the native grass, Johnson needed a birdie on 18 to establish the outright course record at TPC Colorado. A 9-iron approach from about 180 yards set up a 5-foot birdie putt, which tied Zalatoris.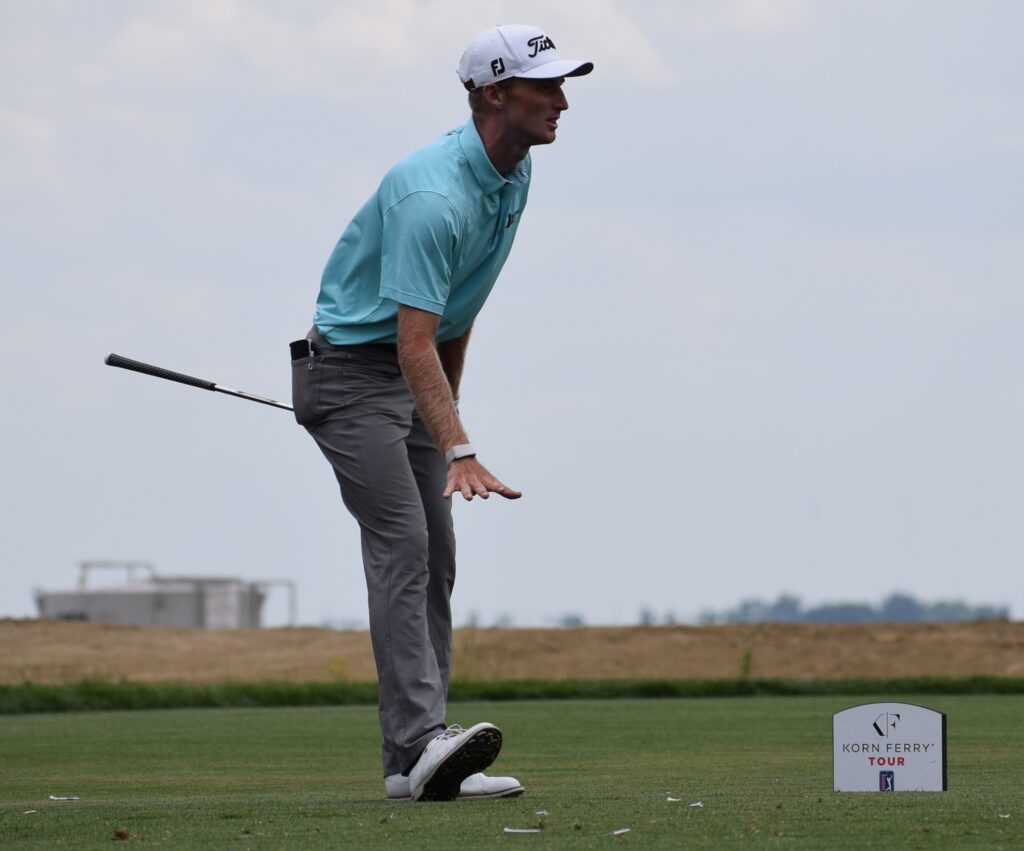 As for the former Wake Forest standout, the go-ahead point came on the 128-yard par-3 16th hole, where Zalatoris' 60-degree wedge shot barely stayed on the front edge, 8 feet from the cup. Had it spun back just another few inches, it would have run down a hill that fronts the green. Instead, Zalatoris drained his birdie putt to go one ahead.
"Winning requires luck," he said. "That ball is literally two inches from rolling all the way down (off the false front). When I got up there looking at the ball, (I thought) 'How did this thing stay there?' Taking advantage of that, that's just what it takes to win golf tournaments — a little bit of luck.
"I knew that birdie on 16 was massive, especially since 17 and 18 are such brutal holes."
After a routine par on 17, Zalatoris drive it into the left rough on the par-4 18th. From there — 212 yards out — the Texan put his approach 10 feet from the flag. All that was needed for victory was a two-putt, which Zalatoris converted.
"I tried to play for the front edge and to have like a 40-footer and two-putt from there," he said of the strategy for his approach on 18. "The second I hit it, I told my caddie, 'That's gone.' I thought it was 30 yards over the green. Next thing you know, everybody is clapping and it's 10 feet. It went from a very stressful to kind of a stressless finish."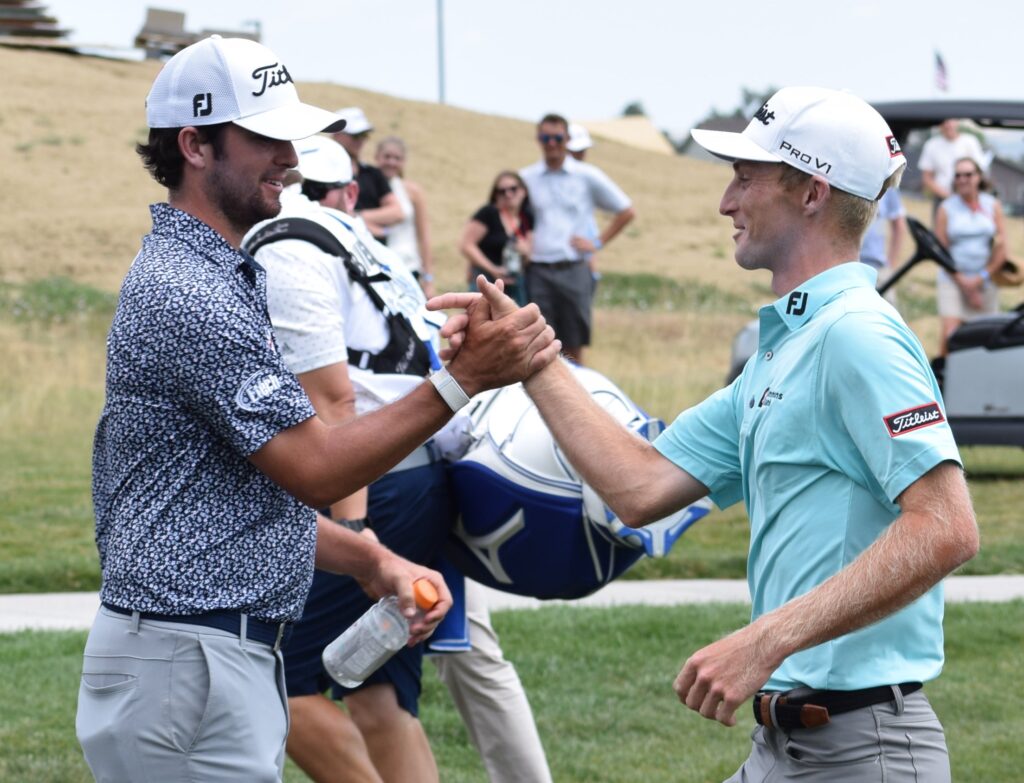 And from there, it was a parade of fellow players and onlookers congratulating Zalatoris on his first pro victory. One of those that was the happiest for his friend was Zalatoris' roommate in the Dallas area, Davis Riley, who also happens to be the opponent Zalatoris defeated in the 36-hole final to win the U.S. Junior Am title six years ago. Riley scored his first Korn Ferry Tour victory in February in Panama.
"That's awesome," Zalatoris said of Riley congratulating him behind the 18th green. "I felt bad because at Panama I finished 3 1/2 hours before him, so I cut out of there. So we've got two wins to celebrate. We didn't do much celebrating after he won because of Covid and everything. But we'll have some fun."
As for joining Riley as a 2020 Korn Ferry Tour winner, Zalatoris said, "I'll finally get (a trophy) on my side of the hallway. It's nice."
Interestingly, Zalatoris noted, he, Riley and Johnson were paired together at the Callaway Junior World tournament in San Diego when Zalatoris was 9 years old. "Small world," he said.
Though Johnson's 63 left him one stroke behind Zalatoris at the end of the day, it certainly caught the latter's attention.
"He made me earn it," Zalatoris said of Johnson. "That's balling. That's absolutely balling."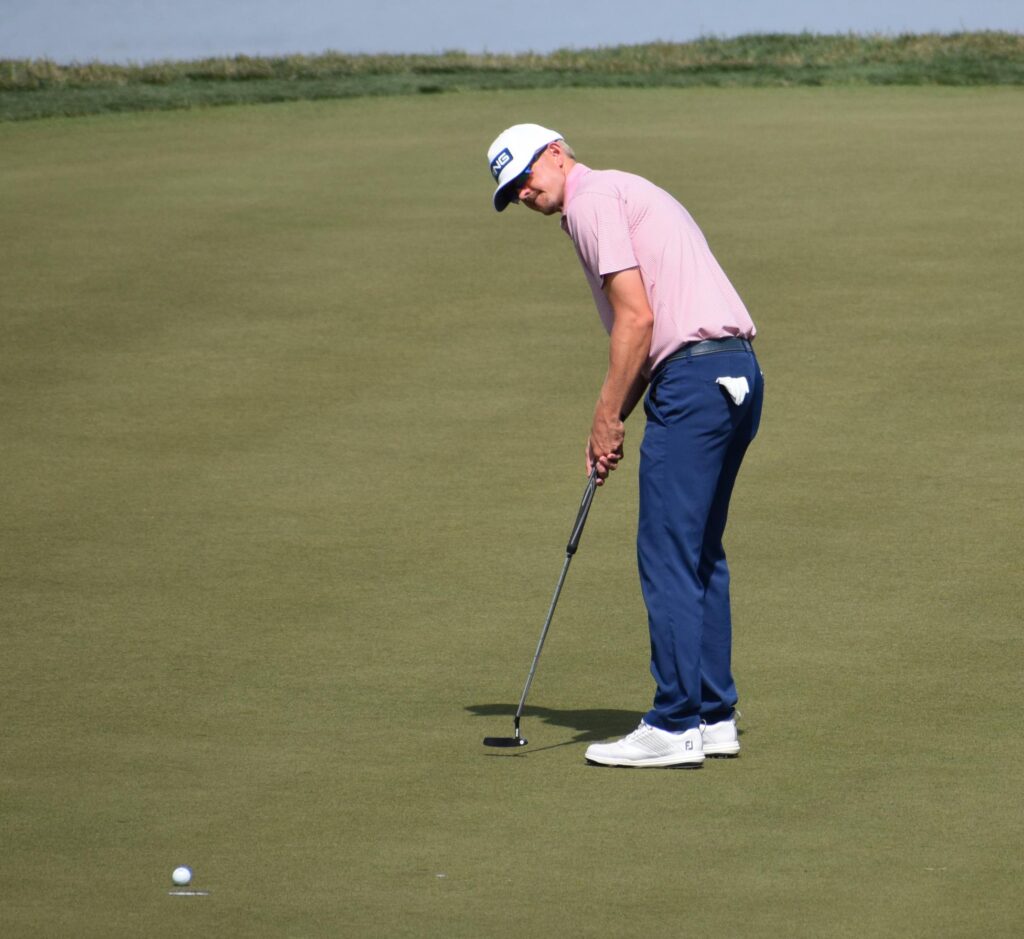 Knous Goes Out With a Bang: If nothing else, the way Littleton resident Jim Knous finished out his first TPC Colorado Championship at Heron Lakes left a smile on his face.
The former Colorado School of Mines golfer, playing in his home state for the first time in a PGA or Korn Ferry Tour event, posted a 4-under-par 32 for his final nine holes of the event on Saturday to record a 35th-place finish, earning him $3,217. It was his first official money in a PGA or Korn Ferry Tour event in almost 13 months.
"The front nine (the back side at TPC Colorado for him on Saturday), nothing was happening," Knous said. "I was a little frustrated. Then a good back nine — 4 under — that's good momentum going forward to the next few events. It was good to see myself finish out a round because we've clearly seen the first three days I wasn't able to do that. That was nice."
The 30-year-old, in his second tournament back after a year off from tournament golf due to a wrist injury and subsequent recovery from surgery, got things headed in the right direction on Saturday with a two-putt birdie on his 10th hole after hitting a 5-iron from the native grass to the back fringe for his second shot on the par-5. "That was the momentum starter," he said.
He added a tap-in for birdie on his 12th hole, two-putted from 12 feet for birdie on his 14th hole, and hit a 9-iron to 3 feet for yet another birdie on his 17th hole. He finished with a 4-under-par 68 on Saturday, giving him a 5-under 283 total.
Now, Knous will play two straight Korn Ferry Tour events in San Antonio, meaning he'll be teeing it up in four straight tournaments overall.
"I'm going to put the wrist to a stress test for sure," he said. "So far through two weeks it feels good and my body feels good. I'm a little physically tired; this course is a hard walk. But I'm just trying to take it week by week really."
As for his golf game moving forward, as he gears up for a return to the PGA Tour in September …
"I was hitting the ball OK — a few things to work on there — and the putter feels really good," Knous said. "That's a good thing because I've tended to struggle with that in the past. If that feels good, and I can get my ball striking under control, I should be right there contending."
Here are how the 10 players with significant ties to Colorado fared in the TPC Colorado Championship.
35. Littleton resident and former Colorado School of Mines golfer Jim Knous 71-71-73-68—283
MISSED 36-HOLE CUT
98. Former Fort Collins resident Sam Saunders 74-72–146
106. Cheyenne resident Josh Creel, who started his college career at CU 74-73–147
118. Josh Seiple of Castle Rock 77-71–148
126. Golden resident and former CSU golfer Zahkai Brown 75-74–149
126. Denver native and former CU golfer Jonathan Kaye 75-74—149
134. Boulder native and former Louisville resident George Cunningham 75-75–150
143. Highlands Ranch resident Ben Lanting 75-76—151
148. Greenwood Village resident and former CU golfer Ryan Schmitz 75-77–152
153. Former Fort Collins resident and former Air Force Academy golfer Tom Whitney 76-81—157
Quotable: Runner-up Chase Johnson, asked about his overall impression of TPC Colorado:
"I absolutely love this golf course. It's really difficult. You have to drive your golf ball well, you have to hit it in the fairways. The greens are super firm and slopy. I have a huge advantage out here because I was able to take some aggressive lines off the tee over some bunkers, and I had a ton of wedges in my hand this week. Landing softly on these greens was needed. I was a huge fan of this golf course. And the scenery is unreal too. You can't really get down on yourself when you turn to the right and see that," he said, pointing to the views of the mountains and reservoirs.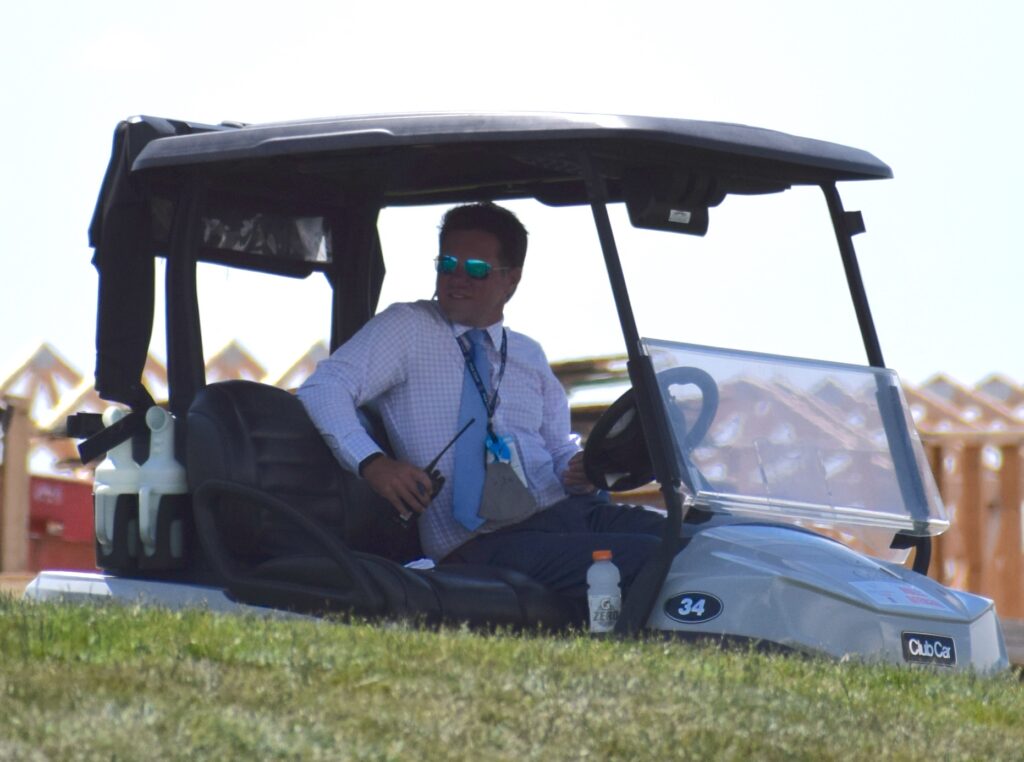 Notable: Tyson Alexander scored a hole-in-one on the 128-yard 16th hole, using a lob wedge, on Saturday. He shot an 8-under-par 64 and tied for ninth place at 277. … A total of 184 volunteers helped conduct the second annual TPC Colorado Championship. … Among those at TPC Colorado for the second consecutive year as a rules official was former CGA director of rules and competitions Pete Lis, who is in his second season working for the Korn Ferry Tour. (For a feature on Lis written in 2019 prior to the TPC Colorado stop, CLICK HERE.)
For the final scores from the TPC Colorado Championship, CLICK HERE.