54-hole leader Zalatoris hopes for breakthrough win as TPC Colorado bares its teeth; course draws some high praise
By Gary Baines – 7/3/2020
When it comes to the TPC Colorado Championship at Heron Lakes, the leaderboard starts with "Z".
As in Zalatoris, Will.
But in one sense, the course at TPC Colorado made a hard run at the top spot on Friday. That's why, despite a crowded leaderboard, the 54-hole leader is just a couple more under par than was the person atop the pack after 36 holes.
"It played hard today," Zalatoris said after a 2-under-par 70 in Friday's third round left him with a one-stroke lead at 12-under 204. "Probably seven of the 18 holes were the toughest pins you can have on the greens."
Indeed, TPC Colorado is baring its teeth — and the scores at the TPC Colorado Championship bare that out.
On a tour — the Korn Ferry — where winning scores of 20 under par or more are not at all unusual, the 2020 TPC Colorado Championship is on pace for its champion to finish in the mid-teens.
"On the Korn Ferry Tour, this is probably moderate to hard" difficulty-wise, said Littleton resident Jim Knous, who has played more than 50 KF events in his career, along with 20 PGA Tour tournaments. "It's clearly harder" than average. "Cuts are usually 5 or 6 under par, where here it was 1 under."
Last year, only five of the 27 tournaments on the Korn Ferry Tour produced higher winning scores than did the inaugural TPC Colorado Championship, where Nelson Ledesma prevailed with a 15-under-par total for four days after sharing the lead at 13 under after three days.
"It's definitely one of the harder (courses) we're going to play," Ben Kohles said this week. "Obviously it's long on the scorecard, but you've got to take altitude into (account). It plays about average, I would say (distance-wise). But there's tricky spots around the greens. There are pretty big greens, but they're getting firm. We don't see real firm greens too often."
At 7,991 yards, TPC Colorado is the longest course the Korn Ferry Tour has ever played. And the 773-yard 13th hole is the longest hole in KF history. But, as Kohles noted, at more than 5,100 feet of elevation, the ball flies much farther than at sea level. Taking 10 percent off for that, the course plays the equivalent of about 7,200 yards at sea level, which is pretty standard for a tour of this caliber.
Nevertheless, with a challenging layout and firm, fast greens, TPC Colorado is anything but a pushover despite a formidable field.
Zalatoris, the former U.S. Junior Amateur champion and Wake Forest standout who keeps knocking on the door for his first Korn Ferry Tour victory, had posted scores of 68 or below in 13 of his first 14 rounds after competition resumed last month. But on Friday, he was very happy with a 2-under-par 70.
"It's kind of nice to grind out a 70," he said. "The way I did it — I made a lot of 7- to 10-foot putts; a lot for par, a couple for birdie — to keep the momentum of the day going."
And the 23-year-old almost did the unthinkable on Friday when he came up just short of the 773-yard 13th green in two, hitting a 410-yard drive and a 330-yard 3-wood.
"Those are two of the hardest golf shots I can put together, and I still didn't get there," he said.
Zalatoris has been no worse than a co-leader after each round this week and will take a one-stroke lead into Saturday's Independence Day final round.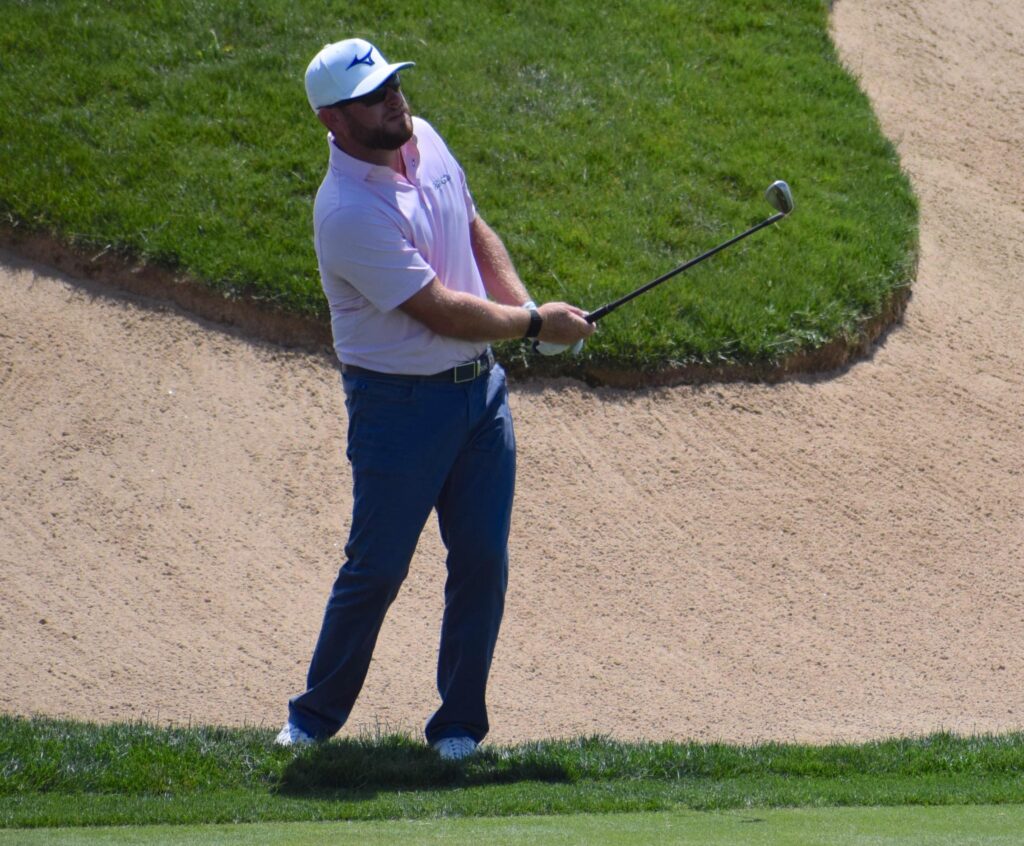 But two other players also looking for their first Korn Ferry victories — American Erik Barnes and Canadian Taylor Pendrith — sit right on Zalatoris' heels, in a tie for second place, both after posting bogey-free 5-under 67s on Friday. Englishman Callum Tarren is two back of Zalatoris following a 70.
In all, a dozen players are within five strokes of the lead going into the final round, though all of the top six are winless in Korn Ferry Tour action.
Zalatoris appears due for a victory, given that he's finished sixth, third and fourth the past three weeks, and owns five top-10 showings this season.
"You keep going about your business. When it's your time, it's your time," he said of being in contention again. "You get a little more comfortable every single time you put yourself in that position. I think I've been in the final group (for the fourth round) five times so far this year. I'll just keep building on those experiences. Especially now when you play (four weeks) in a row and been in contention every week, you feel more comfortable every single week. You kind of build into that rhythm. Basically the big key for me tomorrow is to stay in my rhythm."
On Friday, Zalatoris made three birdies and one bogey. Through three rounds, there are just three flaws on his scorecard — two bogeys and a double bogey. He's attempting to join Ledesma, the 2019 champion, in owning at least a share of the lead each day en route to victory.
"If you keep putting yourself in that position, you're going to win one eventually," he said.
Meanwhile, in round 3, Barnes went bogey-free, with 13 pars to go with five consecutive birdies starting at No. 5. Barnes gained some notoriety a couple of months ago when a story came out that he had taken a full-time job in Florida stocking shelves at the supermarket Publix to make ends meet during the time Covid-19 shut down most tour golf, including the Korn Ferry circuit.
"It was something I had to do for the family," the 32-year-old said on Friday. "I was lucky they were able to give me the shift I wanted where I could work mornings — 4 a.m. to 1 p.m. — which gave me time to practice in the afternoon. A lot of times I didn't really want to go out there in the afternoon, but I forced myself to, just to keep a rhythm so I could keep somewhat sharp.
"Waking up at 3 a.m. every day is not a whole lot of fun. It makes the early wake-up calls out here (on tour seem) not very early. It's like sleeping in. It's great to be back out here. I'm just happy to be playing.
"Honestly, it was probably a good thing for me. It didn't burn me out in the coronavirus season. When I had a chance to come back out here and start playing again, I really wanted to play."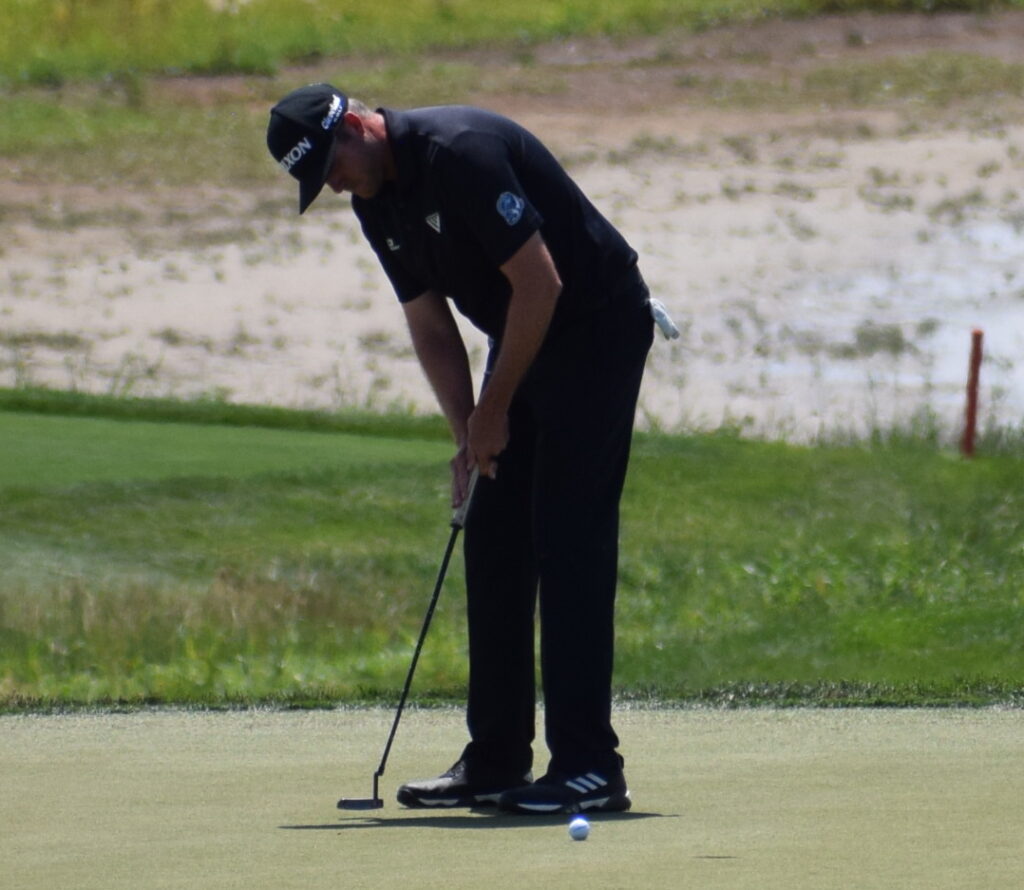 Pendrith also was affected a fair amount by the Covid-19 shutdown as he spent that time in Canada with his girlfriend, Meg Beirnes, who happens to be a nurse. The two became engaged during the lockdown, which kept most golf courses in his area closed until the end of May.
"All the nurses out there are doing a great job battling this," Pendrith said. "Luckily her hospital doesn't have very many cases, but the nurses deserve all the credit in putting themselves out there each day while this goes on. Hopefully it can go away soon."
Though the scoring average for the post-cut field was just slightly under par at 71.583 on Friday, one player did tie the course record as American Justin Hueber carded an 8-under-par 64 and shares fifth place at 207.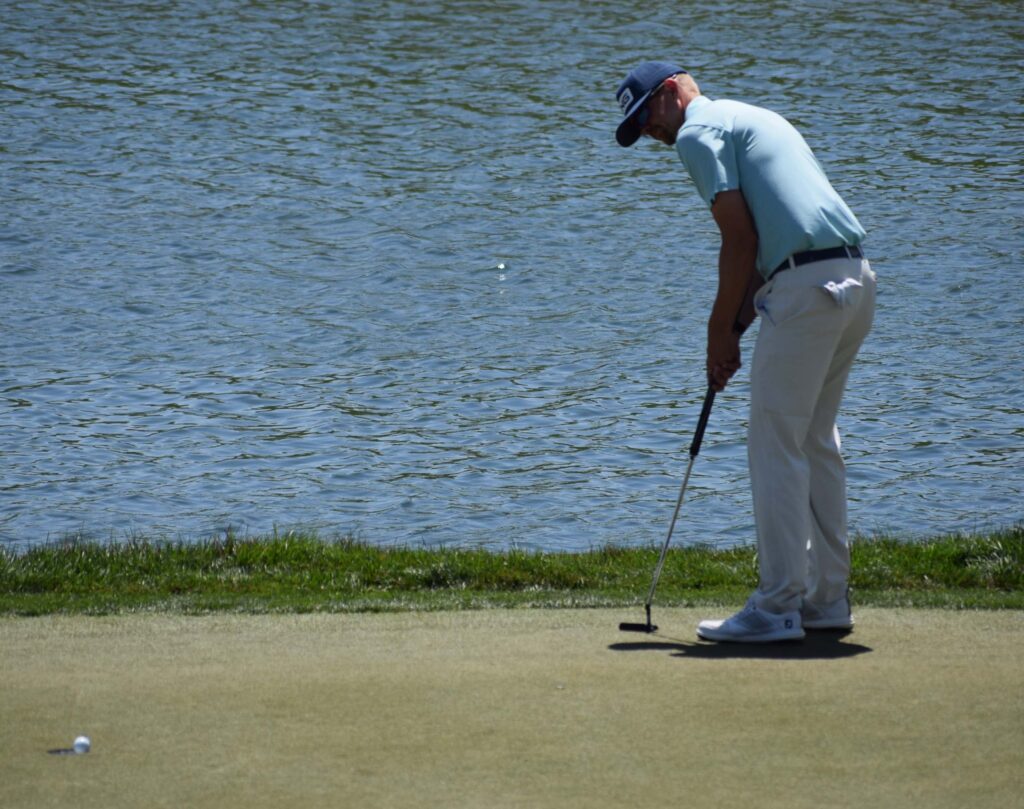 Knous Still Trying to Shake Off Rust: For the second consecutive day, Littleton resident Jim Knous had a pretty good score going about two-thirds of the way through his round, only to give shots back down the stretch.
A day after playing his final five holes in 2 over par — despite a 55-foot birdie on No. 18 — Knous went 3 over in his final six on Friday after making back-to-back birdies. The result was a 1-over-par 73 that left him at 1-under 215 and in a tie for 56th place.
"Not the way I wanted to finish, for sure," the 30-year-old former Colorado School of Mines golfer said. "There's still definitely some rust (in his second week back after a year-long layoff from tournaments due to a wrist injury). Just a few shots here and there I'm hitting and looking up, and I'm going, 'Where's that going? That's a weird spot to end up in.' Overall I'm hitting it pretty good, but I'm just not scoring well. That's mainly where the rust shows itself is the scoring. It'll take a little time. But there's too many bogeys out there, for sure."
Knous is on the verge of making his first tour paycheck in almost 13 months. Whether it's for a couple of thousand dollars or perhaps triple that amount will depend on his performance in Saturday's final round.
Here are how the 10 players with significant ties to Colorado stood after Friday's third round.
56. Littleton resident and former Colorado School of Mines golfer Jim Knous 71-71-73–215
MISSED 36-HOLE CUT
98. Former Fort Collins resident Sam Saunders 74-72–146
106. Cheyenne resident Josh Creel, who started his college career at CU 74-73–147
118. Josh Seiple of Castle Rock 77-71–148
126. Golden resident and former CSU golfer Zahkai Brown 75-74–149
126. Denver native and former CU golfer Jonathan Kaye 75-74—149
134. Boulder native and former Louisville resident George Cunningham 75-75–150
143. Highlands Ranch resident Ben Lanting 75-76—151
148. Greenwood Village resident and former CU golfer Ryan Schmitz 75-77–152
153. Former Fort Collins resident and former Air Force Academy golfer Tom Whitney 76-81—157
High Praise for TPC Colorado: A year ago, Denver native Mark Hubbard competed in the inaugural TPC Colorado Championship and noted how good a course TPC Colorado might be.
"I wouldn't be surprised if in five or six years the PGA (Tour) takes this tournament over," he said.
Knous, like Hubbard a Colorado-raised golfer who has competed on both the PGA Tour and the Korn Ferry Tour, was asked on Friday about Hubbard's 2019 comments regarding the course.
"It could definitely host a PGA Tour event," Knous said of TPC Colorado. "It's long enough, the greens are tricky enough. The conditions are obviously tournament conditions. It can be firm and fast. It can be soft and slow if they want it to be, and it can still play hard. And you've got the 13th hole that's 773 yards. That's just a beast."
Notable: A reminder that the general public is not allowed at this week's TPC Colorado Championship as a Covid-19-related safety precaution. … For the fourth consecutive day, the event will feature a two-tee start on Saturday, which will result in a mid-afternoon finish. The final group — Zalatoris, Pendrith and Barnes — will tee off at 9:01 a.m. … The winner on Saturday will receive $108,000 out of the $600,000 purse.
For all the scores from the TPC Colorado Championship, CLICK HERE.