Former CGA director of rules and competition Pete Lis back 'home' this week in new job as rules official on newly-renamed Korn Ferry Tour
By Gary Baines – 07/09/2019
Pete Lis spends about half the weeks of the year on the road, but in this case, traveling to a tournament venue feels a lot like coming home.
Lis will serve as one of the Korn Ferry Tour's rules officials — technically "tournament referees" — at this week's TPC Colorado Championship at Heron Lakes, which runs Thursday through Sunday in Berthoud. But he's certainly no stranger to Colorado, having worked at the CGA for about a decade, first as a USGA P.J. Boatwright intern, then as a full-time staffer as assistant director of course rating and handicapping, and from 2006 to 2013 as the CGA's director of rules and competitions.
Lis left the CGA to become a rules official for the LPGA Tour, a position he held from 2013 to this April, when he became one of the dozen full-time rules official on the Korn Ferry Tour, which is owned and operated by the PGA Tour. During his time with the LPGA Tour, Lis served on the prestigious USGA Rules of Golf Committee from January 2017 until April 2019 — during a key period of rules modernization in golf.
Since leaving the CGA, Lis has lived in Florida, Myrtle Beach, S.C., Milwaukee and now Wilmington, N.C.. The 38-year-old is now engaged to former CWGA staffer Kelley Mawhinney, and they're planning to tie the knot in October.
ColoradoGolf.org caught up with Lis on Tuesday at TPC Colorado, where he's spending two weeks as an advance official and an on-course rules offiicial for the inaugural TPC Colorado Championship at Heron Lakes. (Lis is pictured above behind the first tee on Tuesday.)
Here's an edited version of that conversation:
Q: Why did you make the switchover from the LPGA Tour to the Korn Ferry Tour?
Lis: It's just a good opportunity in my career. It's great to see different organizations and have an opportunity to work with arguably one of the best — if not the best — tour in the world. It's always been a dream to work out here (under the PGA Tour umbrella). The opportunity came. I loved the opportunity with the LPGA, but it was the right time.
Q: It's interesting. One of the first events you worked after joining the LPGA Tour was the 2013 Solheim Cup at Colorado Golf Club. And now, not long after starting with the Korn Ferry Tour, you're back in Colorado working another event.
Lis: It was really kind of random because (tour officials) had already scheduled the new hire to work two weeks here in Colorado. It wasn't because I had any affiliation to Colorado. Obviously I love coming back here. It has been since I started working for the LPGA that I have been back. It's great to see some familiar faces. I've run into a lot of (former) CGA players and they still remember me. Obviously we had a few play in the Monday qualifying yesterday (with Tom Gempel and Zahkai Brown earning spots in the championship field). It's pretty cool.
Q: Colorado hadn't added a new 18-hole golf course since CommonGround in 2009 until the opening of TPC Colorado. What do you think of this course?
Lis: This golf course is exceptional and is in really, really good condition, especially for being this young. I've heard a lot of compliments players, caddies and our officials so far this week. This place is special. It's got a great variety of holes — and a great variety of par-3 holes. You have a really long par-3 on 2. Eight and 16 are two signature holes that play back toward the lake, and 14 will be a beast at 275 yards. You can get get really creative with a lot of hole locations. You go to some places and you have maybe four hole locations (on a given green). We have so much variety here that over two years we could have eight different hole locations on some of these greens. It's going to be a fun week.
Q: How does TPC Colorado compare to other Korn Ferry venues as far as quality?
Lis: Everywhere we go is pretty much a quality golf course. We're fortunate in that respect. This week, this is definitely up there as far as best-conditioned courses we'll see all year. It's really up there.
Q: Is it fair to say your ultimate goal, career-wise, is working on the PGA Tour?
Lis: Not necessarily. Generally, our staff will work four or five events on the PGA Tour each year. Being new, I don't have any events this year. I'll just see how it goes. We have a really good rules team here — good guys and get along great, which is huge, and we work well together. I like where I'm at now, so I'd hate to say that's the ultimate goal.
Q: Do you have any sense for how long it might take for a rules official on the Korn Ferry Tour to be considered for a full-time spot on the PGA Tour?
Lis: It's really dependent on the PGA Tour and whether guys are retiring or moving on. I don't think there's a set criteria or time limit you have to work on the Korn Ferry Tour to get promoted to the PGA Tour. It's just, if you're the right fit for the guys out there, that's a possible opportunity.
Q: How many events will you be scheduled to work in the course of a year?
Lis: Roughly, we work 27-28 weeks a year with also helping out staffing-wise on the PGA Tour and helping run qualifying school.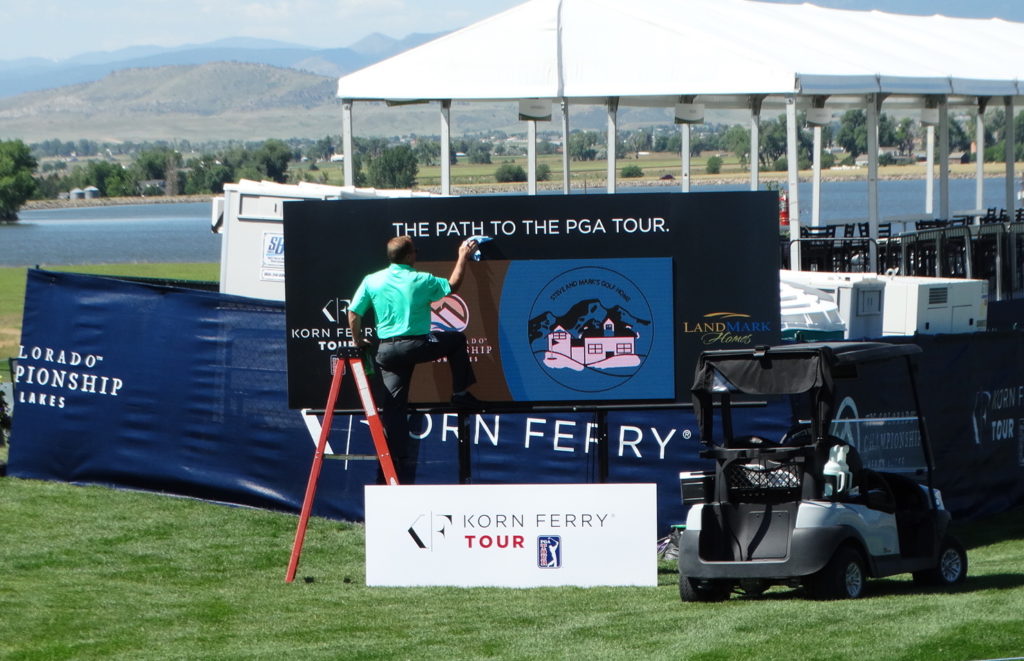 Q: What are your duties on the Korn Ferry Tour?
Lis: It changes week to week. This week, I'm not setting up (the course), but I'm one of the advance officials so I've been here since July 1st, justing getting the course ready and marked, meeting with tournament staff, meeting with agronomy — making sure we're in perfect shape for when we open the doors. Every week (the duties) can change. I have set up. But no matter what, I am on the golf course every week officiating.
Q: With the rules changes that kicked in for golf on Jan. 1, how has the transition gone on the tours for which you've worked?
Lis: For the most part players have grasped it very well. All the tours did an exceptional job of educating players with player meetings, bringing out the USGA to the various major tours at the start of the year and doing some rules education. There have been email blasts sectioning out certain rules changes that we're going to see on a regular basis. This is a unique year where I think the rules education piece and the knowledge of players is probably greater than normal just because there's been so much education prior to. We started off the year in a really good spot, with the players really wanting to know rules because it's so important. When everything is on TV these days — or can be videoed — you want to make sure you get it right.
Q: Between what you did at the CGA, the LPGA and now, do you find yourself learning things all the time or do you have it down pat after a while?
Lis: You learn something at every organization. Every organization does some things different. I was fortunate that I worked at a really high level in amateur golf, then I moved to professional golf. Professional golf is really kind of the same between both tours, but each tour does something different. But you're always learning things. And as you get to know other officials and see how they do it, you go, 'That's cool. I never really thought of doing it that way.' So I'm always learning. I don't think there's an official in the world that wouldn't say that. If you're complacent in your job, you wouldn't be doing it for very long because things just change — technology changes, golf courses change, players change.
Q: When a guy like veteran PGA Tour rules official Slugger White is dealing with a rules situation — and even how he interacts with players — do you find yourself gleaning information from that?
Lis: Of course. You hear an official describe something to a player and you think, 'That's a really good way to describe that.' That's what you learn most is from the interaction with players and how you make sure you explain something to make sure they leave feeling comfortable that they got the right ruling. That's probably one of the most important parts of our job.
Q: It sounds like you're on the road a lot as a rules official.
Lis: A little over half the year. With the change in jobs (from the LPGA to the Korn Ferry Tour), predominantly my travel will be in the United States or North America whereas I was spending eight or nine weeks a year between Europe and Asia (with the LPGA Tour). That part, for family life, will be a lot better. It's going to be the same amount of weeks. Being able to get home quicker after an event and spending more time with family is going to be a nice perk for the new job.
Q: For you, is it either 'I'm on the road this week' or 'I'm off for this week'? Is that kind of the way it works?
Lis: For the most part. When I'm home, I make my own schedule. I'll be updating reporting, dealing with tournament advances for my advance (work sites) and emails that have to be answered. But I'm doing that all strictly from home and I make my own schedule, so if I want to go play golf in the morning, I go play golf in the morning and do work in the afternoon or vice-versa. That part is pretty nice.
For ticket and general information about the TPC Colorado Championship at Heron Lakes, CLICK HERE.
For Thursday and Friday tee times, CLICK HERE.