'Cousin Ray' Best, co-host of 'In the Fairway' radio show and a former junior standout, passes away at age 47
By Gary Baines – 2/5/2020
Ray Best III, a former state junior champion and an affable co-host on the Denver-based golf radio show "In the Fairway" since 2014, passed away on Tuesday in Aurora.
Best, who would have been 48 years old on Saturday, had been battling cancer, though that was not the direct cause of death.
For six years, Best worked alongside longtime In the Fairway host Jerry Walters on Saturday mornings on 104.3 The Fan. The first show of 2020 is scheduled from the Denver Golf Expo at the Denver Mart from 11 a.m.-1 p.m. on Saturday.
Best "had already told me he wouldn't be available for the show from the Expo as he was going to be in the hospital going through his seventh round of chemo, but we were going to call him on the air and wish him a Happy Birthday from all his listeners and friends," said Walters, who will team with Mike Castorino from the Expo.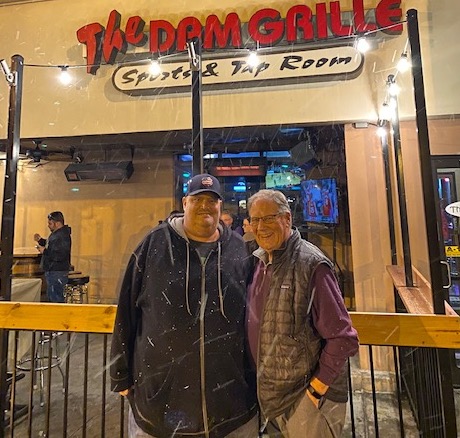 Best may have been better known to listeners as "Cousin Ray", a nickname Walters gave him.
"I gave him the title 'Cuz' when he was working for Aurora at Fitzsimons (Golf Course)," Walters said. "They sponsored a segment on the show and rotated around to different people in the city. When it was his turn to come on with us, I would call him 'Cousin Ray from Aurora Golf'. It stuck and we had such a good time during those four-minute segments that I asked him if he wanted to co-host with me. He was elated. Cousin Ray is who he had become. He was overjoyed when people learned that Cousin Ray was Ray Best III. Doing the radio show was one of his greatest joys in life. We shared a lot of personal things with each other. He had become a brother to me, not just a radio sidekick."
Walters said he's planning to create a poster with photos and favorite memories of Best that will be on display near the In the Fairway broadcast booth on Saturday. He's encouraging Expo attendees, listeners and friends to share their thoughts of Best on it. Then the poster will be given to Best's parents following the show.
Best was a Colorado PGA member for 15 years (1998 through 2012), having served as an assistant professional in Aurora at Fitzsimons Golf Course, Saddle Rock Golf Course and Aurora Hills Golf Course. He also once was president of the Colorado PGA's Assistants Association. He was born in Nebraska but spent most of his life in Aurora.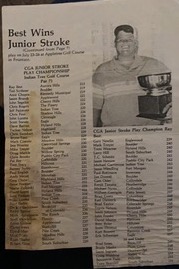 As a teenager, Best lived up to his name by being one of the top-performing junior players in Colorado. The Rangeview High School and Aurora Hills product won both the 1989 CGA Junior (Boys) Match Play, beating Trey Maples in the final at City Park Golf Course, and the 1990 CGA Junior (Boys) Stroke Play, where he prevailed by four shots at Indian Tree Golf Club.
"I remember when Ray won the Junior Stroke Play (after winning the Junior Match the prior year)," CGA executive director Ed Mate, a regular guest on In the Fairway, wrote in an email. "That was really a huge accomplishment as it validated his match play win and proved that he was an elite junior player. There are not many players who have won both the junior match and junior stroke and Ray Best was one of them!"
Indeed, only 10 golfers have won both of those two events: current PGA Tour player Mark Hubbard, current PGA Tour Champions competitor Brandt Jobe, along with Rick Cramer, Brett Dean, Mike Troyer, Ben Fiala, Leif Olson, Mike English, Tyler Parsloe and Best.
Even as Best had been battling cancer the last six months, he by no means had given up hope of returning to In the Fairway.
"My friend Mike Castorino had been filling in for Ray last fall when he began chemo treatment for the aggressive cancer," Walters said. "Mike and I had been preparing for the season because it wasn't certain when or if Ray could come back. I always told Ray 'I'm not giving that seat away. It's still yours when you are ready to come back.' His response was always 'Don't let it get cold. I'll be back.'"
Services for Best are pending.
Best's family requests that in lieu of flowers that donations be made in his name to the Junior Golf Alliance of Colorado.