Northglenn's Aubri Braecklein, 17, becomes youngest winner of CGA Women's Stroke Play in recent history
By Gary Baines – 6/24/2020
Aubri Braecklein said she didn't start taking competitive golf seriously until about three years ago. But once she did, it's fair to say she's improved by leaps and bounds.
The 17-year-old Northglenn resident, who plays golf at the same school that produced current LPGA Tour player Jennifer Kupcho, on Wednesday became the youngest winner of the CGA Women's Stroke Play Championship in more than a dozen years, before which detailed records weren't kept.
The Jefferson Academy senior-to-be rallied from a two-stroke deficit going into Wednesday to prevail by one shot in a very hotly contested final round at The Ranch Country Club in Westminster.
The result was that, despite her age, Braecklein joined the likes of Kupcho, Lauren Howe and Barbara McIntire as champions of the CGA Women's Stroke Play.
"It just shows age doesn't really matter in golf," Braecklein said. "Honestly, if you're good, you're good. It doesn't matter what age you are. It shows you can't count anybody out.
"But I have definitely grown a lot in the golf game very quickly."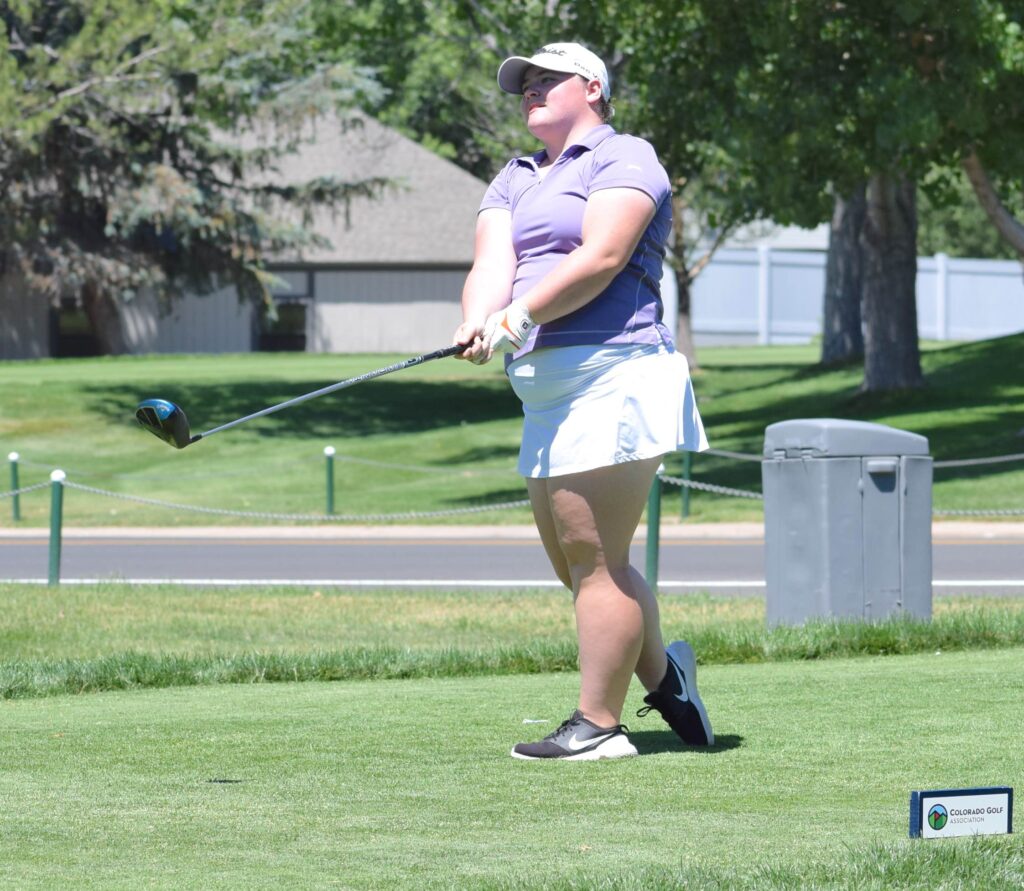 Braecklein sank a 4-foot par putt on the 18th hole Wednesday to account for the one-stroke victory as playing partner Charlotte Hillary of Cherry Hills Country Club drained a similar-length birdie putt to finish second. Both Braecklein and Hillary, 18, are prominent junior golfers in Colorado.
Braecklein played her final five holes in 2 under par to shoot a 2-over-par 73 after being 4 over par through eight on Wednesday. That gave her a winning total of 4-over 217. At 218, Hillary, the 2019 Junior Golf Alliance of Colorado's Girls Player of the Year, was runner-up a year after placing third in this same event. Hillary posted a 76 on Wednesday.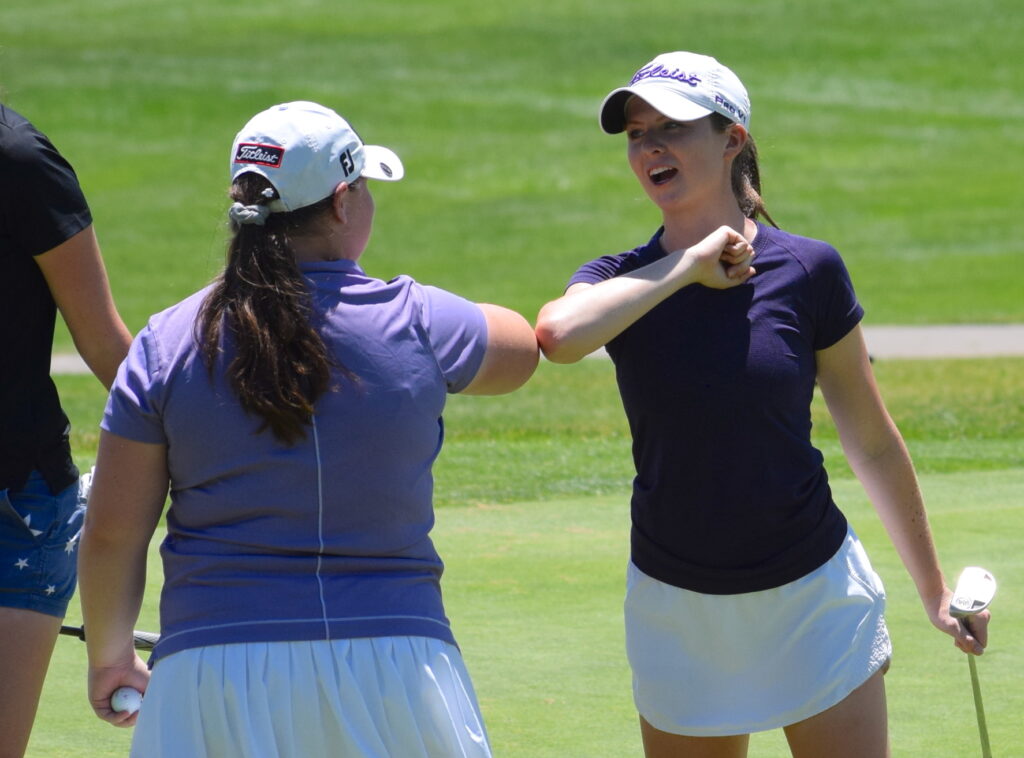 The result was just the second time in the last six years that the CGA Women's Stroke Play has been settled by a winning margin of fewer than six shots.
"I honestly didn't know how I stood at all today," Braecklein said. "I just tried to make pars and birdies. I knew we all (in the final group) were within one or two strokes of each other. I just tried to recover as best as possible when I got nervous."
Perhaps the key shot of the day for Braecklein came on the par-4 10th, where she hit her tee shot left, well into the trees. After contemplating whether to punch out to the fairway, go through an opening in the branches or go over everything, she went for the latter option, hitting a pitching wedge to 12 feet from the cup. She two-putted for par after potentially looking at a bogey or a double bogey.
"Luckily it worked out," she said. "I think that definitely was a confidence-booster getting a par there."
Leigha Devine of Ptarmigan Country Club and Rutgers finished third at 219, while University of Colorado golfer Kirsty Hodgkins of Colorado National Golf Club was fourth at 220. Julia Baroth of CommonGround Golf Course shot the low round of the tournament, a 5-under 66, on Wednesday to check in fifth at 221.
University of Denver golfer Mary Weinstein, who had won the previous two CGA women's major titles, tied for ninth at 223 after a closing 71.
Winning the Stroke Play "is awesome because I've been working so hard on my game," said Braecklein, who finished second last week among the girls at the Colorado Junior PGA Championship. "This is definitely the biggest tournament I've won. Having worked on my game during (Covid-19) quarantine, it means a lot that it's paying off."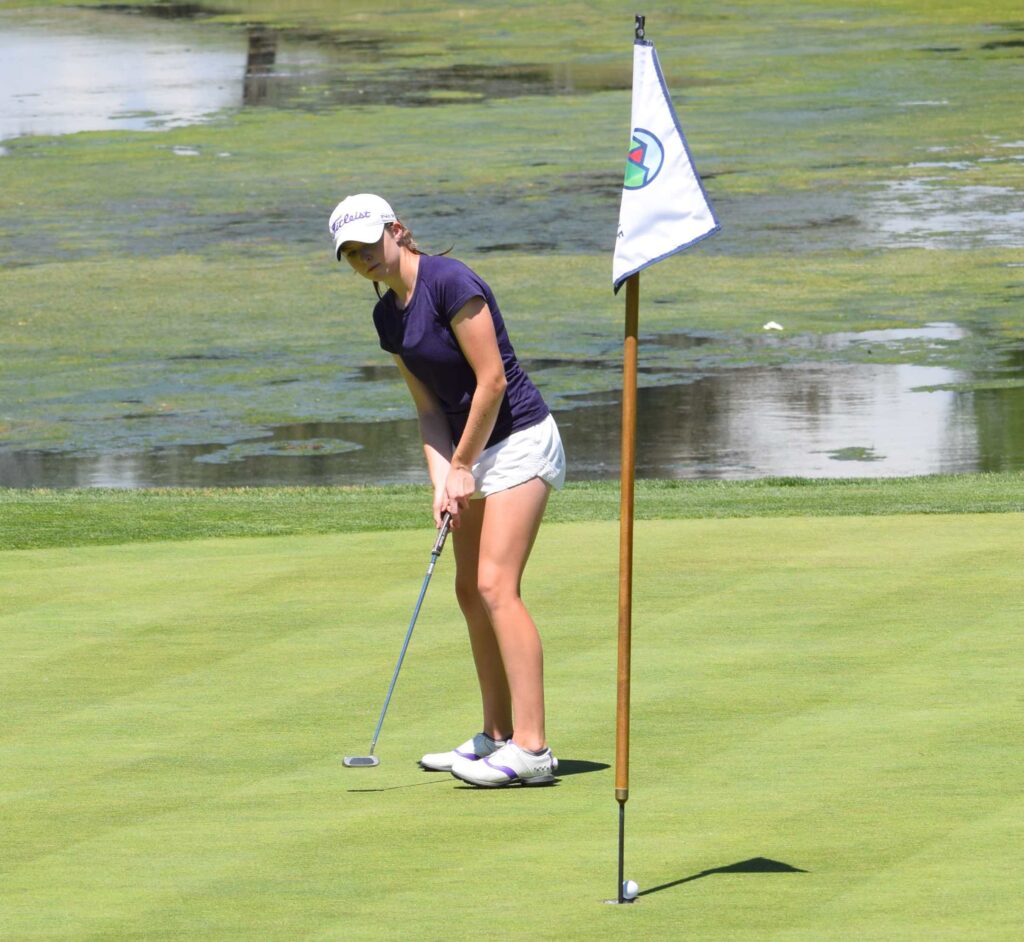 Hillary took a two-stroke lead into the final round after a 67 on Tuesday, but couldn't carry the momentum over to Wednesday. She three-putted the first hole and was 4 over par through six holes, opening the door for numerous players. Her birdie on 18 was her first of the day.
"I didn't get a wink of sleep last night," said Hillary, who is in the midst of a swing change after switching instructors. "I didn't have the swing or the confidence I did yesterday. I didn't have the same momentum going for sure. That's probably just nerves. I felt a lot of pressure — and I was really tired too. I had some sloppy swings and let it get the best of me."
Braecklein knows a little bit about feeling some nerves. Last September, she competed with PGA Tour Champions player Gary Hallberg at the Champions Tour's PURE Insurance Championship at Pebble Beach. Braecklein appeared on the national telecast during the final round and ended up tying for first place in the girls division of the pro-junior portion of the event before losing a card playoff.
"That was really awesome," she said.
Whether that helped her deal with the pressure on Wednesday, she emerged with the victory after posting scores of 70-74-73.
"I definitely think the first day set me up," she said. "Being 1 under really helped boost my confidence. Coming off that second place (last week in the Colorado Junior PGA), I wanted it more. It drove me to work harder. That definitely helped me."
CGA Women's Stroke Play Championship
At Par-71 The Ranch CC in Westminster
CHAMPIONSHIP FLIGHT
Aubri Braecklein, JGAC Club 70-74-73–217
Charlotte Hillary, Cherry Hills CC 75-67-76–218
Leigha Devine, Ptarmigan CC 76-70-73–219
Kirsty Hodgkins Colorado National GC 72-73-75–220
Julia Baroth, CommonGround GC 77-78-66–221
FIRST FLIGHT WINNERS
Gross — Lily Nelson, JGAC Club 83-80-80–243
Net — Olivia Steen, JGAC Club 71-70-74–214
SECOND FLIGHT WINNERS
Gross — Anne Cadden, The Ranch CC 87-88-86–261
Net — Beth Marbach, Eagle Trace GC 72-65-81–218
For all the scores from The Ranch, CLICK HERE.