2 years after regaining amateur status, Houtsma cruises to title in inaugural CGA Women's Mid-Amateur Stroke Play
By Gary Baines – 6/24/2020
The last time Erin Houtsma won a state golf championship, it was during a much different phase of her life.
It was 2005, she was a 25-year-old golf professional, and she had just captured the title in the Colorado Women's Open.
On Wednesday, when the former University of Colorado golfer won the inaugural CGA Women's Mid-Amateur Stroke Play Championship, she did so as a 40-year-old who's now an amateur again and with a family of her own.
"It feels good because it's been so long," she said. "2005 feels like a lifetime ago. I'm married, two kids. My whole life is totally different. I want to keep this momentum going so this phase of my life is something my kids can look back on and be impressed by and proud of — that their mom is able to do this while they're still young."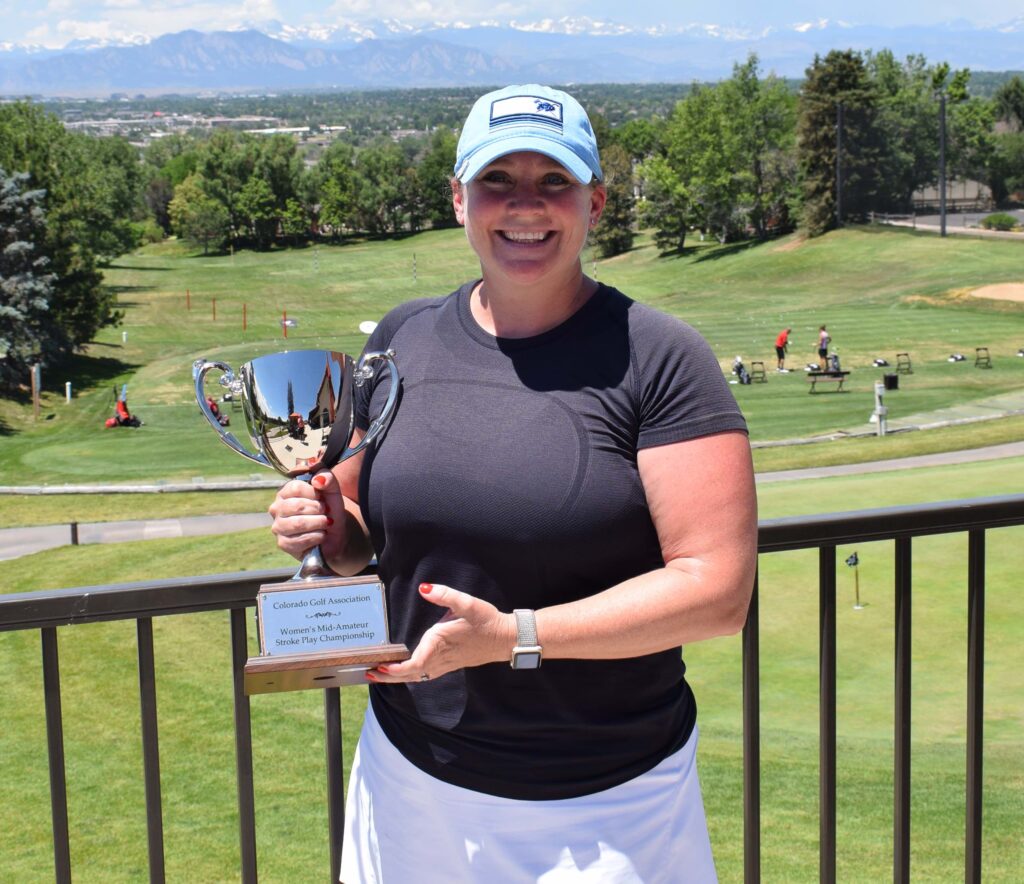 In the first CGA Women's Mid-Am, which is limited to amateurs 25 and older, Houtsma put together a tour de force. With a 2-under-par 69 on Wednesday — the lowest round of the championship by five strokes — Houtsma cruised to an eight-shot victory at The Ranch Country Club in Westminster.
So how does it feel to have your name be the first one on a championship trophy?
"To win is special whether it's the first time or the 100th time or whatever," said the Denver resident, who plays out of Colorado National Golf Club.
With Wednesday's four-birdie, two-bogey round, Houtsma posted a 4-over-par 217 total for three days.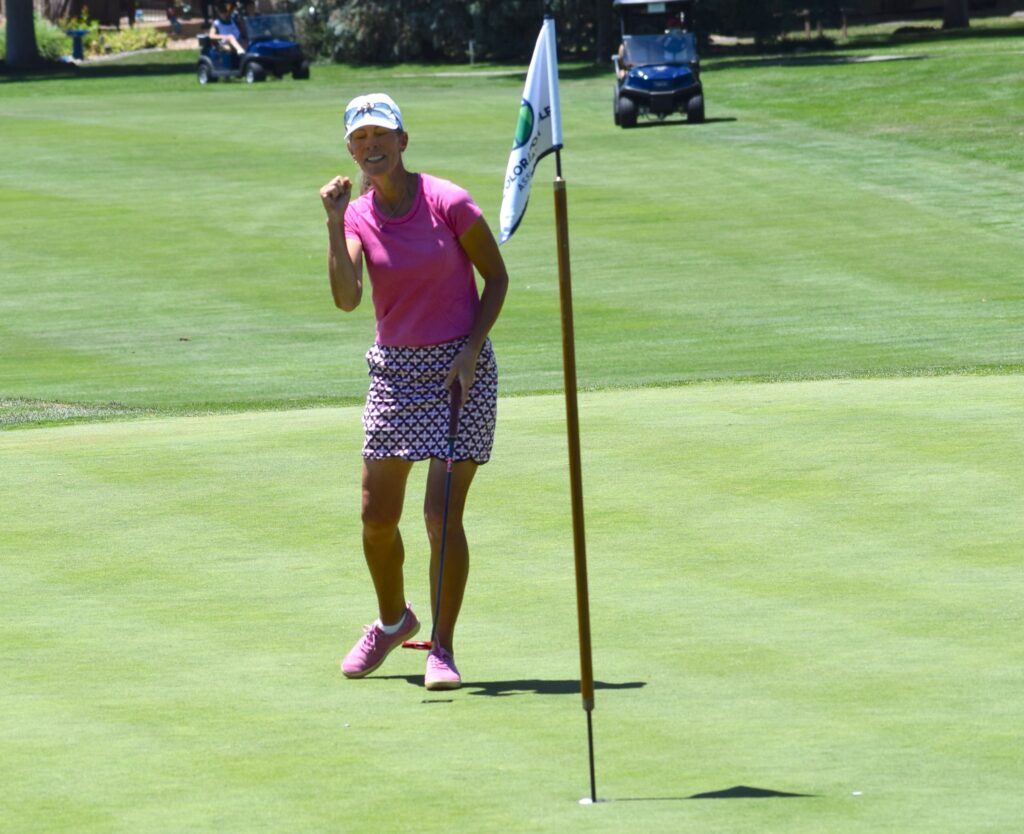 Placing second on Wednesday was two-time CGA Women's Senior Player of the Year Kristine Franklin, who was playing at her home course at The Ranch. Franklin closed with a 74 to check in at 225. Staci Creech of the University of Denver Golf Club at Highlands Ranch finished third at 229 after a final-round 78.
Houtsma regained her amateur status in the second half of 2018 and has been going strong ever since. Last year, she was co-medalist in Colorado-based qualifying for the U.S. Women's Mid-Amateur and advanced to the round of 16 at that national championship.
"I feel at home and comfortable playing with these (mid-am) ladies," Houtsma said. "I like that we're in the same phases of life — there's things to talk about and kids to talk about out there. I love playing as a mid-amateur, especially after my experience at the U.S. Mid-Amateur last year. That was amazing.
"I love playing against all the college girls, all the young girls. That's the greatest competition, but this was my one chance to play in a mid-am event for the summer. There's not other (mid-am) things to play in (the 2020 U.S. Women's Mid-Am was canceled due to Covid-19), so I wanted to get this one under my belt."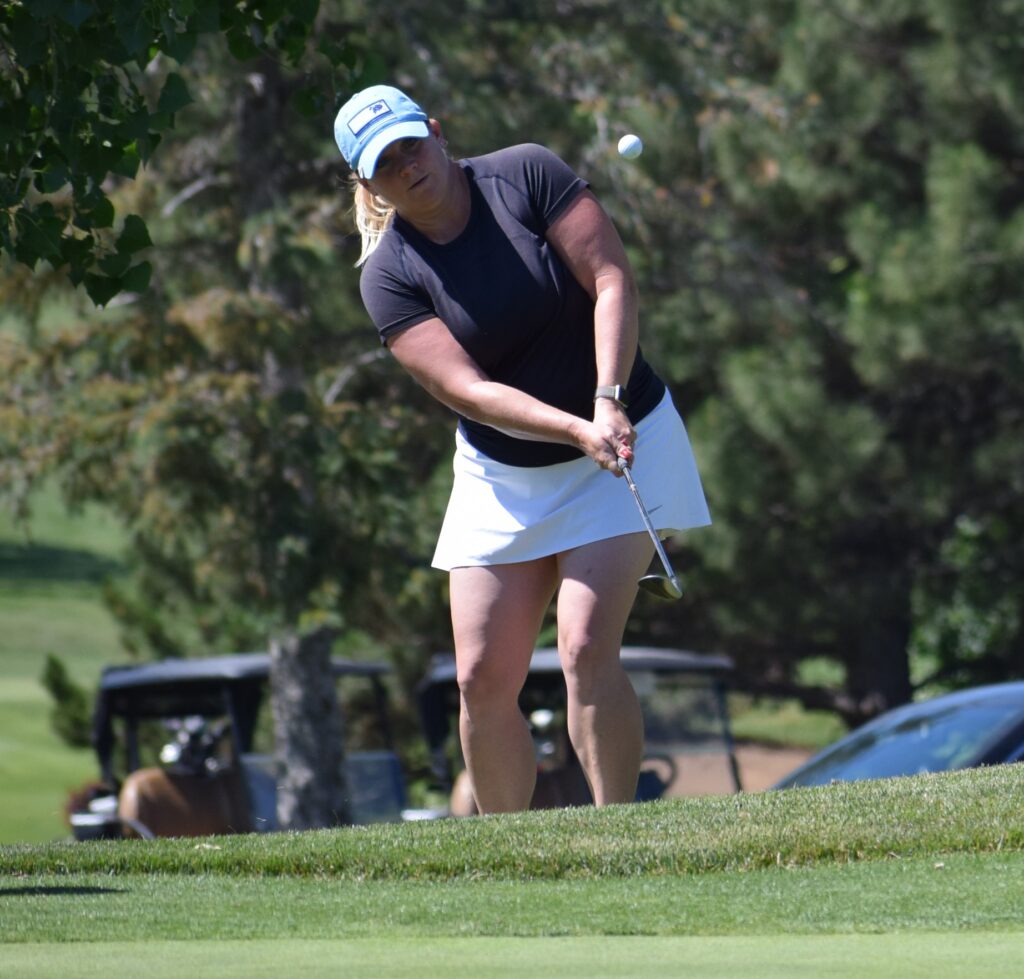 Houtsma shared the victory on Wednesday with, among others, her dad/caddie Steve Kerr and her 10-year-old son Connor, who cheered his mom on during the final two rounds.
"I felt like my game got better every day," Houtsma said. "I had a rough start on Monday. I think I bogeyed three of the first four holes and three-putted for par on No. 3. It felt like a really, really slow start. Yesterday, I just had two bad holes, making two doubles on bad swings on two of the par-3s. My ball-striking got better every day and so did my putting. I hit a lot of greens, so I didn't have to chip a lot but when I did, my short game really came through for me also."
CGA Women's Mid-Amateur Stroke Play
At Par-71 The Ranch CC in Westminster
Top 5 Finishers
Erin Houtsma, Colorado National GC 74-74-69—217
Kristine Franklin, The Ranch CC 77-74-74–225
Staci Creech, DU GC at Highlands Ranch 75-76-78—229
Marilyn Hardy, Dos Rios GC 76-76-80–232
Janet Moore, Cherry Hills CC 77-80-82–239
For all the scores from The Ranch, CLICK HERE.