'Tis the season to share holiday gift wishes, Colorado golf style
By Gary Baines – 12/24/2020
We're in the midst of the holiday season, and even though it's wintertime here in the Centennial State, we're always in the mood to think about golf here at ColoradoGolf.org.
With those things in mind, it's that time of the year again — for our holiday gift wishes, Colorado golf style. (Our budget for gifts that come in packages is tapped out for 2020, so this will have to do.)

To: The CGA, Colorado PGA, Junior Golf Alliance of Colorado and Colorado golf fans.
Gift Wish: In the near future, an announcement from the USGA that the 2023 U.S. Girls' Junior will be held at Eisenhower Golf Club at the Air Force Academy after the 2020 championship, set for Colorado, was canceled due to Covid-19.

To: The many people in the golf business in Colorado.
Gift Wish: That the huge increase in rounds played in 2020 — the state was up 19.6 percent year to date through November, according to Golf Datatech — has significant carryover for the long term.

To: Colorado native Jennifer Kupcho.
Gift Wish: After a runner-up finish on the LPGA Tour each of the past two seasons, your first victory on the circuit.

To: Colorado golf fans.
Gift Wish: After a year of seldom being able to attend big-time tournaments in 2020 due to Covid-19 safety concerns, many hours of enjoyable in-person spectating in 2021.

To: Colorado products Mark Hubbard and Wyndham Clark.
Gift Wish: After you both made your major championship debuts in 2020, a spot in the Masters and/or British Open next year.

To: Former U.S. Senator Mark Udall from Colorado.
Gift Wish: A CGA title for the former politician who is among those who have been bitten by the golf bug.

To: Ed Mate.
Gift Wish: An ever-successful third decade in the key role as executive director of the CGA. (Mate has been the association's E.D. since 2000.

To: Colorado.
Gift Wish: This may seem far-fetched, given that Colorado hasn't hosted a men's open-age major championship since 1985, but here's hoping for a major coming to the Centennial State by 2040. There's no reason it shouldn't happen, given a proper venue. It's already been too long of an absence for a U.S. Open or a PGA Championship.

To: Coloradans Kevin Stadler and Jim Knous.
Gift Wish: PGA Tour playing privileges beyond 2021 after starting the new year with medical extensions due to past injuries.

To: The caddies who have earned Evans Scholarships to the University of Colorado.
Gift Wish: After a tumultuous last 10 months due to the pandemic, a return to some semblance of normalcy next year, including scholastically and regarding group living.

To: The three CoBank Colorado Open Championships.
Gift Wish: After a year in which the tournaments attracted close to a dozen PGA and LPGA Tour winners, similar numbers in 2021.

To: Colin Prater, who swept the CGA Amateur and Match Play titles as a 25-year-old in 2020.
Gift Wish: A berth in the U.S. Mid-Amateur, and a subsequent deep run at the national championship.

To: New Denver resident — and former Colorado State University golfer — Martin Laird.
Gift Wish: That your 2020 PGA Tour victory in Las Vegas not be your last on the top golf circuit in the world.

To: John Ogden, former PGA head professional at Cherry Hills Country Club.
Gift Wish: A long run as the PGA director of golf at Jack Nicklaus' Muirfield Village Golf Club, host annually to the Memorial Tournament, one of the PGA Tour's top events.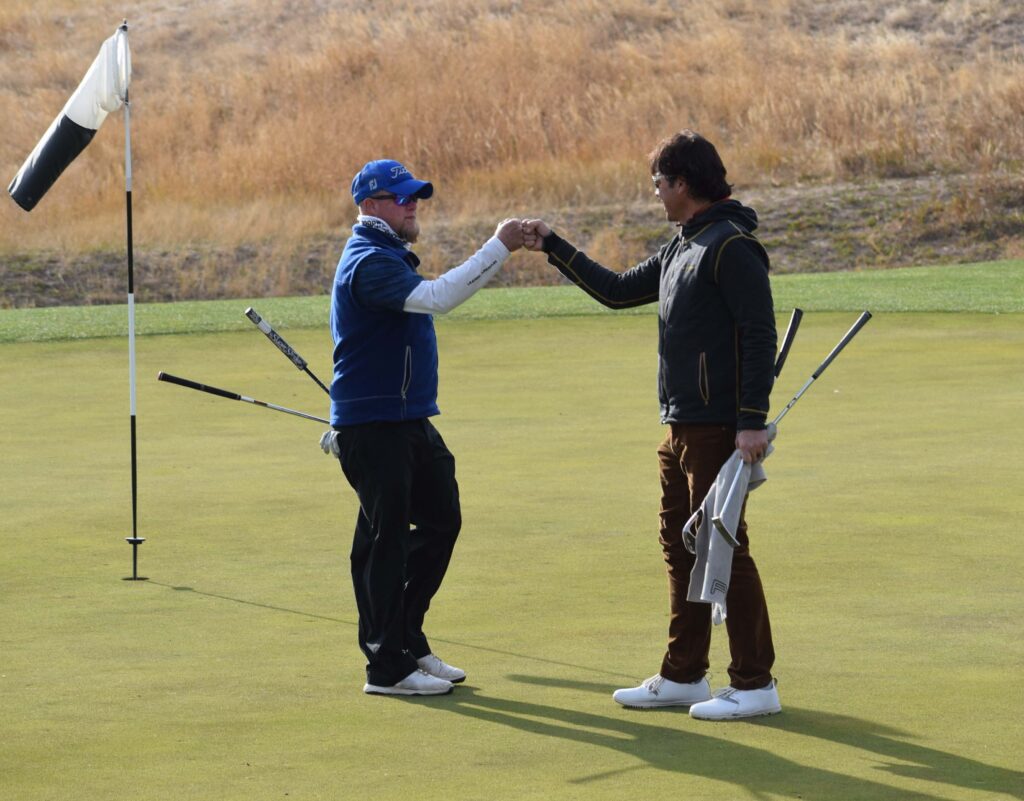 To: Kent Moore.
Gift Wish: In 2021, a year in which you win a CGA title while also serving as president of the association.

To: Steve Jones, the former University of Colorado golfer who won the 1996 U.S. Open.
Gift Wish: Your first PGA Tour Champions victory, at age 62.

To: The Colorado Golf Hall of Fame.
Gift Wish: Without further ado, a fitting induction ceremony in which two classes of inductees — Russ Miller (2020) and Ed Oldham (2021) — will be honored.

To: Jon Lindstrom.
Gift Wish: A year after getting into a playoff at the CoBank Colorado Senior Open, an outright victory in the event, which would make you just the second amateur to win the championship.

To: University of Denver golfer Anna Zanusso, whose first trip to the Augusta National Women's Amateur was delayed due to the cancellation of the 2020 event because of Covid-19.
Gift Wish: A top-10 finish in the 2021 ANWA.

To: The TV cameraman who was working the boys 5A state high school tournament at The Club at Rolling Hills, where he was walking all over the greens, shooting footage, while players were putting in the midst of the competition. (At least until one of the players politely asked him to cease and desist.)
Gift Wish: A clue — and perhaps a little common sense. (Note to him: There's a reason you never see this happening when you watch PGA or LPGA Tour events — or any tournament, for that matter.)

To: Coloradan David Duval.
Gift Wish: A new lease as a player as you turn 50 on Nov. 9, thus becoming eligible to compete on PGA Tour Champions.

To: Former CGA and JGAC Players of the Year Mary Weinstein (University of Denver) and AJ Ott (Colorado State).
Gift Wish: Success in future endeavors for two outstanding players who are gearing up for their unanticipated — and abbreviated — fifth season of college golf, and planning much different career paths thereafter.

To: The Denver Golf Expo co-owners Mark and Lynn Cramer.
Gift Wish: May your CyberExpo planned for March 12-13 go as well as possible, but let it be the last Expo you ever have to hold virtually.

To: Kent Denver alum Gunner Wiebe.
Gift Wish: May you parlay your victory in the 2020 national Assistant PGA Professional Championship into a berth in the 2021 PGA Championship.

To: The Solich Caddie & Leadership Academy.
Gift Wish: A 10th season for the program that exceeds all expectations.

To: The Junior Golf Alliance of Colorado.
Gift Wish: A second five years of existence as fulfilling as the first five.

To: Golf volunteers.
Gift Wish: The satisfaction of knowing that you are a huge reason Colorado golf is as successful as it is.

To: Colorado's nine NCAA Division I golf programs.
Gift Wish: After a canceled fall season, an uninterrupted run of tournaments in the spring, preferably with plenty of success.

And most of all, to all of you, a great holiday season.