Schalk's shot at unprecedented 4-peat in Colorado state high school golf goes by wayside as CHSAA cancels spring season; future CU golfer won every tourney except one over her entire high school career
By Gary Baines – 4/21/2020
Hailey Schalk figured this day might be coming, but she was holding out hope to the contrary. Either way, Tuesday's news wasn't easy to take.
The Holy Family High School senior had an opportunity to make history this year by becoming the first Colorado high school golfer — of either gender — to win four individual state titles in the sport.
But her bid for a four-peat ended not on the course at a state tournament, but when the Colorado High School Activities Association announced on Tuesday morning that it was canceling the 2020 spring sports and activities season, including that for girls golf, due to the effects of the coronavirus.
"It's really disappointing," Schalk said in a phone interview with ColoradoGolf.org. "I'm definitely very upset about it, but I understand the precautions they're taking and that it's more important than my golf season. I wish I could go out there and try and win state again because it's been a goal of mine for a long time — since freshman year — and I definitely wanted to win all four (state tournaments). 
"I always thought I would at least get to try and play. If I lost, that's fine because at least I gave it my all and I tried, and at the end of the day that's all that matters. The fact that I don't get that opportunity anymore, it's definitely disappointing, but I'll be OK. I understand there are things more important than golf."
Making it even more difficult to swallow is that the 4A state tournament in which Schalk would have been competing next month was scheduled for Colorado National Golf Club in Erie, her home course. Her dad, Matt Schalk, is not only the head coach of the Holy Family girls team, but serves as the PGA general manager at Colorado National.
"I think it would have been a cool thing to win there on my home course my senior year," Hailey said.
In fact, there would have been an opportunity not only for Schalk to complete her individual four-peat, but for her and her Holy Family teammates to take home a state team title for the first time. In the only tournament in which the Tigers competed in 2020, they won a Tri-Valley League meet at Ute Creek Golf Course by 26 strokes over Windsor, the defending 4A state team champ. Schalk earned the individual title at Ute Creek by three strokes as she fired a 4-under-par 68.
"I think we would have had a really good chance at winning a team championship as well, which would have been super cool," Schalk said. "Because it was my senior year and we've never done that before, to finish out with a team championship would have been really awesome."
With Tuesday's announcement, it will be the first time since girls golf was sanctioned by the CHSAA in 1990 that girls state high school champions in the sport won't be crowned.
"I think it's been very tough for her," Matt Schalk said of Hailey and her situation. "She really had a goal. I wouldn't say when she started out (high school) she was trying to win four … but of course once you have three all the focus shifts to everything you've got to do to really try to get this fourth one. I think over the last year she's really tried to prepare more for the fourth one than any of the first three. For (the opportunity) to go away, in a way it gives her a sense of, 'Oh gosh, all the stuff that I've done over the last 10 months, there's nothing to show for it.'"
The CHSAA had put off making a final decision on the spring season — for all the sports and activities — but the plug was pulled on Tuesday.
"On Monday, Governor Polis announced a transition to 'Safer at Home' guidelines, which included the cancellation of in-person learning for the remainder of the school year," CHSAA commissioner Rhonda Blanford-Green said in a release on Tuesday. "The decisions to cancel the spring season aligns with these new guidelines.
"We convened a meeting of the Sports Medicine Advisory Committee on Monday evening. The group came to a consensus, and stated: 'It would be impractical and irresponsible for the Association to move forward with a spring season in the next weeks or even the summer months.'"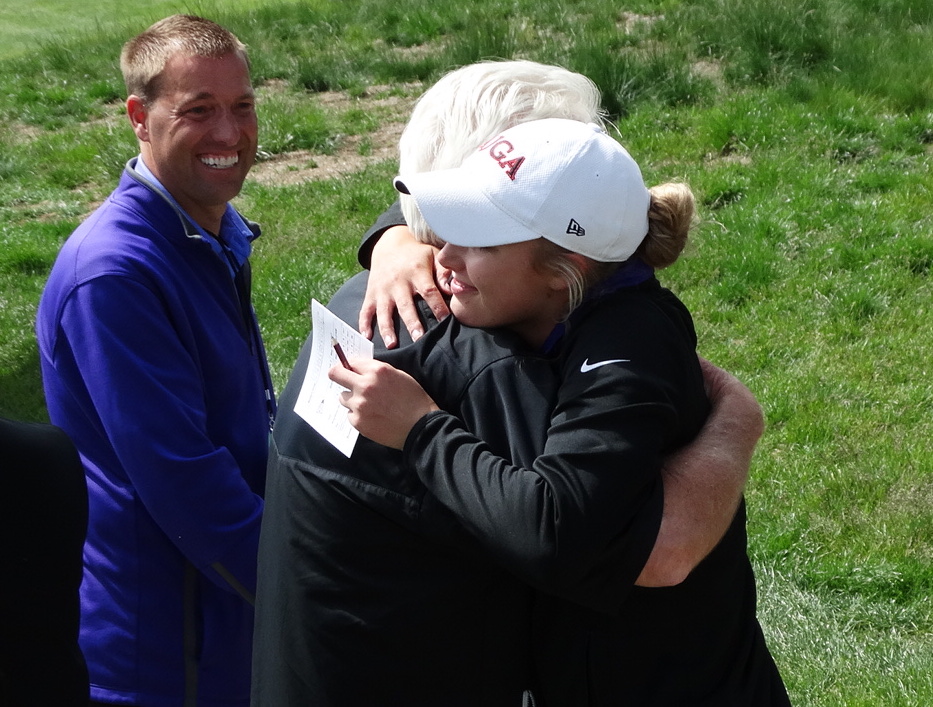 Schalk, who has signed to play her college golf at the University of Colorado starting in the fall, will go down as the third Coloradan — male or female — to win three individual state high school golf championships, along with Cherry Creek's Lynn Ann Moretto (1995, '96 and '97) and Mullen's Ashley Tait (2002, '04 and '05).
Schalk, the 2017 Junior Golf Alliance of Colorado Girls Player of the Year, put together a masterpiece of a high school career. As a freshman, she shot a first-round 65 and won the 3A state championship by seven strokes, becoming the first freshman to claim a girls state high school title in Colorado in 15 years. In 2018, she prevailed by six shots in 3A after playing her final 24 holes in 8 under par. And last year, despite the state meet being reduced to one round by snow, she captured the 4A state title by six.
How good was she?
The Erie resident won or shared titles in all but one high school tournament in which she participated over four seasons. She was unbeaten as a freshman, a sophomore and in her lone senior tournament. Windsor's Jessica Zapf beat Schalk once in a 2019 regular-season tournament at Pelican Lakes.
In addition, Schalk and 2019 5A state champion Lauren Lehigh of Loveland are the only players in history to earn individual victories in two different classifications in girls state high school tournaments  in Colorado.
The 2020 girls state high school tournaments had all been scheduled for May 18-19 — 5A at Lone Tree Golf Club, 4A at Colorado National and 3A at CommonGround Golf Course in Aurora.
Schalk is not the only former girls state high school individual golf champion to lose an opportunity to add to her total this year. Emma Bryant of Eaglecrest, who matched Schalk's feat of winning state as a freshman (though in Class 5A in her case), would have been trying to earning a second crown as a junior. Bryant has verbally committed to play in college at the University of Denver beginning in the fall of 2021.
While Kent Denver senior Charlotte Hillary had never won a state high school individual title, she certainly would have been a favorite for a championship in 3A this year as she's ranked 29th nationally/internationally among female junior golfers by Junior Golf Scoreboard and 83rd by Rolex AJGA. Hillary placed second, third and second in her three state high school tournaments. The 2019 JGAC Girls Player of the Year will begin her college golf career in the fall at Northwestern University in Illinois.
Coincidentally, later this week, Schalk and Hillary were supposed to be teaming up for the second time at the U.S. Women's Amateur Four-Ball, but the USGA announced last month that the championship in Naples, Fla., had been canceled.
"I was really excited because it's one of my favorite tournaments I've ever played," Schalk said of the national Four-Ball. "It definitely sucks that we don't get to go back and compete."
The CHSAA is far from the first state high school athletics/activities association to cancel its spring season due to the coronavirus. The CHSAA said that more than 30 associations have made such announcements.
"Our hats are off to the many seniors (who) have shown maturity and resolve as their culminating year of high school has been impacted beyond activities and athletics due to this worldwide COVID-19 pandemic," Blanford-Green said. "The Class of 2020 will not be forgotten."
That's certainly true of Schalk, given her run at an unprecedented four-peat.