Former CSU golfer Adam Nelson does the unthinkable by making 2 holes-in-one in a single round, at Lakewood CC
By Gary Baines – 7/31/2020
According to the National Hole-In-One Registry, the odds of a golfer making two holes-in-one in a single round are 67 million-to-1. So how might such a golfer celebrate if he or she beat those odds?
If you're Adam Nelson, suffice it to say that as of Friday morning, his vehicle was still parked at Lakewood Country Club, where he made his two aces 48 hours earlier.
So was it quite a celebration go, Adam?
"You could say that," he said by phone on Friday. "One of the comments I heard yesterday at the course, somebody said it was the most lively they've seen the golf club since this pandemic happened."
That's understandable, given the rarity of a feat such as Nelson's.
Nelson is a 35-year-old Scotsman who was on the Colorado State University men's golf roster from 2005-07 but didn't play an official tournament for a strong Rams squad. "Those guys were too good," he said. "I felt like that USC quarterback that never (or rarely) saw the field, then finally got onto the Patriots: Matt Cassel. I'm the Matt Cassel from CSU."
And on Wednesday, Nelson engineered one heck of a game. He made his first hole-in-one at the 205-yard seventh hole at Lakewood Country Club, then did the unthinkable by also acing the 135-yard 17th.
"I made the first one and immediately texted a group of friends that I have out there and was just like, 'Get to the club today because we're drinking,"' Nelson said with a laugh. "And when the second one went in, it was pretty unreal."
With both holes playing downhill and downwind, Nelson holed his tee shot on No. 7 using a "chippy 8-iron", with the ball landing on the front of the green, rolling up and dropping into the cup.
On No. 17, Nelson went at it aggressively with a 56-degree wedge, with the ball hitting 8 feet short of the hole, taking a bounce 1 foot past, then spinning back in.
"One of my friends (Brett Orr) was playing in the group in front of me and he saw both of them go in," Nelson noted. "He saw the one on 7 go in and just ran from the eighth tee box to the seventh tee box and celebrated with us. And on 17, (playing partner) Dan Brown tackled me into the ground when it happened because he just went nuts."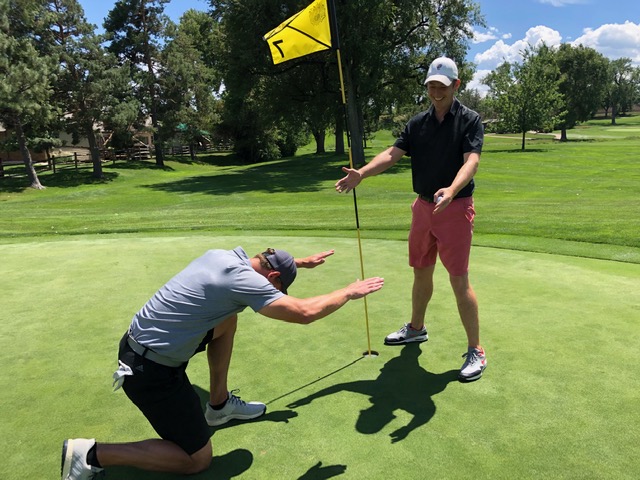 It wasn't exactly a called shot — along the lines of Babe Ruth's — but Nelson did make an interesting comment to Brown and his guest on the 17th tee box.
"Before I hit it, I said to my playing group, 'Well, if I'm ever going to have two hole in ones in one round, this is my chance,'" he said.
Another oddity is that Nelson used the same ball — a Titleist Pro-V1x No. 3 — for both aces, and even took it another step.
"A lot of people have asked me why I didn't retire it after the first one, to which I respond, 'Well, I also played hole 18 with it,'" he said. "I don't know why I did that because there's water on 18."
The aces were the third and fourth of Nelson's life, with both of his first two coming in his native Scotland.
"I'd made two holes on one, but the last one was 14 years ago," he said. "Before Wednesday, if anyone had asked me, 'Have you ever made a hole-in-one?', I always had the same response. I said, 'Yes, two hole in ones, one fat and one thin.' So it's nice to get a couple of good shots in there too."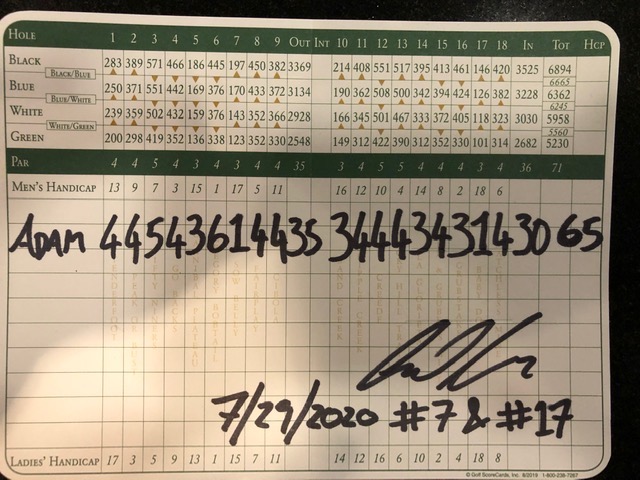 Nelson, who owns a finance company that does small business loans, grew up in the same Scottish city as fellow former CSU golfer Martin Laird, who since has gone on to win three times on the PGA Tour. In fact, they lived only about six blocks apart, and Nelson said he knew Laird from the time Nelson was 8 years old and Laird was 10. Though Nelson sought some advice from Laird about how he went about getting a golf scholarship, the fact that both ended up playing at CSU "was more just coindence," Nelson said.
"Martin Laird had been there (at CSU), then Kevin McAlpine — another really good Scottish golfer — was there. So the coach (at the time, Jamie Bermel) had two great golfers and thought, 'I'll try another Scottish guy' and (I) didn't quite live up to the Martin Lairds of the world, but that's OK."
After concluding his college days at CSU, Nelson moved to Los Angeles — where he played very little golf — but then returned to Colorado, where he became a regular at CommonGround Golf Course.
"Man, does Denver have some phenomenal courses that you can play — really affordably," he said. "I would play CommonGround all the time. I joined the men's league there and really got back into golf because of that. Then I joined Lakewood Country Club last year. And it's been a hell of a year because I tied the course record a month ago (8-under-par 63 in a non-tournament round) and now this has happened."
Strangely, this isn't the first time this year that a Coloradan has made two holes-in-one in one round, though the other was on a smaller scale. On April 29, junior golfer Max Lange of Golden recorded two aces in three holes at Green Valley Ranch Golf Club's par-3 course — from 60 and 105 yards.