16-year-old Max Lange, who hadn't made a hole-in-one before, records 2 aces in 3 holes
By Gary Baines – 5/11/2020
Green Valley Ranch Golf Club in northeast Denver is no stranger to much-discussed stories about holes-in-one.
Most notably, there was the one from Independence Day 2002 when longtime University of Denver professor Michael Crean (since retired) reportedly made an ace on the largely-flat 517-yard, par-5 ninth hole. For his part, Crean once said, "I can't prove it, I can't disprove it, but my ball was in the hole."
There have been plenty of skeptics regarding the feat. After all, PGA Tour player Ryan Palmer hit an impressive drive from a similar tee box on the ninth hole more than a decade later — during a season in which he ranked 12th on the tour in driving distance — yet he still had about 175 yards left to the hole for his second shot. But whatever happened that day in 2002, it's made for many prolonged debates among golf aficionados.
Now, we have another odds-defying hole-in-one story from GVR — this one involving much more typical-length holes for aces, but with a big twist. The golfer involved reports making two holes-in-one in the course of three holes.
On April 29 at GVR's par-3 course, Max Lange of Golden said he aced not only the fifth hole from about 60 yards, but the seventh hole from somewhere between 105-110 yards. And the 16-year-old sophomore from Golden — and Lakewood High School — managed both holes-in-one with the same club: a 58-degree Titleist Vokey wedge.
"I use it basically everywhere around the greens," Lange said of the wedge. "It's my trusty club. I love the thing — and I love it even more now."
Lange, who will be starting his third year in the CGA's Hale Irwin Player Program at CommonGround Golf Course, said he'd never before made an ace before he and fellow Irwin Players Hunter Swanson of Denver and Wes Erling of Colorado Springs, along with Jack Larson of Arvada, decided to play the GVR par-3 layout late last month.
"It was like any other day, then two holes-in-one," Lange said. "And it was my first hole-in-one. It's not something I'll be forgetting anytime soon. It was definitely one of the most memorable days I've ever had."
According to the National Hole-In-One Registry, the chances of a player making two aces in one round is 67 million to 1. Now Lange's holes-in-one were of the shorter-than-normal variety, but the odds are still astronomical.
Swanson is a regular at GVR and has made all eight of his aces on the par-3 course, but what Lange did left him in disbelief.
"That's what I was shocked about" — two in one round, Swanson said. "He had to come and one-up me in that standard."
We'll go to the source — Lange — for the play-by-play on his unforgettable day.
"We did a 2 v. 2 match-play format" for the foursome, he said. "We got to No. 5 and everything seemed normal. I stepped up to the tee and hit my shot and (his playing partners) are like, 'Wow, that actually looks really good. It looks like it's going to go in.' There was a little hill short and to the left of the hole and it was rolling off of it toward the hole, and they're like 'Wow, that looks like it's going to go in.' And it went in.
"I didn't know what to think because I've never had a hole-in-one before. It was my first time. I kind of threw my arms up and went, 'No way. I just made a hole-in-one.'"
Swanson noted that as they approached the fifth tee, Lange had asked him where he had made his first hole-in-one. And sure enough, it was No. 5 — about five years ago.
"He was talking about how easy it is and how he could do it and all this," Swanson recalled of their conversation. "And what do you know? He puts it in. I was like, 'Are you kidding me?'"
On No. 6, despite being understandably still excited by the ace, Lange 2-putted from 15 feet for a par. Then it was on to the seventh.
"I grabbed the same club (as on No. 5) and I hit it," Lange said. "This one, the pin is tucked behind a hill. From the tee box you can't actually see the hole. I hit it and it looked really good. My friends were like taunting me, saying, 'Oh, that could go in again.' We walked up to the green and as we got up there my friend Wes said, 'No way. Who made it?' Everybody looked like, 'There's no way.' So we went up to the hole and looked and it was the same ball I had the hole-in-one with on 5 (a Titleist Pro V1 No. 2). I went kind of crazy."
Swanson recalls another odd-in-retrospect comment Lange made when they were approaching the seventh tee.
"When we walk up, he asks another coincidental thing," Swanson said. "He asks, 'What's the hole I've had the most holes-in-one on?' because he thought it was No. 7. And it is. I've had three on 7. It was the craziest thing. Whenever he talked about a hole-in-one, he got one."
Lange said he went on to shoot about 5 under par for the first time around the nine-hole par-3 course before going on to play more. "I was playing really well that day," he said.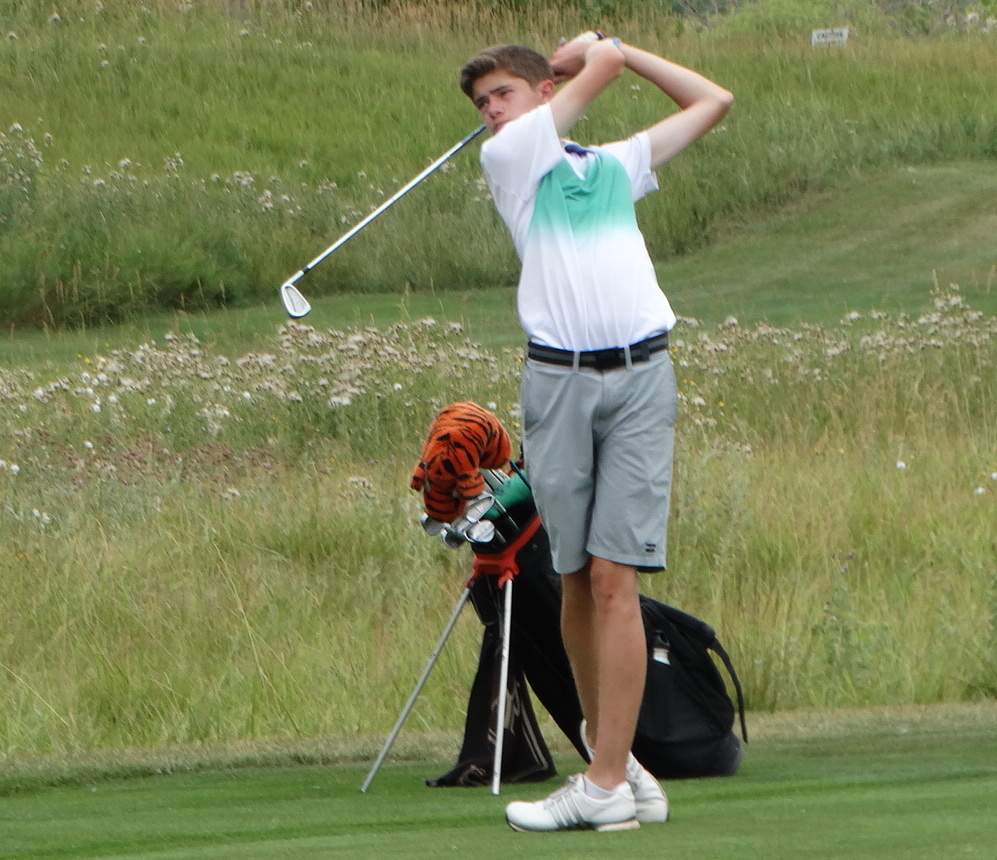 So what was Lange's reaction to this improbable day?
"I just wanted to tell people," he said. "My dad has always told me, 'If you do something crazy, call me right away.' Right after the round, I figured, 'Call him' and he was really excited about it too, and had to call everybody in my family.
"The rest of the round went by super quick. Every time we got up to a new hole, (his playing partners) were like, 'Oh, are you going to make a hole-in-one on this one too?' It was just kind of crazy."
Lange and Swanson were teammates that day, and it should come as no surprise that they handily defeated Erling and Larson in match play.
"That (the aces) obviously helped a little bit," Swanson said. "We probably won 4 or 5 up. After (the second hole-in-one), the two kids we were playing against were in shock. They just gave up after that."
Lange is certainly no stranger to playing impressive golf. Late last spring, he shot a career-best 8-under-par 64 at Overland Park Golf Course en route to being the qualifying medalist for his age division for the Optimist Junior Golf Championship. Last summer, he finished runner-up in the boys division at the Colorado Junior Match Play. And at the 5A state high school meet as a sophomore, he posted a 19th-place showing individually.
Lange has been working with instructor Trent Wearner for about a year. "I've improved so much with him," Lange said. "It's really nice to have someone who supports me like that."
Last spring also was when Lange met three-time U.S. Open champion Hale Irwin, who has lent his name to the CGA-sponsored Hale Irwin Player Program, which is designed to nurture the budding careers of promising, determined and passionate junior golfers in the state. It launched in 2013 at CommonGround.
The Irwin Player Program grants those selected free unlimited use of the practice range and Kids Course at CommonGround Golf Course in Aurora — and of the championship course on a space-available basis. Participants also receive help with their games on a variety of levels, including fitness and nutrition. And all of them are expected to "give back" by volunteering.
"It's really great," said Lange, whose home course is The Club at Rolling Hills in Golden. "It gives me a lot of opportunities, being able to play CommonGround and practice there. I get instruction and help with my mental game. That's one of the most important parts about it for me. I get to work with these really smart professionals. They do everything to help me improve my game."
Lange, like other competitive golfers in the state, hasn't had much of a change to test his game recently due to coronavirus-related cancellations and postponements. But that will change early next month with the first Junior Golf Alliance of Colorado tournaments of the year.
"I really miss playing in tournaments," he said. "I was looking forward to it this summer, getting to see all my friends at tournaments and playing in really competitive tournaments. I just love doing that. June 2 is the first tournament day. I can't wait."