Centennial's Matthew Wilkinson, Texan Morgan Miller break through for titles at Colorado Junior Match Play
By Gary Baines – 7/30/2020
It was Sweet 16 all around on Thursday afternoon at the Colorado Junior Match Play as all four contestants in the boys and girls title matches were 16 years old.
And, of course, the final results were ever so sweet for champions Matthew Wilkinson of Centennial and Morgan Miller of Cedar Park, Texas. Each won two matches on Thursday and five over the course of three grueling days walking Eisenhower Golf Club's Blue Course at the Air Force Academy.
The victory "is pure joy, but I'm very tired," said Wilkinson, a student-athlete at Arapahoe High School.
"It's incredible," said Miller, who has competed in Colorado quite a few times while visiting with her family from the Lone Star State. "I haven't won a tournament in a couple of years, so it feels really good to come back and win one, especially in a different state."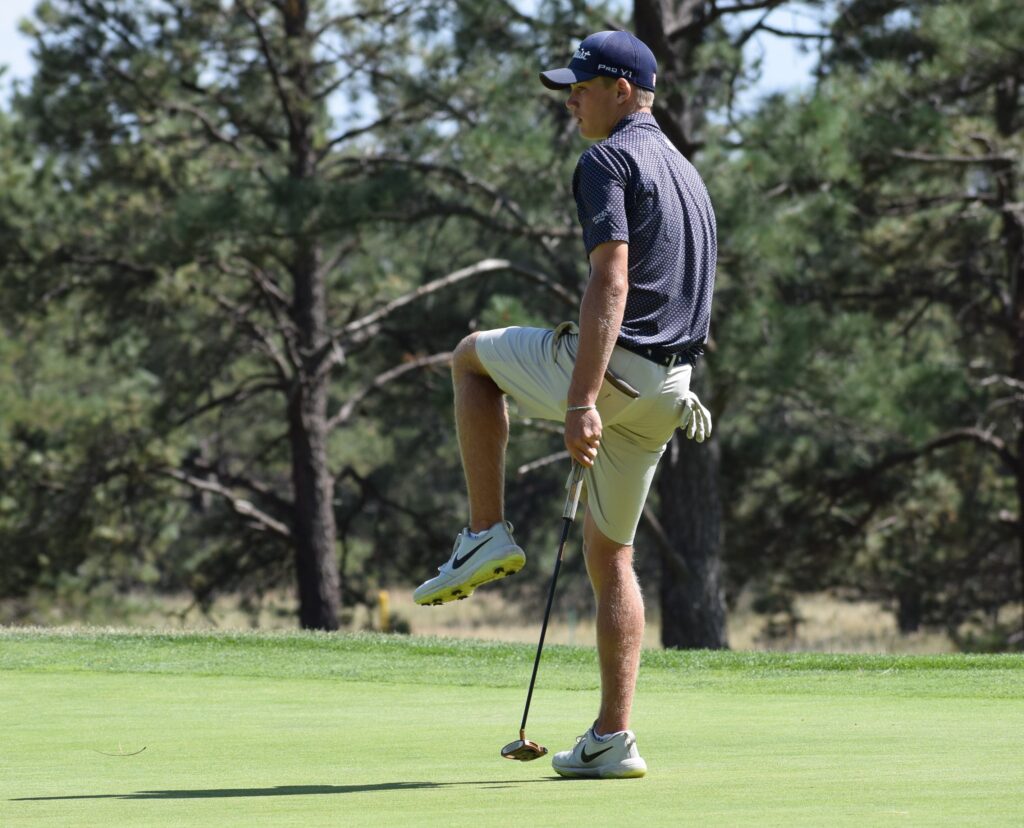 Wilkinson scored a 4-and-3 victory in the final over Tayleb Schaefer of Sterling, capping a week in which just one of his matches went past the 16th hole. And Miller was 3 up through 11 holes against Kaylee Chen of Parker, but needed to sink an 18-foot birdie putt on the 18th hole Thursday afternoon to secure a 1-up victory in the girls final.
"Oh my gosh, I was so nervous," Miller said. "I saw the mountains in the background, so I knew it was uphill and going to be slow. I was like, 'You are not leaving this short. You are not. It was going to break a hair left and I just knocked it right in there."
In the boys competition, Wilkinson notched his first victory in a Junior Golf Alliance of Colorado major after placing third in this year's Colorado Junior PGA and fourth in the 2019 JGAC Tour Championship. So in the last four JGAC majors, he has a first place, a third and a fourth. Ironically, he didn't qualify for the other major during that stretch, the Colorado Junior Amateur.
"It feels good to get it done," said Wilkinson, who finished 10th in the 5A boys state high school tournament last fall after winning a regional at Colorado Springs Country Club. "I've been in contention a lot this year. I just haven't been able to close it out. So it's nice to get one done."
After beating Ryder Heuston of Louisville 5 and 4 in Thursday morning's semifinals, Wilkinson never trailed in the final against Schaefer. He won three straight holes on the front nine — Nos. 2 through 4, all with pars — and never looked back, even though he made just one birdie in the 15 holes of the match.
"I was hitting it pretty good actually," said Wilkinson, who called the victory the biggest of his young career. "I was making some putts on the front nice, which helped. I took advantage of some of his mistakes. Ultimately that led to me getting ahead so much."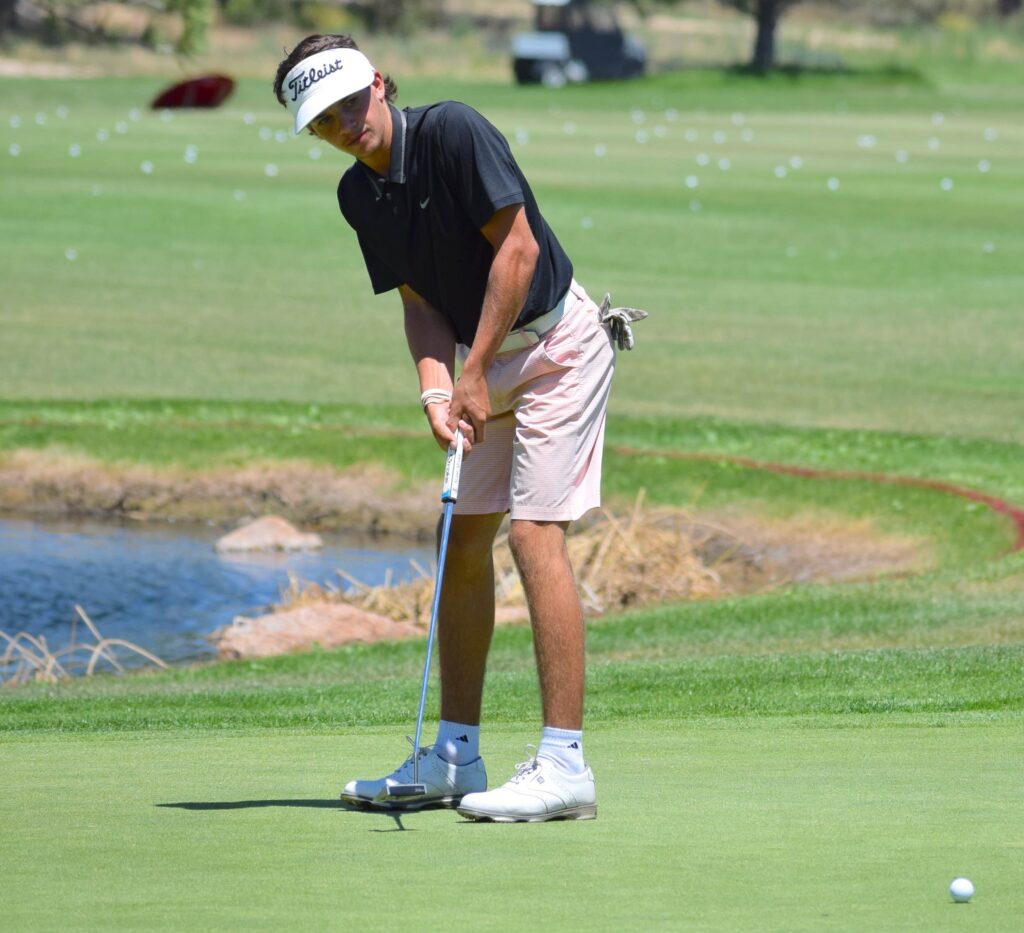 Schaefer had an impressive run to make it to the final as the No. 27 seed in a 32-player field. Along the way, he defeated the reigning 5A state high school individual champion (Wilkinson's Arapahoe teammate Will Kates) and the 2020 Colorado Junior Amateur champion (Bo Wardynski). But Schaefer lost his mojo in the final as he was 6 over par for 15 holes.
"I played a really good player (in Wilkinson)," Schaefer said. "He just played a lot better than me. I just didn't have my game this afternoon. I brought it all week, but didn't have it in the afternoon.
"I won't make any excuses but I think (I was fatigued) just a little bit. I've never played 90 holes in three days, and you're walking. It just takes it out of you. But it was a good week and I beat some solid players."
On the girls side, the final was much closer, though it didn't look like it would turn out that way 11 holes into the competition. That's when Miller held a 3-up lead after playing those first 11 holes in 1 under par. But Chen, the 2019 Colorado Junior Amateur champion, wasn't done yet.
The Coloradan won the 12th hole with a par and the 15th with a bogey. Then she got up and down out of a bunker on No. 17, sinking an 8-foot par putt that won the hole when Miller missed a 5-foot attempt after also being in the sand.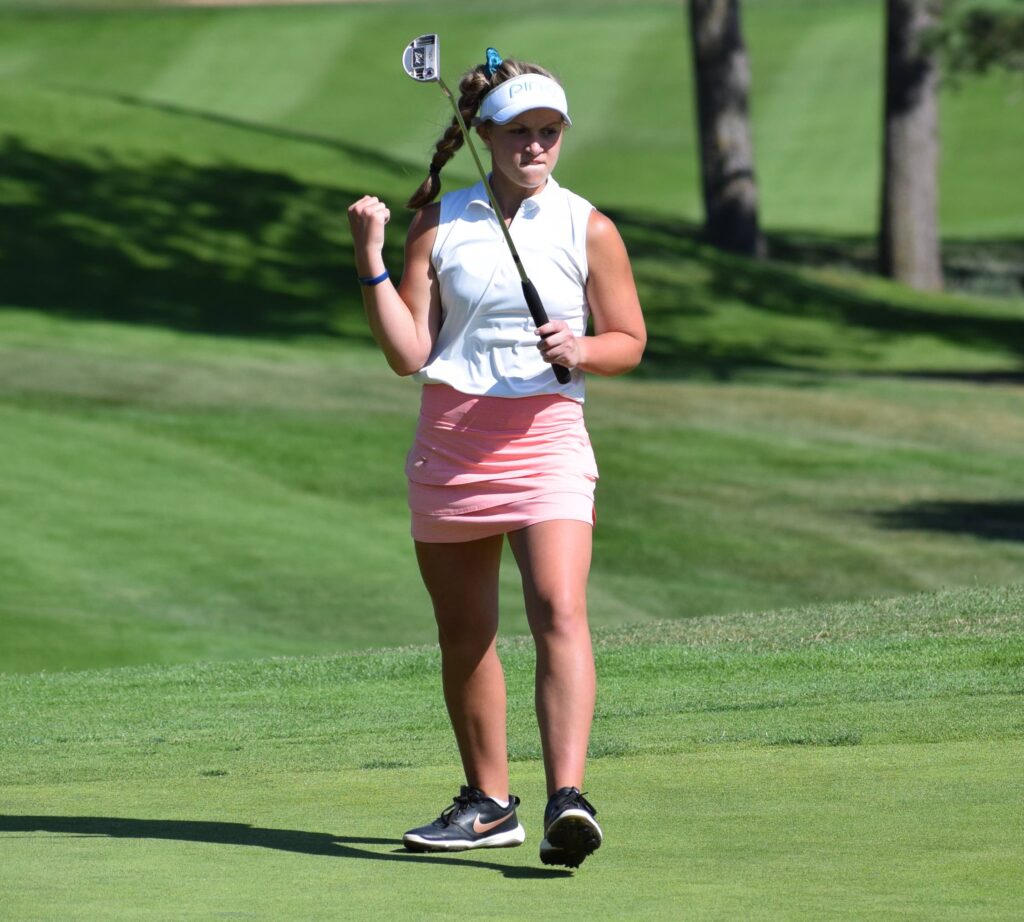 With the match tied, neither player hit the par-4 18th green in regulation. Miller ended up just short of the green, while Chen drew a tough break as her drive finished in a "massive divot" in the rough. She hit her second shot well under the circumstances, but it went long and right of the putting surface, leaving her a very, very slippery pitch, which went through the green. After a putt from there ended up 8 feet short, Miller drilled her 18-footer for par for the win.
The victory for Miller follows up one she recorded in Colorado on the Rocky Mountain Junior Golf Tour a couple of years ago. And this week she prevailed despite having never played the Blue Course before her first match on Tuesday.
"I love Colorado, I love bent (grass) greens, (and) I can hit it far in the altitude," Miller said of her success in the Centennial State. "Everything about Colorado I love.
"I'd say this is probably one of the biggest wins I've had. I've struggled for the past couple of years not winning anything."
Earlier in the day, Miller defeated incoming University of Santa Clara golfer Marie Jordaan of Greenwood Village in the semifinals, 4 and 3.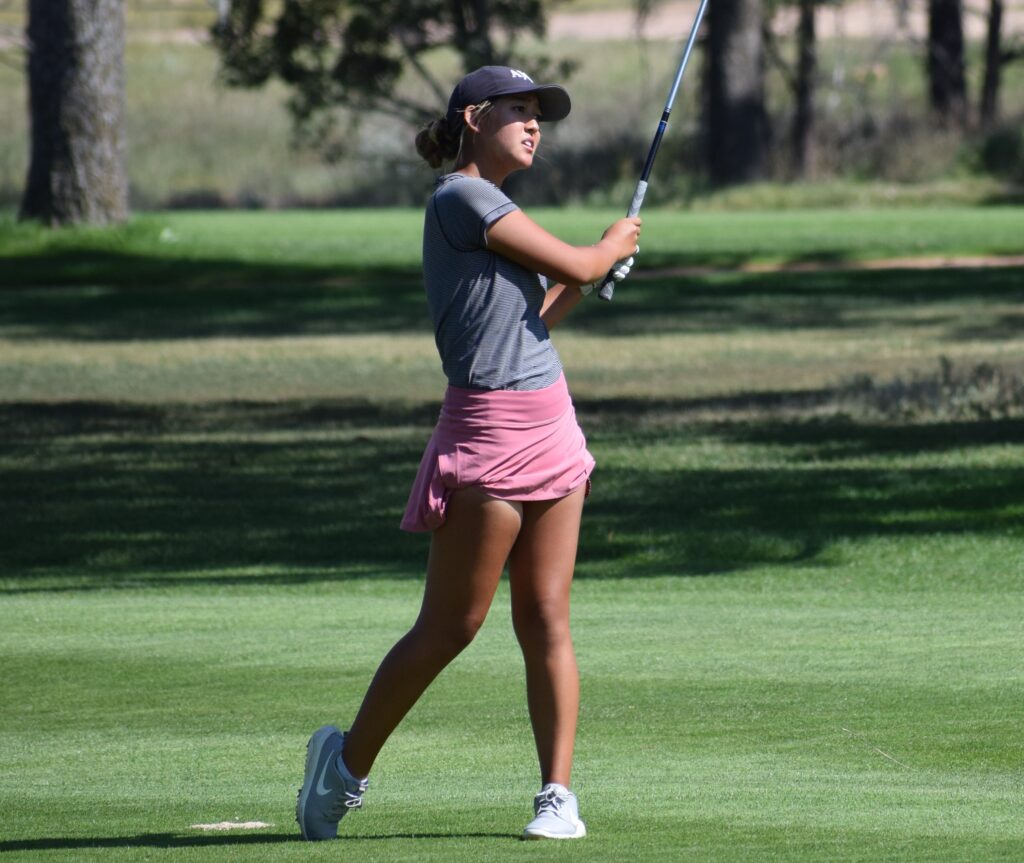 Meanwhile, Chen's big rally on Thursday afternoon went for naught — at least in the final results department.
"It wasn't meant to be," she said. "I always have next year.
"I did not play very well this afternoon. It was a real struggle. My putts were not dropping the way I expected them to. My morning match (a 6 and 5 semifinal win over Grace Young), all my putts were dropping. It's funny how in just a few hours it can change. My putting this week was really good, but when I needed it the most (this afternoon), it wasn't great.
"But throughout the round, I didn't give up, even when I was 3 down. I really tried to grind it out there."
Even though Chen hasn't won a JGAC major this year to go along with the one she captured as a 15-year-old, two straight top-three finishes isn't bad.
"I take it as a positive because the beginning of the season was a struggle," she said. "I remember by first JGAC tournament (of 2020, the Colorado Junior PGA), I shot 13 over (one round)," she said. "I learned what I needed to work on, and I've come a long way. I'll take second place. I'll get there one day. It was a bummer I couldn't win it, but I have a lot of time."


Colorado Junior Match Play Final Four
At Eisenhower GC's Blue Course at Air Force Academy
Thursday


BOYS SEMIFINALS
Matthew Wilkinson of Centennial def. Ryder Heuston of Louisville, 5 and 4
Tayleb Schaefer of Sterling def. Trey Jones of Colorado Springs, 3 and 1
BOYS FINAL
Wilkinson def. Schaefer, 4 and 3

GIRLS SEMIFINALS
Morgan Miller of Cedar Park, Texas def. Marie Jordaan of Greenwood Village, 4 and 3
Kaylee Chen of Parker def. Grace Young of Highlands Ranch, 6 and 5
GIRLS FINAL
Miller def. Chen, 1 up
For all the results and the match-play trees, click on the following: BOYS, GIRLS.