With runaway victory in CGA Amateur, Colin Prater in 2020 has won both CGA majors and taken low-am honors in Colorado Open
By Gary Baines – 8/2/2020
Make room in the pro shop at Cherokee Ridge Golf Course in Colorado Springs. More hardware is coming your way, courtesy of Colin Prater.
The CGA Match Play trophy Prater won in June is already there, and the CGA Amateur trophy is headed for the same destination after he claimed the title on Sunday at CommonGround Golf Course in Aurora.
Prater became the first player since Steve Ziegler in 2009 — and just the second since 1985 — to sweep the CGA's major titles, the Match Play and the Amateur, in a single year.
"It hasn't sunk in yet, but it's cool," he said. "I'm super fortunate. I started playing well to start the summer. The swing has felt solid and I feel like I'm getting better."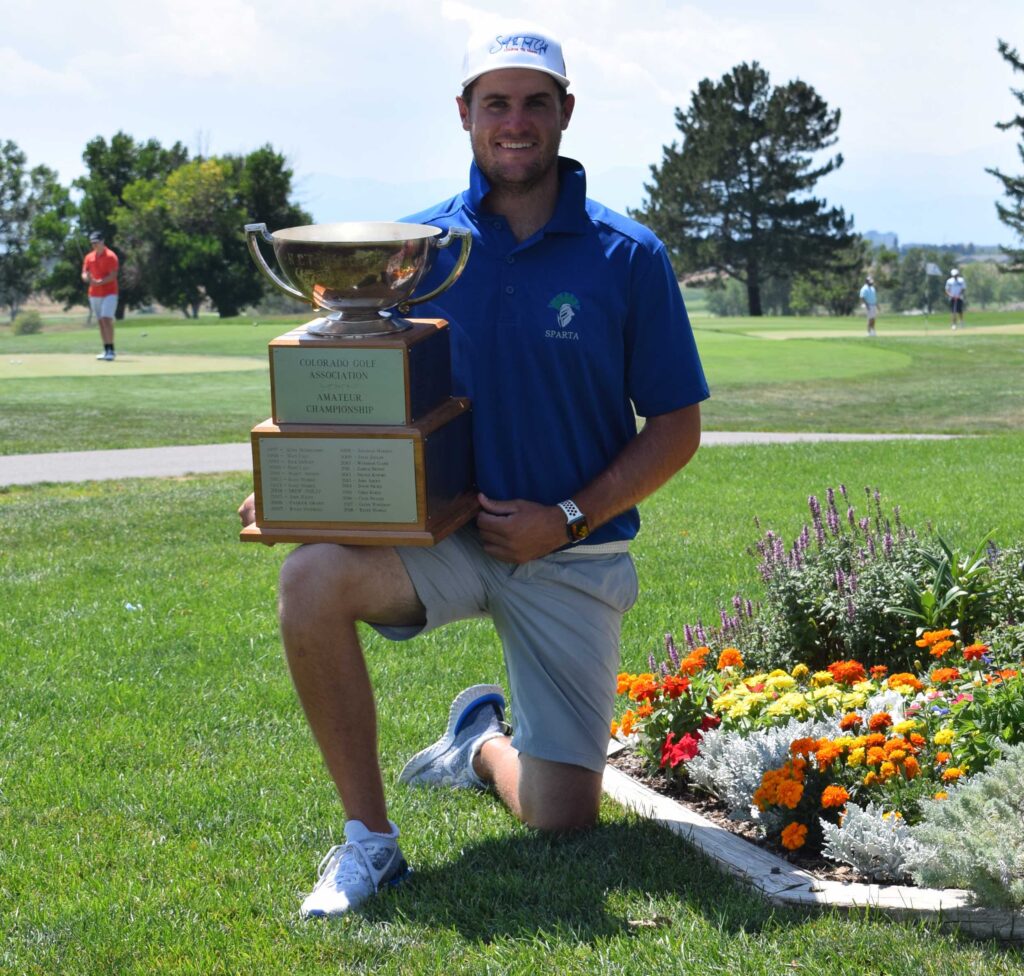 But Prater's historic achievement certainly doesn't stop there. Other remarkable feats the former University of Colorado-Colorado Springs golfer managed on Sunday:
— He became the first person since Gary Longfellow in 1974 to win both the CGA Match Play and Amateur and be low amateur in the Colorado Open in the same year. Longfellow, it should be noted, not only was the Open's low amateur in '74, but won the tournament outright, becoming the first amateur to do so.
— Prater became the first mid-amateur — a player 25 or older — to win the CGA Amateur since Jonathan Marsico in 2008.
— With a six-stroke win, he posted the largest margin of victory in the CGA Amateur since Kane Webber prevailed by seven in 2003 at River Valley Ranch.
— And Prater won the CGA Amateur for the second time — he previously captured the title in 2016, by five shots — becoming the first new member of the two-time champions club since Webber claimed back-to-back victories in the event in 2002 and '03.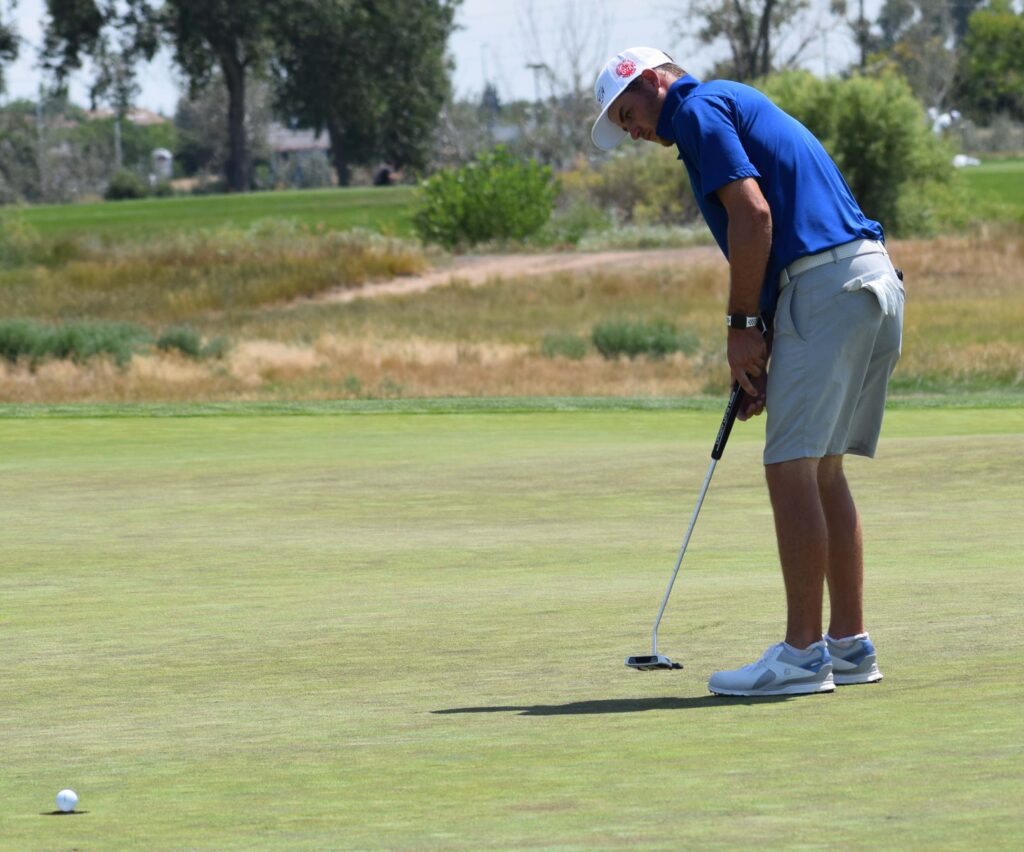 All in all, it's not half-bad for a 25-year-old biology, chemistry and anatomy teacher at Doherty High School — one who, not surprisingly, dabbles in coaching golf at the school.
"It was just a really good day and a super fun week," he said on Sunday. "It was a blast."
Prater, who came into the day one stroke behind leader Davis Bryant of Green Valley Ranch Golf Club, closed with a 4-under-par 66 to win going away with a 13-under 267 total. Prater never trailed after Bryant three-putted the first hole.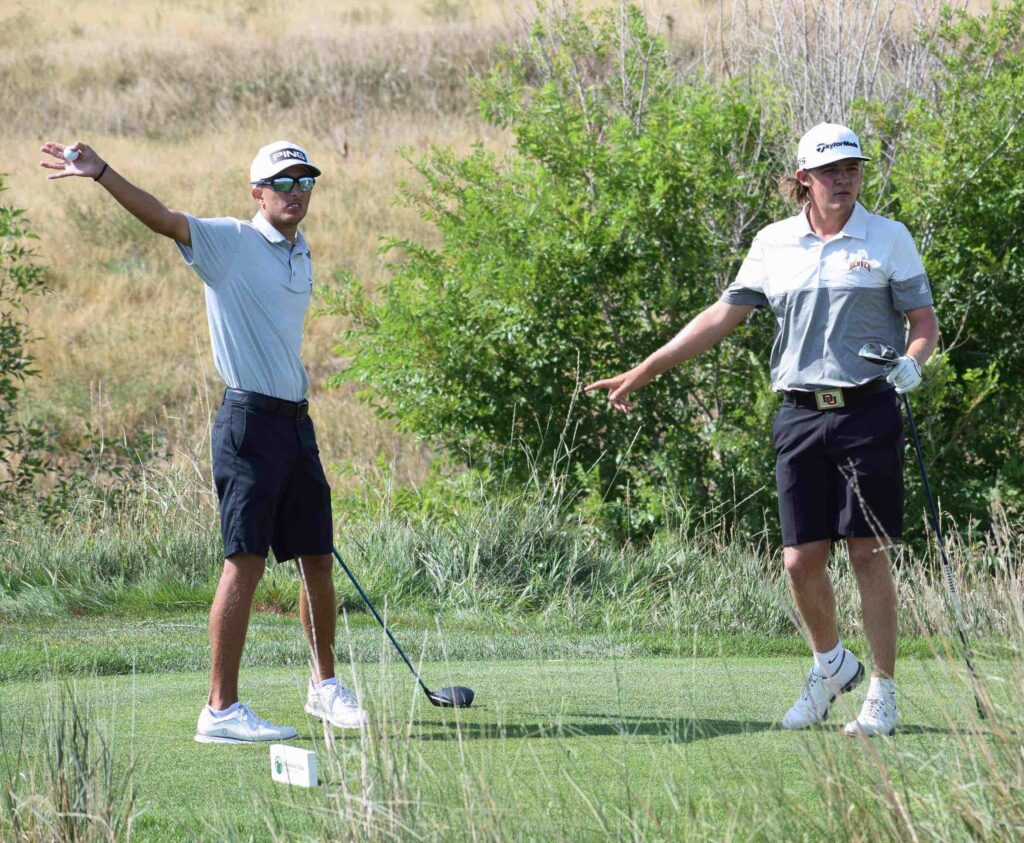 Prater birdied the third and fourth holes — with a two-putt and from 4 feet, respectively — and went from one down starting the day to three ahead after sinking a clutch 12-foot par putt on No. 6 and Bryant missing a 3-footer for par. Bryant, a Colorado State University golfer who's normally very adept on the greens, missed five putts inside of 9 feet in the first eight holes. Meanwhile, Prater didn't give an inch, making par putts of 12 and 15 feet on the front nine, and making a 2-foot birdie on the tough par-4 11th.
"Colin played great — he shot 4 under today and conditions were hard, pins were hard and it was playing long," said Bryant, who was attempting to win his second straight CGA Amateur. "But there's no reason why I couldn't have given him a (challenge). I'm upset. I shoot 4 under and I win by one or I shoot 3 under and I'm in a playoff. I had one one-putt today. That's not very good considering how I putted the first three days."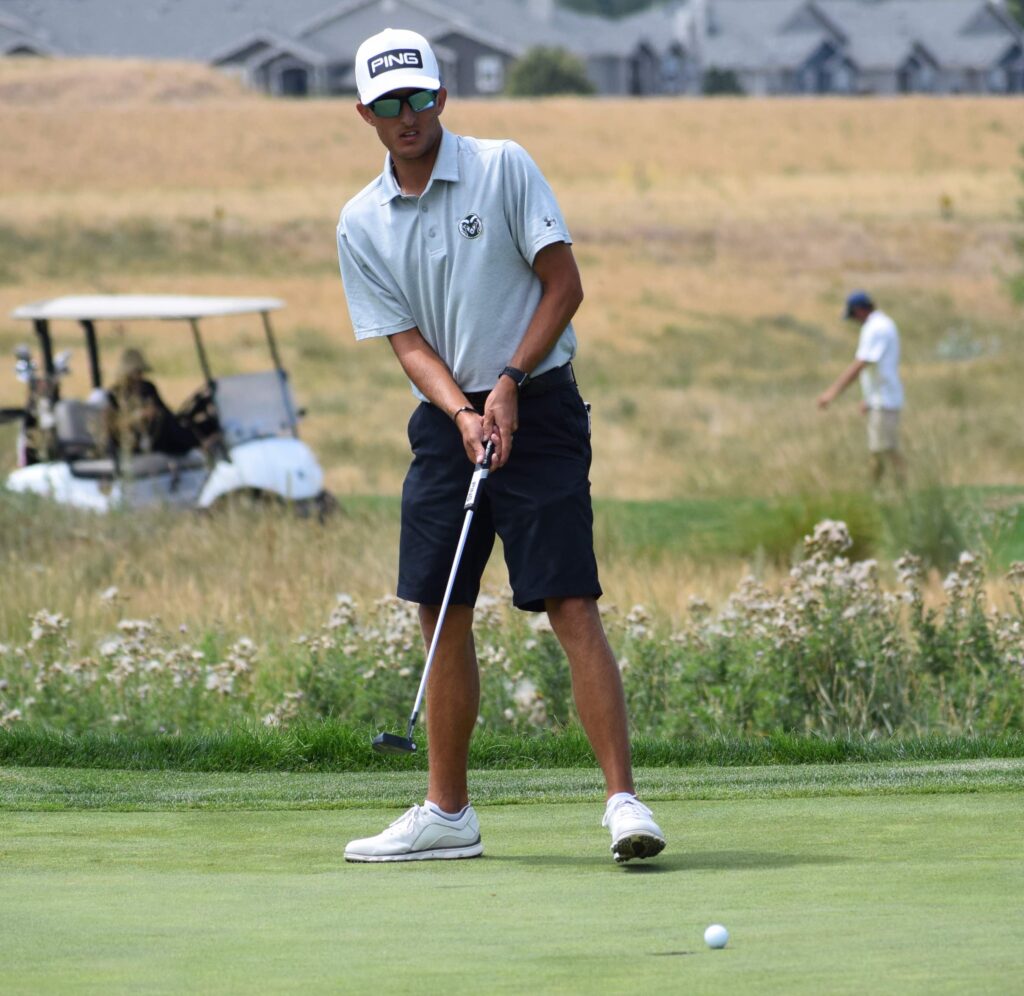 Bryant, who won a 5A state high school individual title at CommonGround in 2017, had led or shared the lead after all seven previous rounds he's competed in the CGA Amateur in 2019 and '20. But his streak ended on Sunday when he closed with a 3-over-par 73 and posted a 7-under 273 total to finish second.
Cal McCoy of Bear Creek Golf Club, a University of Denver golfer, placed third at 274 after a 71 on Sunday.
McCoy led the way in a strong showing for DU golfers as teammates Jackson Solem and Connor Jones tied for fourth place at 276 with Sean Thomas of Meridian Golf Club and Collin Engelhardt of The Club at Pradera. Solem carded a 66 on Sunday, Thomas a 69, Jones a 71 and Engelhardt a 72.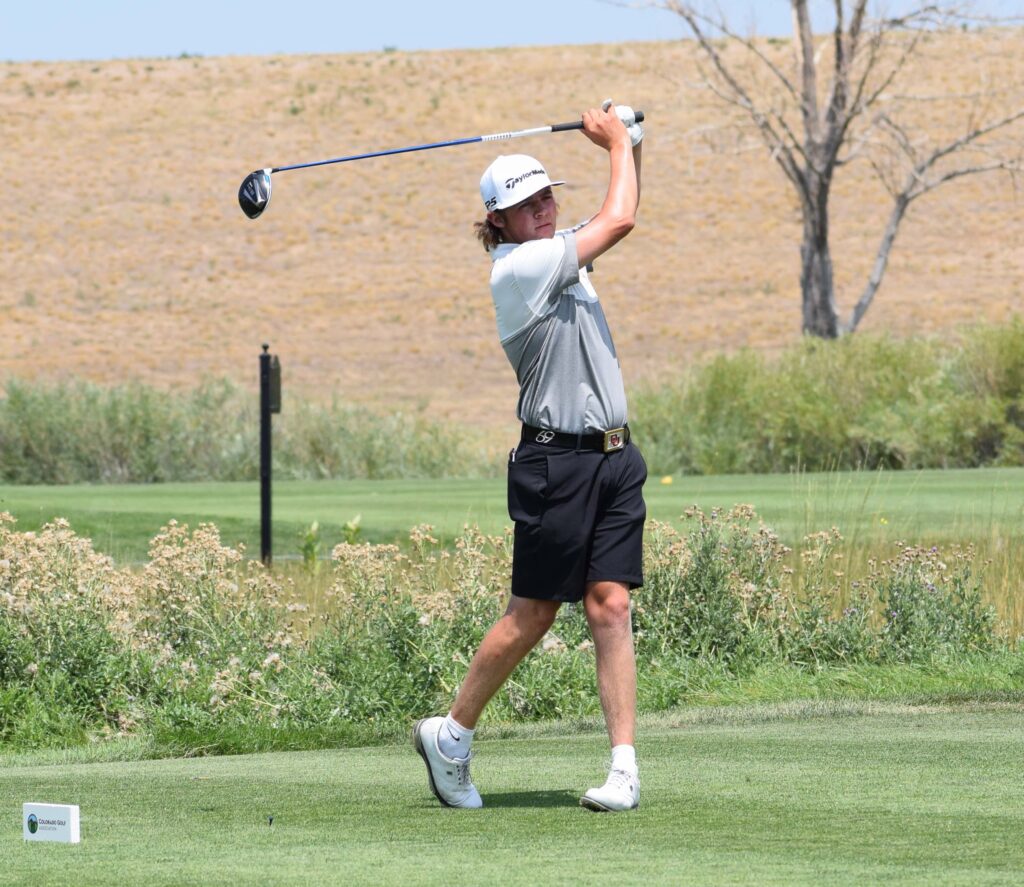 To say that Prater finished strong for the victory would be an understatement. In the last three rounds he went 66-65-66. During that stretch, he made 17 birdies and four bogeys.
"I went and talked to a guy that looks at my swing every once in a while and we worked out some stuff on Thursday afternoon after I played (and shot 70)," Prater said. "I felt super confident on Friday. Besides two three-putts and a careless bogey to end the round, I played pretty solid on Friday. Then I worked on it again for Saturday morning, and I played super solid yesterday.
"And by far I putted the best today. I saw the lines really well and I was super confident. I didn't grip the putter like I wanted to kill it. It was super simple and easy. It was a great three days. I played really solid golf."
Bryant and McCoy, who were paired with Prater on Sunday, were impressed.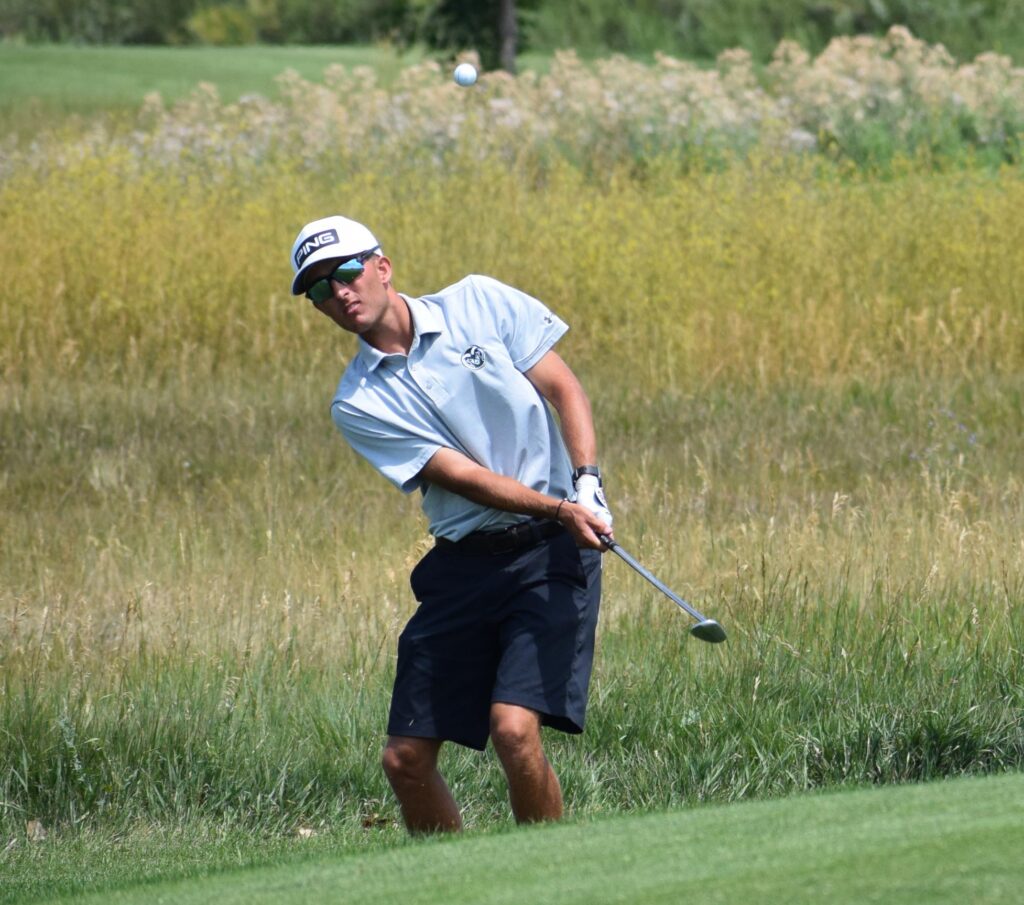 "Colin played great," said Bryant, who will tee it up at the U.S. Amateur in just over a week. "Hats off to him for playing really good the last couple of weeks (Prater was low amateur at the Colorado Open a week ago).
"What he's done is very impressive He's playing great golf and is a great player. I wish I would have given him a little better run today, but that's how it goes."
Added McCoy: "It's pretty cool (what Prater has done this year). He's a really good player and he's played some solid, consistent golf this summer. He deserves it."
McCoy made a mini run at Prater in the middle of the round when he birdied four out of six holes starting on No. 8. That cut his deficit to three, but three bogeys by McCoy in the last four holes ended that challenge.
"I'm definitely a little bit disappointed," said McCoy, runner-up in the 2019 Canadian Men's Amateur. "I didn't have my best stuff. I thought I was going to have a chance toward the middle of the round — I started to heat up — but I didn't finish very well. That's OK. I'll come back stronger."
As for Bryant, he managed just one birdie — against four bogeys — on Sunday. That's hardly what he was expecting after posting rounds of 67-65-68 the first three days.
"Certainly it's disappointing," the 20-year-old said. "I felt like I was going to have my best out there, but that's sometimes how it goes. It was an unfortunate way to end the tournament. I wish it would have happened in a different round. So it leaves a little bit of a sour taste in my mouth. But Colin played great."
Prater certainly won't dispute the point.
"I drove it really solid all week and that's one of the first things out here that you need to do — and that maybe is a touch underrated," he said. "Besides hitting the tee ball in the bunker (on 9), I never really had a poor tee ball all week. I might have missed four or five fairways all week. Other than that I drove it really solid. That gave me a clean ball into the green. Then if I was able to control my iron shots, I'd give myself a good look at a birdie.
"And today, my lag putting was tremendous. The longest par putt I had after a lag putt was 3 feet."
So what has made this year so special for Prater, golf-wise?
"I've been fortunate that I've been able to at least play golf almost since the pandemic started in March," he said. "I don't think I would have played nearly as much from the middle of March to the middle of May as I did (had it been normal circumstances). That definitely helped. I was able to get the rust off earlier than normal."
Asked if he's competed in any other golf tournaments in 2020 other than the CGA Match Play, Colorado Open and the CGA Amateur, Prater noted, "I played in the Cherokee Ridge three-man scramble tournament. And we did win. We shot 57-55."
What a surprise. And, by the way, even though Prater will return to teaching on Aug. 10, the CGA Mid-Amateur is on his schedule Sept. 18-20. As a 25-year-old, this is his first year of eligibility, which may not be good news for others with aspirations for that title.
But that's for down the road. On Sunday, Prater shared his big moment with his uncle — Monte Fetters, who caddied for his nephew this week, at the Colorado Open and for the last round of the CGA Match Play — and with his parents and grandparents.
For all the scores from the CGA Amateur, CLICK HERE.