Newly redesigned City Park GC reconnecting with golfers and community on many levels; course opens to public Sept. 1 after hosting Denver Men's City Amateur
By Gary Baines – 8/21/2020
At the stroke of midnight earlier this week, when Denver Golf started accepting reservations for the first public-play tee times available at City Park Golf Course since Halloween 2017, the first day's slots filled up in 10 minutes. The following midnight, the same thing happened for Day 2 of public play. For Day 3, times filled in seven minutes.
Such is the pent-up demand to see and play the newly redesigned version of the Denver course that originally opened 107 years ago.
"We don't have as many tee times because we're doing 15-minute (intervals, instead of 10) and we're not starting until 11 o'clock on weekdays and 9 on weekends," Scott Rethlake, director of golf for the City of Denver, said on Thursday. "I kind of knew it was going to sell out. I didn't think it would sell out that fast. It tells me one thing — people want to play it, they want to see it. And it tells me as soon as we can get to the point where the turf can handle it, we're going to open up full operations so we can handle the demand. But I don't see that happening until April."
Some 34 months after it closed for redesign, City Park Golf Course is set to reopen. First up, winners of a "first round of golf contest" were scheduled to tee it up on Friday. Then the course will host the Denver Men's City Amateur Aug. 29-30, with some practice rounds leading up to that event for competitors. And on Aug. 31 the Triple Play Tournament, a fundraiser that benefits The First Tee of Denver, is set for the course.
Then on Sept. 1, the first public play is scheduled for the new course, which was designed by Todd Schoeder, with World Golf Hall of Famer Hale Irwin serving as a consultant.
Suffice it to say this has been a long time coming for the legions of fans and regulars at City Park GC. The redesign project was started in motion because the City of Denver wanted to use the course — its entrance now sits across E. 23rd Avenue from the Denver Zoo — for stormwater detention to help protect some of the city's most at-risk neighborhoods from flooding — specifically those north and northwest of the facility.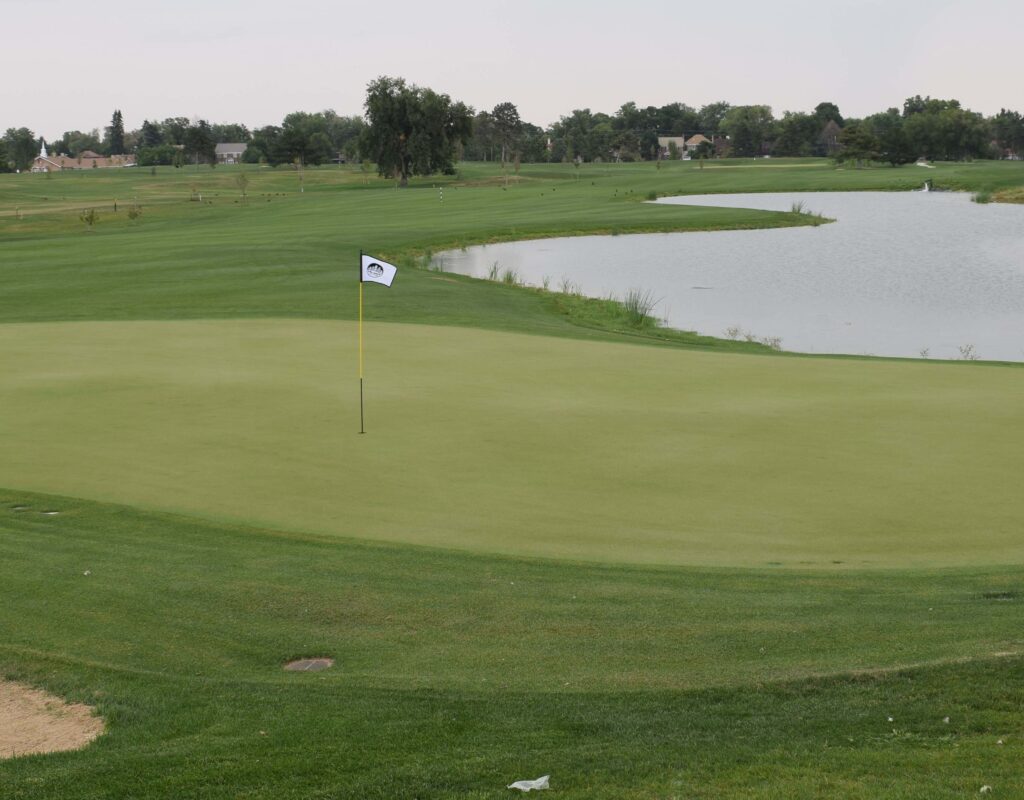 There was certainly some community pushback along the way — from golfers who didn't want to lose the use of their course for years, from those who didn't want to mess with a historic venue, from those concerned with the removal of trees, etc. There was even a lawsuit heard in 2017. But city officials and other stakeholders believe the result of the $46 million project has been worth it all.
"This was not an easy project," Denver mayor Michael Hancock said at a "sneak peek" event held on Thursday. "It was a testament to our strength, our fortitude, to stand in there and withstand the very legitimate concerns of a community. We were coming across a treasured gem in our city, and we were going to have to remove some trees. …
"If we can restore it back — or make it better than we found it — and create some features in the golf course that it did not have prior to the creation of this new remedy for flooding, then that's a win-win. What we didn't do is a good job of explaining what we were trying to do, and for that, we apologize. But I'm proud to stand here as the mayor of this great city and to return to the people who not only live in this city but now have cherished this golf course for over a hundred years a much better golf course than what we found (three) years ago. And not only that, but we have a relief mechanism against flooding for everyone in the surrounding areas."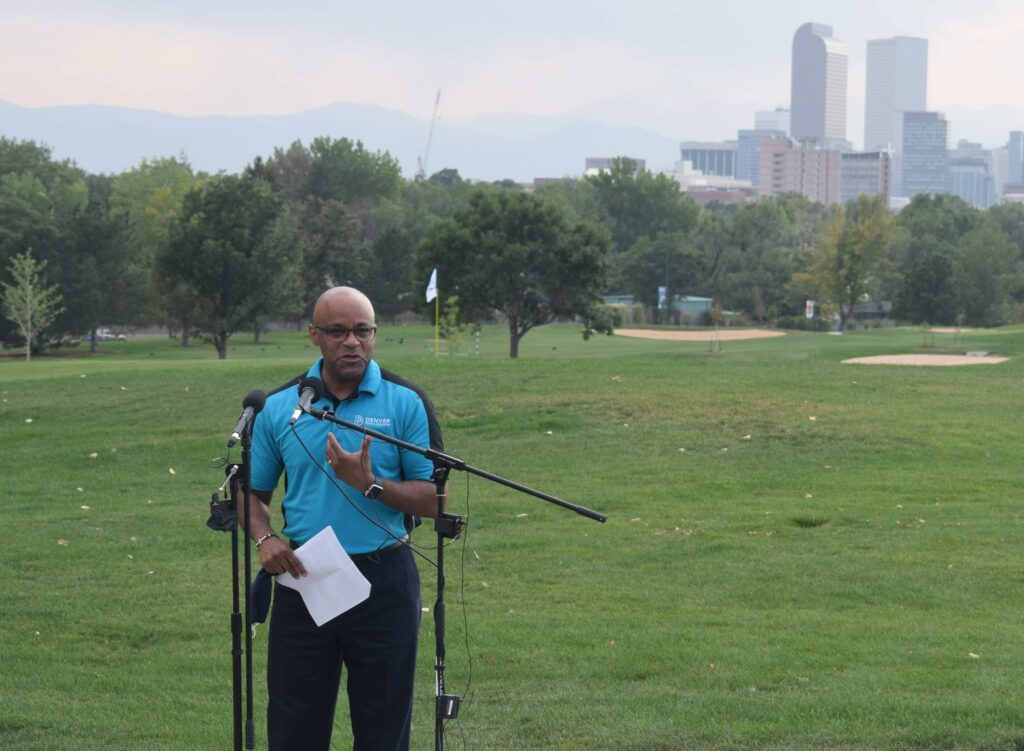 The end product addresses many of the shortcomings of the original City Park Golf Course layout, which was designed by Tom Bendelow more than a century ago. There's now a full-length driving range, nines that return to the relocated clubhouse and an improved practice green. And while the course is certainly a new layout with new features and a significantly different look, it also gives people who have played the old course a sense that they've been there before.
The new holes 3 through 6 bear significant similarities to the old holes 2 through 5. On the other hand, the course has plenty of a new feel as well.
"If you've played this course before and you go play it again, you're going to stand there and go, 'This used to be that hole' and that's exactly what we were looking for — along with, when you get to some other holes, you'll be, 'This is completely different than I've ever played on this golf course before,'" Rethlake said.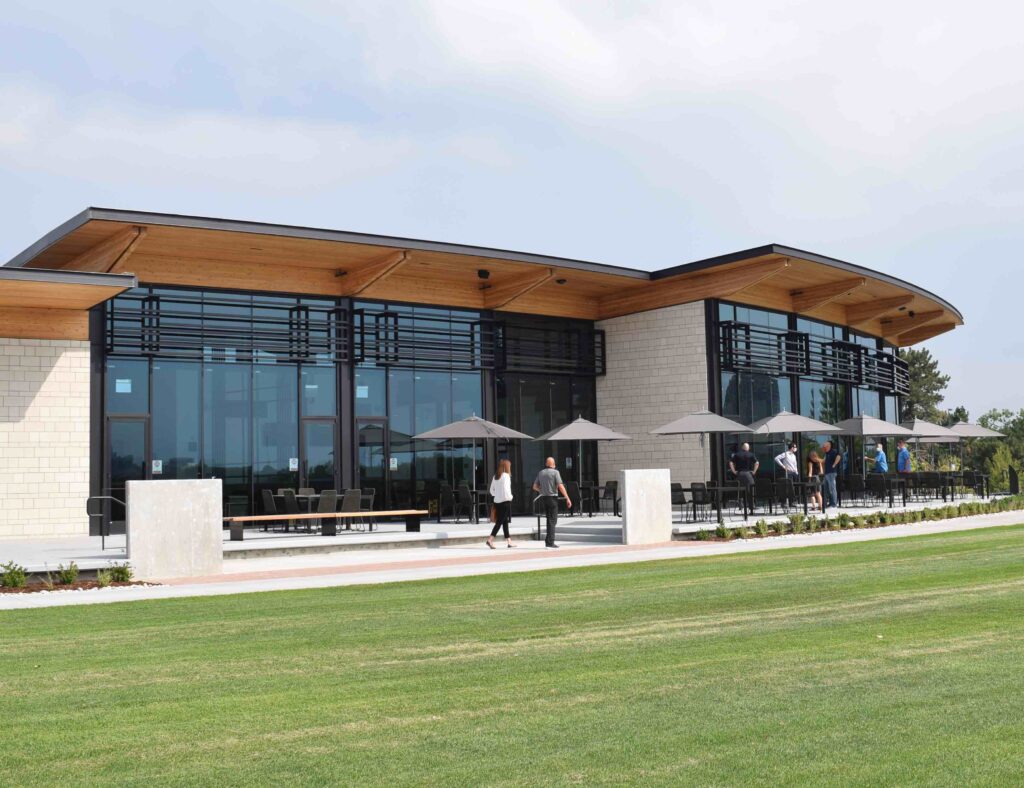 There are plenty of prominent people strongly associated with the old City Park GC, including Colorado Golf Hall of Famers Tom Woodard and Dan Hogan and two-time PGA Tour winner Jonathan Kaye.
Another one is CGA executive director Ed Mate, who grew up as a regular at the course. Mate estimated on Thursday that's he played it 400 times.
"Obviously when you grow up at a place, you know every blade of grass and every green had certain memories on it. So yeah, I miss that," Mate said. "But time marches on, and I'm so glad that not only is it still a golf course, but a fabulous golf course. I think it's going to be really well-received.
"I love the blend of the old holes so there's enough there to remind you of memory lane. But I think the new holes are really cool. It's exceptionally well done. It exceeds my expectations exponentially."
And the new course tries to make the most of arguably its greatest asset. On numerous holes, as well as from the new 11,315-square-foot solar-powered clubhouse, there are expansive views of the Denver skyline and the mountains beyond.
"I think it's a showpiece for the city," Mate said. "It's much more than a showpiece for golf; it's for the City of Denver. If I was here with the Chamber of Commerce and I wanted to take people to a place where they go, 'Wow, this is a cool city,' I'd take them right here. That's probably my golf bias, but look at this. What a view."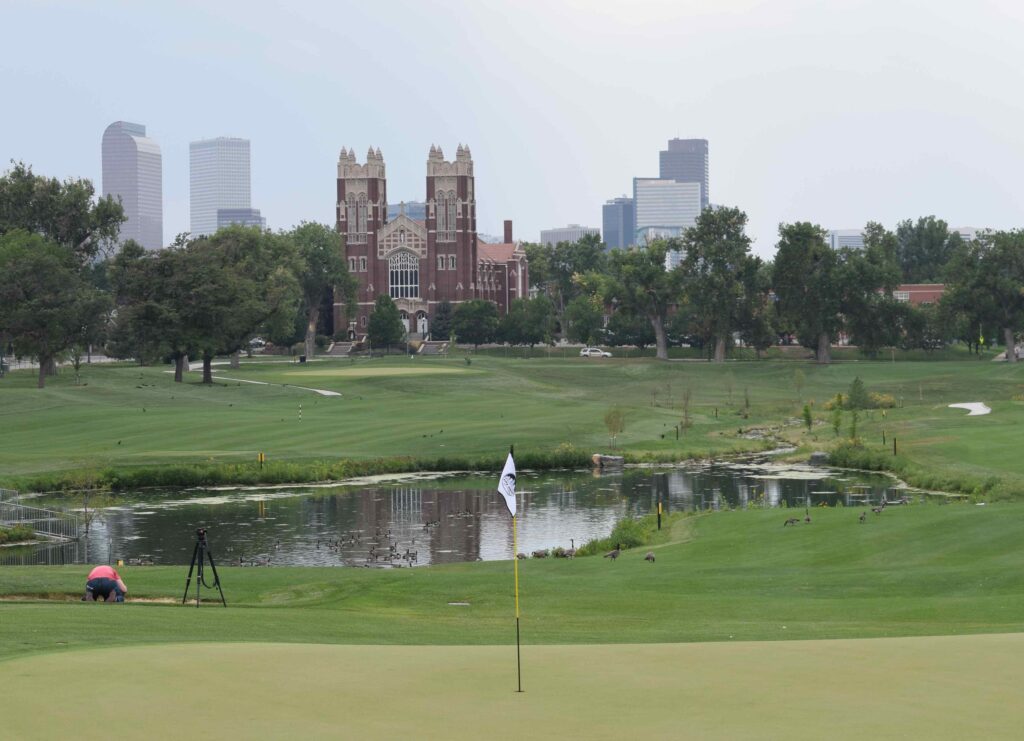 The newly redesigned Parkland-style course will play to a par-70. The maximum yardage on the scorecard is 6,703 yards, but another 60 or 65 yards can be added for major tournament play like the Denver Men's City Am. There are enough tee boxes listed on the scorecard — five — that it should cover about every playing ability, with the green tees listed at 4,195 yards.
There's plenty of newly added contour throughout the course — on both greens and fairways. A huge sand area now abuts the eighth hole. And some very notable water features serve multiple purposes. To prevent nearby neighborhood flooding, about 67 million gallons of water can be held on the course and slowly released downstream so that the pipe system isn't overwhelmed. In addition, the new irrigation system uses recycled water to irrigate the course. And, obviously, the water adds to the golf layout. On the west half of the property, there's a lake and an adjoining channel that meanders across much of the back nine. On the east part of the course, a lake borders the left half of the ninth hole, a dogleg left par-5.
"Obviously, stormwater management, especially to alleviate the flooding in nearby neighborhoods, is what drove the project, but we were able to incorporate the golf course into the stormwater detention so that they work together," said Schoeder, who's based at GrassRoots Golf Design in Broomfield.
"What we're really most proud of is the ability that you can look at the golf course and not tell where the engineering starts. We were able to integrate that into the strategy of the golf course, which is what our goal was. We took 20 acres of the golf course (out of 135 total) to create the stormwater management system, yet that 20 acres of the golf course is probably everyone's favorite part of the golf course, the western part of the property. We're really proud of that as well."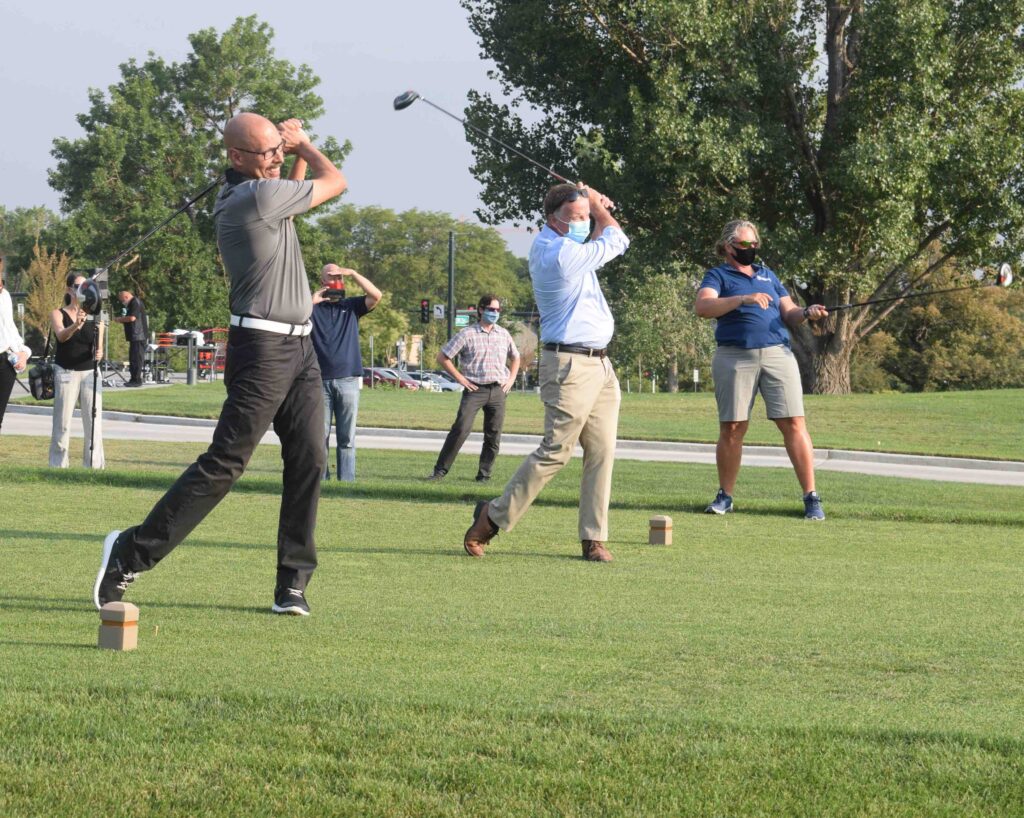 Schoeder played the part of the proud new dad at Thursday's City Park GC preview.
"I'm truly very, very excited," he said regarding how the project turned out. "To look at the view and see what we accomplished here … The ability to take a Tom Bendelow course that was over a 100 years old and really just give it new life again, I couldn't be more thrilled, excited and ecstatic with the results. I think it really turned out fantastic.
"I think people will be excited to see what they find when they come back out — a little bit of deja vu, some new experiences. I couldn't be more pleased."
Meanwhile, Irwin, who attended high school (Boulder) and college (University of Colorado) in Colorado, had a big hand in designing the four-hole course devoted to The First Tee of Denver and to youth golf in general. First Tee chapters teach kids life skills and core values through the game of golf.
"He was very engaged on The First Tee course," Schoeder said of Irwin, with whom he's worked on numerous golf design projects since 2006. "He is about youth golf, and that's where his greatest contribution was — in creating The First Tee course for the City of Denver."
Juniors play free at City Park's First Tee course.
Conveniently, The First Tee if Denver has offices and a learning center for its kids in the nearby clubhouse, which features huge windows to take advantage of the western view. There's also a public restaurant/banquet area, a bar, a west-facing outdoor congregating area, the golf shop and other offices and meeting rooms. Below all that is the area that can store up to 100 electric golf carts.
Speaking of which, though carts will be allowed at the events and tournaments that will be held at City Park for the remainder of August, as of September 1 and likely to next April, the course will be walking-only to save wear and tear on the new grass, Rethlake said.
Also up until probably next April — likewise to reduce traffic on the course — rounds will be limited to considerably below normal capacity. In the past, it wasn't unusual for the course to host close to 60,000 rounds per year.
"It's not really going to be about the rounds and the revenue. I want to make sure the golf course survives and is set for the long term," Rethlake said. "I don't want to sacrifice the longevity of the golf course and the maturation of the golf course for a dollar today."
Asked his take on the current condition of the course, Rethlake said, "About 90 percent of the golf course is in great condition, 10 percent of it is in good condition. Maybe 2-3-5 percent needs some work. Fortunately most of that is in the not-playable areas (or) the rough areas where you shouldn't be anyway. The fairways, tees and greens are really good. They're very playable. We've got a couple of fairways in the lower areas that were the last ones planted; they're still a little thin, but not too thin."
Though some 256 trees were removed from the course during the redesign, about 760 were added or replaced, adding for a net gain of more than 500, according to Rethlake.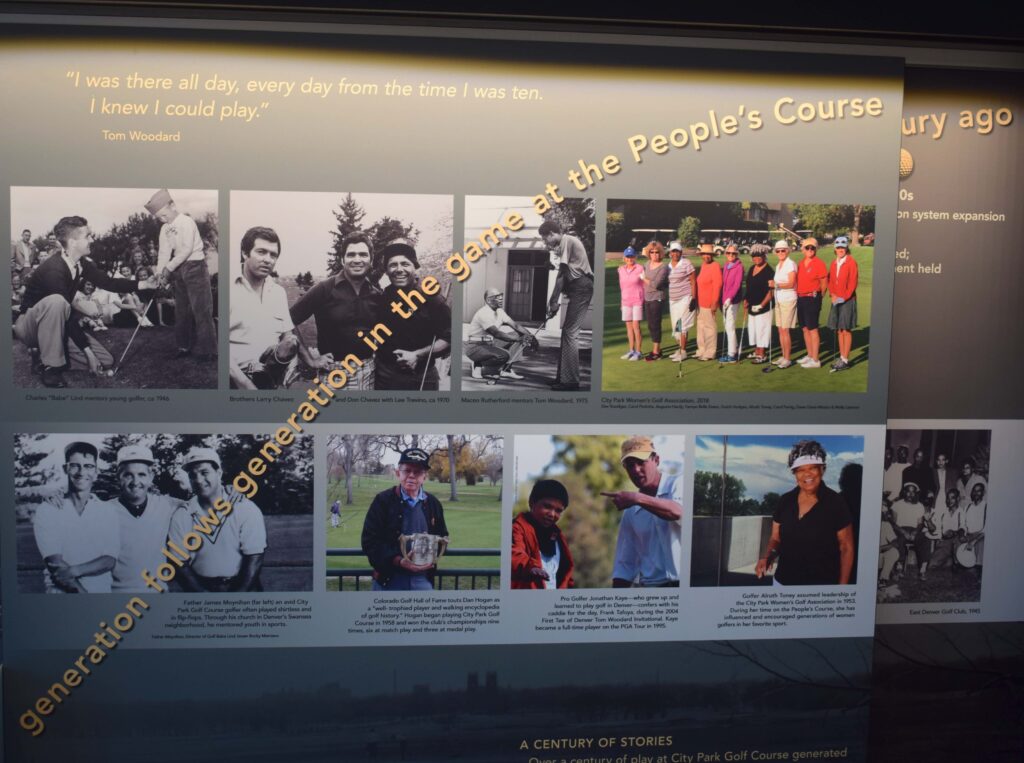 Meanwhile, those overseeing the redesign/renovation and the building of the new clubhouse made sure to pay homage to the course's history and to the area. 
Inside the clubhouse entrance is a wall display which includes faces and events from the course's history. Lee Trevino is pictured on the site in the early 1970s, along with photos of regulars like Woodard, Babe Lind, Kaye and Hogan. "Generation follows generation in the game at the People's Course," it reads.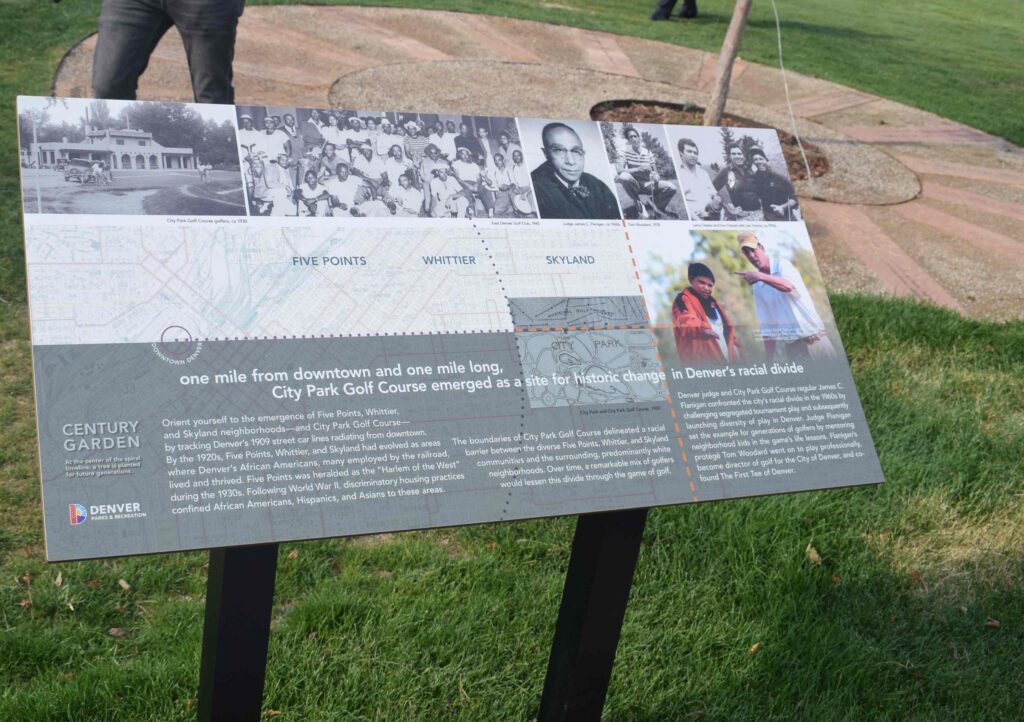 Meanwhile, just east of the clubhouse is a spiral "Century Garden" surrounding a small tree, with stonework noting important events in history — locally and beyond. An accompanying message board includes some historical context for the area, along with notable photos.
"This course was the first and only course that would allow black golfers and other people of color to play even during difficult periods of our city's history, when racial and social discrimination was all too common," said Hancock, who noted that his first 18-hole round was played at City Park. "… This beautiful golf course will continue to be open and welcoming to golf enthusiasts in our community to enjoy for a very, very long time. We are leaving behind an asset for the next 100 years."
Also new is a large maintenance facility not far from the ninth green.