Project developer, designers of RainDance National have big plans for Windsor course, which is expected to open in July 2022
By Gary Baines – 12/14/2020
The folks behind the building of RainDance National Golf Club believe the Windsor project has a sunny future, with possibilities as far as the eye can see.
It was kind of ironic then that the day a site visit was held last week for the CGA, some members of the media and select others was anything but sunny and clear. Snow-cover largely obscured what was hoped to be a good look at the course, where ground was broken in June. It was cold, and low-hanging clouds denied the group views of mountains — and potentially as far north as Cheyenne.
But all that didn't dampen the enthusiasm for the course — and what it will bring with it — expressed by landowner and project developer Martin Lind and the course designers, eight-time PGA Tour winner Fred Funk and Harrison Minchew.
"It's amazing, a phenomenal piece of property," said Funk, winner of the 2005 Players Championship. "It's one of those when you tell somebody about it, it doesn't do you any good. You've got to see it. Pictures don't do it justice. (First seeing it,) I knew we had the 'wow' factor."
The course, which first came on the public radar about eight years ago but was delayed along the way, will open on July 12, 2022 — barring the unforeseen — according to Lind, who has owned the land for roughly 20 years. Lind founded Water Valley Land Company, which owns nearby Pelican Lakes Golf Cub, a semi-private course that has 27 holes of its own. And he owns the Colorado Eagles, an American Hockey League team based in Loveland that's affiliated with the Colorado Avalanche.
The plan is for RainDance National to be a semi-private course, with the public being able to play golf there but members having privileges such as advance tee times.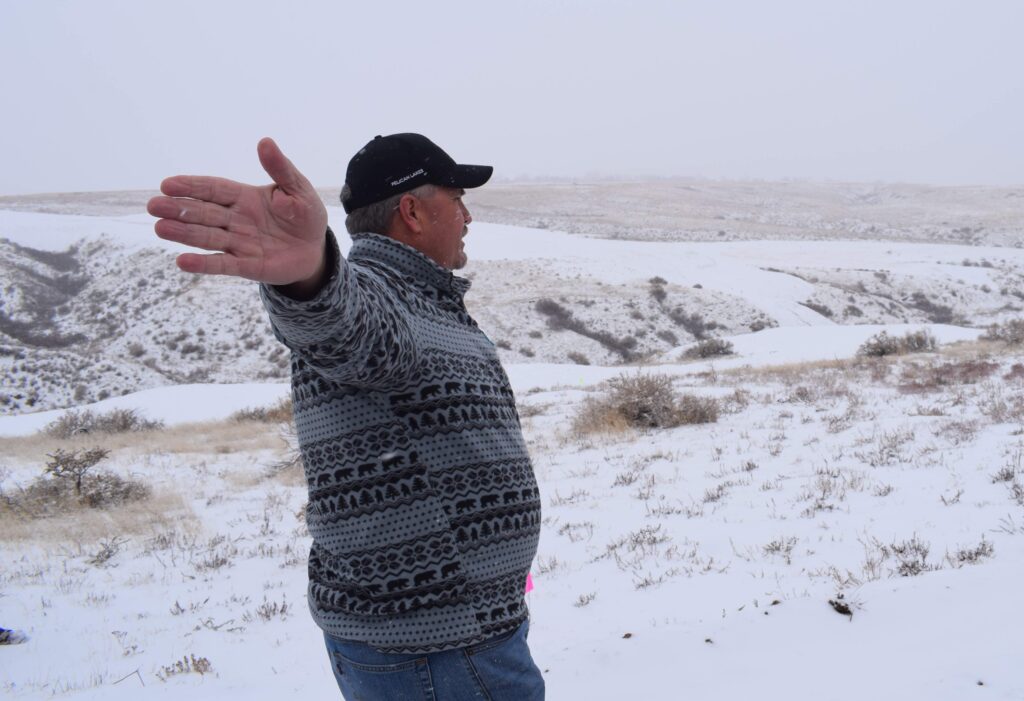 The course, located about an hour north of Denver and a few miles east of I-25 near the Poudre River, is part of a run of new 18-hole golf courses in Colorado that are opening in a span of fewer than five years. And that's after no new — or totally redone — 18-hole courses debuted in Colorado for almost a decade. The newcomers have been TPC Colorado in Berthoud, Flying Horse North in Colorado Springs and the renovated City Park Golf Course in Denver.
"This site is spectacular," CGA executive director Ed Mate said during Friday's site visit. "… I've been with the CGA for almost 30 years, and the decade we just finished from 2010-2019 we actually closed more courses than we opened (in Colorado). We all know that's a trend around the country. It's so exciting to have a new golf course we can be a part of."
As is the case with TPC Colorado, which is in the midst of a five-year run as site of the TPC Colorado Championship at Heron Lakes on the Korn Ferry Tour, Martin anticipates RainDance National hosting a big-time competitive golf event not long after opening.
"I'm super confident that this course can be recognized as a place to come for the PGA to bring something pretty magnificent here," Lind said Friday after leading a tour around the snow-covered RainDance National site. "And we're all in on it. We're ready to do it. Northern Colorado is a unique place. It's got the right demographics, the right economic horsepower to bring in a major. We're optimistic. I'm going to leave it at that. We're going to be pretty excited when this thing is green and people start getting to really see it for what it is."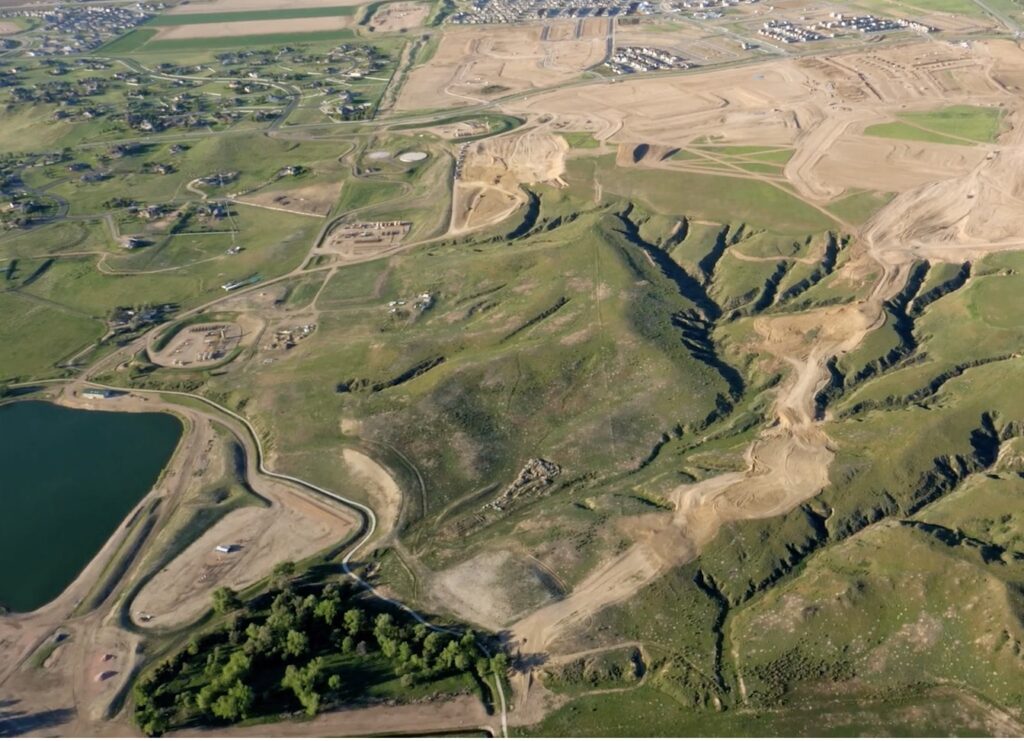 Asked if he's had discussions with any of the various major tours to potentially bring an event to RainDance National, Lind said, "We've had a lot of communication with them. It would be premature of us to even discuss that right now. I'm super confident that we're going to have something magnificent here."
Funk, who's also won nine times on PGA Tour Champions, also has been planting seeds to bring a big-time golf event to RainDance National, which has plenty of acreage for the infrastructure and staging needed to host golf tournaments that draw a lot of fans.
"I did reach out to Suzy Whaley (who until late October was the president of the PGA of America) and I told her about it," Funk said. She said, 'That sounds great, but we're committed out to 2032' (for the PGA Championship). I didn't know they were looking that far out. Then I called the USGA and got them on the radar — and they're ready to come out whenever. And we've got the PGA Tour guys for the senior tour to come on out. They're going to come out sometime this spring. When we're crossing the country, we'll just stop off in Denver and come on up. So it's on the radar."
Funk noted that Chris DiMarco, a three-time PGA Tour winner who now lives in Denver, came up to northern Colorado last week for a visit. And Funk hopes players like DiMarco and fellow Colorado-based PGA Tour Champions player Shane Bertsch will be testing out RainDance National as it is opening.
"We've got the length there and there's plenty of trouble out there," said Funk, who last week was making his third site visit in roughly the last six months. "I think it's going to play great."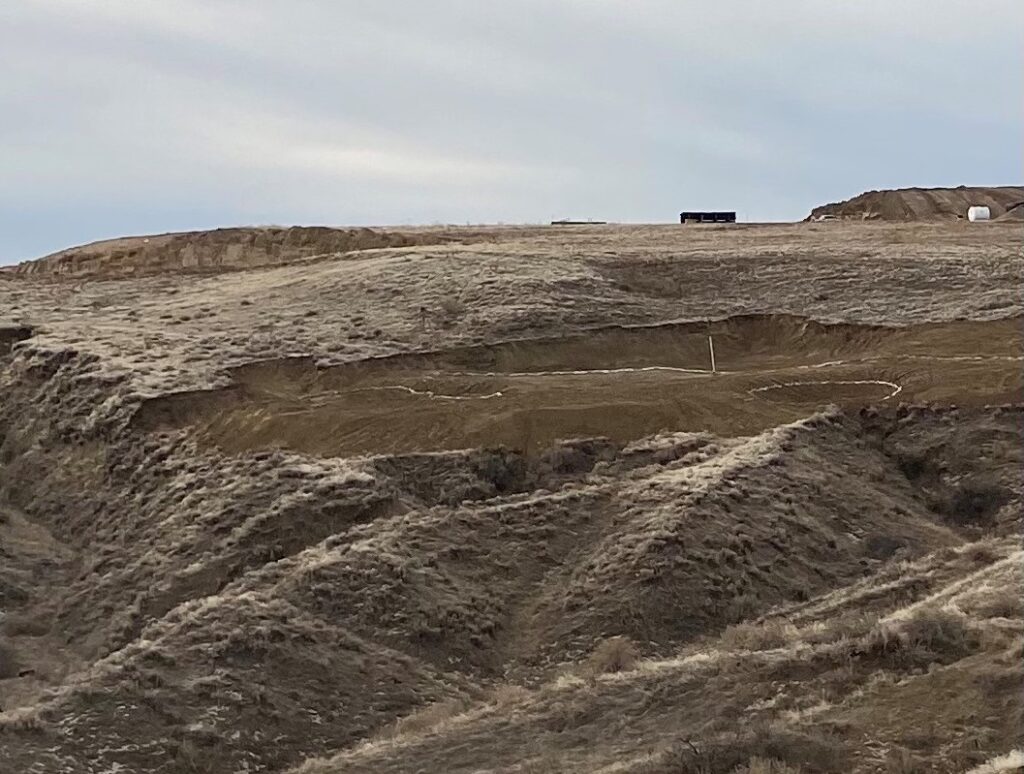 Though yardages haven't been set in stone yet, Minchew said he expects the maximum distance listed on the scorecard for RainDance National to be a whopping 8,300-8,400 yards. Even adjusting for altitude, that would translate into roughly 7,500 yards at sea level for the par-71 course that features five par-3s and four par-5s. Funk would like to see the course play firm and fast to be at its best.
Despite the potential maximum length, the plan is to have five and sometimes six sets of tees, with yardage for the front tees likely coming in under 5,000 yards.
"Even though it's going to be a stout test from the tournament tees, the other tees are going to be located so that people will really, really enjoy the experience," Minchew said.
The RainDance National course sits on about a 300-acre site. Among the things that set it apart from the golf perspective:
— Only the first few holes are bordered by houses, just on one side — roughly 60 homes total.
"It was always the vision to take this north arroyo part and not allow any houses in it and not allow any development and just make it pure golf," Lind said.
— As Lind mentioned above, arroyos — basically steep-sided gullies — are the distinctive land feature that runs through the course. There are other Colorado courses that use arroyos to good effect — Walking Stick in Pueblo, Black Bear Golf Club in Parker, parts of Highland Meadows in Windsor — and Funk and Minchew certainly made a point of it.
"I was with Arnold Palmer's design company for 26 years and I was involved in more than 200 golf courses (and) designed start to finish 75," Minchew said. "And I have not ever experienced a site as dramatic and as conducive to golf as this."
Added Funk, who calls RainDance National his first design project: "I knew we had a very dramatic piece of land. I kind of compare it a little to Kapalua in Hawaii."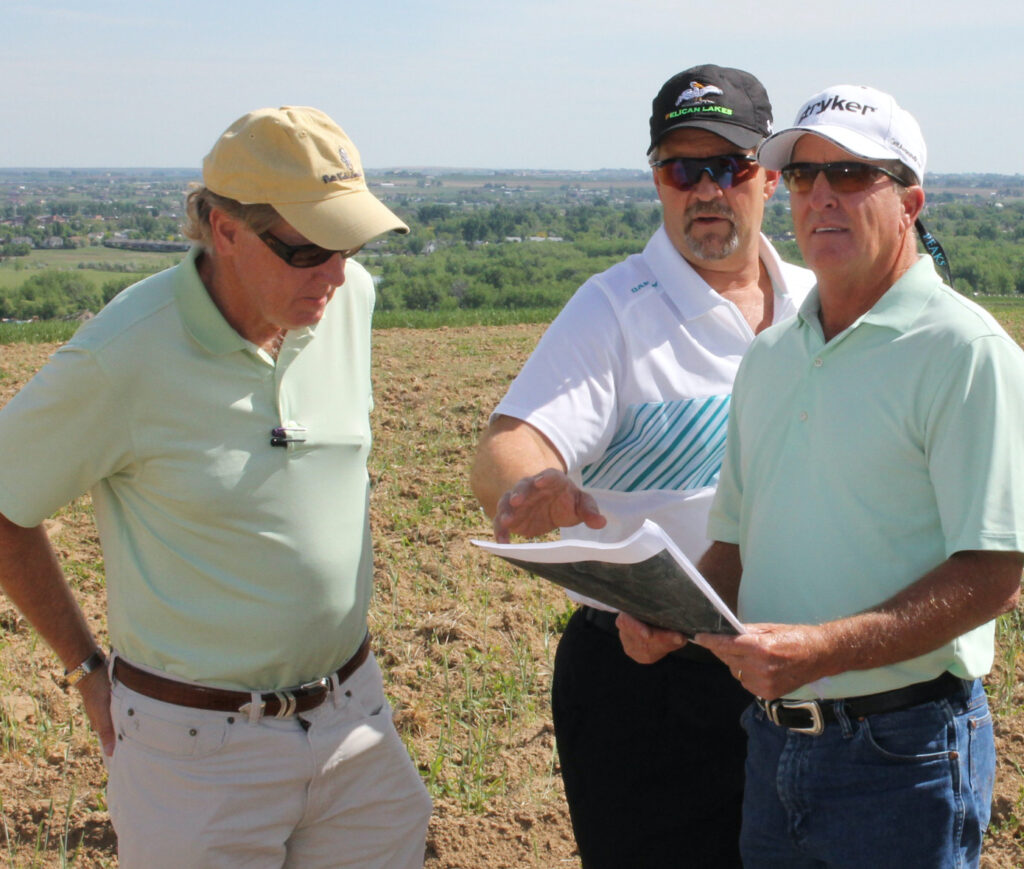 When Funk was first looking at the property and took it all in from the lowest point looking up, he remembers thinking, "'This is unbelievable.' I pictured everything going around and over these arroyos, and I think, 'This will be unbelievable if we can make this work.' And sure enough, we're making it work."
The expansive RainDance National site has very few trees on it, and the course will feature generous-sized fairways and greens. Only one major water feature is planned, on the 15th hole.
"I think the course is going to stand up to the best players in the world, but the goal of mine and Harrison and Martin — whose whole ideology in everything he does is to have fun and enjoy life and the day — is to walk off the 18th hole and say, 'I can't wait to do that again — and again and again,'" Funk said. "I want it to be that kind of golf course. As a Colorado Golf Association member, having something this dramatic and so good (in the state) … that would be so exciting. And to just open this course up to the world and say, 'Colorado has one of the best courses in the world' and it will be RainDance."
Along with the championship course, planned at RainDance National are:
— A "Horse Course" — a short course where players can practice a wide variety of shots in a casual, fun environment — like a game of H-O-R-S-E in basketball. There's a fairly well known Horse Course at The Prairie Club in Valentine in northern Nebraska.
— A bunny hill, dubbed "SnowDance", for those who want to get in a little downhill skiing, and a zip line.
— An amphitheater which is expected to hold 3,000 to 4,000 people.
— A hotel and cottages for guests.
"That will make it a fun place to go — a gathering place, a family place that's great for kids," Funk said. "It's going to be a truly unique and incredible piece of property."