Schulte's final-hole eagle gives senior 5A individual title and his Valor Christian squad the team championship; Montrose's Jennings and Cheyenne Mountain prevail in 4A; Aspen's Pevny and Colorado Academy rule in 3A
By Gary Baines – 10/6/2020
As far as ways to end a high school golf career go, it would be difficult to top what Valor Christian senior Lucas Schulte did on Tuesday at The Club at Rolling Hills in Golden.
In his final official shot as a high school player, Schulte eagled the 18th hole …
To win the 5A boys state high school individual title …
And put Valor Christian over the top for the team championship as well.
After three-putting for bogey on the 17th hole, leaving him one out of the lead, Schulte smacked a 310-yard drive on the par-5, dogleg-left 18th hole at Rolling Hills. Then he hit an 8-iron from 176 yards that ended up 6 feet under the hole. And he calmly rolled in that eagle putt that was an all-around winner.
"It was something special," the 18-year-old from Lone Tree said about 20 minutes later. "It's a good way to finish.
"I'm not really a decorated player. I started playing golf when I was a freshman and was averaging about 90. I've just been trying to improve every year. But it's always been a dream of mine to win state. Honestly, I've yet to realize I'm a state champion, but it's something special to achieve a dream like that."
Valor coach Justen Byler certainly appreciated the accomplishment, given the pressure involved.
"It's truly one of the top high school sports finishes I've ever seen and I've been around high school sports for a long time," he said. "To have it come down to making a putt — and to come through in that kind of situation — is a dream for a young man, it's a dream for a team, and it's awfully special."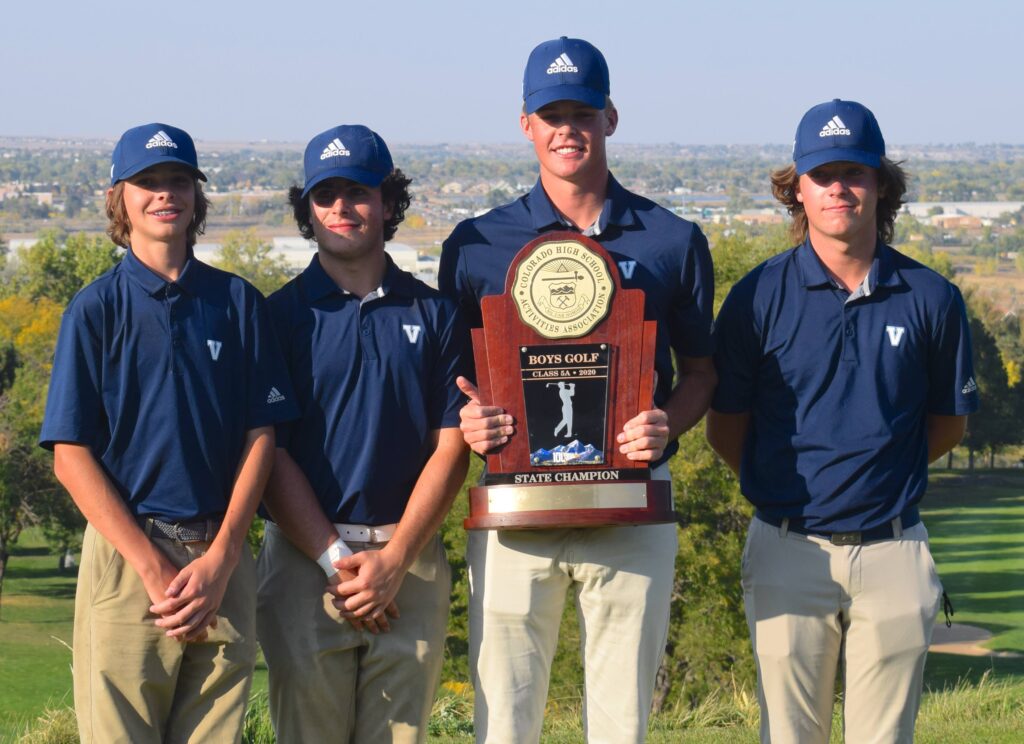 In other highlights from the three boys state high school tournaments that concluded on Tuesday:
— Senior Jordan Jennings ran Montose's streak of consecutive 4A state individual champions to three after former teammate Micah Stangebye had prevailed in 2018 and '19. The Colorado State University-bound Jennings shot the lowest round of any of the three state tournaments this week — a 3-under-par 68 on Tuesday at the Country Club of Colorado in Colorado Springs — to prevail by four. However, Montrose's run of team titles ended at three as it placed third, 13 strokes behind champion Cheyenne Mountain.
— Aspen junior Nic Pevny claimed the 3A individual championship a year after placing fourth at state. He backed up his first-round 69 with an even-par 71 to post a three-stroke victory.
— While Valor Christian notched its sixth team title in boys golf — and first in 5A — Cheyenne Mountain, the home favorite in the 4A tournament in Colorado Springs, notched team championship No. 2 and its first since 2004.
— In 3A at Dos Rios Golf Club in Gunnison, Colorado Academy broke through for its first state title in boys golf, winning by five over St. Mary's. First-round leader Kent Denver had an opportunity to become the first Colorado school to record 10 state team championships in boys golf, but a rough finish left them in third place, six behind Colorado Academy.
Kent senior Jeffrey Zhou was 1 under par for the round through 15 holes, but bogeyed 16 and 17, then made a 10 on the par-4 18th hole, where he hit two shots out of bounds. Kent had needed a par from Zhou on No. 18 to force a playoff with Colorado Academy. Zhou finished eighth individually at 8-over-par 150.
Here's a rundown from each of the state tournaments: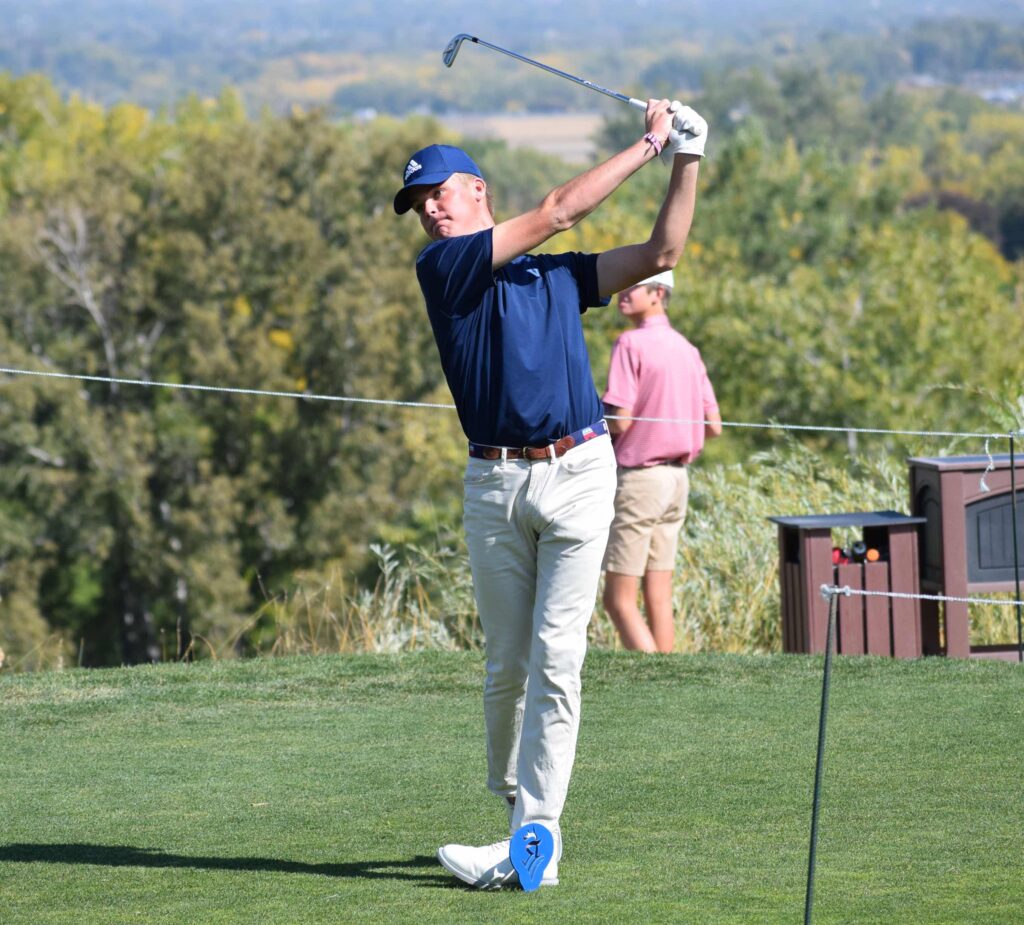 — 5A at The Club at Rolling Hills in Golden: While Schulte hadn't won a high school individual title before in 2020, he certainly came through on Tuesday. Despite playing his first five holes of the final round in 3 over par, he went 2 under the rest of the way, making three birdies in addition to the 18th-hole eagle. His 1-over-par 72 gave him a winning total of 4-over-par 146.
The only two players who shot sub-par rounds in the two days at Rolling Hills tied for second place, one stroke back of Schulte. Trey Kirschner of Ralston Valley fired a 2-under 69 on Tuesday and Ryan Occhionero of Regis Jesuit a 70. Both players birdied the 18th hole.
The first-round co-leaders, Graham Dzengelewski of Arapahoe and Wes Erling of Pine Creek, tied for fourth place at 148 with Jeff Nelson of Prairie View. Dzengelewski led for almost the entire tournament, but a bogey on 16 and a double bogey on 17 before making birdie on 18 proved costly as he posted a 4-over 39 on the back nine Tuesday.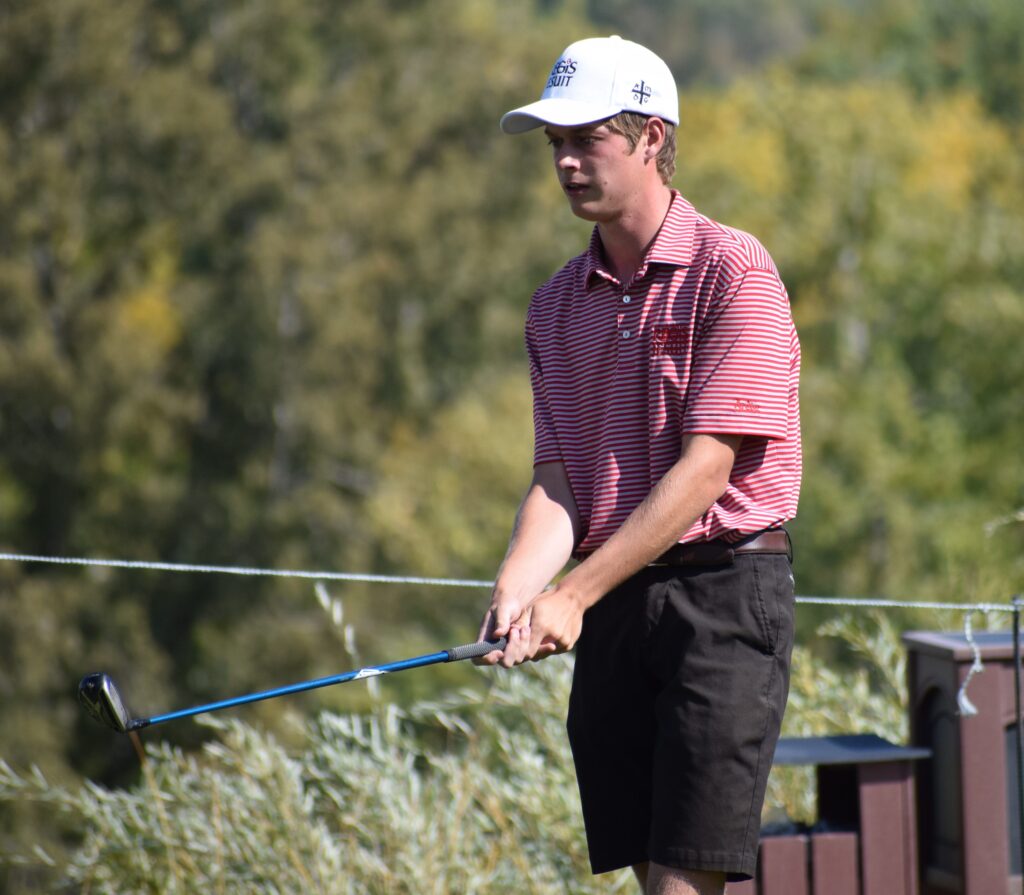 As for Schulte …
"I kind of had a feeling this summer that I was going to win something big," he said. "And all my buddies and coaches were telling me that. I guess it came down to the last tournament of the year."
Wyndham Clark, a current PGA Tour player, won two individual state high school titles while at Valor Christian, so Schulte is following in some big footsteps.
"To keep that tradition going is really special," he said.
Said Byler of Schulte's highlight-reel finish on No. 18: "As a senior, you dream about moments like that."
And to sweep the team and individual championships is a cherry on the cake for the Valor squad. With a 452 total, VC won by two, with Arapahoe finishing runner-up for the second straight year, having fallen three short in 2019. Regis Jesuit (457) and Ralston Valley (458) were also in contention.
"I'm honestly just shocked because we got fourth in our league (Jeffco)," Schulte said. "To come out and win state is unreal. My coach knew something special would happen (this week), whether it was team or individual."
Joining Schulte on Valor's winning team were junior Colin Young (153 total), sophomore Jack Armstrong (155) and senior Langdon Bradley (158).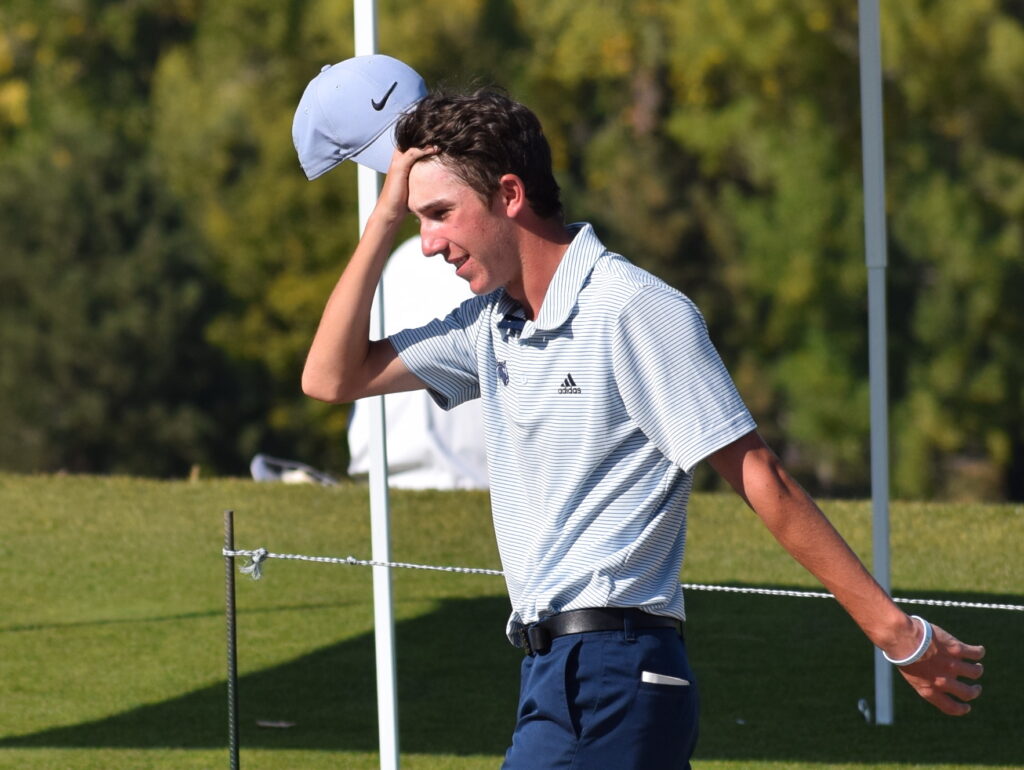 — 4A at Country Club of Colorado in Colorado Springs: Playing in its hometown, Cheyenne Mountain overtook first-round leader Mullen to capture the team championship. CM's second-day total of 11-over-par 224 at the Country Club of Colorado was Tuesday's best by nine strokes.
Mullen finished second, five strokes back of Cheyenne Mountain, while Montrose was third, 13 out of the top spot.
Cheyenne Mountain's championship team was comprised of Carter Surofchek (152 total), Connor Moberly (154), Thomas Herholtz (156) and Campbell Grage (158).
In the individual competition, Jennings trailed Mullen's Mario Dino by two going into the final round, but he caught Dino after making three consecutive birdies on holes 2 through 4. However, the tournament was decided on the final eight holes as Jennings went 2 under, while Dino went 3 over.
Jennings' 3-under 68 left him with a 2-over-par 144 total. Dino placed second at 148 and Mullen teammate Rhett Johnson was third at 150. Jack Mitchell of Evergreen and Jake Chesler of Frederick tied for fourth at 151.
— 3A at Dos Rios Golf Club in Gunnison: Pevny started round 2 with two straight birdies, and added two more on Tuesday to go with four bogeys. His even-par 71 put him at 2-under-par 140 overall, making him the only player in any of the three state tournaments to finish 36 holes under par.
Montezuma-Cortez sophomore Thayer Plewe finished runner-up at 143 after a 73 on Tuesday. He birdied the first and third holes in round 2, but wouldn't make another, and he played his final 13 holes in 4 over par.
Connor Downey of Vail Christian took third place at 147 after a second-round 75. Tayleb Schaefer of Sterling (74 Tuesday) and Luke Calvin of St. Mary's (72) shared fourth place at 148.
In scoring its first boys golf state team title, Colorado Academy featured a lineup of J.T. Timmers (149 total), Bo Turnage (153), Jack Pashel (154) and TJ Giordano (175).
CA finished with a 456 team total. St. Mary posted the best second-day tally (228) to move into second place at 461. Kent Denver (462) rounded out the top three.
Also at the 3A tournament, Jack McLucas from Jefferson Academy scored a hole-in-one, acing the 177-yard 12th hole on Tuesday en route to a second-round 86.

TOP FINISHERS IN BOYS STATE HIGH SCHOOL TOURNAMENTS

Class 5A At Par-71 The Club at Rolling Hills in Golden
TEAM
Valor Christian 228-224–452
Arapahoe 227-227—454
Regis Jesuit 242-215—457
Ralston Valley 239-219—458
Rock Canyon 235-227–462
INDIVIDUAL
Lucas Schulte, Valor Christian 74-72–146
Trey Kirschner, Ralston Valley 78-69–147
Ryan Occhionero, Regis Jesuit 77-70–147
Wes Erling, Pine Creek, 73-75–148
Graham Dzengelewski, Arapahoe 73-75–148
Jeff Nelson, Prairie View 76-72–148
Charlie Flaxbeard, Cherry Creek 74-77—151
Hayden Woelk, LIberty 76-75–151
Ryan Liao, Lakewood 76-75–151
Gage Messingham, Ralston Valley 78-73–151

Class 4A At Par-71 Country Club of Colorado in Colorado Springs
TEAM
Cheyenne Mountain 235-224—459
Mullen 231-233–464
Montrose 239-233—472
Pueblo West 238-240—478
Windsor 248-237—485
INDIVIDUAL
Jordan Jennings, Montrose 76-68—144
Mario Dino, Mullen 74-74–148
Rhett Johnson, Mullen 76-74–150
Jack Mitchell, Evergreen 80-71–151
Jake Chesler, Frederick 78-73–151
Hunter Swanson, Northfield 78-74–152
Carter Surofchek, Cheyenne Mountain 77-75—152
Toby Salinas, Pueblo West 76-77–153
Connor Moberly, Cheyenne Mountain 80-74–154
Traejan Andrews, Northridge 80-74–154

Class 3A At Par-71 Dos Rios Golf Club in Gunnison
TEAM
Colorado Academy 223-233–456
St. Mary's 233-228—461
Kent Denver 222-240—462
Sterling 228-236—464
Vail Mountain 230-239–469
INDIVIDUAL
Nic Pevny, Aspen 69-71–140
Thayer Plewe, Montezuma-Cortez 70-73–143
Connor Downey, Vail Christian 72-75–147
Tayleb Schaefer, Sterling 74-74–148
Luke Calvin, St. Mary's 76-72–148
J.T. Timmers, Colorado Academy 72-77–149
Trey Kuntz, Sterling 75-74–149
Jeffrey Zhou, Kent Denver 72-78–150
Lance Peters, Primero 76-75–151
Garrett Exelbert, Basalt 74-78–152
Stewie Bruce, Vail Mountain 75-77–152

For all the scores from each state tournament, CLICK HERE.