Jennifer Kupcho barely misses 36-hole cut at CoBank Colorado Open
By Gary Baines – 7/24/2020
(Updated 7/25 with cut line finalized) Jennifer Kupcho certainly would have liked her stay at the CoBank Colorado Open to have lasted four days instead of two, but it was a productive two days nonetheless.
"I'm glad I at least played well and showed that I can play," Kupcho said Friday after being just the second female ever to compete in the event, which dates back to 1964.
Though the Colorado native missed the 36-hole cut, it went right down to the wire for her. She came up short by one shot after three-putting for bogey on her 17th hole (No. 8 at Green Valley Ranch Golf Club) and just missing a 15-foot birdie attempt on her last hole.
With a 3-under-par 141 total (70-71), the 23-year-old finished in the top half of the field after two rounds, sharing 69th place out of 156 players. The top 60 and ties advanced to the final two rounds.
Kupcho was in good shape through 12 holes on Friday — 3 under par for the day and 5 under for the tournament — but played her last six holes in 2 over, leaving her just on the wrong side of the cut line.
"I think I played really well," said Kupcho, the 2020 CoBank Colorado Women's Open champion and the No. 54-ranked women's golfer in the world. "It's just a different game out here with longer courses (roughly 7,300 yards this week) and harder greens. It took a lot of brainpower and a lot of mental strategy that I wasn't really ready for. And I think I just kind of got tired by the end of it."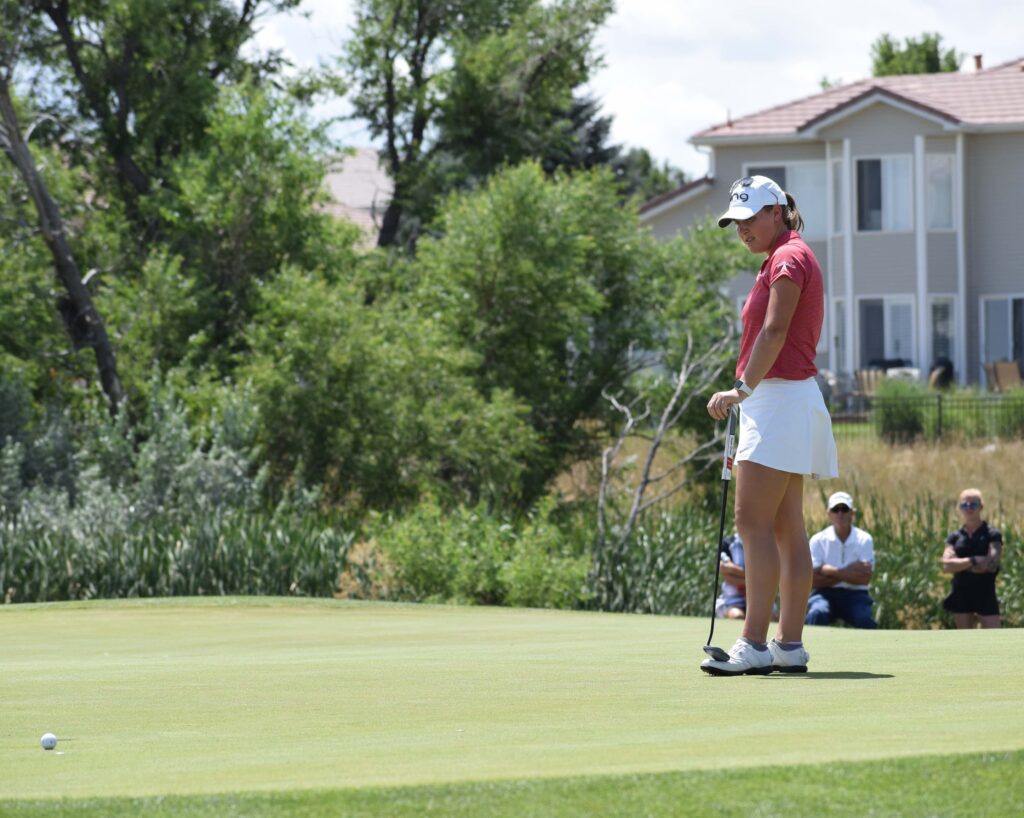 For 36 holes, the 2019 Augusta National Women's Amateur champion finished with seven birdies and four bogeys. The last two of those bogeys came on her 31st and 35th holes.
"I had a couple of bad shots coming down the stretch," she said. "I was definitely getting a little tired. I'm not used to playing this much golf. But it was fun."
And it was good preparation for what awaits. Now it's back to tour golf for Kupcho as she competes on the LPGA circuit for the first time since January. And she won't just ease into it. She'll play five straight weeks starting next week, going to Ohio for the first two tournaments, Scotland for the next two, then Arkansas before getting a break the week of Aug. 31.
Asked if it will be hard to adjust to that much golf after not competing a lot in the spring or early summer, Kupcho said, "I think it will a little bit. But it's a little bit different having a professional caddie vs. my mom (Janet, who caddied for her at the Colorado Open). Obviously he does all of my on-course work and all the mental stuff for me. I don't really have to worry about that. That will help a lot too."
In her rookie season last year, Kupcho finished in the top five on three occasions in LPGA events, including a runner-up in one major.
While Kupcho missed the cut at GVR, her older brother Steven, with whom she was paired the first two days, advanced to the final two rounds after posting scores of 68-70.