Colorado golf stories of the year, Part I
By Gary Baines – 12/27/2021
Time is running out on 2021, but before the clock strikes 12, it's worth revisiting the year that was — specifically in Colorado golf.
Here at ColoradoGolf.org, since 2009 we've made it an annual year-end tradition to count down the top stories in golf in the state. In recent years, that's meant picking out the top 25, breaking them up into two installments, then adding some honorable-mention selections to Part 2. And, for suspense's sake, we do it in reverse order. Nos. 25 through 13 on our story list will be published today, with the top dozen — and the honorable mention picks — coming later in the week.
But enough about procedure. Without further ado, let's start the countdown:
25) Musical Chairs for DI College Coaches: Never has there been a summer offseason in college golf in Colorado like there was in 2021 — at last in the NCAA Division I ranks. Of the nine DI programs in the state, five saw head-coaching changes. The exits included ones by George Koury at the Air Force Academy after 19 years as head coach, by Lindsay Kuhle at the University of Denver after eight-plus years (besides being an assistant there from 2005-12) and by Roger Prenzlow at Northern Colorado after eight years.
Here were the changes:
Air Force Academy Men: Koury was succeeded on an interim basis by Tyler Goulding.
University of Denver Men: Trake Carpenter was succeeded by Logan Goulding.
DU Women: Kuhle was succeeded by Martha Richards.
University of Northern Colorado Men:Roger Prenzlow was succeeded by director of golf Clayton Sikorski.
UNC Women:Ben Portie was succeeded by director of golf Clayton Sikorski.
With the coaching changes came some transfers of notable Colorado residents:
Cal McCoy of Highlands Ranch, long one of the top players at DU, went to the University of Arizona.
Connor Jones of Westminster, who qualified for the U.S. Amateur last summer, left DU for Colorado State University.
And Caroline Jordaan, runner-up in the 2021 CGA Women's Stroke Play and a semifinalist in the Women's Match Play, departed DU for Texas Christian University.
24) Fantasica for DU's Anna Zanusso: The University of Denver women's golf program has experienced some stellar moments during the 21st century, but what Anna Zanusso did in May in Scottsdale, Ariz., ranks among the best. The sophomore from Italy posted the second-best individual showing ever by a DU women's golfer at the NCAA Division I national championships.
Despite a first-round 76, Zanusso tied for ninth place.To put that into perspective, Zanusso became just the second DU women's golfer to post a top-nine individual finish at nationals, joining Stephanie Sherlock (fifth in 2008). Other similar showings by Pioneer golfers are a 10th by Tonje Daffinrud in 2014 and an 11th by Sherlock in 2009. Zanusso was the first Pioneer to compete in women's NCAA nationals since Daffinrud seven years ago.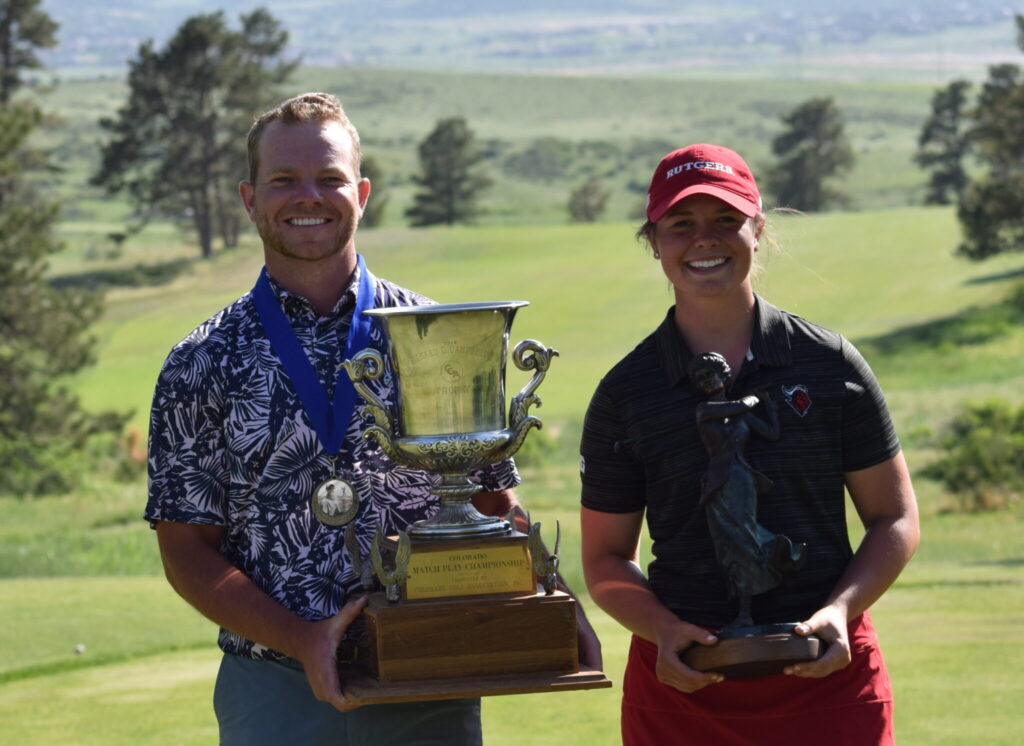 23) New Plan for CGA Matching Up: The year 2021 marked a new era for the CGA's two oldest championships, the Match Play and the Women's Play Play, which date back to 1901 and 1916, respectively. For the first time in their histories, the CGA Match Play and Women's Match Play were held concurrently and at the same sites. It was also the first instance in which either was conducted at two courses in a single week.
Round-robin pod play was held at CGA-owned CommonGround Golf Course in Aurora before the quarterfinal, semifinal and final rounds were conducted at Colorado Golf Club in Parker, which has hosted a Senior PGA Championship, a Solheim Cup and a U.S. Mid-Amateur in the last 12 years.
Emerging with trophies at the end of it all were Cole Nygren of Longmont and Leigha Devine of Windsor. Nygren became only the second player 27 or older to win the CGA Match Play since 2005, the other being Nick Nosewicz, who was 31 when he prevailed in 2015.
22) Transplanted Coloradan Making Waves in Japan: It was a breakout year of sorts for transplanted Coloradan Scott Vincent, a product of Zimbabwe who primarily plies his trade in Japan. Vincent now lives in Colorado after marrying one of the Centennial State's own, Kelsey Loupee.
Vincent, a member at Colorado Golf Club in Parker, made significant strides in 2021, winning twice on the Japan Golf Tour in the late summer. He also finished 16th out of 60 golfers at the men's Olympic golf competition in Saitama, Japan.
Vincent finished 11th on the Japan money list in 2021 and sits at No. 110 in the world rankings. He and his wife/caddie are expecting their first child next year.
21) Records All Around for Colorado PGA's Award Winners: Geoff Keffer of Lakewood Country Club and Doug Rohrbaugh of The Snowmass Club have come close to cornering the market in recent years when it comes to the Colorado PGA's Dow Finsterwald Player of the Year and the Senior Player of the Year honors. It's now to the point that both pros are in record territory.
In earning the overall POY this year for the seventh time, Keffer matched the most in Colorado PGA history. Colorado Golf Hall of Famer Bob Hold (1966 through '71 and '74) also captured the award seven times. And it should be noted that Keffer, who's now earned the honor the last two years, was also the CPGA's Associate Player of the Year twice (2009 and '10).
And Rohrbaugh holds the record outright for most Senior POY honors, with seven, including each of the last four years.
Meanwhile, Sherry Andonian-Smith, an instructor at Valley Country Club, kept her monopoly on CPGA Women's Player of the Year as she's won the award all four years that it's been given out.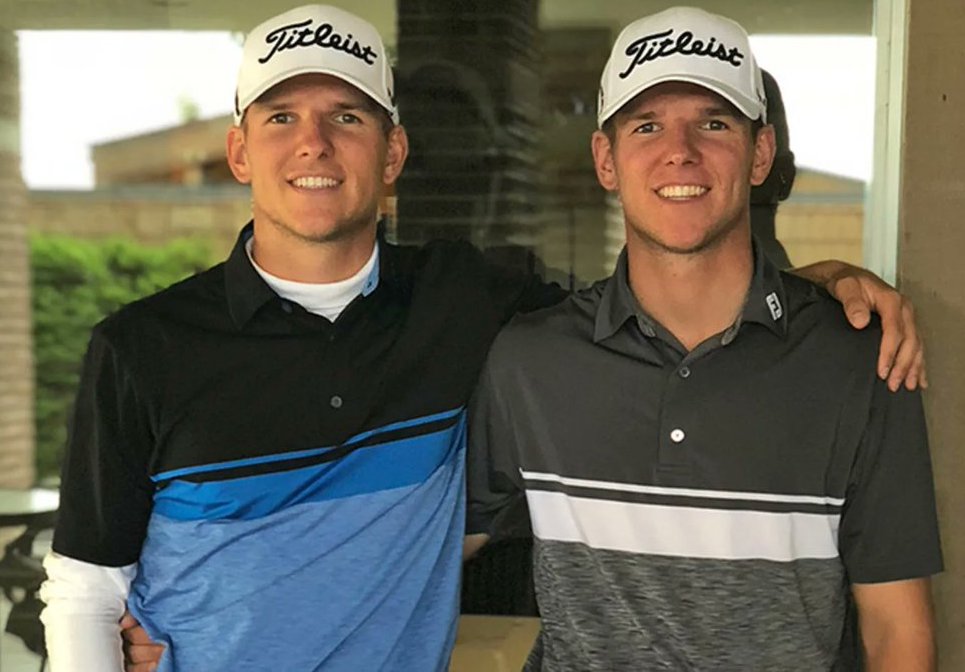 20) Brothers — and Former Buffs — Moving On Up: Twin brothers Jeremy and Yannik Paul have often competed in the same tournaments while growing up and as young adults. It was frequently that way in their home country of Germany, on the University of Colorado golf team and in their first years as professionals.
Now, both are making headway in their careers, but they're doing so on different continents. And in consecutive days in the fall, Yannik earned his European Tour card (the circuit has since been renamed the DP World Tour), and Jeremy landed playing privileges on the U.S.-based Korn Ferry Tour.
While the KFT for 2022 doesn't get rolling until the second half of January, Yannik placed eighth in his 2021-22 DP World Tour event last month.
19) Dan Hogan and Kaye Kessler, Lives Well-Lived: When it comes to longtime Coloradans who have made a notable impact in Colorado golf, Dan Hogan and Kaye Kessler get extra credit for longevity, among other things. And both 90-somethings — Hogan was 90 and Kessler 97 — passed away in the last four months of 2021.
The two Colorado Golf Hall of Famers both served the organization for many years after being inducted — as board members. Hogan was an outstanding golf competitor in his heyday and went on to be quite a golf historian in his later life. Kessler was a sports writer extraordinaire, covering more than 120 men's major championships in his lifetime, then becoming a golf historian of sorts as well.
And, perhaps most notably, the two U.S. military veterans both touched many lives over the decades — always in a positive and memorable way.
18) Seniors Come Up Big Again in CPGA Professional Championship: What was once seemingly simply an oddity has become a solidified trend. The Colorado PGA Professional Championship, the Section's most prestigious tournament, is open to members of all ages. Theoretically, competitors in their 20s, 30s or early 40s should conceivably have an edge in the event — if other high-level, open-age golf tournaments are any indication.
Instead, it's senior players — 50 and older in this case — who usually rule the roost in the CPGA Professional Championship. When 51-year-old Micah Rudosky won the event this year, it marked the seventh time in the last nine years that senior golfers have claimed the title. Feeding that trend were Doug Rohrbaugh (three times), John Ogden, Patrick Reidy, Ron Vlosich and now Rudosky, who also won the Colorado Senior PGA Professional Championship. It should be noted that Vlosich was 62 when he prevailed in the open-age event in 2019.
17) Record Number of Coloradans Bound for DCP National Finals: In the second year that a Drive, Chip & Putt Regional Qualifier was held in Colorado, a record number of Colorado juniors qualified for the DCP National Finals, which will take place April 3 at Augusta National Golf Club, home of the Masters.
At Colorado Golf Club in September, four Coloradans won their age/gender divisions to earn the cherished invite to Augusta National: Matai Naqica of Centennial (boys 14-15), Sophia Capua of Aurora (girls 14-15), Anthony Chen of Aurora (boys 12-13) and Judd Nikkel of Fort Collins (boys 10-11). In all, they'll be part of a group of 80 DCP National qualifiers.
All time, just 10 Coloradans have qualified for the National Finals.
16) A Decade in the Books for Solich Caddie & Leadership Academy: This past summer, the Solich Caddie & Leadership Academy completed its 10th season of looping for participating teenagers. Nearly 300 kids have gone through the program, racking up more than 13,000 loops over the last decade. Thirty of those caddies have earned the full-tuition and housing Evans Scholarship at the University of Colorado, including a record eight this year.
All in all, that's what you call a success story.
The SCLA and The Broadmoor Caddie & Leadership Academy promote the use of caddies through a subsidized system — by paying their base fees through an educational grant, with participating golfers having the option of adding a tip. Other key components are leadership and personal finance classes, and all participants do community-service work as part of the programs.
In addition, each year a handful or so caddies from the SCLA/BCLA are candidates for the Evans Scholarship, which has a house at CU, among many others across the country. If renewed for four years, the scholarship is estimated to be worth an average of $120,000.
15) Near Misses for Jake Staiano and Derek Fribbs at Colorado Open: It's getting to be more and more difficult for Coloradans to win the Colorado Open. With the prestige of the event and the money involved ($100,000 for first place), it attracts a lot of high-level competitors. The bottom line is, since 2014 just one Colorado resident (Jonathan Kaye of Boulder in 2017) has claimed the title.
This year, a Coloradan didn't win, but two were certainly in contention, finishing a stroke behind winner Alex Weiss of Winter Haven, Fla. Jake Staiano of Englewood three-putted the final hole when a two-putt birdie would have put him in a playoff. He missed a 7-foot birdie try. And Derek Fribbs of Aurora birdied the last for the runner-up tie.
Within a month, Staiano became the first Coloradan since 2016 to win the Grand Junction-based Sinclair Rocky Mountain Open. Later in the year, he earned conditional status on the Korn Ferry Tour. Also in August, Fribbs used a double eagle to win the 2021 Siegfried & Jensen Utah Open.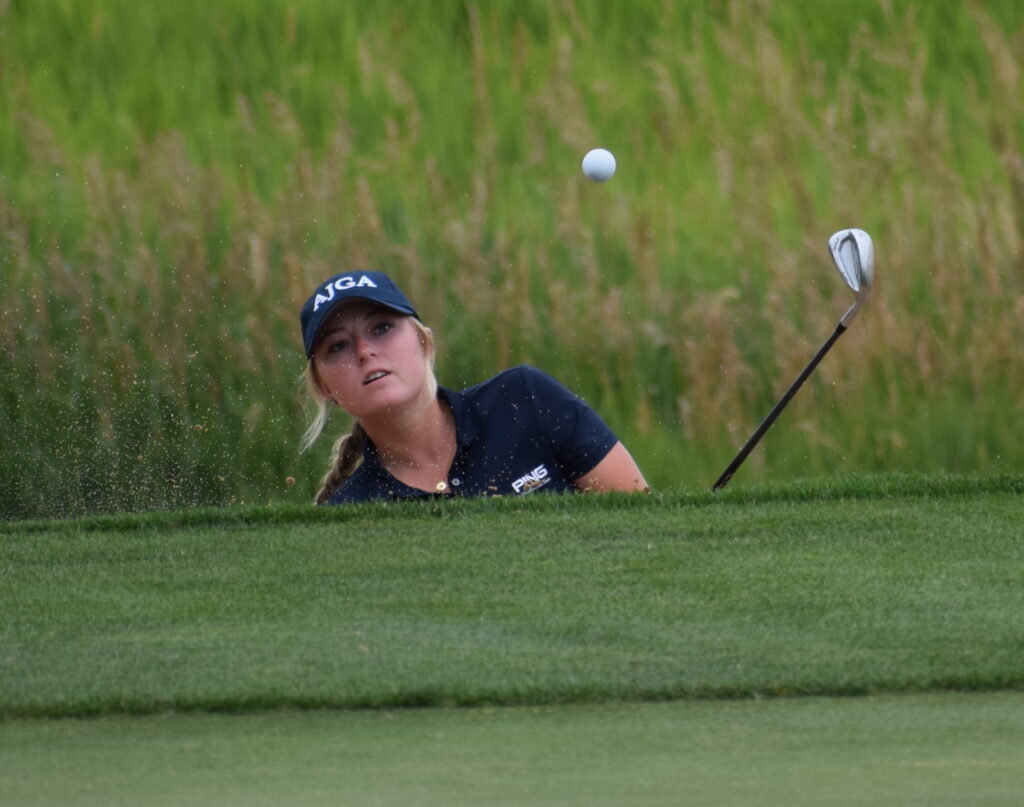 14) A Rout for Emma Bryant in JGAC Finale: Back in the day — not so long ago, really — Jennifer Kupcho used to dominate Colorado junior and open-age amateur tournaments. Double-digit margins of victory were not at all unusual for the now-LPGA Tour player.
For one week this past summer, Emma Bryant of Aurora got an idea of how Kupcho felt. In her final Junior Golf Alliance of Colorado tournament ever, Bryant won the girls title at the Colorado Junior Amateur by a mind-boggling 20 strokes.
All-time records aren't complete for the Colorado Junior Amateur, which dates back to 1979 for the girls, but it's a good bet that Bryant set the standard for largest victory margin. By way of comparison, Kupcho won the Colorado Junior Amateur by nine in 2014, current social media sensation Paige Spiranac prevailed by 10 in 2010, and two-time CoBank Colorado Women's Open champion Becca Huffer captured her title by eight in 2005.
Bryant went 69-69-70 for an 8-under-par total of 208 at Legacy Ridge Golf Course in Westminster. It was the third major JGAC title for Bryant, who also claimed the 5A girls state high school championship in 2018 as an Eaglecrest freshman. She's now a freshman playing for the University of Denver.
Bryant and brother Davis, long a regular on the Colorado State men's team, combined to win seven JGAC major championships.
13) Colorado PGA Changing Leadership: Eddie Ainsworth, the executive director of the Colorado PGA since 2008 who also held the position of CEO of the Section in recent years, departed his leadership role with the CPGA earlier this month.
Colorado Golf Hall of Famer Bob Doyle, a longtime fixture in the golf industry in Colorado and beyond, has been named the interim executive director, with the hope to have a new E.D. in place by March after a search is conducted to fill the position.
Ainsworth, a former PGA general manager at Eisenhower Golf Club at the Air Force Academy, played key roles in numerous CPGA endeavors over the last nearly 14 years. Among them were the Golf in Schools program, the formation of the Junior Golf Alliance of Colorado (with the CGA) and the Colorado PGA REACH Foundation, with the latter being a major supporter of the military, which has been close to the heart of Ainsworth, especially given all the years he worked at the Air Force Academy. In recent years, the Foundation annually has presented mortgage-free homes to deserving wounded veterans during its REACH Invitational. Ainsworth also has been a big proponent of many national PGA of America initiatives such as PGA Jr. League; Drive, Chip & Putt; Doubles Golf, etc.
During Ainsworth's time at the Section's helm, Colorado PGA members — or the Section itself — won 10 national PGA of America awards/honors, most recently with Hiwan Golf Club's Kyle Heyen being inducted into the PGA of America Hall of Fame.