In first trip to Colorado, Floridian Alex Weiss fires bogey-free 64 in final round and fends off Coloradans Jake Staiano and Derek Fribbs for CoBank Colorado Open title and $100,000 winner's check; Easton Paxton's showing best by amateur at Open since 2014
For results from the CoBank Colorado Open, CLICK HERE
By Gary Baines – 8/1/2021
Alex Weiss has been waiting to send in his entry for the upcoming Korn Ferry Tour Q-school.
The reason?
The resident of Winter Haven, Fla., said he didn't have enough available credit on his card to absorb the entry fee.
After Sunday, consider that problem solved.
With a stellar final round that started out with four consecutive birdies, Weiss won the CoBank Colorado Open, which brings with it a check for $100,000.
For a guy who, besides playing golf for a living, washes carts, picks the driving range and does outside services at a country club in Winter Haven, a six-figure check is most welcome.
"It's a pretty life-changing week for me," said the 25-year-old who grew up near Columbus, Ohio and attended Marshall University. "This is the biggest state open in the country, the best field for any state open in the country and obviously the biggest purse for any state open in the country. … I found the right plan for the golf course. Now the money is going to allow me to be a little more free in my playing career for a few years. So it's huge."
Weiss, a regular on PGA Tour Latinoamerica in 2020-21, matched the best score of the final round, shooting a bogey-free 7-under-par 64, which was enough to edge Coloradans Jake Staiano of Englewood and Derek Fribbs of Aurora by one stroke.
Weiss had never even been to Colorado before this week, much less played in the Colorado Open. But having competed on the Latinomerica circuit, he was no stranger to playing at altitude. And it showed with his scores at Green Valley Ranch Golf Club — the highest of which was a 68. He finished at 19-under-par 265.
"This is probably the pinnacle of what I've done in golf," said the winner of the 2020 Ohio Open. "Until you win something Tour-sanctioned, this is way up there. This is as good as developmental tours really get. To be able to do it on a golf course as firm and as fast and as rewarding and as penal as this one was, I really played good golf all week. I only made four bogeys all week. This was a pretty solid week for me."
And on Sunday, after starting two out of the lead, he reeled off birdie putts of 18 feet on No. 1, 7 feet on No. 2, 8 feet on No. 3 and 5 feet on No. 4. Then he added three more birdies — all of 5 feet or less — in a stretch from Nos. 11-14.
"I birdied the first four. Once you do that, you realize whatever lead they had is already gone, so you get to play them straight up for the rest of the round," Weiss said. "You just try to keep applying pressure. The putter was pretty dialed in today. I made a couple of really good par saves when I needed them."
But while Weiss was in the lead or near it most of the day, Staiano and Fribbs had their chances to become just the second Colorado resident to win the Colorado Open since 2013, joining Boulder's Jonathan Kaye.
Staiano, who shared the 54-hole lead with Fribbs and John Murdock IV, went bogey-free his first 13 holes on Sunday, standing 5 under for the day at that point. But a bogey on the 347-yard, par-4 14th proved costly. There, his approach shot went over the green and he missed a 4-foot par putt, making what would be his only bogey in a round of 67 on Sunday.
"It was too close (to the green) and not a great lie," the former Colorado State University golfer said of his tee shot on 14. "I thought I was playing the hole right and I would call it a bad break."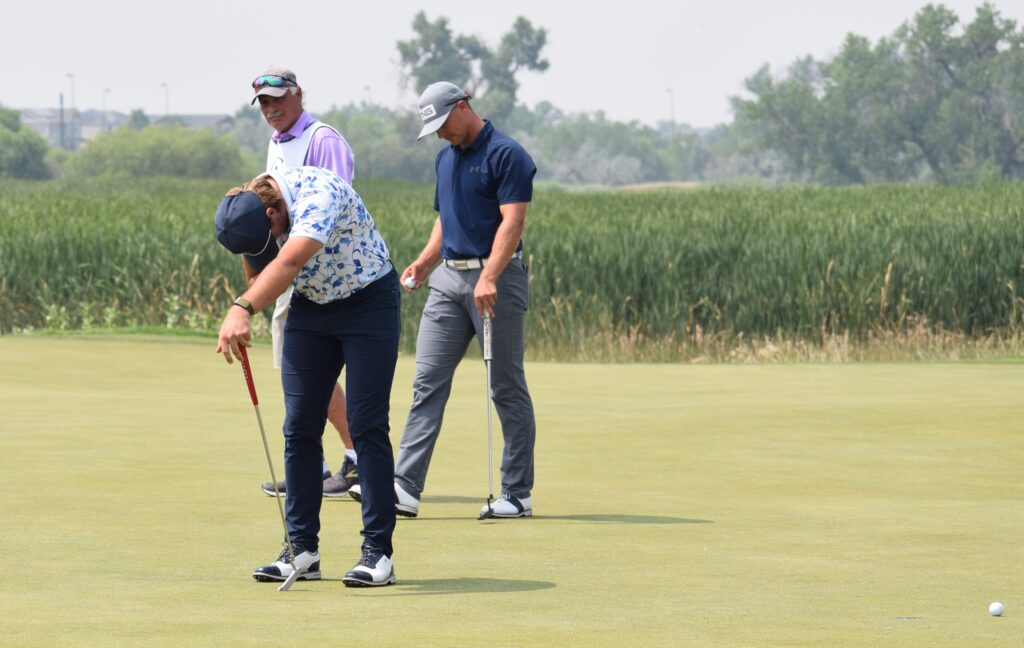 Then after parring holes 15-17 and coming to 18 one back of Weiss, Staiano hit the green on the par-5 in two but left himself with a 90-foot eagle attempt. A two-putt would put him in a playoff.
"I had a funky lie for my second shot in the right rough," he said. "I just felt more comfortable hitting 4-iron. I can't get it all the way to the hole, but I know I can get it over the hazard and just go from there.
"I gave myself a chance. It wasn't the most ideal two-putt in the world. But it was better than hitting it into the hazard and not even having a chance. I told myself, 'Let's have a chance and see if I can make it happen.'"
Staiano, a former CGA Player of the Year, left his eagle attempt 7 feet short. Then, with that to force a playoff, his birdie try missed just low.
"I hit a good putt, I just had to hit it a little harder, that's all," he said. "Give it a little more pace and it goes in."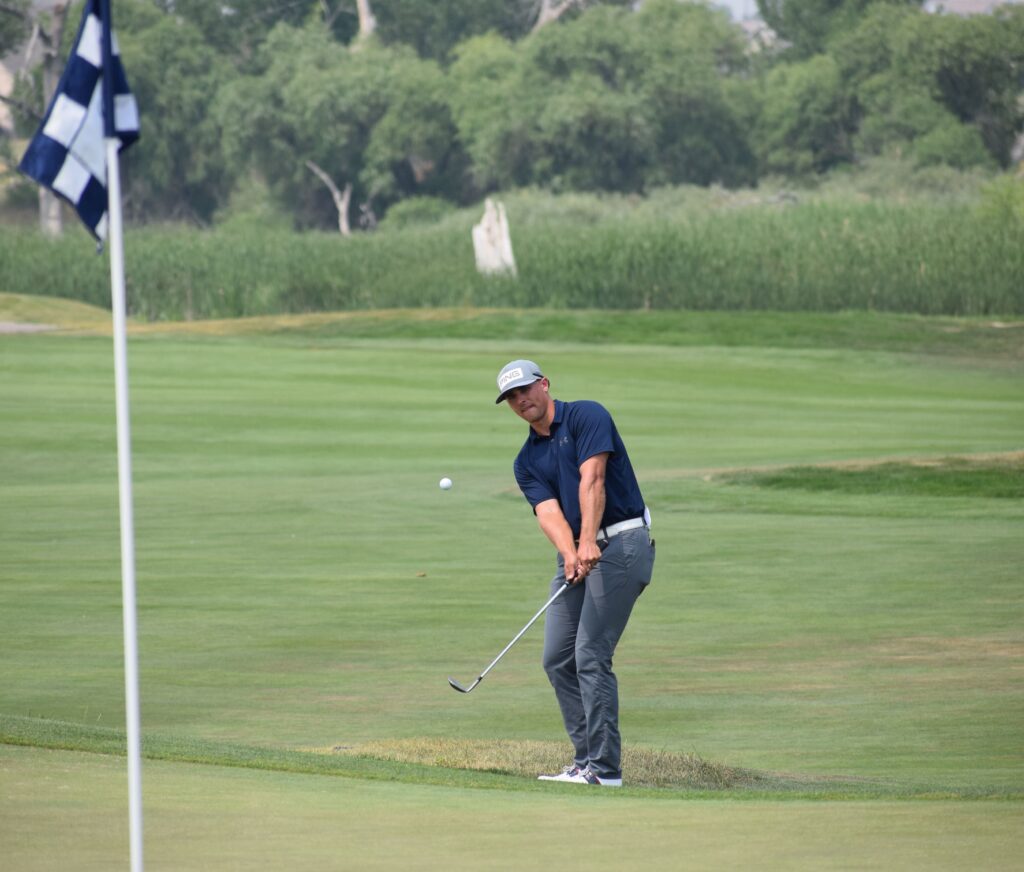 As for Fribbs, the former University of Colorado golfer who was in the same group as Staiano, he trailed through the middle part of Sunday's round, but made up ground with three straight birdies starting on No. 13. Then on No. 18, after leaving his second shot just short of the green, his potential-playoff-forcing eagle chip rolled just left of the cup and he tapped in for birdie and a 67.
"I knew I needed it," the 30-year-old said of the eagle attempt. "It was a fairly simple chip. I thought it was going to break right and it stayed straight. I gave it a good run."
Staiano and Fribbs ended up with a good payday in their own right — $15,550 each — while both competing in front of many friends and family.
"I played well this week and I'm real happy to have the opportunity to make a putt to go to a playoff on 18," Staiano said. "I lot of guys don't have that opportunity. To be in the moment and have all my friends watching me, it's pretty special. It was so fun."
Said Fribbs: "This was fun with all the family and people that came out and all. It was fun to play in front of them.
"This just kind of shows I can play with all these guys out here. It's a good reminder. Sometimes you need that for a little confidence boost."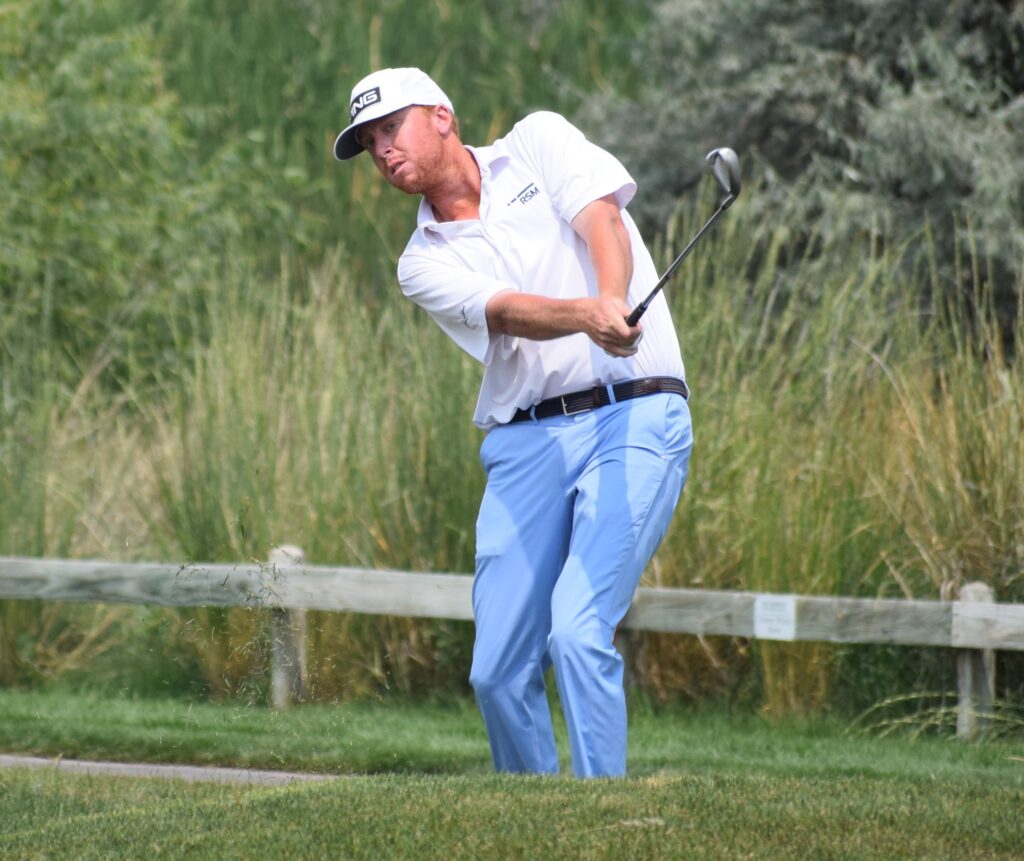 The only other player to make a serious run at the title down the stretch on Sunday was 2018 champion Dru Love. Davis Love III's son put the pressure on with six consecutive birdies starting at No. 8. But he followed that up by going bogey-bogey-birdie-bogey. And, needing an eagle on No. 18 to force a playoff, he didn't come close to holing his pitch shot and settled for par — his first par since No. 7.
Love closed with a 66 and placed fourth at 267, earning $9,500.
Dustin White, the 2006 champion who grew up in Pueblo West, tied for fifth in his first tournament since late 2019. He posted a Sunday 67 and checked in at 269, sharing fifth place with amateur Easton Paxton of Riverton, Wyo., and Olin Browne Jr., son of the former PGA Tour regular.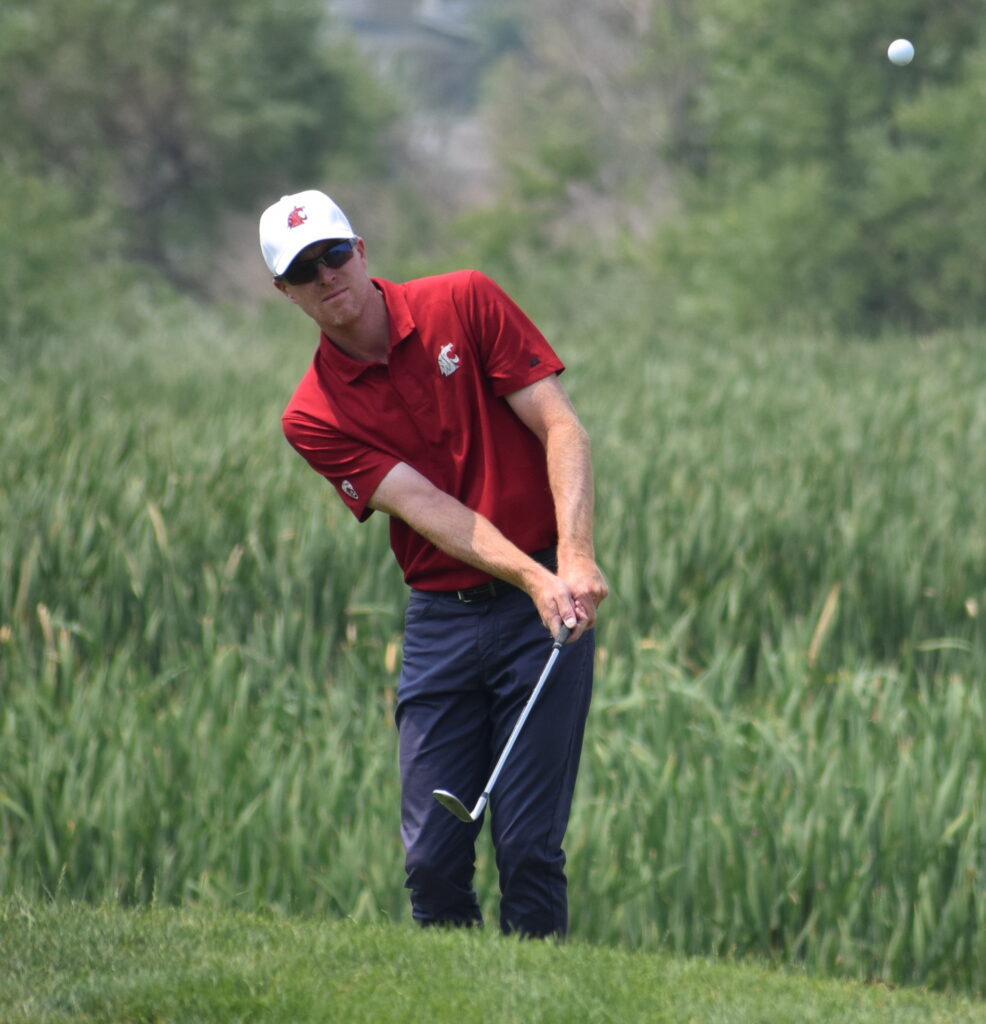 Easton Paxton Matches Amateur Scoring Record, Relative to Par: To simply report that Easton Paxton claimed low-amateur honors on Sunday would be doing him a disservice. 
After all, in becoming low-am, the resident of Riverton, Wyo., posted the best overall finish by an amateur at the Colorado Open since Cam Harrell also tied for fifth in 2014. In addition, Paxton tied for the best amateur score in Colorado Open history, relative to par. Both Paxton and Jake Staiano in 2017 ended up 15 under par for the tournament.
"It's definitely special," said Paxton, a fifth-year senior-to-be at North Carolina State. "This is such a great field, such a great event. Anytime I have the opportunity to compare my game to guys making a living doing it, I'm extremely thankful for those opportunities. To be up there means I'm on the right track. I've got to keep getting better, but hopefully I'll be back next year as a professional."
Paxton, who had to qualify to get in the Colorado Open field after losing out in a playoff for the final U.S. Amateur qualifying berths at Columbine Country Club last month, went 70-66-64-69 for his 15-under-par total at GVR.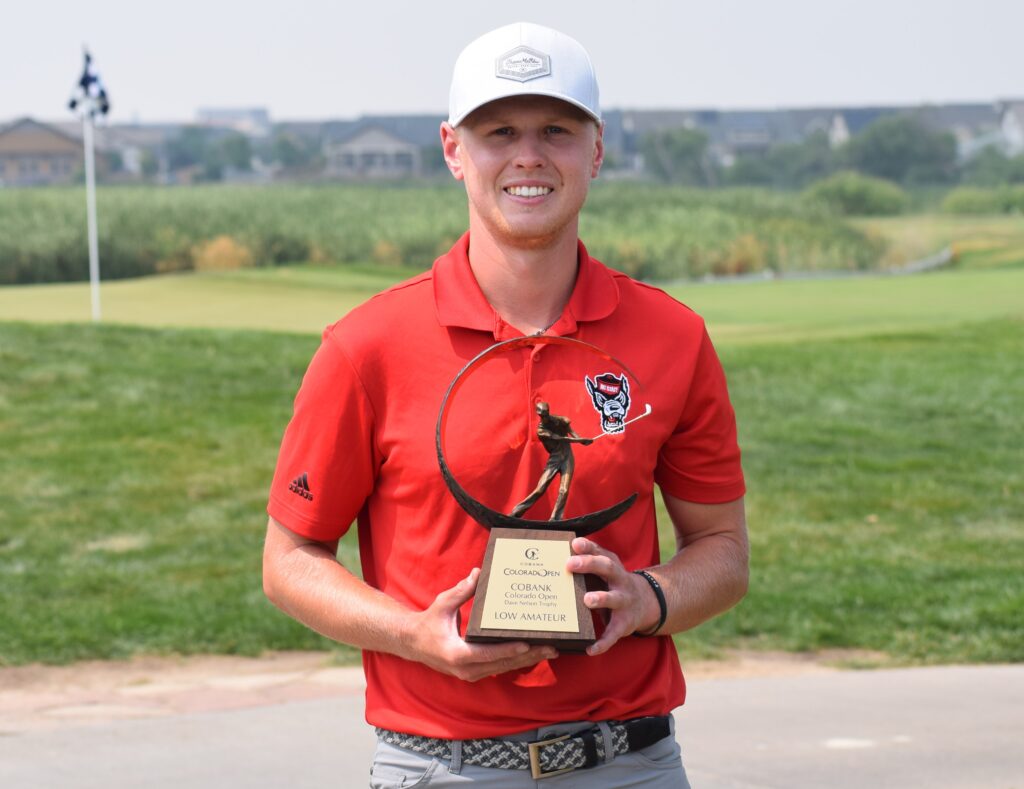 "Any tournament I go to, I hope to have a chance to win and I was glad I was able to execute that this week," the 22-year-old said after his five-birdie, three-bogey final round. "The putts just weren't going in today, but it was such a great experience.
"This tournament makes me realize I'm still moving in the right direction and doing the right things — and getting better. And that's what it all comes down: continuing to improve."
Finishing second among amateurs on Sunday was 2020 low-am — the 2020 CGA Player of the Year — Colin Prater of Colorado Springs, who posted a final-round 67 to end up three back of Paxton. Davis Bryant of Aurora, who calls GVR his home course, ended up third among ams at 273 after carding a 64 on Sunday — his best tournament score ever at the course.

Notable: With par for GVR during the Colorado Open returning to 71 after the second hole went from a par-5 to a par-4 and was shortened, the winning score relative to par this year was 10 strokes higher than in 2020, when Mark Anguiano finished a record 29 under on a par-72 layout. The only other time in the last six Colorado Opens that a winning total was in the teens under par was 2018, when Dru Love also ended up 19 under. … With Marty Jertson donating half of his Colorado Open winnings to the Michael Ray Lee Foundation, $1,500 will go to the cause. Like Jertson, Lee played golf at Colorado School of Mines. Lee, the 2011 CGA Match Play champion, passed away on Dec. 22 after battling Covid-19. The 2021 CGA men's championship season has been dedicated to the memory of Lee.