Kaye Kessler, whose long, extraordinary career as a sports writer concluded in Colorado, passes away just shy of age 98; Colorado Golf Hall of Famer covered more than 50 Masters and 120 majors, first chronicled Jack Nicklaus in 1950 and went on to play key roles at The International
By Gary Baines – 12/10/2021
Kaye Kessler, a sports writer extraordinaire for close to eight decades who started chronicling the budding career of a 10-year-old Jack Nicklaus in 1950 and went on to earn a spot in the Colorado Golf Hall of Fame, passed away at his home on Thursday, 11 days short of his 98th birthday.
Kessler, a longtime newspaperman in Ohio who became a fixture in Colorado in the mid-1980s, attended a Colorado Golf Hall of Fame press conference Oct. 18 at The Broadmoor in Colorado Springs, where he chatted afterward with World Golf Hall of Famer Hale Irwin. But Kessler's health took a downturn and a fall put him in the hospital a week and a half ago.
"God bless him, his body just gave out," said Keith Schneider, the general manager at Castle Pines Golf Club who had known Kessler for 48 years, going back to their days in Ohio when Kessler was the sports editor of the Columbus Journal Citizen and Schneider was an assistant professional at Muirfield Village.
Kessler moved to Colorado in 1985 to become the first media liaison for The International, a PGA Tour event that had a 21-year run (1986-2006) at Castle Pines Golf Club. Also during the first decade the event was held, Kessler played a key role in player recruitment for the tournament, and later served as a de facto historian for the event that used a modified Stableford scoring system. In fact, Kessler served as the editor for the Silver Anniversary of Castle Pines Golf Club book that was published in 2005.
"Kaye had a good relationship with Jack Nicklaus (the course designer at Castle Pines), so it all kind of blended together," said Schneider, like Kessler a Colorado Golf Hall of Famer.
But before coming to the Centennial State, Kessler had covered sports — including golf and all things Ohio State — for more than four decades, having started at the Columbus Citizen newspaper while still in high school. After that early stint in the media, he served in Army intelligence in London during World War II, rising to the rank of staff sergeant. Then it was back to journalism after the war.
(Updated Dec. 14) Nicklaus, who grew up in Columbus, said on Twitter on Tuesday: "We often talk about someone who was there 'Day One' in our career and life. Well, Kaye Kessler truly was. Kaye, who we sadly lost just 11 days shy of his 98th birthday, was the first sports writer to cover me when I picked up the game at age 10.
"Kaye wrote for my hometown paper, The Columbus Citizen-Journal. He went on to cover me throughout my career, becoming a trusted writer and a trusted friend to Barbara, me and our family. Kaye loved his craft, but I believe he loved the people in the game and around him even more.
"Whether it was covering one of his 56 Masters or sitting in his reserved seat at the Memorial media center, Kaye's was always a welcomed face. He informed and entertained us with his writing and his story-telling. We will always cherish the memory of Kaye Kessler."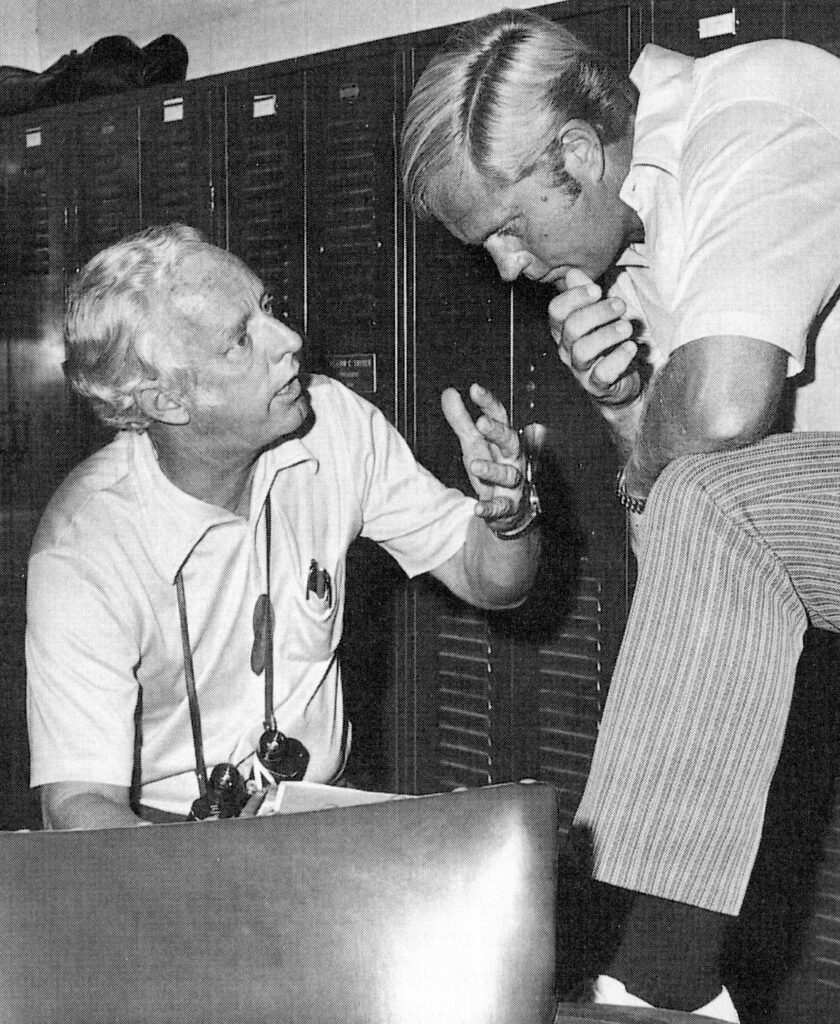 Numerous members of the golf media also paid tribute to Kessler after learning of his passing.
"Kaye was the best," Damon Hack from Golf Channel commented via Twitter. "Loved seeing him in the press room. A good soul indeed. Rest In Peace."
Added Joe Juliano from the Philadelphia Inquirer, also on Twitter: "Sad this morning to learn of the passing of the great Kaye Kessler. Masters week wasn't complete without seeing Kaye working the media center saying hello to his many friends, and I was honored to be one. He probably wrote more stories about Jack Nicklaus than anyone. #RIP"
Indeed, Kessler was a walking encyclopedia of golf knowledge, dating from the mid-20th century. As of 2020, he had covered 126 men's major championships — 56 Masters, 38 U.S. Opens, 12 British Opens and 20 PGA Championships — all with his unique, colorful writing style.
"It's the first breath of spring," Kessler explained in 2013 to ColoradoGolf.org as he prepared for his 50th time covering the Masters. "It's a coming-out party, a rite of spring. And it's the only one of the majors that's anchored. The Masters tries to look better every year — and they seem to do it. It's just kind of an awakening. And I think it's still the toughest ticket around."
Kessler, the 1984 Ohio Sports Writer of the Year, covered his first Masters in 1963 — appropriately the year Nicklaus won the first of his record six green jackets — and until recent years had missed just one since then. His absence then was because his wife, Rosemary (Ro), was hospitalized. Coincidentally, the only Ohio State football game Kaye ever missed from 1946 through '85 was likewise because Ro was ill.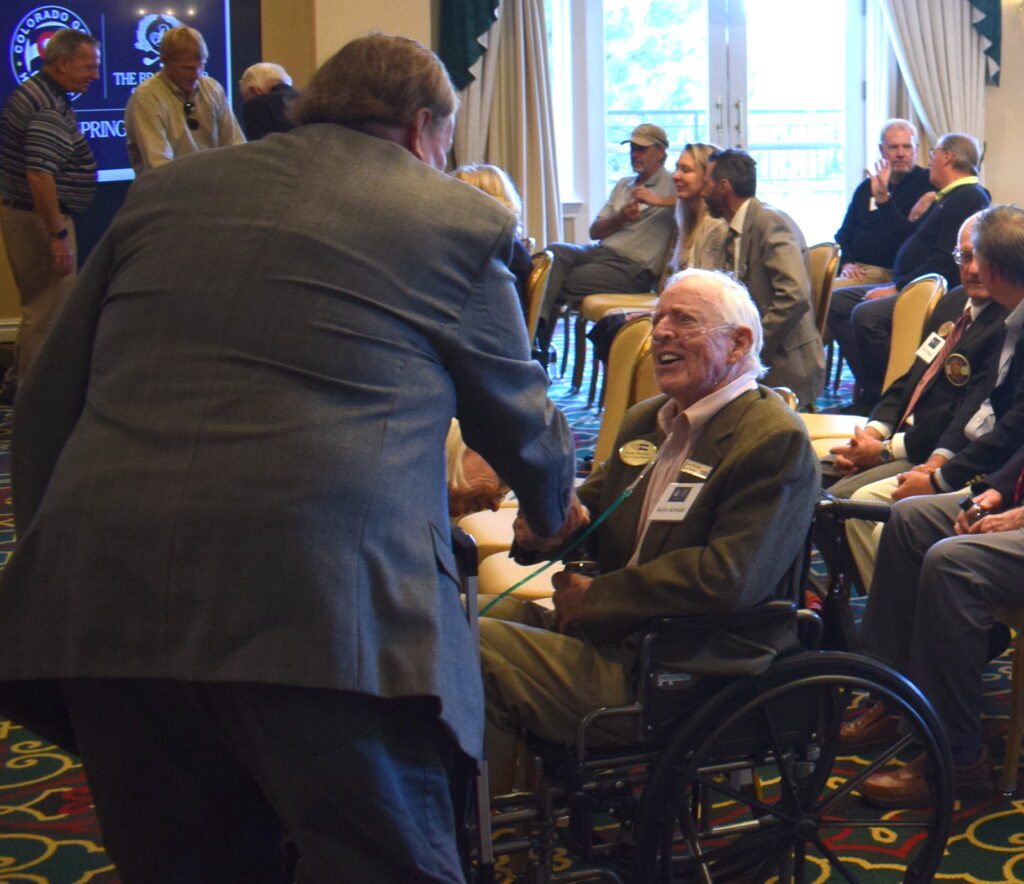 Among the many accolades Kessler received over the years were the PGA Lifetime Achievement Award in Journalism (2001), the Memorial Golf Tournament's Journalism Award (2002), the Colorado Section of the PGA's Award of Distinction (2000) and induction into the Colorado Golf Hall of Fame (2007), where he remained a board member until his death. He's also in the Ohio Golf Hall of Fame.
In 2007, the Masters paid tribute to Kessler and 13 other journalists for their longevity — and talent — in covering that major championship more than 40 times. They were presented the inaugural Masters Major Achievement Award. Each was given an engraved hardwood plaque made from a large tree which had stood on the second hole at Augusta National. The plaque, which depicts a carving of the clubhouse, looks warped because it's made of wood peeled off the tree. Kessler's award was a fixture in his Littleton kitchen, but there's a larger permanent one that's affixed on the Augusta National grounds.
Honored that year, along with Kessler, were current World Golf Hall of Famer Dan Jenkins, Furman Bisher, Nick Seitz, Dave Kindred, Edwin Pope, John Derr, Al Wester, Ron Green Sr., Horace Billings, Hubert Mizell, Dave Moffitt, Dan Foster and Art Spander. In addition to the plaque, each received a commemorative book.
In the history of the tournament, no more than 10 journalists have now covered at least 50 Masters, and Kessler was in the half-century club. He was still making the spring pilgrimage well into his 90s. Though he never lived in Augusta, Kessler spent about a year of his life there covering the Masters.
Talk about institutional knowledge of that event …
Asked in 2013 the favorites among the Masters he covered and Kessler first pointed to the improbable 1986 victory by Nicklaus at age 46 in which he shot 30 on the back nine on Sunday. Next best in Kessler's mind was Ben Hogan's last appearance at the Masters, in 1967. On Saturday of that year's tournament, Kessler and fellow writer Tom Place decided to follow Hogan on the back nine. It was a decision they wouldn't regret as the 54-year-old Hogan shot a then-record 30 on the back side at Augusta.
"It was just chilling," recalled Kessler, a former president of the Golf Writers Association of America. "He was damn near dying each hole (suffering the effects of age and his near-fatal head-on accident with a bus in 1949). He was weary as all get-out and was having a terrible time walking. Each hole, the crowds got bigger. It was an unbelievable sight. The word got around, and people know the roars at Augusta. On the (hilly) 18th, he has a 16-foot side-hiller for birdie, and he knocks it in for a 30 and a 66 that got him in the hunt."
Alas, Hogan couldn't recreate the magic in the final round and he finished 10th. A couple of months later, he competed in his final major, the 1967 U.S. Open.
It was just another great story to which Kessler treated his readers.
"It's an experience unlike any other," he said of covering such historic events.
In the mid-1980s, Kessler brought his journalistic touch — and professional relationships — to work at The International for a decade in media- and player relations. The Columbus Citizen-Journal, where Kessler was a fixture in the sports department, was on the verge of closing and Kessler started a new chapter of his professional life. According to Schneider, he played a major role in luring some extraordinary young players to The International as one of their first PGA Tour starts.
"He was very instrumental in getting Sergio Garcia and Ernie Els to come to The International, which was (one of the) first Tour events both played in besides majors," Schneider said. "Kaye was a big part of the team that pulled that off."
All in all, it was a long and eventful life well-lived for Kaye Kessler.
Kessler was preceded in death by his wife Ro, and is survived by his kids, Rod and Kris.
Services are pending.