Colorado Golf Hall of Famer and longtime golf historian Dan Hogan passes away at age 90
By Gary Baines – 9/21/2021
Dan Hogan — Colorado Golf Hall of Famer, gentleman, state golf historian extraordinaire — passed away on Monday in Cortez, 11 days short of turning 91.
Hogan was an outstanding amateur golfer in his prime, and he went on to serve the game in a variety of roles, including as a volunteer leader of the Colorado Golf Hall of Fame, into which he was inducted in 1998. He was a longtime regular on the CGHOF board of directors, and served as president of the organization for four years.
"Colorado golf has lost an icon," Gary Potter, a fellow Colorado Golf Hall of Famer, said on Tuesday.
Hogan was still playing the game semi-regularly into his 80s, but a serious medical episode sidelined him in recent years.
Hogan was one of the leading historians of Colorado golf and for decades functioned as an unofficial historian/archivist for the Colorado Golf Hall of Fame.
A railroad man by trade for 30 years, Hogan also served at various times as the local chairman of the USGA's Public Links Committee, on the CGA's board of directors, and on the Denver mayor's Golf Advisory Committee in the 1960s and '70s.
And his extensive collection of golf books will live on as it was donated to the Colorado Golf Hall of Fame, then passed along in 2019 to form the Dan Hogan Library at the CGA offices in Greenwood Village. Well over 1,000 books are now in that collection.
At the library's grand opening, just over two years ago, CGA executive director Ed Mate paid tribute to both Hogan and his books.
"Every time I look at this collection, I think of Dan," Mate said at the time. "It's an embodiment of him, his love of the game, his lifetime in the game. You see such an array of titles over a long period of time. He collected them all personally. And it's reflected in this.
"To me, if it wasn't Dan Hogan's collection, it frankly wouldn't have the same meaning. That's what makes it meaningful. It's an incredible collection. They were thoughtfully collected and accepted. To me, it's Dan Hogan. That's what puts a smile on my face every time I walk by these. Every time I pull a book off the shelf I can't help but think of him."
On the course, the former World War II-era caddie at Park Hill was one of the better Colorado public course players of his day. The onetime Regis University golfer won the Denver muni links championships three times, and claimed club champion titles 10 times at City Park, twice at Los Verdes and once at Foothills. He played in the U.S. Amateur Public Links Championship six times — they were a "grand experience," he said — the British Amateur twice during the 1970s, including once at the birthplace of golf, the Old Course at St. Andrews; and the Trans-Miss twice in the late 1950s in years when Jack Nicklaus won the event.
Hogan kind of evolved over time into his longstanding role as one of the leading historians of Colorado golf, but in a 2015 conversation he could still remember the first step along the path.
In the mid-1950s, after spending three years serving in Korea with the Navy, Hogan started playing golf regularly at City Park Golf Course in Denver. It was in the clubhouse there, on a work bench, that Hogan discovered six or eight old silver trophies.
One, in particular, drew Hogan's attention as it was from a Denver team championship which City Park had won multiple times in the 1920s. Unfortunately, Hogan said the City Park pro at the time was filling the trophy with some short of shellac — or the like — for use on golf clubs.
Hogan, feeling this was an ignominious use for such a fine old trophy, "confiscated" it — along with the others.
"There was too much history involved there," Hogan noted in 2015 in recalling the incident. "I shined and boiled them and put them on display" at City Park. Nowadays, several of those trophies are part of the collection at the Colorado Golf Hall of Fame Museum at the Riverdale Golf clubhouse in Brighton.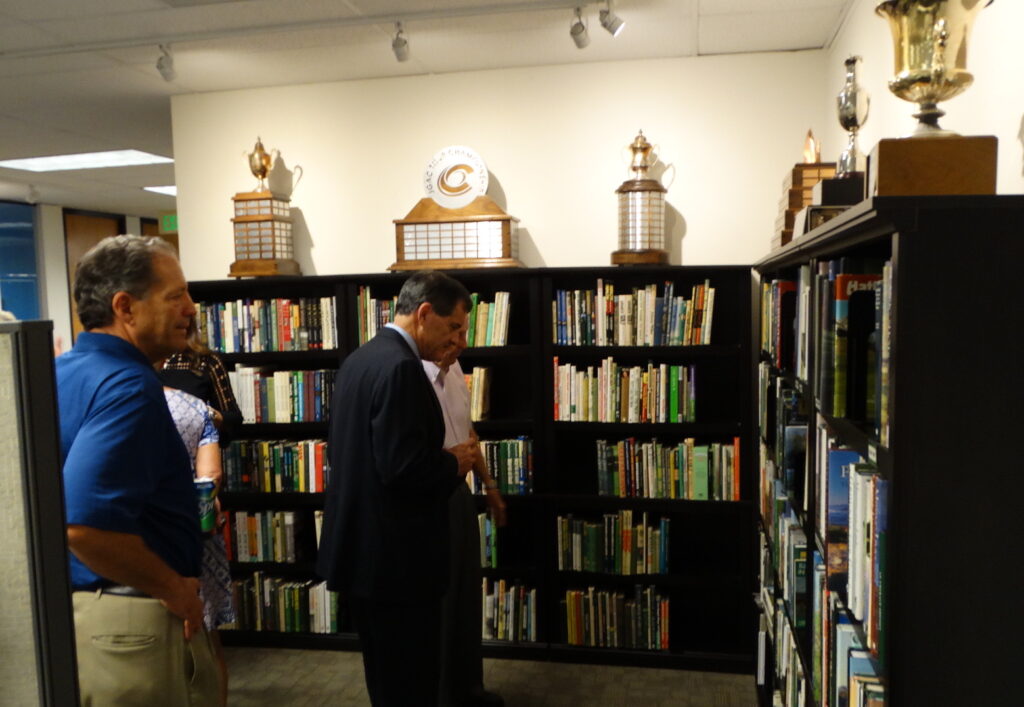 In 2015, 17 years after being inducted into the Colorado Golf Hall of Fame, Hogan received a Lifetime Achievement Award from the organization. He become just the fifth person on record to have been awarded the LAA after having been inducted into the Hall of Fame. Others who had previously managed that feat were Judy Bell, the first female president of the USGA; Warren Simmons, an outstanding player and former CGA executive director; Maggie Giesenhagen, the CWGA's first executive director who went on to a distinguished career at the USGA; and Dennis Lyon, a longtime manager of golf for the City of Aurora who once served as president of the Golf Course Superintendents Association of America.
"It's a very special award to me," Hogan said at the time. "I guess it shows I've been around a long time. But I hope I've made some contributions."
Hogan joked that he'd been on the Hall of Fame board so long because "they never told me to leave". But because the organization in the early years hadn't done much to preserve historical artifacts of Colorado golf, Hogan and others spearheaded a historical committee, and for decades Dan collected items that he believed should be displayed.
Hogan became a close friend of Babe Lind — part of the CGHOF's first class of inductees in 1973 — and collected memorabilia from Babe and his wife, Priscilla. He also got to know another early Hall of Famer, Phyllis Buchanan, late in her life and received a sterling platter from her playing days.
Given that Hogan lived the great majority of his life in Denver — with that stint in Korea during the 1950s being a notable exception — and he crossed paths with many of the top figures in Colorado golf over his 90-plus years, he was an ideal person to preserve some of the state's golf history before it's forgotten.
"I took a hand in bringing in old trophies and that sort of thing, and I made some connections," Hogan said in his usual understated fashion.