After 10 summers of looping, Solich Caddie & Leadership Academy making more of an impact than ever
By Gary Baines – 9/13/2021
Ten summers of caddying in the books. Expansion from one site in Colorado to a handful. Nearly 300 kids who have gone through the program, racking up more than 13,000 loops over the last decade. Thirty of those caddies earning the full-tuition and housing Evans Scholarship at the University of Colorado, including a record eight this year.
All in all, it's been quite a first decade for the Solich Caddie & Leadership Academy.
"Duffy and I are just super proud of 10 years of a great program," George Solich said on Sunday, speaking for himself and older brother Duffy — the siblings for whom the SCLA was named.
The Solich Caddie & Leadership Academy was founded in early 2012 with the help and financial assistance of the Solich brothers, oilmen and philanthropists who were both caddies at The Broadmoor in the 1970s and who earned Evans Scholarships at CU. The Soliches were also driving forces behind The Broadmoor Caddie & Leadership Academy, a recent offshoot of the SCLA. Both are flagship programs for the CGA.
The Academies promote the use of caddies through a subsidized system — by paying their base fees through an educational grant, with participating golfers having the option of adding a tip. Other key components are leadership and personal finance classes, and all participants do community-service work as part of the programs.
In addition, each year a handful or so of caddies from the SCLA/BCLA are candidates for the Evans Scholarship, which has a house at CU, among many others across the country. If renewed for four years, the scholarship is estimated to be worth an average of $120,000.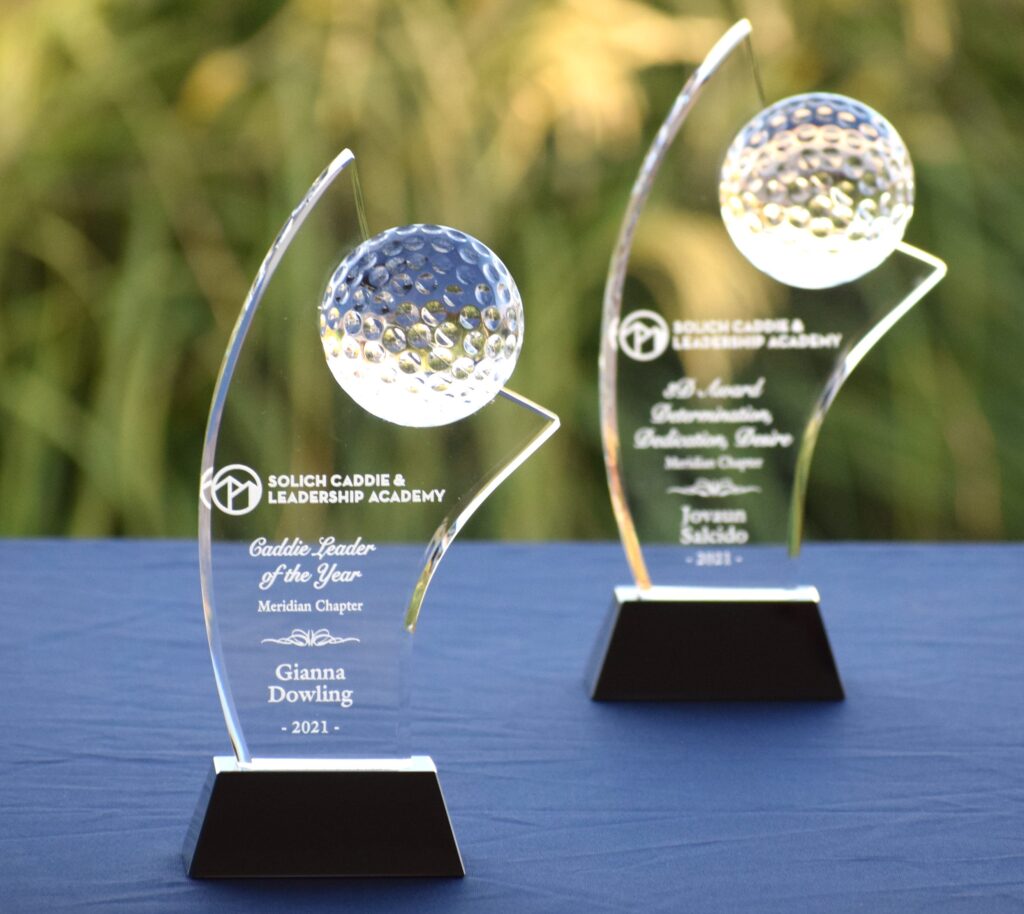 After having just completed its 10th season of caddying at its founding site, CommonGround Golf Course in Aurora, the Solich Caddie & Leadership Academy on Sunday held its annual late summer get-together and awards event. The Soliches, many participating caddies, organizers and supporters of the SCLA were on hand, reflecting on what's been accomplished and looking ahead regarding the much-respected and copied program.
"With caddying, you learn so much about yourself," Duffy Solich said to those assembled. "You learn so much about human nature. You learn to communicate with adults. You learn to work hard. For a lot of you, it's your first job.
"And the financial literacy (classes are) so important. You can't imagine the foundation that will be built to learn those skills."
Added George Solich later: "The thing we've got to keep doing is introducing golfers to how wonderful it is to go (play) with a well-trained caddie, and how much it improves your golf experience — with caddying and fore-caddying both. You can't lose that.
"The game of golf is growing dramatically and so we hope we can grow the caddie programs with it."
In addition to 2021 marking the 10th year of Solich caddies looping at CommonGround, it's the seventh at Meridian Golf Club in Englewood and the fifth for the Grand Junction chapter. And this year, a Montrose chapter was added, with four kids caddying at either Black Canyon Golf Course or Cobble Creek.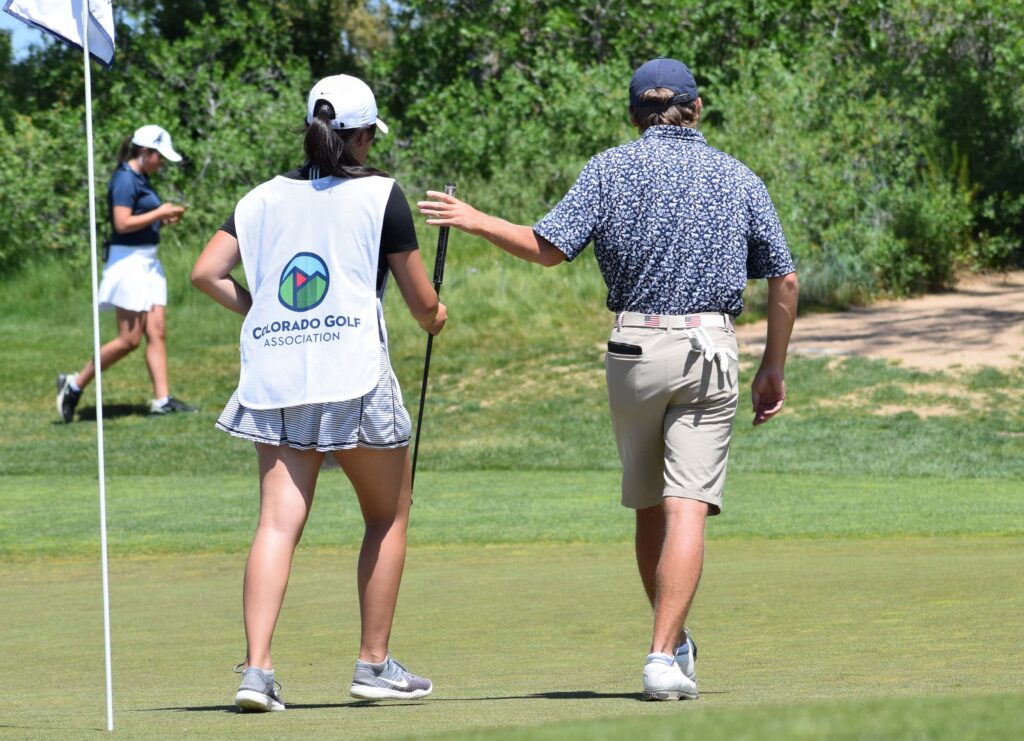 And The Broadmoor Caddie & Leadership Academy, which was originally scheduled to crank into full gear last year, saw its kids start to caddie on July 31 of 2021, albeit only on weekends.
Covid-19 safety concerns have thrown the Academies curveballs, but 2021 was a step back toward normality, though loop totals haven't yet returned to peak totals. Everyone involved hopes all the sites involved can be full-go in 2022.
"I don't want to see what's happened the last two years send us backward," Duffy Solich said. "We need to grow the program and go forward from here and not take any steps backward. That means publicizing what we're doing here. We need the men's clubs to step up and take caddies. We can't go backward.
"I want to see it go on the same trend it was before Covid."
In 2021, 52 caddies participated in all sites combined for the Solich Caddie & Leadership Academy — 27 at CommonGround, 14 at Meridian, seven in Grand Junction and four in Montrose. They accumulated 1,006 caddie loops — 470 at CommonGround, 398 at Meridian, 72 in Grand Junction and 66 in Montrose.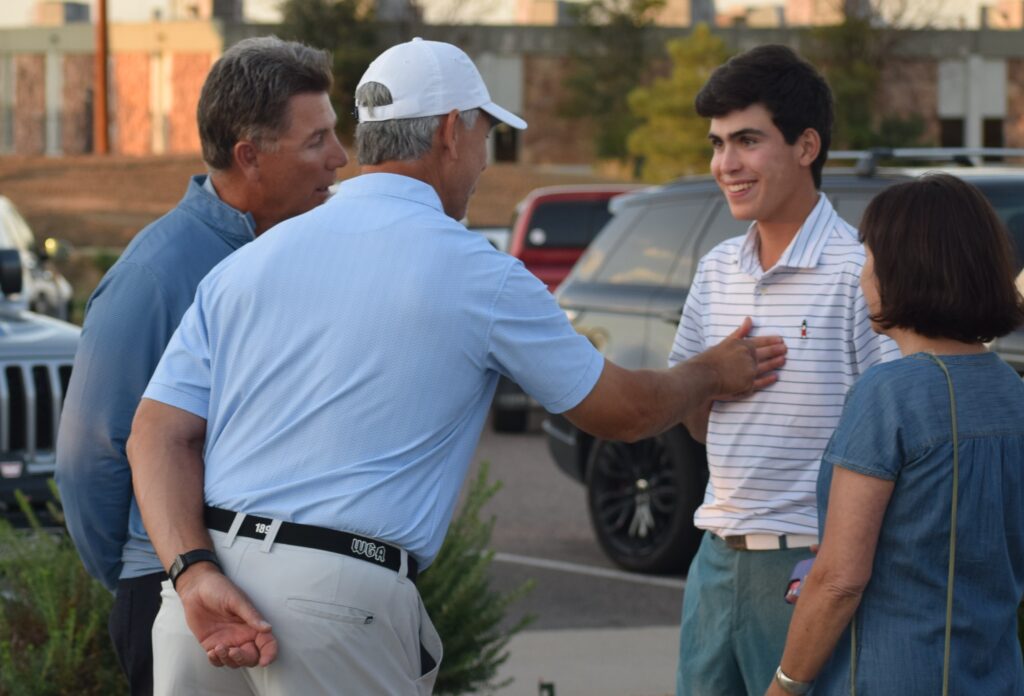 As for The Broadmoor Caddie & Leadership Academy, from July 31 through August, 28 caddies chalked up 177 loops. They'll continue to caddie at the resort on weekends through September.
The CGA staff administers both the SCLA and the BCLA and devotes considerable resources to nurturing and managing the programs. The association serves as the host non-profit for the BCLA. Ed Mate, the CGA's longtime executive director, is — like the Soliches — a former caddie who attended CU on an Evans Scholarship. Other CGA staffers playing major roles for the SCLA are Emily Olson, manager of caddie development, and Erin Gangloff, managing director of programs.
"I wouldn't change Emily, Erin and Ed for anything," George Solich said. "Emily is so focused on this program. Ed puts caddie programs at the top at the Colorado Golf Association's 'things to do' list. I think it's well-run. Having (head professional) Dave Lopez at Meridian to take Paul Lobato's spot was a godsend."
Meanwhile, Mark Kelbel oversees the nascent BCLA.
"Having the right people that care about the kids and care about caddie programs is super important — and I think we have that," George Solich added. "We want as many kids as we can get on the golf course, and we want as many kids as we can get to get the Evans Scholarship."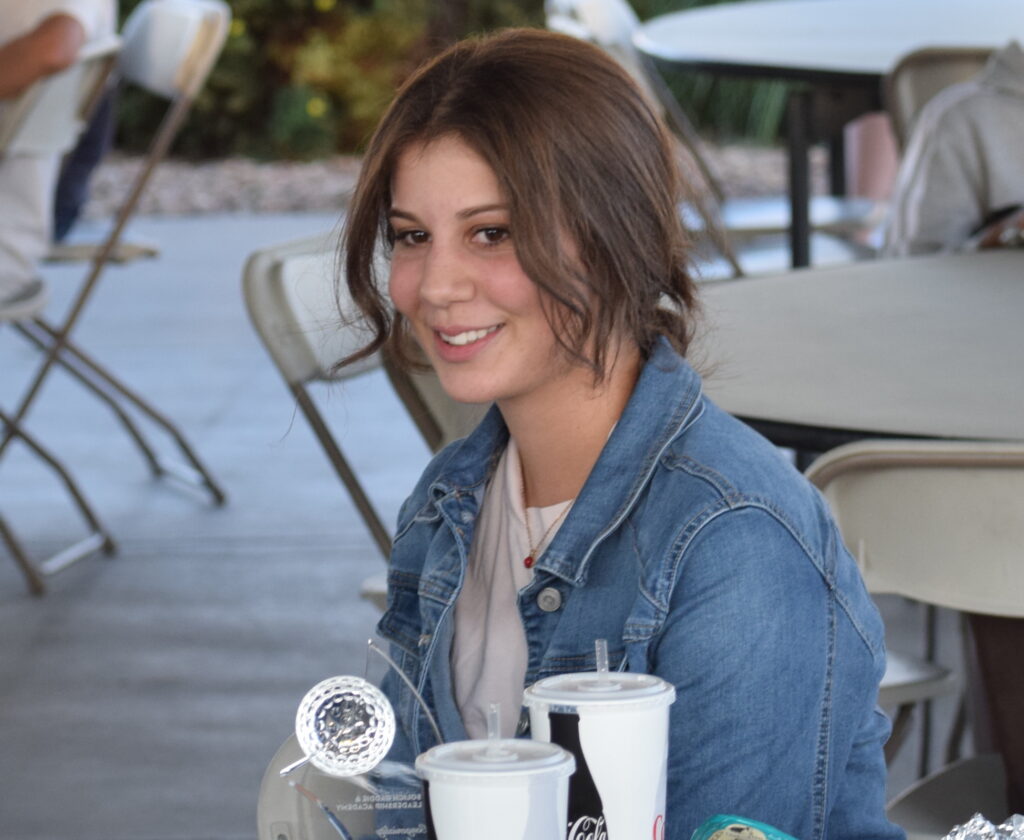 One of those kids is Gianna Dowling, a 15-year-old who has caddied for two years at Meridian, racking up 77 loops. On Sunday, she received two awards: Caddie Leader of the Year at Meridian and the Congeniality Award at Meridian. She's one of several members of her family who have been Solich caddies over the years, and brother Fenton, now the caddie manager at Meridian, is a sophomore Evans Scholar at CU.
Asked what she likes about the Solich program, Gianna said, "I like how many people you get to meet and how many opportunities it gives you with the people that you meet. It's helped me talk to people more. And it's nice to have something to look forward to over the summer."
The normal pattern at CommonGround is for Solich caddies to spend two years there, then graduate to other programs around the area such as those at Cherry Hills Country Club, Denver Country Club, Lakewood Country Club, etc.
Both Solich brothers support caddies on a number of levels. For instance, Duffy has long served as the Colorado state chairman and a director for the Western Golf Association, which administers the Evans Scholarship. And George was a major driving force in bringing the PGA Tour's BMW Championship — which benefits the Evans Scholarship — to Cherry Hills Country Club in 2014. There's hope that the BMW Championship will return to the state within the next several years, with Castle Pines Golf Club being a possible host site. The PGA Tour's International was held at the club from 1986 through 2006.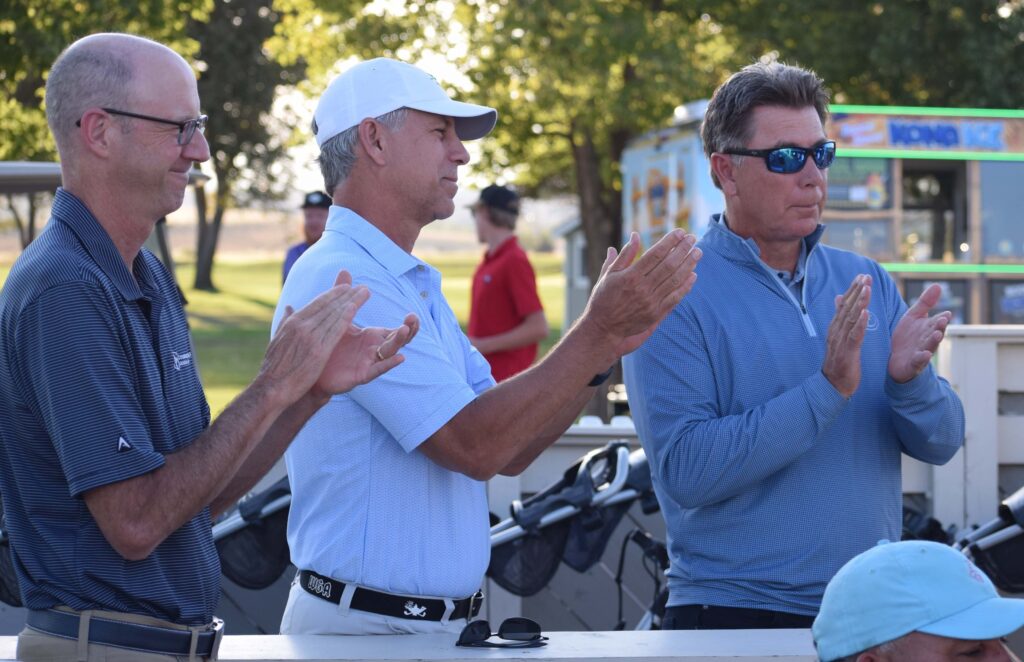 The bottom line in those efforts is finding ways to promote caddying and getting additional qualified candidates in the pipeline for potential Evans Scholarships.
"It's really rewarding that 30 kids have gotten the Evans Scholarship that never would have gotten the Evans Scholarship" had it not been for the Solich Caddie & Leadership Academy, George Solich said. "They maybe would have never gone to college if they didn't come out here and caddie.
"It's awesome to see it continuing and now we're at The Broadmoor, at Meridian, Grand Junction and Montrose (in addition to CommonGround). And we're using the model elsewhere in the United States as well. That's what's really terrific."
Though Covid has keep The Broadmoor Caddie & Leadership Academy from a seamless start, the Soliches see the potential for big things ahead at that site too.
"For me in particular, I'm really excited about what The Broadmoor (Caddie & Leadership Academy) could be since Duffy and I caddied there," George Solich said. "It's a perfect place to create one of these programs because there's so much play — both from hotel guests and members. When we caddied there, there were 150 caddies and it was a big deal. Through the years it just changed. We're excited about (the program there). We hope that the leadership at The Broadmoor continues to be excited about that, which I know they are. I think it really is a great fit.
"Just like Sankaty Head (Golf Club on Nantucket Island, Mass.) has a caddie camp, we think maybe someday if The Broadmoor (CLA) really catches on like this has, we can create a caddie camp there. It's a great place for a caddie camp. You'd have kids from all over Colorado and all over the country maybe coming there."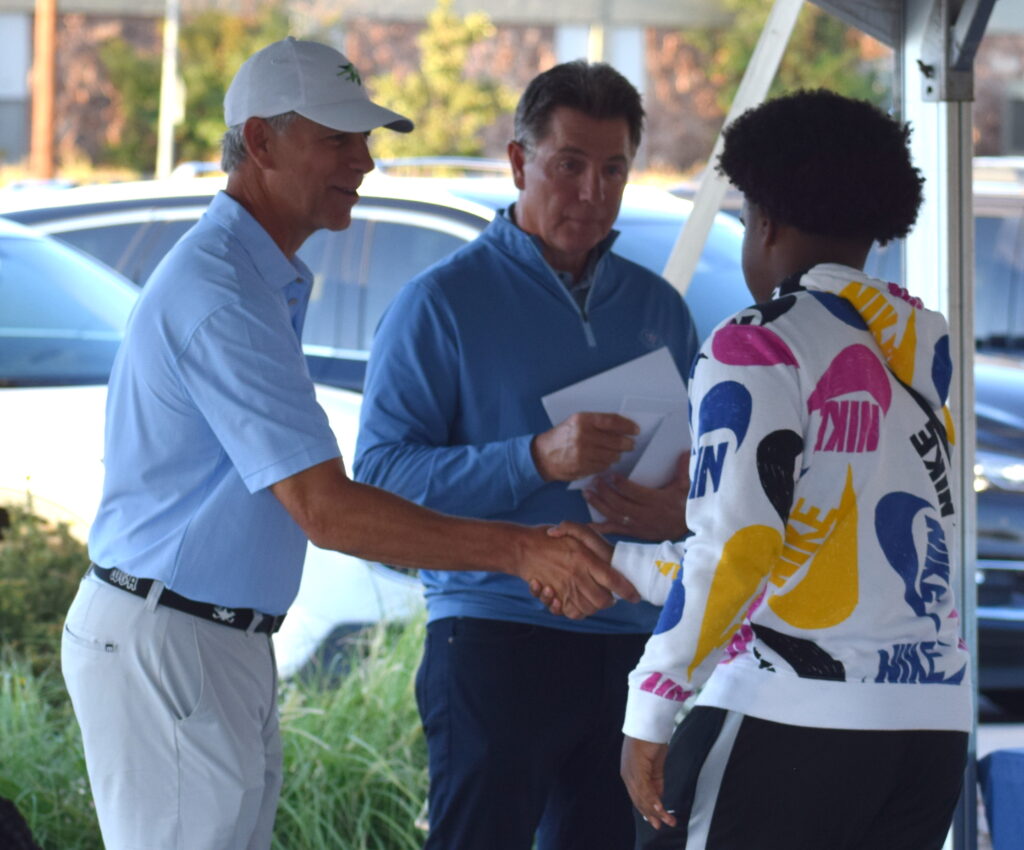 Here were the Solich Caddie & Leadership awards that were given out on Sunday:
CADDIE LEADERS OF THE YEAR
Maya Glazer (CommonGround)
Gianna Dowling (Meridian)
Kalea Potter (Grand Junction)
CONGENIALITY AWARD
Alexandria Gough (CommonGround)
Gianna Dowling (Meridian)
ROOKIE OF THE YEAR
Vivian Johnson (CommonGround)
Eli Conley (Meridian)
Kai Ventling and Cooper Vanmaurer (Grand Junction)
MOST IMPROVED CADDIE
Cristian Garcia (CommonGround)
Hannah Abbey (Meridian)
3D AWARD — DEDICATION/DETERMINATION/DESIRE
Zane Bullock (CommonGround)
Jovaun Salcido (Meridian)