By Gary Baines
At CU, Irwin juggled football, golf and, of course, school, which was no small task considering the high level at which he competed in both sports.
After all, Irwin was a two-time All-Big Eight Conference player as a 180-pound safety in football. He intercepted nine passes over his three seasons of playing varsity football, including five in 1965.
"He'd fly into piles (of players) he had no business flying into," said Bobby Anderson, who starred at Boulder High School and CU immediately after Irwin had graduated.
How good was Irwin on the football field? Good enough that in 1989 when CU — through a public voting process — selected its All-Century Football Team, Irwin was one of the 25 players picked as the best for the period from 1890-1989. He's also been inducted into the CU Athletic Hall of Fame — both for his abilities in football and golf.
"There can be an argument that football was a hiccup in (my golf) development, but I think it was a necessary and good hiccup," Irwin said. "I really think that I learned a lot from football and from being around those other fellas that were my teammates and seeing the vast difference between football and golf, and what it took to play golf. I applied a lot of what I learned in football to golf. Some say I took that attitude with me to golf, but it was just a very competitive environment.
"After my sophomore year of football, I talked to Eddie (Crowder, CU's football coach) about quitting. I just got kicked all over the football field and missed the last two games with a shoulder injury. I thought maybe golf is the way to go. A few phone calls around the country and they didn't know who I was (golf-wise at the time). So I had to draw on something and it wasn't my golf experience.
"The positions I played in football — quarterback and defensive back — you have to have a little bit of an independent thinking. It molded that part of me and it helped me initially in my golf development because I was under-talented, I was under-skilled when I started. Not to say Colorado golf didn't develop some of that. But it's a far cry, I don't care where you're from, when you hit the big leagues or the tour. There are a lot of guys who can really play."
Irwin was on a football scholarship at CU, but was allowed to play golf by Crowder.
On the golf course during college, Irwin developed into one of the top players in the country. Three times, he earned All-American honors (first team in 1967, second team in '66 and honorable mention in '65). He won the Big Eight Conference title in 1966 and tied for the top spot in '67.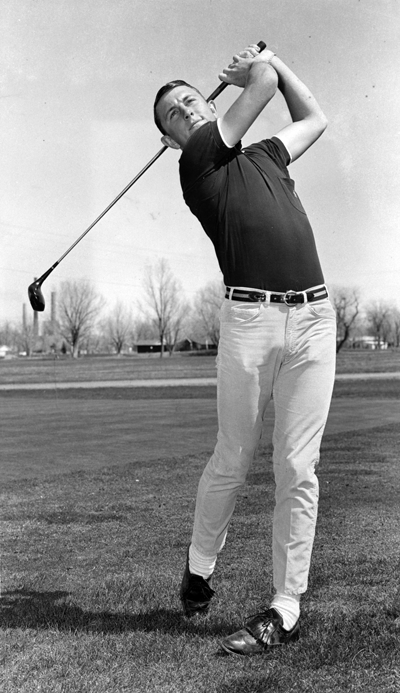 "Hale was so much more dedicated than all the other players," his CU golf coach, Les Fowler, once said. "Anytime he got the chance, he'd practice. He had his own practice balls — all Titleists — and he'd be out there in all kinds of weather."
Fittingly, Irwin lived in a golf-related house during the 1965-66 school year as the current Evans Scholarship house for caddies at CU was then the Phi Gamma Delta fraternity, and Irwin was a member.
In 1966, CU went to the NCAA Championships as a team, with Irwin finishing tied for 10th individually.
The next year, as a senior, he would finish second to no one.
The 1967 tournament was held at Shawnee-on-Delaware, Pa., and Irwin went by himself as the team didn't qualify this time around.
"I remember flying into Newark, N.J., and renting a car. As a senior in college that's pretty daunting; I'd never done anything like that in my life," he said. "Driving out of this big metro New York/New Jersey area and finding this place.
"I must have been semi in contention for the first couple of rounds (after shooting 70-72). The third round was probably the most bizarre round of golf I've ever had. I had four bogeys, four pars, nine birdies and a hole-in-one in a round (of 65). It was feast or famine — mostly feast — in the third round. I had the lead."
And despite a 79 on the final day, he captured the NCAA national title.
"There were a lot of really high scores," he said. "It was very difficult — but I still won. I learned a lot from that. A, I learned that I could compete with my peer group. And it was really hot that day and I remember being nervous — and very thirsty and parched. I thought I was drinking so much cold water that my throat was getting tight. I didn't know if it was getting tight because I was drinking so much cold water or I was nervous and I couldn't breathe.
"I learned you had to compete under pressure. I learned a lot from the day before how you can play very, very well and come back the next day and it's a whole different ballgame. Some of the players in that tournament went on to play professionally. I thought I could turn pro and compete with these guys. Now can I compete with Jack Nicklaus, Arnold Palmer and those people? We'll see.
"But the NCAA was a real turning point for me in my decision. In the several years prior to that, thinking what I was going to do after school, I had told myself that I had to win a major amateur tournament. I didn't really play in that many, so it made the odds stacked against me. If I was going to turn pro, I had to win a major tournament outside the state of Colorado before I turned pro. Otherwise, I wasn't going to."
The NCAA individual championship — the only one ever won by a male who grew up in Colorado — obviously proved to be that victory. But shortly thereafter, also in 1967, Irwin earned another major title, this one relatively close to home. That came at The Broadmoor Invitation, one of the top amateur tournaments in the country at that time.
In addition, Irwin and Douglass teamed up to win the U.S. Pro-Amateur in Cincinnati, a two-man best-ball tournament, in 1967.
With some major amateur wins under his belt, Irwin would go pro — but not immediately.