Regarding inaugural Irwin Dinner at The Broadmoor, Hale Irwin says, 'I couldn't be more proud of this whole affair'; Douglass, Kupcho first Irwin Medal recipients; $25,000 presented to Junior Golf Alliance of Colorado
By Gary Baines – 11/24/2019
For a tour golfer who hasn't competed in an official tournament since April, Hale Irwin has had one heck of a 2019.
The World Golf Hall of Famer, who graduated from Boulder High School and the University of Colorado, received the prestigious Payne Stewart Award, which goes to a professional golfer who best exemplifies Stewart's values of character, charity and sportsmanship. He attended Wimbledon with Jack and Barbara Nicklaus. And on Saturday at The Broadmoor in Colorado Springs, he presented the inaugural Hale Irwin Medals — which recognize outstanding Colorado golfers who "exhibit competitiveness, resiliency and a proven record of winning" — to a friend of more than a half-century (Dale Douglass) and to arguably the top female golfer to have grown up in the state (Jennifer Kupcho of Westminster).
"This has been an unbelievable year," Irwin told ColoradoGolf.org before Saturday's festivities at The Broadmoor. "It's just been a fabulous year."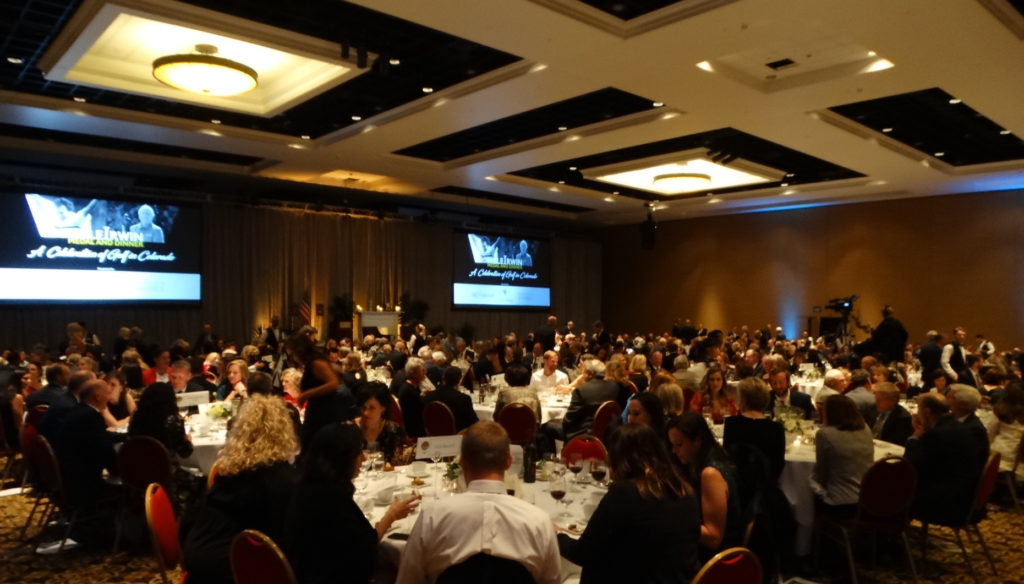 The year isn't done yet, but Saturday was certainly one of the highlights — both for Irwin and for Colorado golf. Nearly 550 people attended the Irwin Dinner and medal presentations, which also included a fireside chat centering on Irwin's life and career conducted by longtime Colorado broadcaster Tom Green, the event's emcee; recognition of Colorado Players of the Year, club champions, and winners and low amateurs at the CoBank Colorado Open Championships; and a sizable donation to the Junior Golf Alliance of Colorado by the Colorado Golf Foundation, which will receive the net proceeds from the Irwin Dinner. (Irwin is pictured above, at right, presenting a Medal to Douglass on Saturday night.)
"I think (executive director) Ed Mate and the Colorado Golf Association have done a wonderful job in a relatively short period of time in pulling this together," Irwin said on Saturday evening. "The Broadmoor stepped up in such a big way. All the tables and the tickets that are sold … It has the initial appearance of being extremely successful. Other than the weather — and the people didn't get in their golf today (at The Broadmoor as part of the weekend's festivities) — I think it's been fantastic. 
"I'm very proud of what these people have been able to do across the board with Dale and Jennifer being the first recipients. I couldn't be more proud of this whole affair. My family being able to be here. It's just one of those really, really nice things that I've been privileged to have happen in my life. I feel very honored."
Of course, Irwin is a natural person around which to build such a significant Colorado-based golf event as he won pretty much everything of note there was to win in Colorado when he was growing up — the CGA Junior Match Play, a state high school title, three CGA Amateurs, a CGA Match Play, The Broadmoor Invitation — besides being a football standout at Boulder High School and CU at the same time. He also captured an NCAA individual title to cap off his CU career before going on to win 20 times on the PGA Tour — including three U.S. Opens — and a record 45 times on PGA Tour Champions.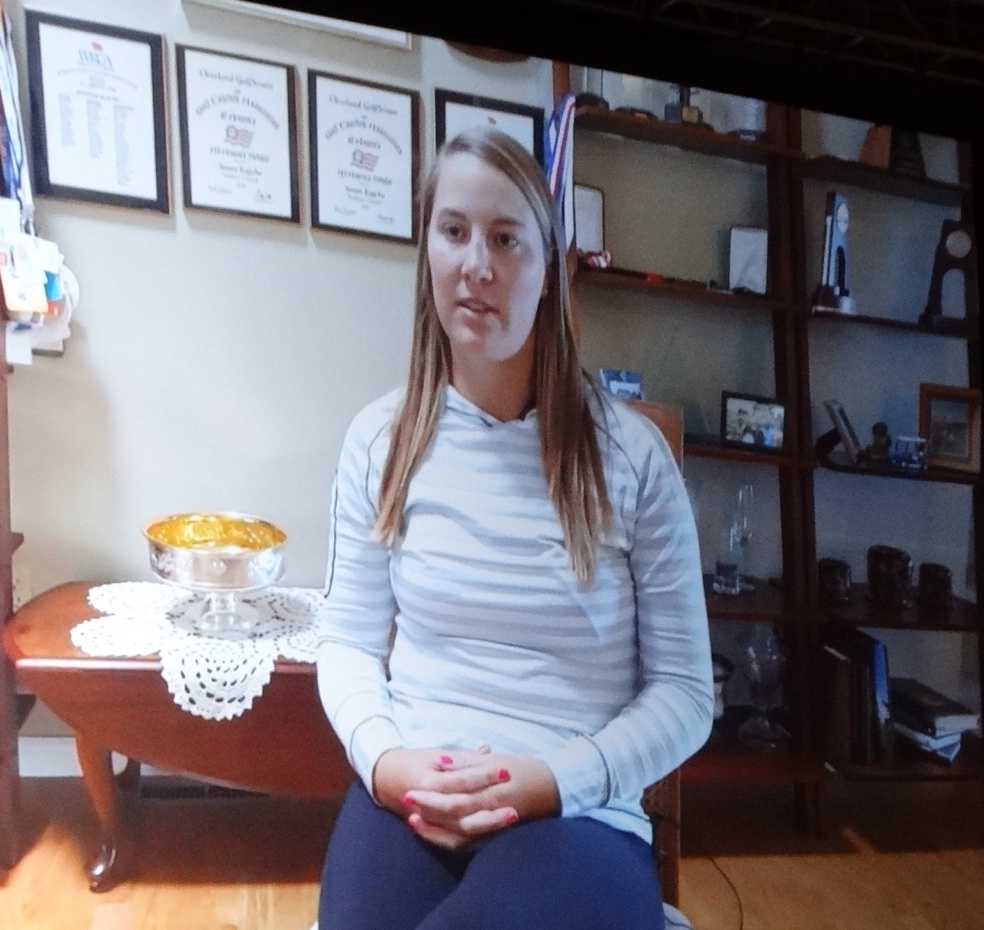 Kupcho couldn't attend the Irwin Dinner as she's competing in the lucrative season-ending CME Group (LPGA) Tour Championship in Naples, Fla. this weekend. But she certainly paid tribute to Irwin and Douglass for the groundwork they laid in becoming Colorado champions who succeeded at the highest levels of golf.
Kupcho, the 2019 Augusta National Women's Amateur champion and former top-ranked women's amateur in the world, on Saturday thanked the Colorado Golf Foundation, the Colorado golf community, The Ranch Country Club, her swing coach Ed Oldham and her family for all the support they've provided. And then there were Irwin and Douglass.
"Thank you to Hale Irwin for inspiring me and setting the bar so high and giving all junior golfers such a great Colorado role model," Kupcho said in a video she taped recently. "… This award means the world to me. It represents two things that are very important to me: golf and Colorado. Hale Irwin and Dale Douglass are synonymous with those two things, and to be in that company is truly amazing.
"I've always been proud of my Colorado roots and have had a bit of a chip on my shoulder to show that great golfers — not just skiers — can come for the state of Colorado. I look forward to being a champion for the state and to aspire toward the great example that Mr. Irwin and Mr. Douglass set."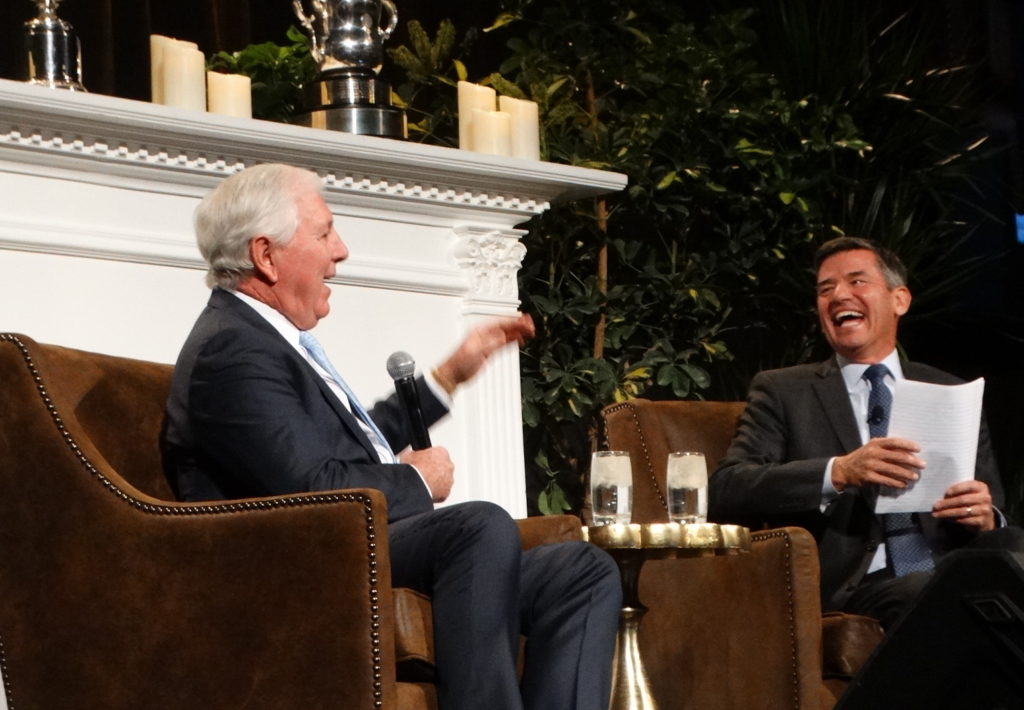 Douglass, of course, helped lay the groundwork for Irwin as he preceded him as a CU golfer and on the PGA Tour and PGA Tour Champions. Douglass won three times on the regular circuit and 11 times on the senior tour, where he captured the 1986 U.S. Senior Open.
Kupcho certainly has started her pro career like she could likewise achieve great things. Less than six months into her rookie campaign, she's recorded three top-five finishes on the LPGA Tour, including a runner-up in a women's major championship. And another very good finish isn't out of the question this weekend at the Tour Championship as Kupcho is 3 under par through 54 holes and shares 31st place.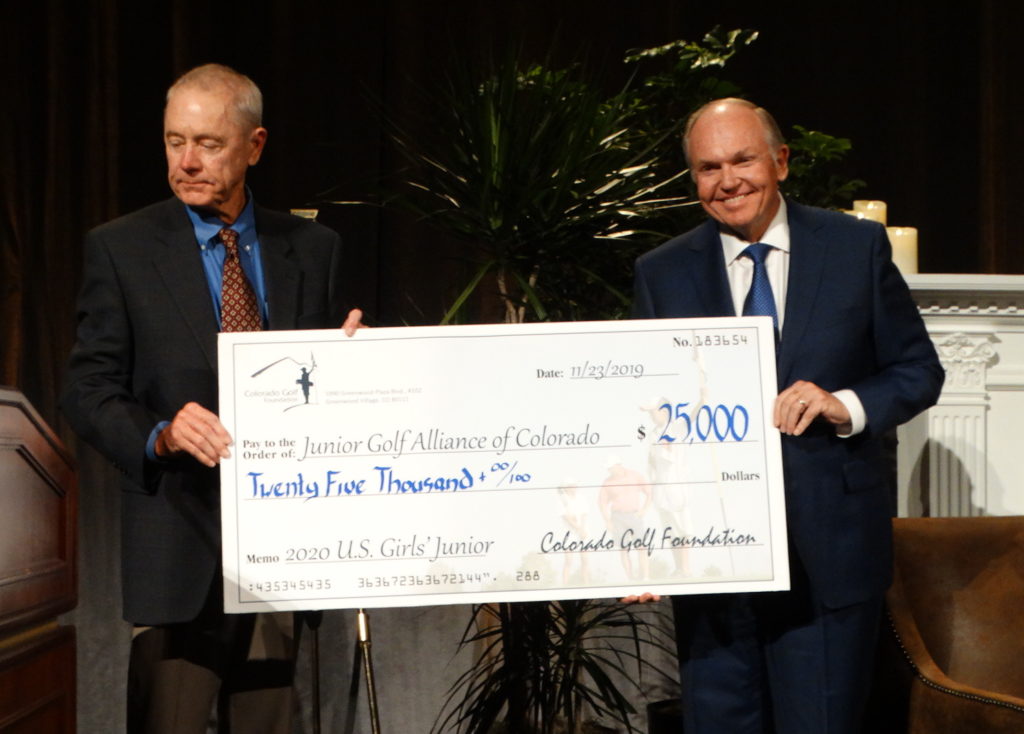 — $25,000 Check Presented to Junior Golf Alliance of Colorado: One of the main focuses of the Irwin Dinner, of course, was to honor Irwin and the first two recipients of Irwin Medals: Douglass and Kupcho. But another aspect of the event was raising money for a good cause. And that cause was the Junior Golf Alliance of Colorado, which is the host organization for next summer's U.S. Girls' Junior Championship that will be held at Eisenhower Golf Club at the Air Force Academy.
To cap the festivities at the Irwin Dinner, the Colorado Golf Foundation, which will receive the net proceeds from the event, and board chairman Clayton Cole presented a $25,000 check to JGAC representative Mike Schultz. A significant portion of that amount will be designated for the 2020 U.S. Girls' Junior, given the JGAC's unique organizational host role.
— Notable: Irwin wasn't the only World Golf Hall of Famer in attendance at Saturday's dinner. Also falling into that category is Judy Bell, the first female president of the USGA, who has long called The Broadmoor one of her homes. … Likewise on hand on Saturday was Jim Knous, a Colorado resident who has his PGA Tour card but is recovering from a wrist injury. … With Kupcho not being able to accept her Irwin Medal in person on Saturday, on hand in her behalf was her older brother Steven, the 2012 CGA Les Fowler Player of the Year.