12-birdie performance in U.S. Am final gives Nick Dunlap a 2nd USGA title at age 19; only he and Tiger have won both U.S. Am and Junior Am; also, a look back at a unique national championship at Cherry Hills
By Gary Baines – 8/20/2023
Snubs or slights — real, perceived or simply mistakes — have been used as motivation in sports for pretty much as long as sports have been around.
So it should come as no surprise that one of the above apparently served as "fire" for University of Alabama golfer Nick Dunlap in the quest that led him to win the U.S. Amateur — and make some history — on Sunday at Cherry Hills Country Club.
Dunlap, the golfer from Tuscaloosa who's ranked No. 9 in the world among amateurs, made an amazing 12 birdies in 33 holes on Sunday to defeat Ohio State's Neal Shipley 4 and 3 in the title match.
Dunlap's caddie, Jeff Curl, said he saw an item on social media in which Dunlap may have been mistakenly omitted.
"We got snubbed," Curl said Sunday evening. "We found out it might have been a clerical error, but he took it personally. Something came out and there was eight players to watch (heading into the U.S. Amateur) and he wasn't one of them. Nobody in the world would possibly believe that that was accurate. He's been the best player all summer. So I went to the front desk and printed out two of them out, I put one across from his bed so he'd have to stare at it, and one going into the bathroom."
Even if the item was a "clerical error", Dunlap and Curl drew motivation from it in their week-long run to the most prestigious title in amateur golf.
"I tried to trick myself into thinking that people don't think I can win, and I used that as motivation, and it doesn't take much to get me fired up at all," Dunlap said.
"I will gravitate or grab on to things that people may not even mean, and I will use that to my advantage as if they were trying to insult me. As bad as it is to say, it fires me up and it gets me going."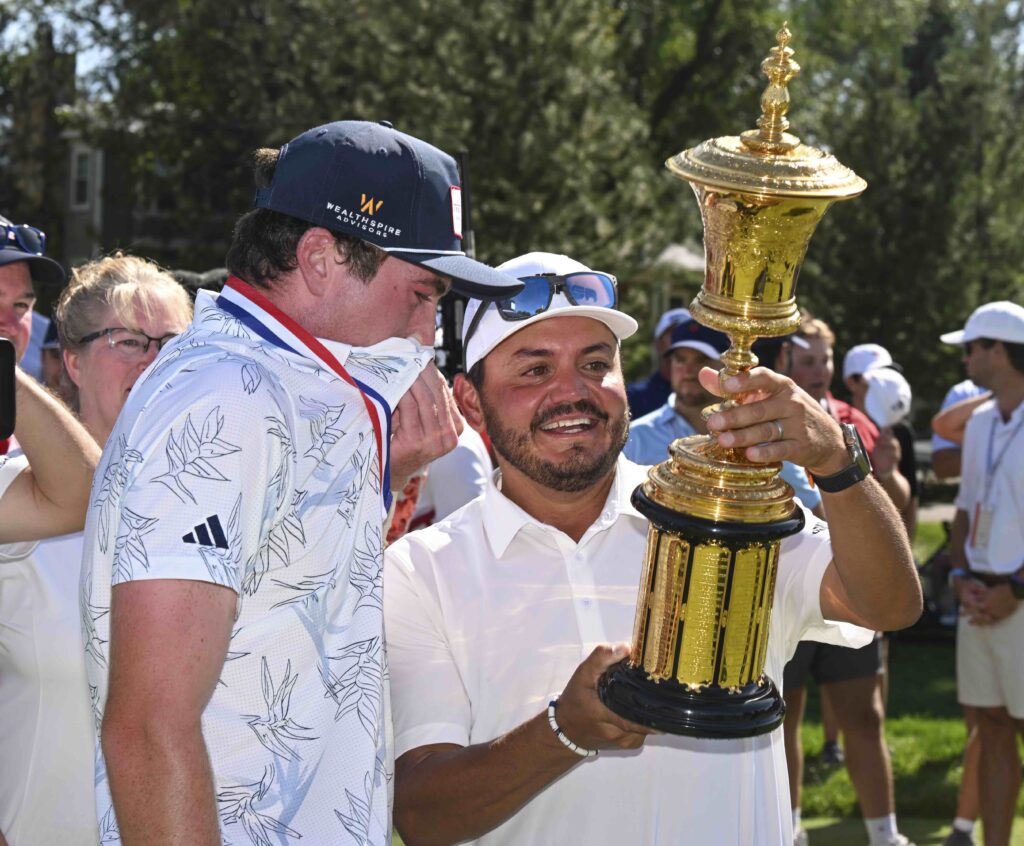 Whatever the reason, the 19-year-old, who won the U.S. Junior Amateur in 2021, on Sunday joined Tiger Woods as the only golfers to have won both the Junior Am and the U.S. Amateur. Actually, Woods won each of those championships three times.
"Just to be in the same conversation as Tiger is a dream come true," Dunlap said. "It's something I've worked my entire life for.
This is "the biggest day of my life."
Curl, son of one-time PGA Tour winner Rod Curl, caddies for Dunlap on a fairly regular basis — including also at the 2021 U.S. Junior Am — and has long seen great promise in Alabama product.
"It's a credit to who he is as a person, how he works," Curl said. "And it just shows the world what I've seen since he was 14 years old — that he's going to be special."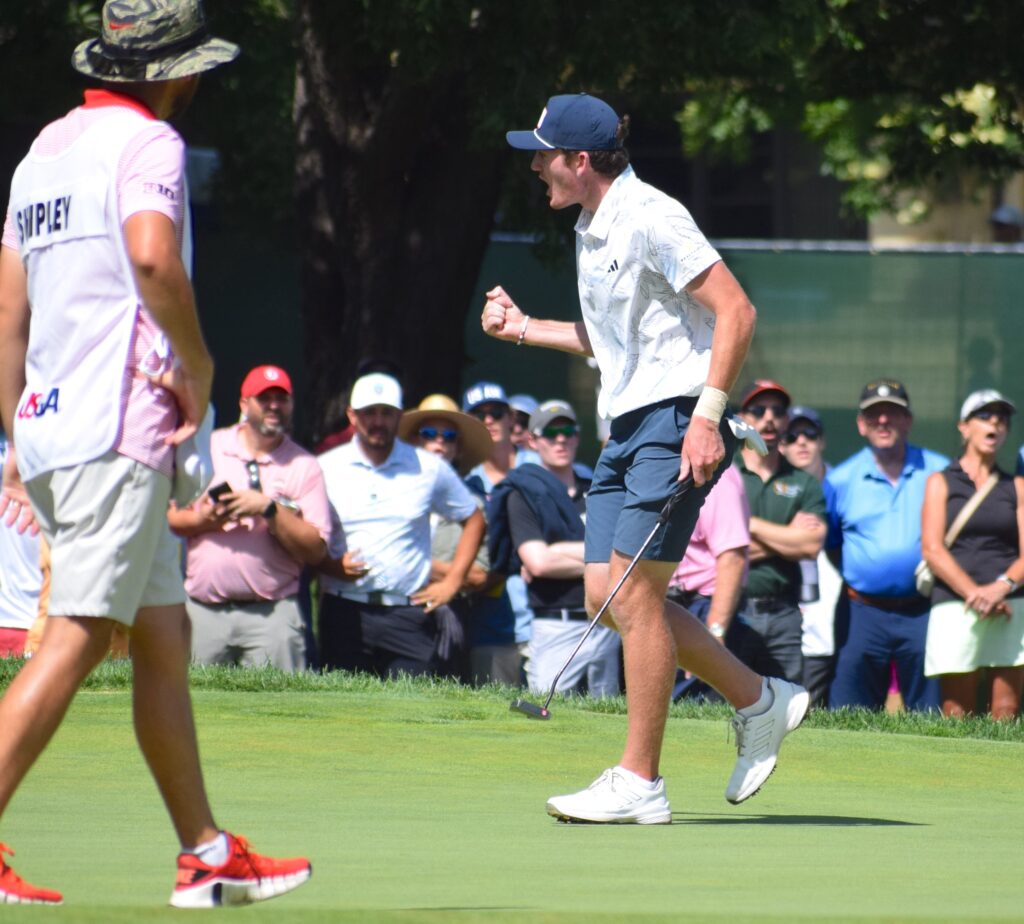 Dunlap celebrates after sinking one of the three 30-foot birdie putts he made on Sunday.


But on Monday, Dunlap certainly didn't looked destined to be a U.S. Amateur champion this week.
Competing at Colorado Golf Club in the first of two rounds of stroke play, Dunlap played his first seven holes of the tournament in 5 over par. After a birdie on 1, he hit a ball into the native on No. 3. After identifying that it was the same brand of ball he plays, with the proper markings, he hit it about two feet. Then he saw the ball had a logo on it and wasn't actually his, and he took a triple bogey on that hole. Two holes later, he four-putted for a double bogey. On 7, he carded a bogey.
Things were going south in a hurry.
"He lost his mind going to the eighth tee and I really got in his face and challenged him: 'Bud, you're a Walker Cup and one of the best in the world,'" Curl recalls. "He kind of blew me off and hit a perfect shot. I walked up the hill and wrote something in his yardage book. This is what I wrote: 'This can be an amazing story if you let go and let it happen.' We birdied 8 and 9, (and) the rest is history.
"When you get your bell rocked like that out there, all you see is red. You can't think and everything goes real fast. I was trying everything I could to slow him down."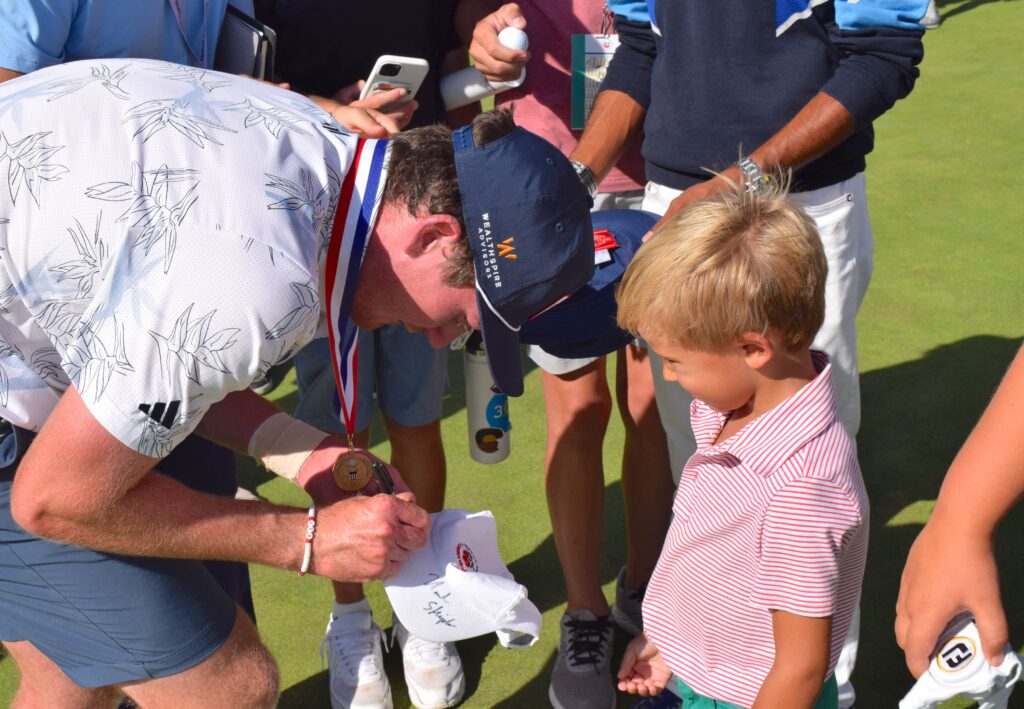 Dunlap signs autographs after his big victory.


Dunlap, winner of both the Northeast Amateur and the North & South Am in 2023, rebounded to shoot 72 that day and 70 on Tuesday at Cherry Hills to advance to the 64-man match-play field with one stroke to spare.
Then Dunlap mowed through six match-play opponents, beating, among others, the No. 1-ranked amateur in the world, Gordon Sargent, and Coloradan Connor Jones.
On Sunday, though he never trailed, Dunlap had a big-league tussle on his hands with Pittsburgh's Shipley, who proved to be a fan favorite at Cherry Hills.
Both players shot 5-under-par 66s on the first 18 holes, with Shipley sinking a 7-foot birdie on 18 to tie the match going into the 65-minute lunch/rest break. Shipley didn't make a bogey until his 22nd hole — before which he was 6 under par. But on No. 4 in the afternoon, he went bunker to bunker, with a plugged lie greenside, leading to a conceded birdie for Dunlap. Combined with the 30-foot birdie Dunlap made on the 21st hole, and the Alabaman was 2 up and never let that lead shrink.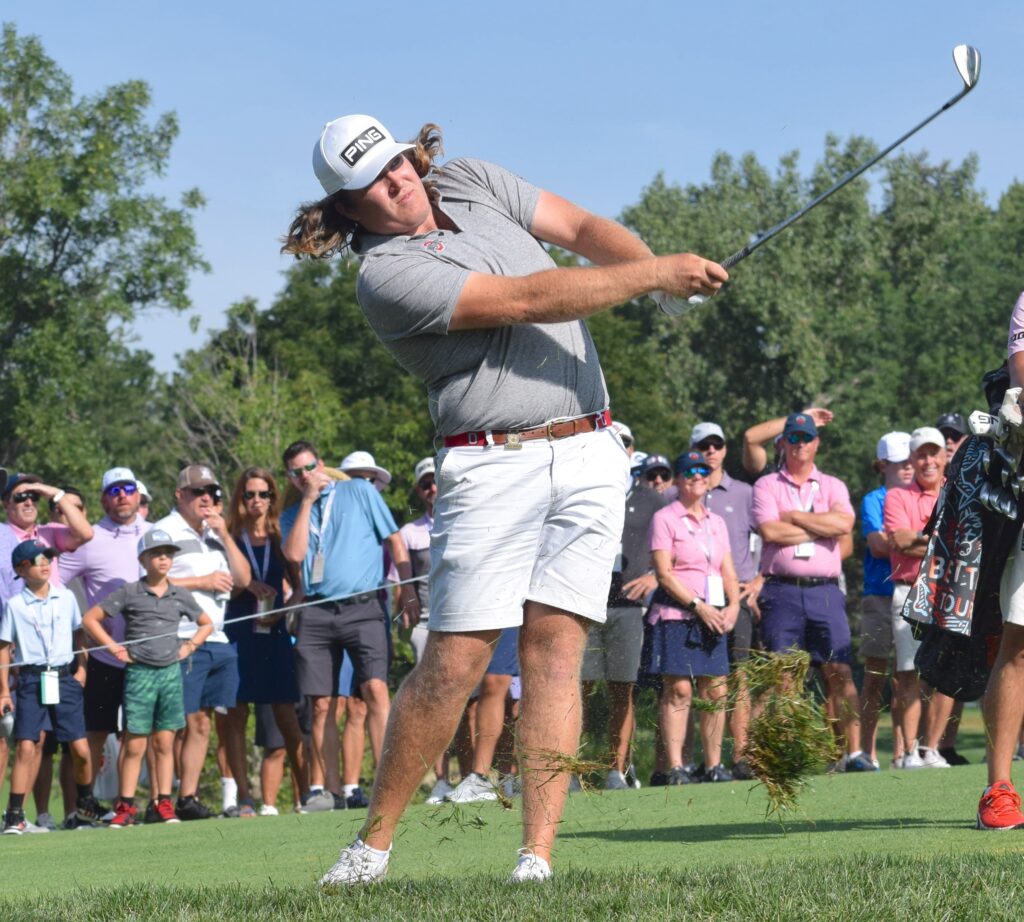 Fan favorite Neal Shipley shot a 66 in the morning 18, but cooled off a bit in the afternoon.


Dunlap would finish the 33 holes with a dozen birdies and three bogeys, though one of those may have turned into a double bogey had not the 31st hole been conceded.
Dunlap won the 32nd hole with a bogey when Shipley almost hit his approach into the creek left of the green and took a double bogey.
Then, with Shipley 4 down with four left and needing to win every hole to keep going, he hit the left edge of the cup with his birdie try and took a par, and Dunlap's par clinched the title. And with that, the teenager hugged his caddie, his parents, his Alabama coach and teammates — and many others.
Speaking of Curl, with whom Dunlap has now won two USGA championships, the latter said, "Without him, there's no chance I'd be standing here."
On the 15th tee before the match closed out, Dunlap and Curl savored the moment.
"He just said, 'Soak it all in, man,'" Dunlap said. "This is why I practice. This is why I get up early — just for moments like this. The first tee when they announce your name to the last green whether you win or lose, it's special just to be a part of the United States Amateur and what it stands for and Cherry Hills. It's awesome."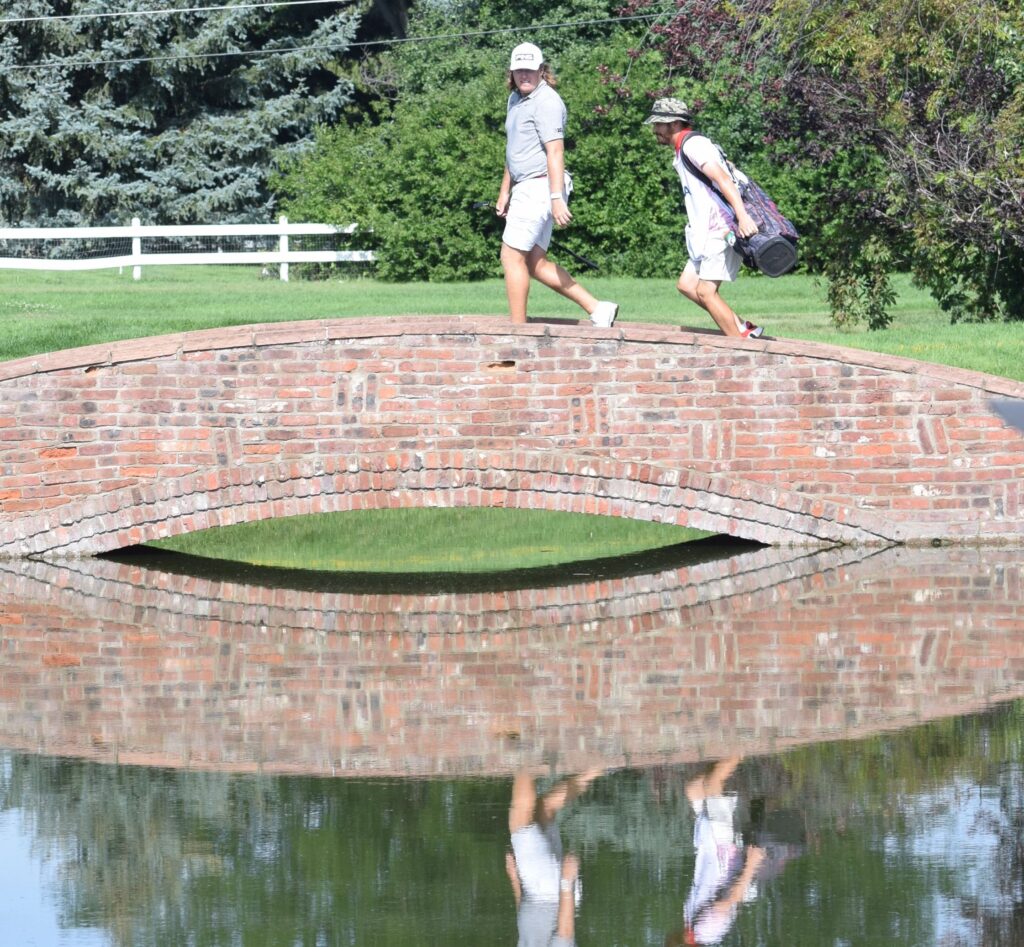 Shipley takes a look as he crosses over the bridge on the 12th hole at Cherry Hills.


With Sunday's victory, Dunlap ran his record to 30-2 in match-play competition over the 2 1/2 years.
"I think I have a mindset for match play," he said. "I like being ahead, but I never give up if I'm behind."
As for Shipley, he said, "I just got out-dueled today. … I played great all day. There's not much you can do when somebody does that to you. I'm going to move on with a lot of confidence from this week."
After his bogey-free 66 in the morning 18, Shipley played even-par golf in the afternoon, not able to keep pace with Dunlap in the afternoon.
"I definitely felt like I could win," Shipley said. "You shoot 5 under (in the morning) and you would think you'd be at least 1 or 2 up. Nick played great, and he just made a lot of putts on me this afternoon. You know, that's what it takes to win these things. He has what it takes obviously."
Indeed, it didn't hurt that Dunlap made three 30-foot putts, along with an 18-footer, on Sunday.
"I putted fantastic," he said. "I was starting it where I was looking. The hole looked about (as big as a manhole cover) — and golf is a lot of fun when that happens.
"I played really, really well, I did exactly what I was trying to do except for some poor drives late. … I'm stoked with how I played. I executed exactly what I was trying to do."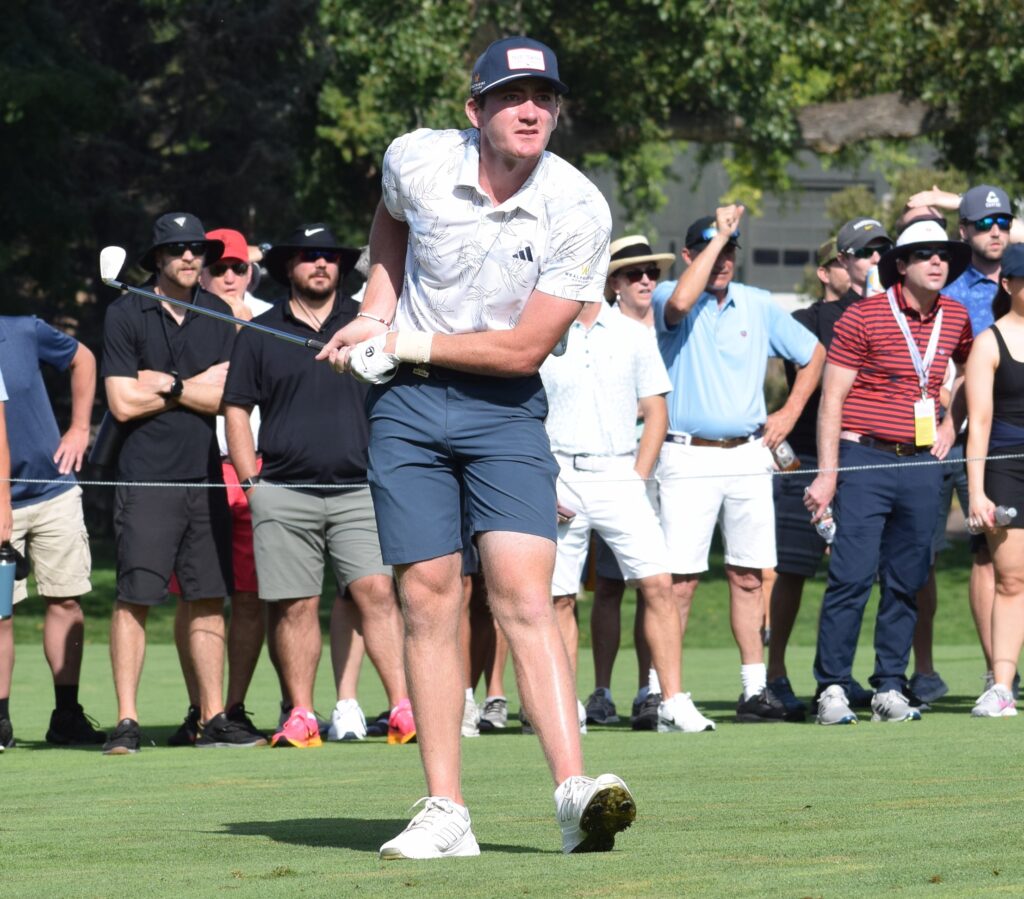 Dunlap looks on intently as a shot goes a bit astray on Sunday.


With Sunday's victory, Dunlap adds a spot in the 2024 British Open to the 2024 U.S. Open berth and the likely 2024 Masters invitation that both he and Shipley earned as finalists.
Though he finished runner-up, it was a breakout week for Shipley, the man with the long hair and personality that caught the fancy of the crowds.
"It's pretty crazy. It's the stuff of dreams to be doing what I'm doing this week," he said. "I'm just glad I took time to soak it in every day and really enjoy it. This is likely my last Amateur, and it was just a really cool week and something I didn't initially think I'd have the opportunity to do."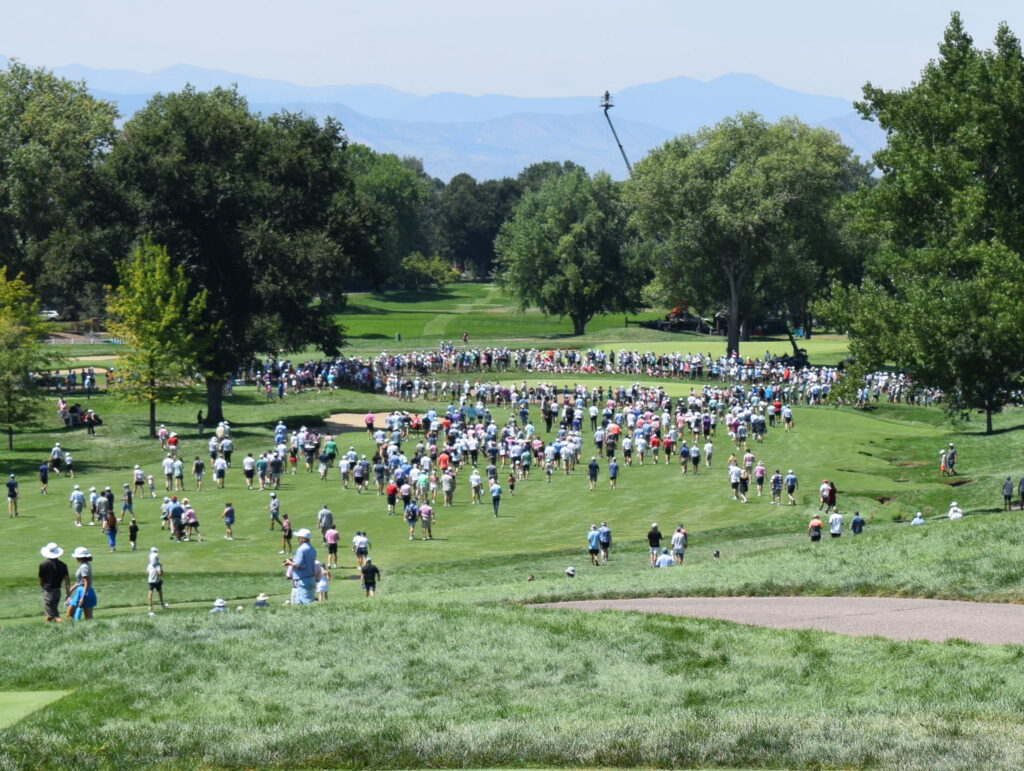 Just like on Saturday, there were a lot of fans out to watch Sunday's title match.



Fan Count Reportedly Reaches 20,000 for the Week: Jim Hillary, the general chairman of the 123rd U.S. Amateur, said that in "very loose numbers" over 6,000 people attended the championship on Sunday, with around 20,000 coming for the week. By all accounts, the crowds were large by U.S. Am standards.
"I don't think it could have been any better," Hillary said in general when asked how the championship went. "We had wonderful weather, great crowds. We had a great final pairing. Today we had the artist and the engineer, and today the artist won."
Champion Dunlap was certainly impressed by the attendance.
"The crowd that Cherry Hills brought, I got to kind of turn around and looked a couple times, and I imagine there was a couple thousand people out there watching, and it was just awesome to be in the middle of it."
In addition, more than 2,000 kids participated in the Junior Experience activities. About 2,500 hats, 1,500 sleeves of balls and five sets of junior golf clubs were given away in that regard.

In Retrospect: Looking back on a memorable week, here are some of the highlights of the 123rd U.S. Amateur:
— The par-4 18th hole has always been very formidable, between its length, the lake to the left of the fairway, and a slope-y green. But it was no problem for Gordon Sargent, the No. 1-ranked amateur in the world, in round 1 of stroke play as he holed out for eagle from 175 yards with a 9-iron.
Two days later, Sargent made an early exit from the championship as two players ranked among the top 10 amateurs in the world — and both from Alabama — squared off, with Dunlap defeating Sargent, 2 and 1.
— Two Colorado residents (Connor Jones and Colin Prater) made match play at a U.S. Amateur for the first time since 2016 — and were joined in the round of 64 by University of Colorado golfer Dylan McDermott.
In the round of 64, Jones prevailed on his 22nd birthday before falling in the round of 32 to Dunlap. The last Coloradan to have lost in the U.S. Am round of 32 was Wyndham Clark (in 2016), this year's U.S. Open champion.
Meanwhile, 2019 CGA Player of the Year Davis Bryant, a former teammate of Jones' at CSU, played in his final event as an amateur, falling short of advancing to match play.
Four Coloradans shared the honor of hitting the first shots of the U.S. Amateur on Monday — Jones, Colin Prater, Pat Grady and Jack Castiglia. Jones tied for eighth place in stroke play out of the 312-player field.
— Blades Brown, a 16-year-old from Nashville, matched the course record at Colorado Golf Club (8-under-par 64) and became the youngest medalist in the 123-year history of the U.S. Am. At CGC, he carded two eagles, eight birdies and four bogeys on Tuesday.
In another oddity, there was no playoff for the final match-play positions as an even 64 players made the cut by finishing at even par or better. The last time that happened in the U.S. Am was in 2000. And to add to the odds-defying feat, the other USGA event held in Colorado this year, the U.S. Girls' Junior, also didn't need a playoff.
— Making the rounds early this week at Cherry Hills were some fascinating historic artifacts from the USGA Golf Museum & Library. Among them:
Arnold Palmer's visor from the 1960 U.S. Open, which he tossed high in the air on the 18th green after winning the championship for the first and only time; a program from the 1960 U.S. Open; a 9-iron Jack Nicklaus used in winning his first USGA championship, the U.S. Amateur at The Broadmoor in Colorado Springs in 1959; a ball and a scorecard Bobby Jones used during the 1930 U.S. Amateur — which he won as part of his Grand Slam that year — and Jones' champion's medal for that U.S. Am triumph.
— Two-time U.S. Mid-Amateur champion Stewart Hagestad came within a stroke of qualifying for match play after carding a sextuple-bogey 10 on the fifth hole at Colorado Golf Club during Monday's opening round of stroke play. Hagestad went 77-67 in bowing out.
— The caddie for Bryce Lewis of Hendersonville, Tenn., was no stranger to U.S. Amateurs at Cherry Hills Country Club. After all, Steven Fox, you might remember, won the 2012 U.S. Am at "Cherry," prevailing against a formidable field as the No. 63 seed. This week, Fox was looping for Lewis, a fellow resident of Hendersonville.
— On Thursday, former U.S. Amateur champion Bryson DeChambeau, an eight-time PGA Tour winner who recently shot a final-round 58 to win a LIV Golf event, made a surprise appearance at Cherry Hills. Not only did he take in some of the action, but he grabbed a persimmon driver and tried to duplicate Arnold Palmer's feat of driving the green on the 346-yard first hole in the final round of the 1960 U.S. Open at Cherry Hills. On one of his tries, DeChambeau's ball finished pin high, just into the rough.
"It's fun to know where you've been, where you've come from and the emotions I had back then, how nervous I was," DeChambeau told Golfweek, regarding returning to a U.S. Amateur site. "I have empathy for these guys. I've lost four times and I won the U.S. Amateur once, so I understand the defeat, the power of defeat and the grace of victory. It's a cool thing. When you lose, for me I felt empowered. 'I had it, I can do it, I can keep going.' And then when I won, it was so humbling just to feel that and be a part of the Masters and really what gave me this passion."
— John Marshall Butler and Paul Chang played a memorable round-of-16 match that spanned two days. On Thursday night, it finished tied on the 18th hole in near darkness as portable lights were brought out to illuminate the final green. The next morning, Butler advanced by making a par — to Chang's double bogey — on the first extra hole, No. 10 at Cherry Hills.
— Before Saturday's semifinals, Cherry Hills Country Club announced the presentation of $500,000 each to three youth organizations with Colorado connections — the Evans Scholars Foundation, the Colorado chapters of the First Tee, and the Palmer Scholarship Foundation.
— In Saturday's semifinals, Shipley capped off a comeback after being 3 down through 10 by almost holing out for eagle on the 17th hole's island green, where his approach shot spun back 30 feet and came within 6 inches of the hole. He high-fived fans in the crowd and claimed an action-packed 2-and-1 victory.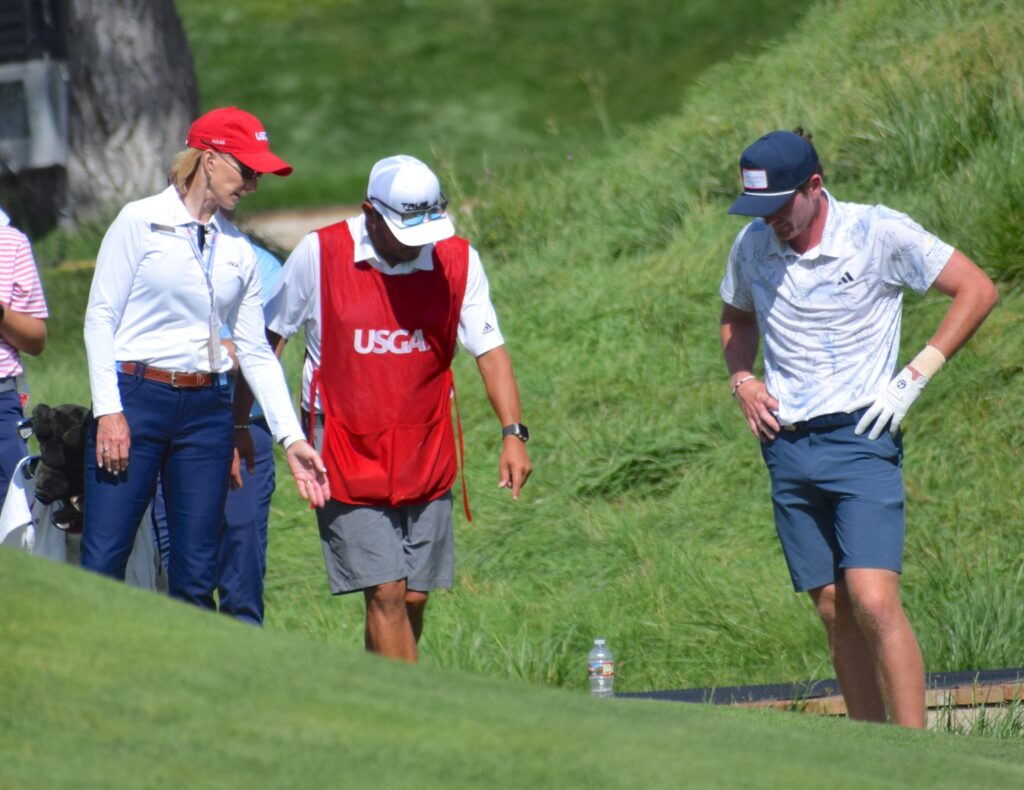 Christie Austin of Denver, referee of the first half of Sunday's match, helps Dunlap and Curl with a ruling on the 15th hole.


— For the second time this summer at a Colorado-based USGA event, Christie Austin and husband Bob played officiating roles in the finals. They refereed the title match at last month's U.S. Girls' Junior at the Air Force Academy, with Bob handling the first 18 holes and Christie the second. Then on Sunday at the U.S. Am at their home course of Cherry Hills, Christie officiated the first 18 holes of the championship match, with Bob acting as a forward observer. Bryan Lewis of South Haven, Mich., who serves on the USGA Executive Committee, refereed the final 15 holes on Sunday.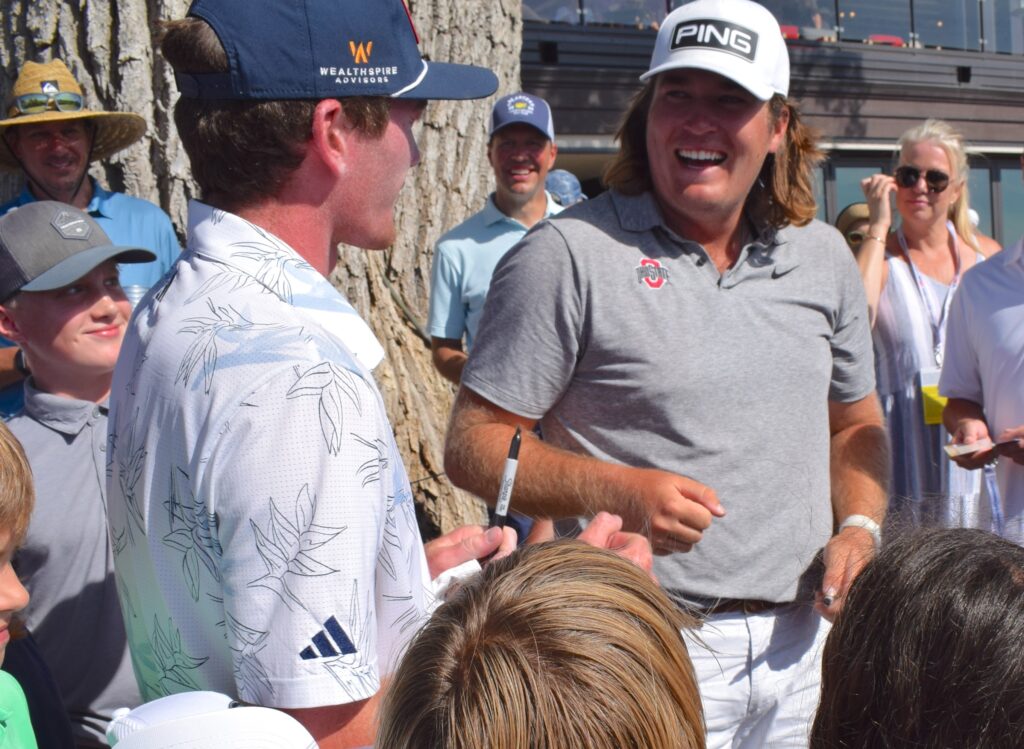 Shipley (right) and Dunlap share a laugh after Sunday's match.


Notable: Peyton Manning, the quarterback who helped the Broncos to their Super Bowl 50 victory, was spectating on Sunday. Manning was the honorary chair for the championship, and his kids served as standard bearers during the final match. … Both the head coaches for Dunlap and Shipley at Alabama and Ohio State, respectively, were on hand during Sunday's finals, as were some teammates of the finalists. … About 1,100 volunteers helped make the 2023 U.S. Amateur run smoothly this week. … After the championship ended, the team was finalized for the U.S. Walker Cup squad that will play Great Britain & Ireland Sept. 2-3 at St. Andrews in Scotland. All of the team members played in this U.S. Amateur: Dunlap, Sargent, David Ford, Caleb Surratt, Nick Gabrelcik, Austin Greaser, Stewart Hagestad, Ben James, Dylan Menante and Preston Summerhays.

How Coloradans Fared: Here are the results for the players with strong Colorado ties who competed in the U.S. Amateur:
ROUND OF 32 ON THURSDAY
Nick Dunlap of Tuscaloosa, Ala., def. Connor Jones of Westminster, 4 and 2
ROUND OF 64 ON WEDNESDAY
Connor Jones of Westminster def. Vicente Marzilio of Argentina, 4 and 3
Ryggs Johnston of Libby, Mont. def. Colin Prater of Colorado Springs, 21 holes
Jackson Koivun of Chapel Hill, N.C. def. CU golfer Dylan McDermott of Granite Bay, Calif., 1 up
STROKE PLAY ON MONDAY AND TUESDAY
Advanced to Match Play
8. Connor Jones of Westminster, a CSU golfer 68-70–138
26. CU golfer Dylan McDermott 72-69—141
38. Colin Prater of Colorado Springs 74-68–142
Failed to Advance
139. Davis Bryant of Aurora 76-73–149
139. Pat Grady of Westminster 75-74–149
173. Jack Castiglia of Lakewood 74-77–151
173. Future CU golfer Brandon Knight 77-74–151
233. Nick Nosewicz of Aurora 75-80–155
268. Blake Trimble of Denver 76-82–158
268. Future CU golfer Parker Paxton 77-81—158
278. Gavin Hagstrom of Fort Collins 78-81–159
295. Cole Nygren of Longmont 80-82–162

For all the results from the U.S. Am, CLICK HERE.

About the Writer: Gary Baines has covered golf in Colorado continuously since 1983. He was a sports writer at the Daily Camera newspaper in Boulder, then the sports editor there, and has written regularly for ColoradoGolf.org since 2009. He was inducted into the Colorado Golf Hall of Fame in 2022. He owns and operates ColoradoGolfJournal.com