In a rarity, 2 Coloradans (Connor Jones and Colin Prater) advance to match play at U.S. Amateur; also in final 64 at Cherry Hills is CU golfer Dylan McDermott; 16-year-old Blades Brown becomes youngest (co-)medalist in long history of championship
By Gary Baines – 8/15/2023
It had been seven years since the last time two Colorado residents advanced to match play at the same U.S. Amateur. So what better year to change that than a summer when the Centennial State is hosting arguably the world's top amateur golf championship?
Among the 64 players — out of the 312-golfer field — who will compete in match play starting on Wednesday at Cherry Hills Country Club are Connor Jones of Westminster and Colin Prater of Colorado Springs, two of the last three CGA Players of the Year.
Prior to Tuesday, the last U.S. Amateur that included two Coloradans in match play was 2016, when Wyndham Clark and Kyler Dunkle made it — with Clark eventually bowing out in the round of 32 and Dunkle in the round of 16.
"Absolutely (it's a big deal)," said Jones, who soon will start his final season of college golf at Colorado State. "There's a lot of good golfers in Colorado, so it's cool be be among some of the best."
And you'll get a second on that from Prater.
"Shoot, it's pretty much the 300 best amateur players in the world (in the field). To beat 240 of them to get it, that's an accomplishment in and of itself.
"I think it benefitted me and probably the other Coloradans, Connor included, that it's here in our home state. Compared to us having to do all the yardage changes and playing on different grass and staying in a hotel … I've been able to sleep in my own bed every night. There's a lot to say about that — the comfort aspect of it."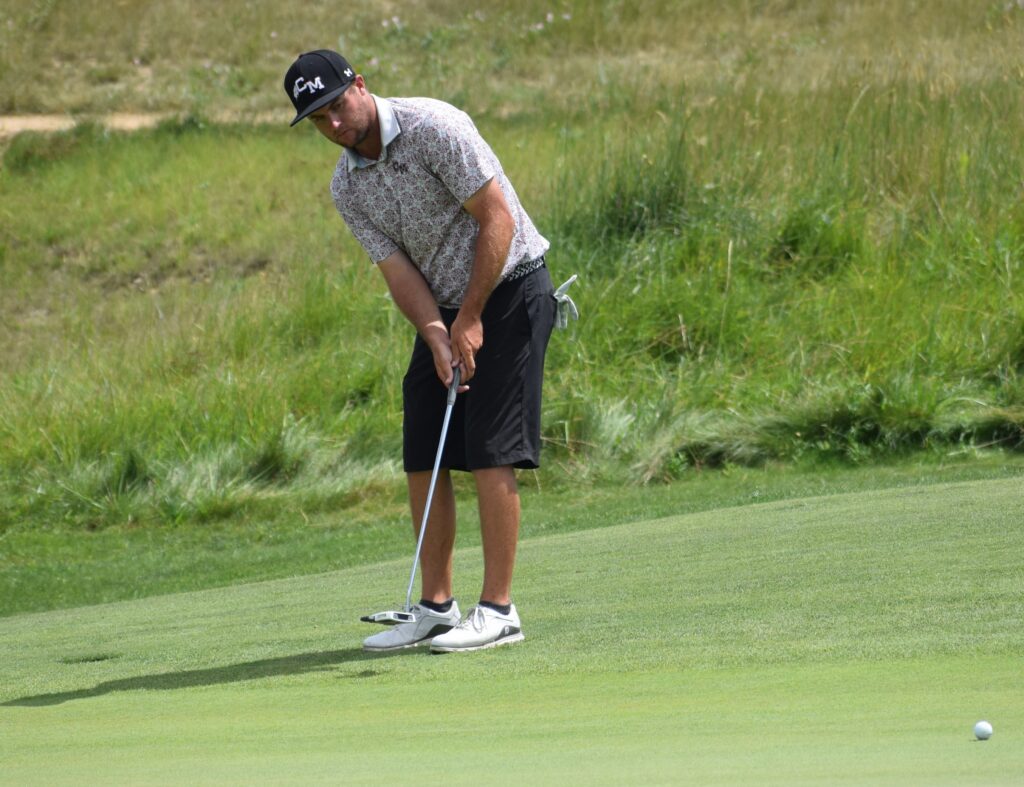 Colin Prater, pictured late last month, played a four-hole stretch in 5 under par on Tuesday.



And, actually, there will be three players with strong Colorado connections in match play this year as University of Colorado golfer Dylan McDermott, from Granite Bay, Calif., also made the grade. That will make two straight years a CU golfer has earned a match-play berth at the U.S. Am as Justin Biwer advanced to the round of 16 last year.
Jones and Prater share the distinction of both sweeping the CGA Amateur and CGA Match titles in a single season, along with being low amateur in the Inspirato Colorado Open — Prater in 2020 and Jones last year.
At the U.S. Amateur, Jones made a 35-foot eagle on the 17th hole (his eighth on Tuesday) en route to shooting a 1-under-par 70 at Cherry Hills. That gave him a 5-under 138 total, good for a share of eighth place in the stroke-play portion of the event.
Jones will be going to match play for the first time in two U.S. Amateur appearances.
"It's really cool, a lot of fun," the 21-year-old said. "It's going to be a lot of fun having a bunch of people out here supporting me."
Meanwhile, playing at Colorado Golf Club, Prater came from well outside the cut line by shooting a 4-under-par 68 despite a double bogey on his 17th hole. The 28-year-old high school science teacher, a graduate of the University of Colorado-Colorado Springs, went on a tear in the four-hole stretch from No. 14 through 17 (his fifth through eighth holes of the day), playing them in 5 under par. He went birdie (2 inches), birdie (2 putt), eagle (60 feet) and birdie (25 feet)
"Obviously two par-5s (during that stretch) helps," Prater said. "But I made a lot of really good swings during that time. I hit a chip on the short par-4 (14) and I thought it went in. It kind of hit the stick and kicked out to a couple of inches. That gave me a lot of momentum. Then two par-5s, those are scoreable holes."
It will be Prater's first time advancing to match play in his three U.S. Amateur appearances. He tied for 38th place on Tuesday (74-68).
"I'm really excited," he said. "It's obviously new territory for me. I'm really looking forward to tomorrow."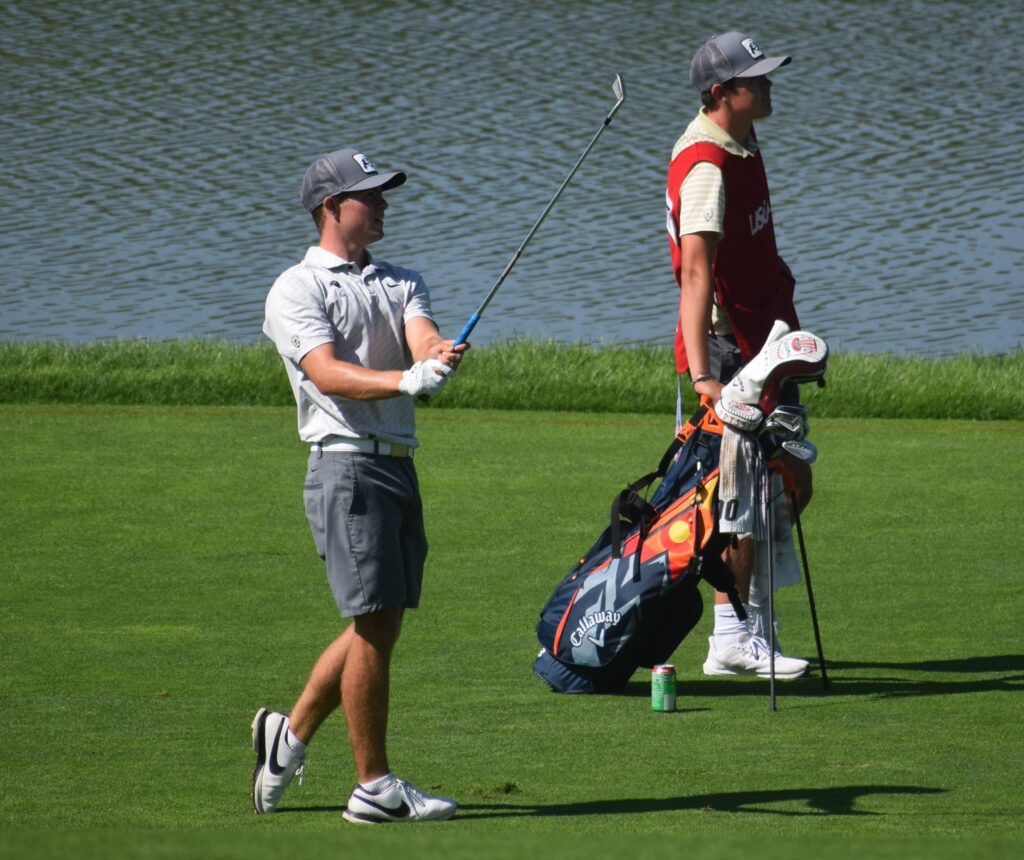 CU golfer Dylan McDermott is competing in his second straight U.S. Amateur.


McDermott, playing Colorado Golf Club on Tuesday like Prater, was rock solid, shooting a 3-under-par 69 that included four birdies and one bogey. He ended up at 2-under-par 141 and in a tie for 26th place. McDermott also competed in last year's U.S. Amateur but didn't come close to making match play.
Though match play has its own idiosyncrasies, both Jones (2022) and Prater (2020) have run the gauntlet to win a significant match-play event in Colorado, the CGA Match Play. And Jones also has a Colorado Junior Match Play title to his credit.
But probably a bigger factor will be that both are comfortable at Cherry Hills, though Jones (20-25 times) has played the course considerably more than Prater (three).
"I have a lot of course knowledge where to miss," Jones said. "I've never seen the rough quite this thick (at Cherry Hills), but I know where I want to be chipping uphill (in case of a miss)."
As for Prater, he said, "You've got to hit it straight (at Cherry Hills). I'd like to say most of the time that's a strength of my game. I think there's a lot of similarities between Cherry Hills and The Broadmoor. Playing The Broadmoor close to 1,000 times really helps me out at Cherry — just how the greens are, the type of grass, the way they break. I think that benefits me at Cherry."
In Wednesday's round of 64, Jones will face Vicente Marzilio of Argentina and the University of North Texas (10 a.m.), Prater will meet Ryggs Johnston of Libby, Mont. and Arizona State (1:30 p.m.), and McDermott will vie with incoming Auburn golfer Jackson Koivun of Chapel Hill, N.C. (9:10 a.m.)
History Made in Race for Medalist Honors: Blades Brown, a teenager with one of the cooler names in golf, put up a round to remember on Tuesday to share medalist honors at the U.S. Amateur.
The 16-year-old from Nashville, Tenn., shot a course-record-tying 64 at Colorado Golf Club to become the youngest stroke-play medalist in the 123-year history of the U.S. Am.
Tying Brown (72-64) at 7 under par for one round each at Cherry Hills and CGC were Cal golfer Sampson Zheng of China (66-70), winner of the 2023 U.S. Amateur Four-Ball title, and Jackson Buchanan of Dacula, Ga., and the University of Illinois (69-67), who birdied his final three holes at CGC.
Brown made two eagles, eight birdies and four bogeys on Tuesday, matching the course record short by University of Denver golfer Petter Mikalsen in the second round of the 2016 Paintbrush Invitational college event (where 2023 U.S. Open champion Wyndham Clark finished third).
This round ranks "up there" among his best, said Brown, who shot 65-62 to qualify for the championship. "Just because this is my first U.S. Am. I was told the U.S. Am is like one level down from the U.S. Open. To be able to shoot 8 under here is awesome. It really gives me confidence in my game and my practice."
Blades' mother, Rhonda Blades, is a former WNBA player.
For those into statistical oddities, there will be no playoff for the final match-play positions as an even 64 players made the cut by finishing at even par or better. The last time that happened in the U.S. Am was in 2000.
And to add to the odds-defying feat, the other USGA event held in Colorado this year, the U.S. Girls' Junior, also didn't need a playoff.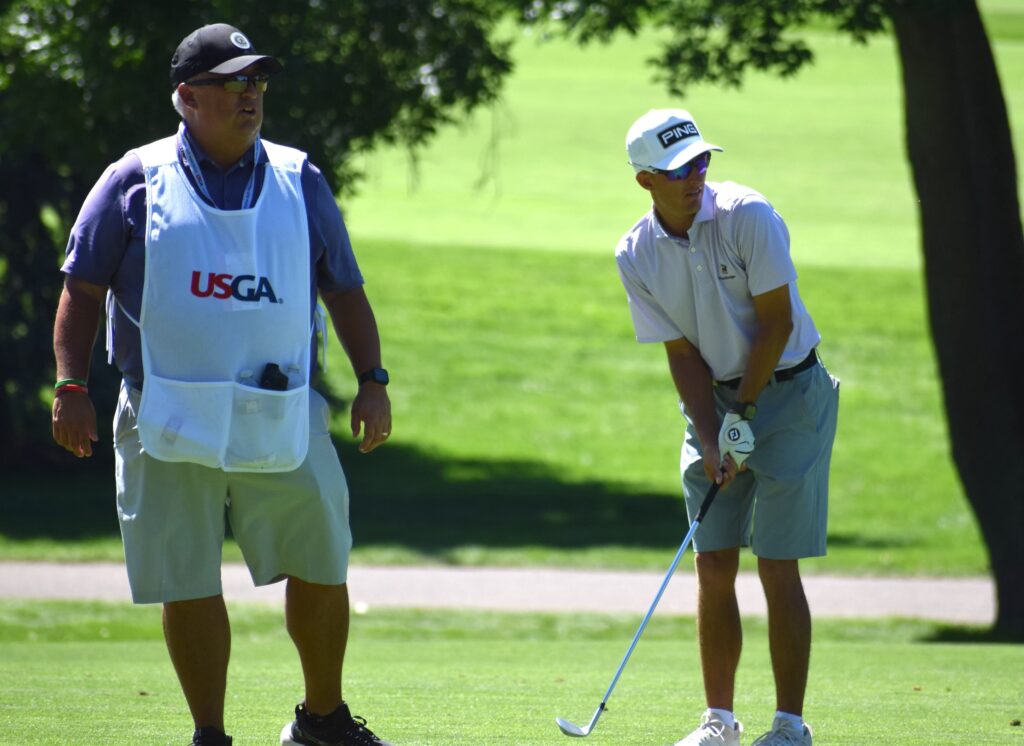 Davis Bryant and his dad/caddie Matt teamed up one last time in amateur golf on Tuesday.



Davis Bryant Puts a Cap on Stellar Amateur Career: From a state high school individual title to a boys state player of the year honor; from winning a CGA Amateur as a teenager to being named CGA Player of the Year; from winning a college individual title for Colorado State at Colorado Golf Club to helping lead the Rams to an NCAA national championship appearance for the first time in 12 years; from winning back-to-back Southwestern Amateurs to being a late qualifier for the 2023 U.S. Amateur.
All in all, Davis Bryant had a long and memorable amateur career — an amateur career that ended on Tuesday in the world's most prestigious amateur championship, one being contested in Colorado for the first time in 11 years.
It wasn't an ideal ending; that would have been making match play in the U.S. Am and perhaps making a deep run. But it was just about the next best thing, with dozens of friends, family members, former coaches and the like rooting him on at the U.S. Am at Cherry Hills, where he once won a Junior Golf Alliance of Colorado Tour Championship.
The 23-year-old from Aurora shot a 2-over-par 73 on Tuesday at Cherry Hills and checked in at 6-over-par 149 for two days. He missed advancing to match play by six strokes. A triple bogey on his ninth hole on Monday — the 18th at Colorado Golf Club, where he had to chip out to the fairway with his second shot, missed the green long, then three-putted — derailed what had been a promising start.
Appropriately, though, Tuesday's round ended with a hug from dad/caddie Matt Bryant, the PGA general manager at Green Valley Ranch Golf Club, who has followed around and caddied for he and his wife Julie's two kids, Davis and Emma, countless times over the years.
"It was a very special week," Bryant said . "I was super pleased to have the opportunity to compete against the best (amateur) players in the world on two of my favorite golf course in my home state (Cherry Hills and Colorado Golf Club). I couldn't be more happy to go out on this note. Obviously I wish I would have played a little better, but I tried my hardest out there."
Bryant estimated that 40 or more people came out to support him on Monday and/or Tuesday. That included Kale Waaso, with whom Bryant attended the 2012 U.S. Amateur at Cherry Hills.
"You can't ask for much better than that," Bryant said of the backing he received. "So many people have helped me get to where I am today. They support me and they want what's best for me — which is so cool."
And to have his dad on the bag this week for the U.S. Am in his final amateur tournament only added to the feeling.
"I look back on all the memories of tournaments we played together — with him on the bag or just watching me — it's pretty cool to think back on all the places we've been. We have a really special relationship. I was happy he was able to caddie for me this week. He did a great job."
Next up, Bryant will turn pro and compete in a pre-qualifying tournament in Korn Ferry Tour Q-school — specifically Sept. 13-15 in Palm Springs, Calif.
"I think what I'm most proud of is the consistency I've shown" during his amateur career, Bryant said. "I've played some really consistent golf over the last four, five, six years. I've just learned so much how to prepare the right way, how to score on days where you don't have your best stuff. Tournament wins are great, but I'm most proud of my development and the player I've become."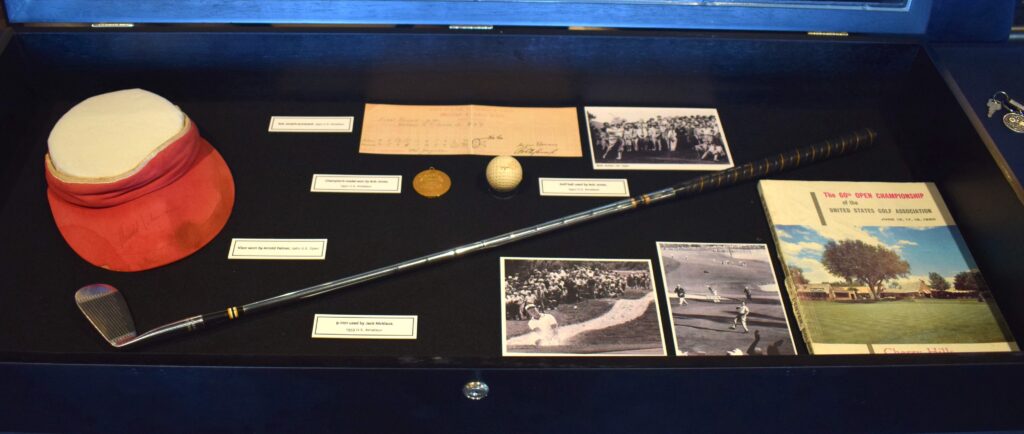 Some of the items on display this week at Cherry Hills.


Sights to Behold: Some fascinating historic artifacts from the USGA Golf Museum & Library are making the rounds this week at Cherry Hills.
There's Arnold Palmer's visor from the 1960 U.S. Open, which he tossed high in the air on the 18th green after winning the championship for the first and only time. Arnie shot a final-round 65 in the final round to rally from seven strokes behind for the victory. As a companion piece, also on hand is a program from the 1960 U.S. Open.
There's a 9-iron Jack Nicklaus used in winning his first USGA championship, the U.S. Amateur at The Broadmoor in Colorado Springs in 1959.
And there's a ball and a scorecard Bobby Jones used during the 1930 U.S. Amateur — which he won as part of his Grand Slam that year — and Jones' champion's medal for that U.S. Am triumph.
Katie Boyce and Maggie Lagle from the USGA Golf Museum & Library are on hand this week at Cherry Hills to show off the items and provide some background.
Denver's Christie Austin Will Referee First 18 of U.S. Am Finals: Christie Austin of Denver, the referee for the last 18 holes of the final match in the U.S. Girls' Junior at Eisenhower Golf Club last month, will play that same role for the first 18 of the scheduled 36-hole final of the U.S. Amateur on Sunday at Cherry Hills.
Bryan Lewis of South Haven, Mich., who serves on the USGA Executive Committee and has been on the USGA Rules of Golf Committee for the last six years, will take over as referee from Austin for the 19th hole through the end of the title match.
Austin, a longtime member at Cherry Hills Country Club and a Colorado Golf Hall of Fame inductee, has officiated in more than 70 USGA championships, along with competing in 20 such events. She's also served on the USGA Executive Committee from 2007-13 and as the first female chair of the USGA Rules of Golf Committee, in 2012.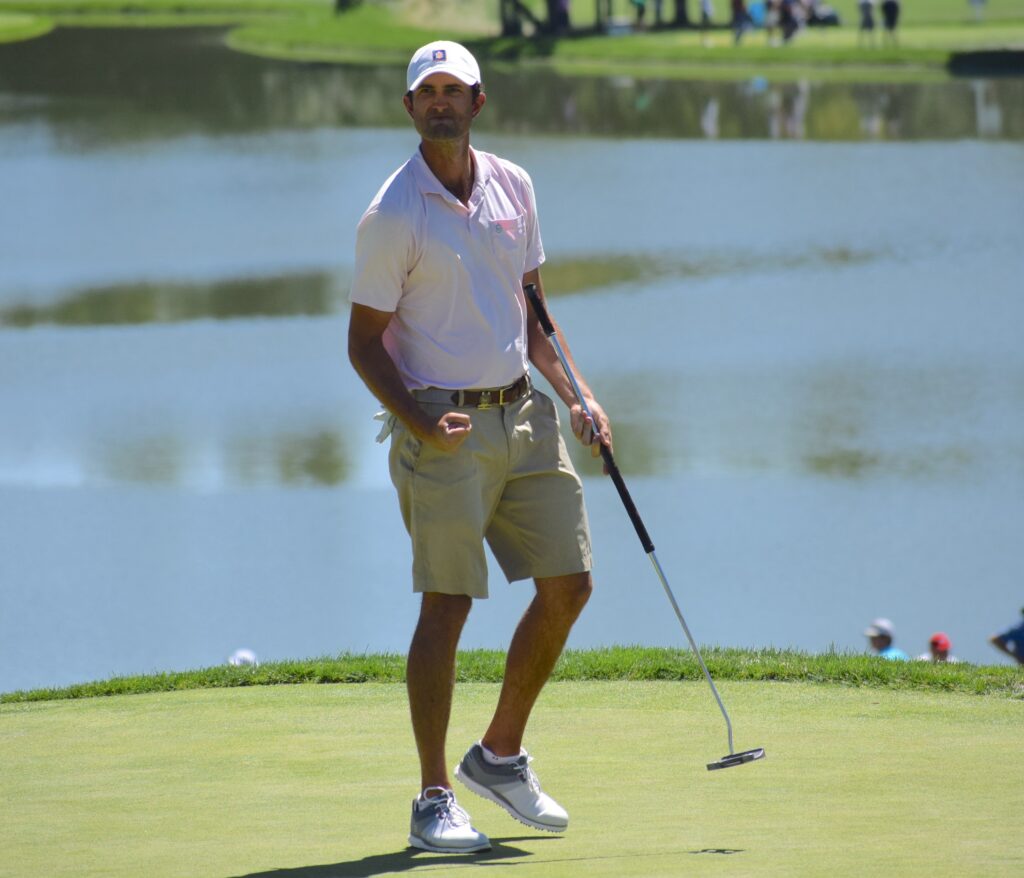 Stewart Hagestad celebrates his par-saving putt on No. 18 on Tuesday, but just missed making match play.


Amazing Rally Falls Just Short: Two-time U.S. Mid-Amateur champion Stewart Hagestad fell a little short of advancing to match play on Tuesday, but the fact that he was in the hunt was pretty darn impressive.
After all, the Newport Beach, Calif., resident carded a sextuple-bogey 10 on the fifth hole at Colorado Golf Club during Monday's opening round of stroke play at the U.S. Amateur. How does the 13th-ranked amateur in the world make a 10?
After 3-wood off the tee barely missed the fairway, "I figured (the approach shot) was going to fly, but instead it ballooned and landed in the bunker about 45 yards away," the 32-year-old explained. "Then I bladed one over into the bushes. Lost ball. Dropped in the bunker and it plugs. I tried to get one out and it runs over into the bunker to the right. Then left one in the bunker before I finally got it out and three putted. That's how you make a 10."
Asked when the last time he scored in double digits on a hole, Hagestad said he thinks he made an 11 on the eighth hole at Los Angeles Country Club during the club championship in 2016.
Following a first-round 77, it seemed like Hagestad might be out of the running for a match-play spot, but a wild 4-under-par 67 on Tuesday at Cherry Hills put him right on the brink.
The round included seven birdies and three bogeys and he made just one par on the back nine — and that came on No. 18, where he hit his tee shot in the water and sank a 10-foot par putt after hitting a 7-iron approach from 205 yards.
"It was one of the best rounds, given the circumstances, that I've ever played," said Hagestad, who said he's been battling sinus issues and was exhausted. "When I woke up this morning, I was going 200 miles per hour and taking everything from Sudafed, Mucinex, Zyrtec, you name the over-the-counter drug. I'm really tired."
Alas, Hagestad finished tied for 65th in stroke play, with only the top 64 advancing to match play.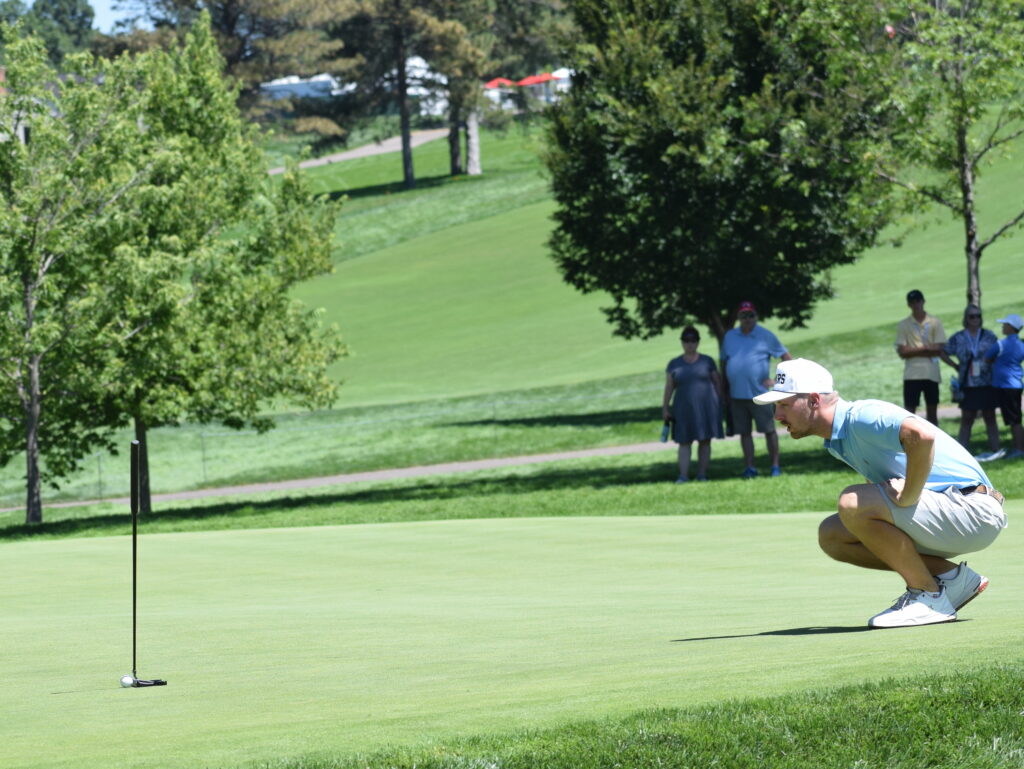 Competitor Carson Little had a unique way of lining up putts at the U.S. Amateur.


— U.S. Amateur Schedule:
Wednesday: Match play round of 64, Cherry Hills.
Thursday: Match play rounds of 32 and 16, Cherry Hills
Friday: Match play quarterfinals, Cherry Hills
Saturday: Match play semifinals, Cherry Hills
Sunday: Scheduled 36-hole championship match, Cherry Hills
— TV Schedule for U.S. Am (MT):
Wednesday: 3-4 p.m. (Peacock) and 4-6 p.m. (Golf Channel)
Thursday: 4-5 p.m. (Peacock) and 5-7 p.m. (Golf Channel)
Friday: 3-4 p.m. (Peacock) and 4-6 p.m. (Golf Channel)
Saturday: 1-2 p.m. (Golf Channel) and 2-4 p.m. (NBC)
Sunday: 1-2 p.m. (Golf Channel) and 2-4 p.m. (NBC)

Here are the scores for the players with strong Colorado ties competing in the U.S. Amateur:
Advance to Match Play
8. Connor Jones of Westminster, a CSU golfer 68-70–138
26. CU golfer Dylan McDermott 72-69—141
38. Colin Prater of Colorado Springs 74-68–142
Failed to Advance
139. Davis Bryant of Aurora 76-73–149
139. Pat Grady of Westminster 75-74–149
173. Jack Castiglia of Lakewood 74-77–151
173. Future CU golfer Brandon Knight 77-74–151
233. Nick Nosewicz of Aurora 75-80–155
268. Blake Trimble of Denver 76-82–158
268. Future CU golfer Parker Paxton 77-81—158
278. Gavin Hagstrom of Fort Collins 78-81–159
295. Cole Nygren of Longmont 80-82–162
For all the results from the U.S. Am, CLICK HERE.

About the Writer: Gary Baines has covered golf in Colorado continuously since 1983. He was a sports writer at the Daily Camera newspaper in Boulder, then the sports editor there, and has written regularly for ColoradoGolf.org since 2009. He was inducted into the Colorado Golf Hall of Fame in 2022. He owns and operates ColoradoGolfJournal.com