Coloradan Connor Jones on stroke-play leaderboard after hitting one of the first tee shots at 312-player U.S. Amateur; Gordon Sargent, top-ranked amateur in world, holes out for eagle on 18 at Cherry Hills
By Gary Baines – 8/14/2023
Connor Jones said Monday that competing in the U.S. Amateur in his home state "feels almost like I'm playing a CGA event, to be honest with you."
That may be a very good sign for the Westminster resident, considering how Jones swept the CGA's major titles last year and set what is believed to be the CGA Amateur scoring record (24 under par for four rounds).
But in some ways it did indeed seem like a CGA event on Monday for the Colorado State University golfer. After all, with the great majority of the 312 golfers at the U.S. Amateur using caddies, there was Jones carrying his own clubs. (He said he was actually supposed to have a caddie, but plans changed at the last minute.)
Perhaps most of all, it seemed like a CGA event for Jones because of his place on the leaderboard. After being one of four Coloradans given the honor of hitting the first tee shots for the U.S. Am, Jones was alone in the lead at 5 under par through 10 holes at Colorado Golf Club. And even after a three-putt bogey on his 17th hole, the 21-year-old shares fourth place after the first of two days of stroke play at the world's most prestigious amateur tournament.
Jones' 4-under-par 68 left him behind just Sampson Zheng of China (66 at CGC), Ryggs Johnston of Libby, Mont. (67 at CGC) and Ben James of Milford, Conn. (67 at CGC). The top 64 players after Tuesday's second round will advance to match play, which will take place exclusively at Cherry Hills.
"It feels a little different," Jones said of playing such a prestigious event in his home state. "It feels almost like I'm playing a CGA event, to be honest with you. Obviously it's really well run. They put on a really good event. Sleeping in my own bed and playing golf in Colorado feels like a CGA event. It doesn't feel like I'm quite in the limelight by any means."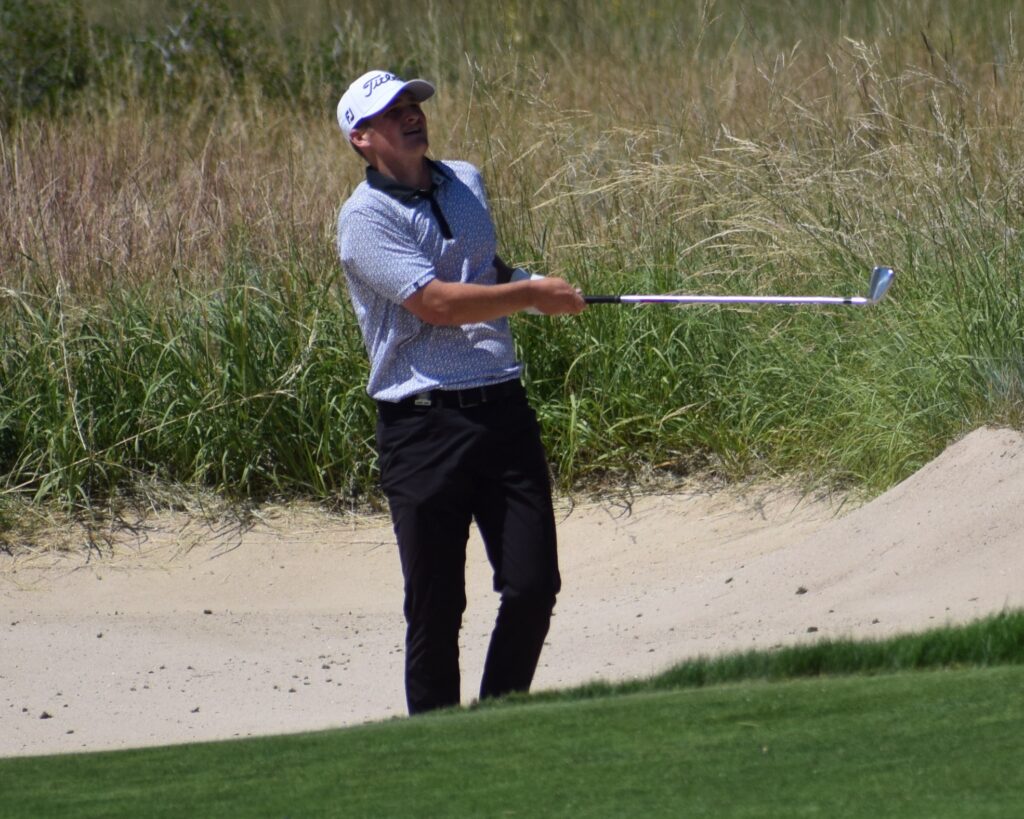 Jones made a par on the 18th hole Monday despite a tee shot finding the fairway bunker.



The 2022 CGA Player of the Year was tripped up momentarily by a double bogey on the par-3 11th hole — he played the par-3s in 3 over on Monday — but he finished round 1 with seven birdies, a bogey and a double bogey.
"I felt like I got a good wave, playing early here," said Jones, who teed off at 7 a.m. "This course, in my opinion, is a little harder than Cherry Hills (where he'll play his second round of stroke play on Tuesday). So getting this course when it was as soft as it was going to get was a big advantage. It was nice to get off to a good start."
And it was a relatively worry-free round for Jones, the No. 90-ranked amateur in the world. Five of his birdies came from inside 7 feet, with the other two being 15 footers.
Between having a good sense of how to play at altitude and during variations of the local weather, that helped Jones' cause on Monday. And it didn't hurt that he's played Colorado Golf Club an estimated 20 times over the years, including the 2021 Paintbrush Invitational, a college tournament where he posted a top-10 finish.
"This course, if you play it right, you can use the slopes to get it close," said Jones, who's competing in his second U.S. Am. "I feel like I've got a better idea than a lot of the other guys of where to hit it. And I was able to actually hit it there."
Plus, it's just a certain down-home feel to competing in the first U.S. Amateur held in Colorado since 2012.
"I think I relish it more than I feel the pressure" in this situation, he said. "My family and friends can come out here. You're sleeping in your own bed. Also the altitude is a big adjustment for a lot of these guys. I feel really comfortable at altitude because I live here. I feel really comfortable on both of these courses."
"I played solid (today). It wasn't the best golf of my life, but it was good. Trying to get to match play, you're not really thinking about shooting a 63 or a 64. You're just trying to make a bunch of pars and sprinkle in some birdies."
Meanwhile, Zheng, a Cal golfer, had the low score of the day with a bogey-free 6-under-par 66 at Colorado Golf Club. Zheng is still riding high after winning the U.S. Amateur Four-Ball title in the spring with Cal teammate Aaron Du. Asked how much confidence he gained since that victory, Zheng said, "A lot of confidence for sure. I played really well that week and at one point I had eight birdies in a row. I played really solid throughout the rest of the summer and I have been gearing up for this week."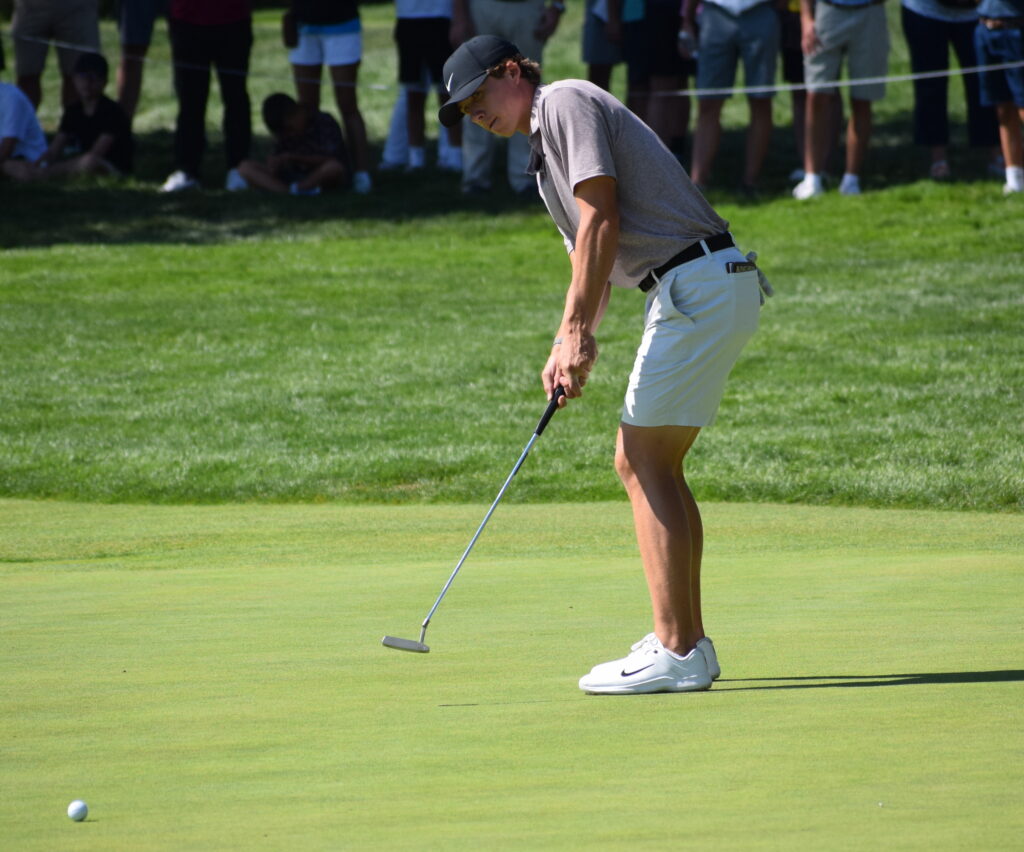 Gordon Sargent finished birdie-eagle for a 70 on Monday.



Finish to Remember for Top-Ranked Gordon Sargent: It probably won't rank up there with things Arnold Palmer (1960 U.S. Open), Jack Nicklaus (1993 U.S. Senior Open) or Birdie Kim (2005 U.S. Women's Open) have done on the 18th hole at storied Cherry Hills. That's because those instances all involved winning national championships.
Still, what Gordon Sargent of Birmingham, Ala., did on the formidable 18th on Monday was pretty darn good. Sargent, the No. 1-ranked amateur in the world, holed out for eagle from 175 yards with a drawing 9-iron to close out his round, eliciting a roar from the small crowd surrounding the green on Monday evening.
"Every time you do something like that, it's not necessarily expected," the 2022 NCAA individual champion from Vanderbilt said. "I was trying to just put myself in a good spot for a birdie. That hole is so penalizing. It's definitely a bonus, but I might have deserved it a little bit (making up for some bad breaks earlier in the round)."
Sargent also made birdie on 17, so he went 3 under par on his last two holes en route to a 1-under-par 70.
Looping in Back-to-Back USGA Championships: Matt Bryant, the PGA general manager at Green Valley Ranch Golf Club, is making the rounds at USGA open-age amateurs this month. He caddied for daughter Emma, a University of Denver golfer, last week at the U.S. Women's Amateur at Bel-Air Country Club in Los Angeles. And this week, he's looping for son Davis, who a couple of months ago wrapped up his college golf career at Colorado State.
Davis Bryant, the other Coloradan besides Jones in the top 100 in the World Amateur Golf Rankings, was 1 under par through his first seven holes Monday. But he bogeyed the par-3 17th at Colorado Golf Club, his eighth hole of the day. Then the two-time Southwestern Amateur champion triple bogeyed the par-4 18th that has deep native grass for balls that stray more than a few yards off the fairway. The former CSU golfer eventually ended up with a 76 for the day.
Changes Coming for U.S. Am Qualifying Process: Starting next year, qualifying for the U.S. Amateur will be a more drawn-out process, becoming more like that of the U.S. Open. Basically, instead of one stage of qualifying, there will be two. It will still be a 36-hole process, but rather than two rounds in one day, there will be 45 18-hole local qualifying tournaments and 19 18-hole final qualifying events.
In addition, players fully exempt from qualifying off the World Amateur Golf Ranking will jump from 50 to 100. And the top 600 player in WAGR will be exempt from local qualifying.
Notable: Shane Bacon, the former Golf Channel anchor, is competing in his first USGA championship after successfully negotiating qualifying. He made three birdies but opened with an 8-over-par 80 at Colorado Golf Club on Monday. … After making two eagles and shooting a 6-under-par 30 on the back nine of Colorado Golf Club (his first nine of the day), Ryggs Johnston of Libby, Mont., posted a 5-under 67, which tied him with Ben James of Libby, Conn., for second-best score on Monday. … In all, the top six scores on Monday, relative to par, came at Colorado Golf Club. Nick Gabrelcik of Trinity, Fla., posted the best tally at Cherry Hills on day 1, a 3-under-par 68. … Tickets for the U.S. Amateur ($25 per day/good any day or $100 for a five-pack/good any day) are available at USAmateur.com .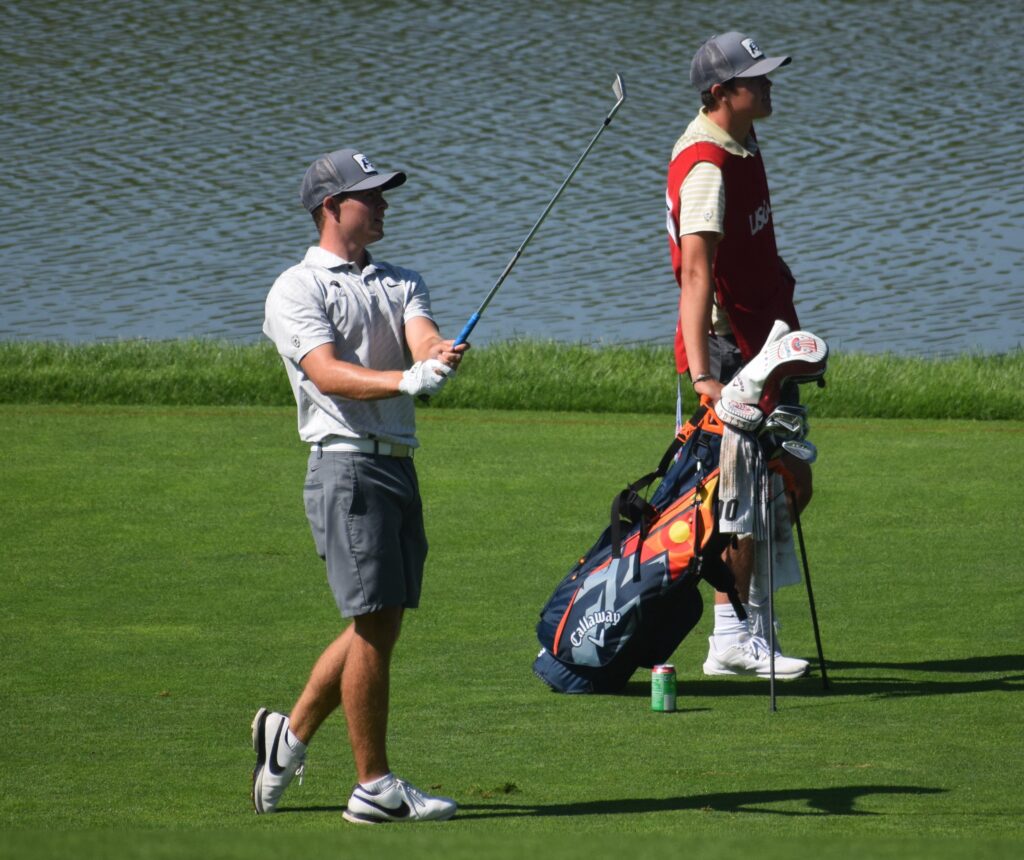 CU golfer Dylan McDermott posted a 72 on Monday at Cherry Hills.



Notes for Other Local Players: University of Colorado golfer Dylan McDermott made only nine pars on Monday at Cherry Hills, chalking up four birdies and five bogeys en route to a 1-over-par 72. … Jack Castiglia of Lakewood, a former University of Northern Colorado golfer, shot a 2-over 74 at Colorado Golf Club after playing the par-5s in 1 over par. … Former CU golfer — and two-time CGA Player of the Year — Pat Grady of Westminster eagled the par-5 fifth hole at Cherry Hills and added a birdie on another par-5 (17). Competing in his first U.S. Am, he carded a 4-over 75. … Colin Prater of Colorado Springs, another former CGA Player of the Year, recorded three birdies on the back nine at Cherry Hills, but wrapped up his round of 74 with a double bogey on the formidable par-4 18th. … Speaking of which, Blake Trimble of Denver was just 2 over par through 17 holes, but a water ball off the tee on 18 at Cherry Hills led to a triple bogey and a 5-over 76. … Reigning CGA Match Play champion Nick Nosewicz of Aurora was 1 under par through 12 holes at Colorado Golf Club but played the last six in 4 over to record a 75.
Here are the scores for the players with strong Colorado ties competing in the U.S. Amateur:
4. Connor Jones of Westminster, a CSU golfer 68 (-4 at CGC)
75. CU golfer Dylan McDermott 72 (+1 at CH)
100. Jack Castiglia of Lakewood 74 (+2 at CGC)
124. Colin Prater of Colorado Springs 74 (+3 at CH)
124. Nick Nosewicz of Aurora 75 (+3 at CGC)
154. Pat Grady of Westminster 75 (+4 at CH)
154. Davis Bryant of Aurora 76 (+4 at CGC)
181. Blake Trimble of Denver 76 (+5 at CH)
181. Future CU golfer Brandon Knight 77 (+5 at CGC)
181. Future CU golfer Parker Paxton 77 (+5 at CGC)
230. Gavin Hagstrom of Fort Collins 78 (+7 at CH)
271. Cole Nygren of Longmont 80 (+9 at CH)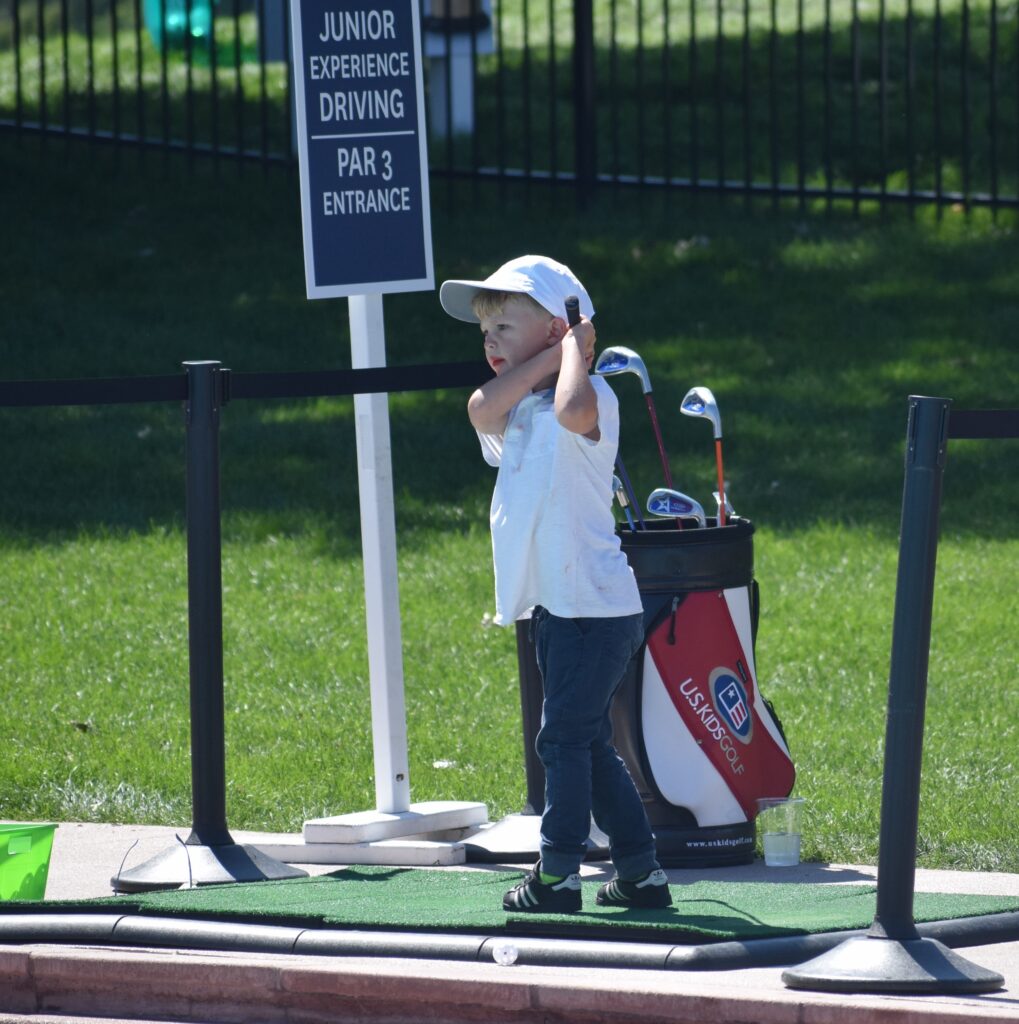 A boy takes a cut on Monday at the Junior Experience.



1,300 and Counting for Junior Experience: As of Monday afternoon, more than 1,300 kids had registered for the Junior Experience, which is being held all week in the area surrounding the pool at Cherry Hills Country Club. At the Junior Experience, juniors can receive free instruction, use hitting bays, and participate in a chipping challenge and/or long putt challenge. Plus, there are STEM and art activities. In addition, information is on hand regarding the Evans Scholarship for caddies, the Colorado-based First Tee chapters, the Solich Caddie & Leadership Academy, the Palmer Scholarship, Youth on Course, Boys and Girls Club, the CGA, PGA Junior, PGA Reach and Colorado Uplift.
Junior Experience participants also receive lunch, can tour the course and receive a gift bag.
Registration continues throughout the week. To register for the Junior Experience, CLICK HERE.
In addition, kids 17 and under get in free to the U.S. Amateur with a ticketed/credentialed adult.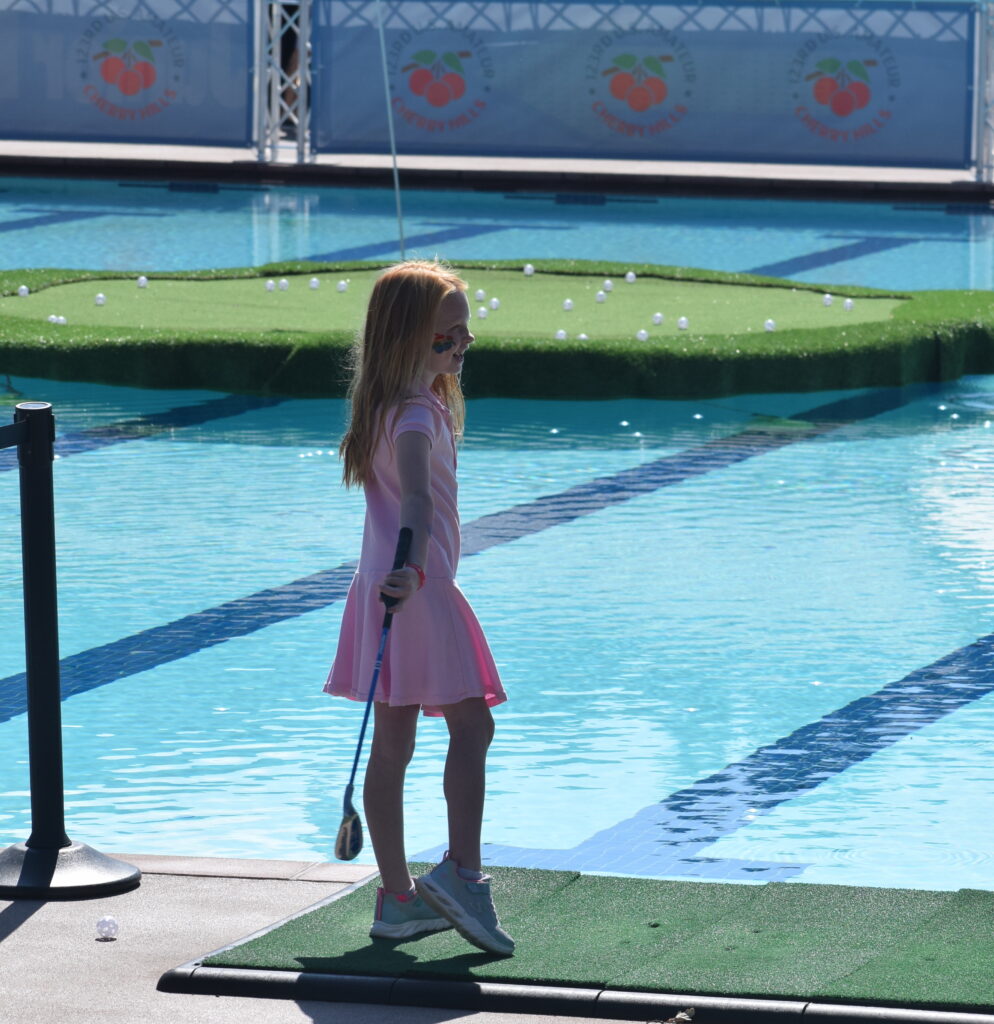 A girls took aim at the island green at the Junior Experience on Monday.



— U.S. Amateur Schedule:
Tuesday: Final round of stroke play at Cherry Hills and Colorado Golf Club. Top 64 will advance to match play.
Wednesday: Match play round of 64, Cherry Hills.
Thursday: Match play rounds of 32 and 16, Cherry Hills
Friday: Match play quarterfinals, Cherry Hills
Saturday: Match play semifinals, Cherry Hills
Sunday: Scheduled 36-hole championship match, Cherry Hills
— TV Schedule for U.S. Am (MT):
Aug. 16: 3-4 p.m. (Peacock) and 4-6 p.m. (Golf Channel)
Aug. 17: 4-5 p.m. (Peacock) and 5-7 p.m. (Golf Channel)
Aug. 18: 3-4 p.m. (Peacock) and 4-6 p.m. (Golf Channel)
Aug. 19: 1-2 p.m. (Golf Channel) and 2-4 p.m. (NBC)
Aug. 20: 1-2 p.m. (Golf Channel) and 2-4 p.m. (NBC)
For all the results from the U.S. Am, CLICK HERE.

About the Writer: Gary Baines has covered golf in Colorado continuously since 1983. He was a sports writer at the Daily Camera newspaper in Boulder, then the sports editor there, and has written regularly for ColoradoGolf.org since 2009. He was inducted into the Colorado Golf Hall of Fame in 2022. He owns and operates ColoradoGolfJournal.com