Marilyn Hardy of Dos Rios GC fends off Colorado Golf Hall of Famer Kim Eaton to win CGA Women's Senior Stroke Play for 2nd time in 4 years
By Gary Baines – 8/16/2023
Marilyn Hardy has been winning quite a bit lately on the golf course, and it's one habit she'd rather not break.
The 61-year-old from Dos Rios Golf Club in Gunnison captured the 41st CGA Women's Senior Stroke Play title on Wednesday at Eaton Country Club, winning the event for the second time in four years.
Moreover, Hardy has now claimed four state championships in the last year. The run also includes the 2023 CGA Women's Mid-Amateur, the 2022 CGA Women's Dunham Chapman team event (with Kris Franklin) and the 2022 Texas Golf Association Senior Stroke Play.
"It feels good," she said. "I'm getting used to winning. I like it."
Hardy — who with husband/well-known instructor Jim Hardy splits the year between the Gunnison area and Magnolia, Texas — took a three-stroke lead into Wednesday, but ended up beating runner-up Kim Eaton by one. Eaton, a Colorado Golf Hall of Famer, has won 29 CGA/CWGA titles, including six Women's Senior Stroke Plays and the 2023 Senior Match Play where she defeated Hardy in the final. The town of Eaton is named after Kim Eaton's great-great grandfather, Benjamin Harrison Eaton, the fourth governor of Colorado.
Despite finishing Wednesday's final round double bogey-bogey, Hardy fended off Eaton.
"It was kind of anti-climactic. But that's what three-shot leads are for," said Hardy, who now owns four CGA titles.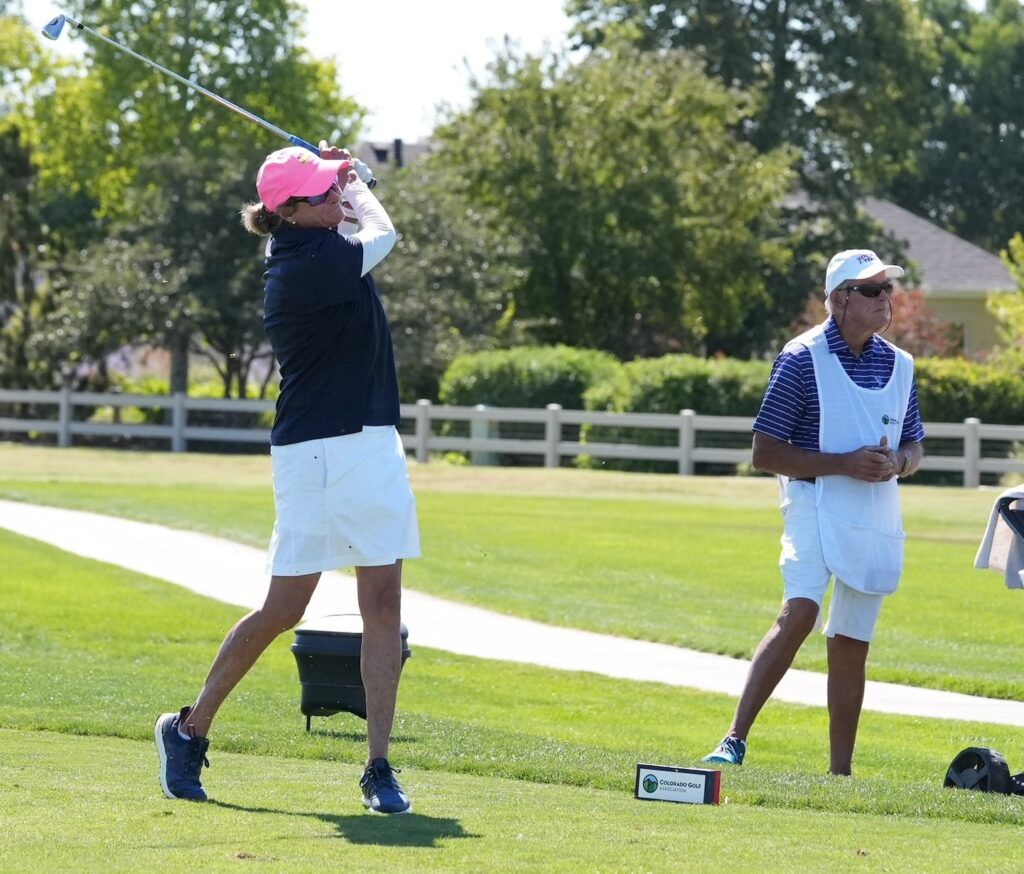 Hardy had her husband, highly respected instructor Jim Hardy, caddying for her this week.



Hardy went 72-76 for a winning total of 6-over-par 148. Eaton closed with a 74 to check in at 149 and in second place. Another Colorado Golf Hall of Famer, Janet Moore of Cherry Hills Country Club, ended up third at 150 after a pair of 75s as she played her final seven holes in 2 under.
With a three-stroke advantage with two holes left, Hardy mishit her 9-iron approach shot on No. 17 and posted a double bogey, leaving her one up going into 18.
Both Hardy and Eaton encountered some tree trouble for their second shots on the par-4, with Eaton ending up left of the green, pin high, and Hardy going over the putting surface. Eaton's pitch shot went well past the hole, while Hardy cozied hers to 6 feet. After Eaton missed her par attempt, Hardy two-putted for a matching bogey — and the one-shot victory.
"You can't take anything for granted," said Hardy, who has won state championships in Colorado (4), Texas (2) and Arizona (1) over the years. "You're only as good as your last (tournament). It's really thrilling (to win). It's an honor to be champion in Colorado."
Hardy, who had husband Jim caddying for her — as is often the case — was a fan of competing at Eaton Country Club.
"It suited me great," she said of the course. "You had to drive it really well and pretty straight. There's trees and rough and angles into the green. It was a beautiful place to have a stroke-play tournament. It had just the right amount of hard holes, medium holes and easier holes. It was a really good mixture. The greens today were running 11 (on the Stimpmeter). They were beautiful."
Now Hardy, a veteran of roughly 45 USGA championships, will tee it up at the U.S. Senior Women's Open after qualifying for the third time in five tries. The championship is set for Aug. 24-27 in Portland, Ore. Then she's exempt for the U.S. Senior Women's Amateur, scheduled for Sept. 30-Oct. 5 in Scottsdale, Ariz.
In other competitions at Eaton CC, Karen Chase of Foothills Golf Course earned the low-gross victory in the Masters Division for players 70 and older, going 90-82, while JoAnn Smith of Foothills (68-74) took low-net honors among the Masters. And Eaton prevailed by one in the championship flight net play, going 72-71, one better than Moore.
For all the scores from the CGA Women's Senior Stroke Play, CLICK HERE.

About the Writer: Gary Baines has covered golf in Colorado continuously since 1983. He was a sports writer at the Daily Camera newspaper in Boulder, then the sports editor there, and has written regularly for ColoradoGolf.org since 2009. He was inducted into the Colorado Golf Hall of Fame in 2022. He owns and operates ColoradoGolfJournal.com