On day he turned 22, Connor Jones becomes first Coloradan since 2016 to make round of 32 at U.S. Amateur; Colorado Springs' Colin Prater falls in 21 holes and CU's Dylan McDermott is ousted on 18th hole
By Gary Baines – 8/16/2023
When Connor Jones woke up on Wednesday morning, he received a text from his sister.
"She said, 'Happy birthday,' and I was so focused on the tournament I forgot it was my birthday," said the Westminster resident and Colorado State University golfer, who turned 22 on the same day he began match play at the U.S. Amateur at Cherry Hills Country Club.
"I don't get the opportunity to play a really neat event like this on my birthday very often, so it's really cool."
And if all is well that ends well, Jones must have had a happy birthday. He trailed only briefly in posting a 4-and-3 victory over Vicente Marzilio of Argentina and the University of North Texas.
Jones becomes the first Coloradan since Wyndham Clark and Kyler Dunkle in 2016 to make the round of 32 at a U.S. Amateur.
And 28-year-old high school science teacher Colin Prater of Colorado Springs almost made it two from the Centennial State in the final 32. But after rallying from a two-hole deficit to force extra holes, Ryggs Johnston of Libby, Mont., and Arizona State sank a 7-foot birdie putt on the 21st hole to defeat Prater and advance. Much of the stretch run of that match was front and center on Golf Channel in prime time.
"It's been a long week, but I really enjoyed the experience," Prater said while walking back to the clubhouse. "To have my daughter here, to have my wife here, my parents, to have my best buddy on the bag (caddying), it was just a really cool experience. I'd want to keep playing just to continue to have that experience because it was just so fun.
"But I'll be down at Cheyenne Mountain (High School) tomorrow morning getting ready for kids on Friday. And the first day (of classes) is Monday."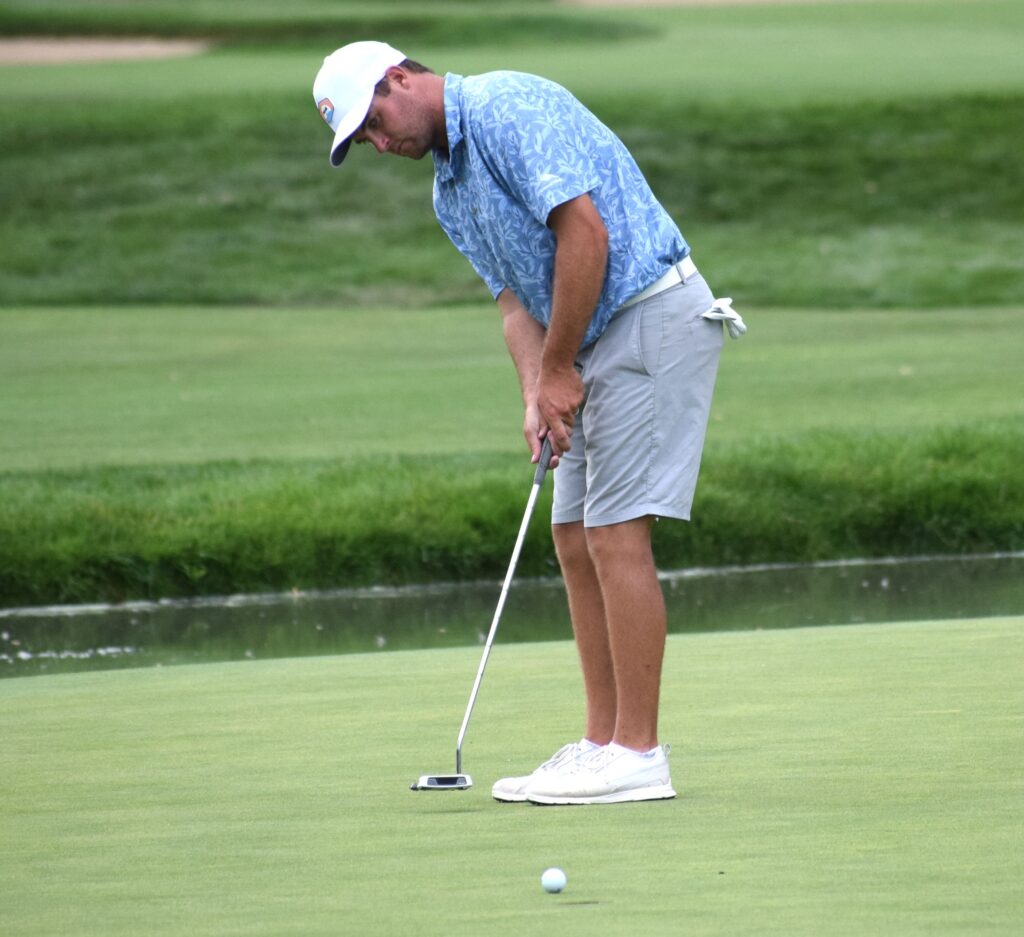 Colin Prater of Colorado Springs sinks a birdie putt on No. 17 at Cherry Hills.


As for Jones, as was the case during the stroke-play portion of the event — after which he tied for eighth place — the 2022 CGA Player of the Year had a nice crowd following him on Wednesday, including family, friends, folks from CSU, etc.
"It's really cool," he said of the support. "It's fun to have a bunch of people out here watching me that I know and (who are) supporting me. So it's great."
Next up for Jones — at 8:30 Thursday morning in the round of 32 — will be the ninth-ranked amateur in the world, Nick Dunlap of Tuscaloosa, Ala. The University of Alabama golfer won an all-Alabama top-10 matchup on Wednesday as he knocked off the world's No. 1 amateur, Gordon Sargent of Birmingham and Vanderbilt, 2 and 1 in the round of 64.
"I haven't really looked at the bracket," Jones said. "I don't know who I'm going to play, but I know whoever it is they're going to be a really good player. I'm going to have to play some good golf if I want to keep going."
But Jones will be the lone player with Colorado ties to compete in the round of 32. As noted, Prater, the 2020 CGA Player of the Year, was ousted after being 2 up through eight holes, 2 down through 13, then forcing extra holes. And University of Colorado golfer Dylan McDermott lost 1 up to incoming Auburn golfer Jackson Koivun, who sank a 6-foot birdie putt on the tough 18th hole to prevail.
For Jones, if he does knock off Dunlap, he'll be in for a 36-hole day as the round of 16 is scheduled for Thursday afternoon. And, for the first time at this U.S. Am, Jones will utilize a caddie on Thursday instead of carrying his own clubs.
"Thirty-six (holes in a day) is always a grind," he said. "It's a long day physically. It's a long day mentally — especially on a hard course where the rough is really thick and you've got to be thinking on every shot. It's going to be a really long day, and it's important to stay hydrated and stay filled with food and get lots of sleep tonight."
On Wednesday, Jones drove the first green (327 yards) from the Palmer tee but three-putted for par (as did his opponent, Marzilio). But after falling 1 down when the Argentine birdied 3, Jones won the next two holes (par, birdie) and never trailed again. A par win on 10 and birdies on 11 (two putt) and 12 (50 feet) put him 4 up and he cruised to the victory.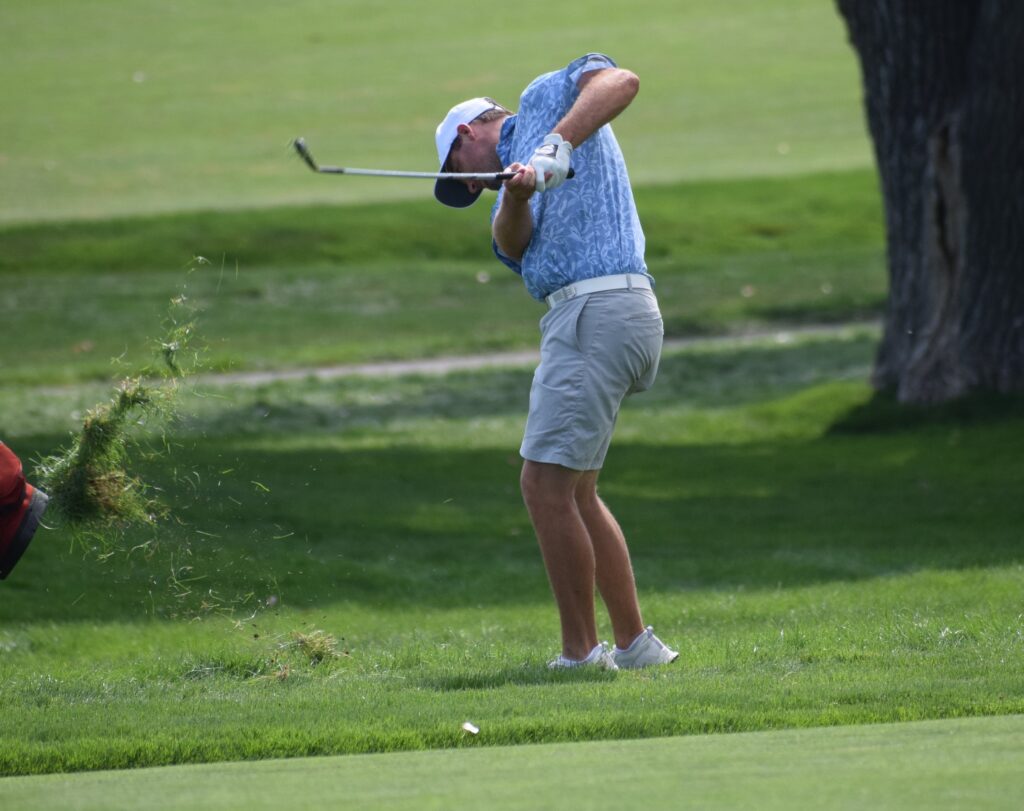 The rough at Cherry Hills is no joke, as Prater can attest.


Regarding the other former CGA Player of the Year in match play this week, Prater started out fast (2 up after being 2 under through 8), but then hit a rocky patch (bogey on 9, triple bogey on 10, and bogeys on 11, 12 and 13) to go 2 down. Then he rallied with an 80-foot birdie on 14 and a 20-foot birdie on 17 to tie the match.
However, it looked like his hopes for a win were gone when he hit his tee ball in the water on 18 and had to re-tee. But he hit what he called "probably the best 4-iron of my entire life" — from 201 yards uphill into the wind — to 6 feet and he saved a bogey that matched Johnston's.
The players tied with pars on the 19th and 20th hole — the latter after Johnston missed a 6-foot birdie try. On the 21st hole — a drivable par-4 — Johnston hit his tee shot over the green, but pitched to 7 feet and drained the birdie putt after Prater missed a 25-foot birdie attempt.
Prater was one of just four mid-amateurs (age 25 and older) to make match play this week.
"It was really fun. I'm really proud of myself," Prater said. "Being able to compete with these (college-age) guys and show them I still have a little bit of game left was great.
"Today, Ryggs was a really good player (but) I gave him too many gifts during the round."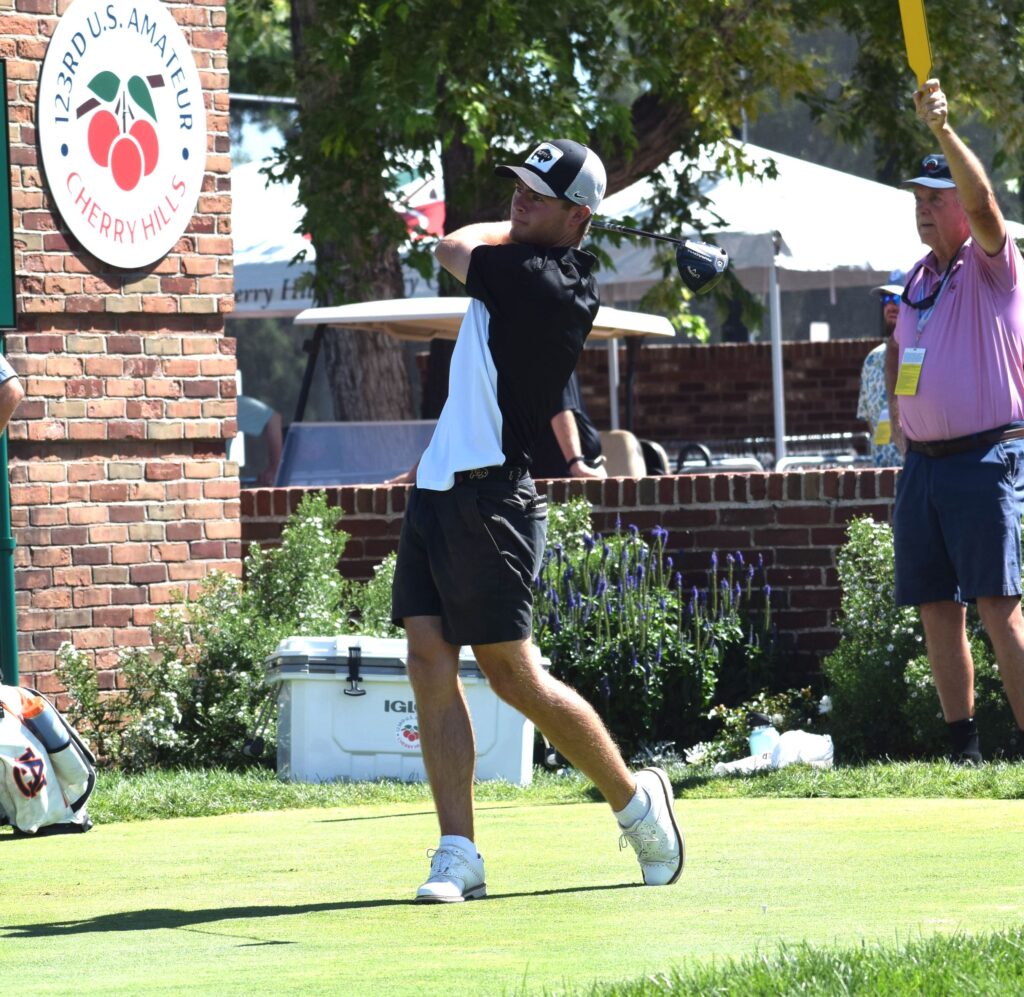 CU's Dylan McDermott watches his tee shot on No. 10 on Wednesday.



As for McDermott, he rallied in a big way after his opponent, Koivun, birdied the first two holes and was 3 up after four. In fact, the 20-year-old CU junior-to-be won the next four holes — two with birdies — to go 1 up.
Then came what McDermott thought was a pivotal point.
"I had one bad break on 9," he said. "I had won four holes in a row, then caught a divot in the middle of the fairway. It kind of squirted my ball left (and he missed the green and made bogey, losing the hole). I kind of lost a little momentum there. If that didn't happen, things might have gone a different way. Overall, he played great and I played good. He just came out on top."
The two came to the 18th hole tied, but Koivun hit a stellar approach that landed just over the treacherous front right bunker and his ball finished just 6 feet from the cup. After McDermott missed his 30-foot downhill birdie try, Koivun drained his short birdie to win the match.
"I hit it really well, but I putted kind of mediocre all week," said McDermott, who had CU teammate Hunter Swanson caddying for him. "If I putted better, I could have played really well this week. I missed a lot of putts I should have made."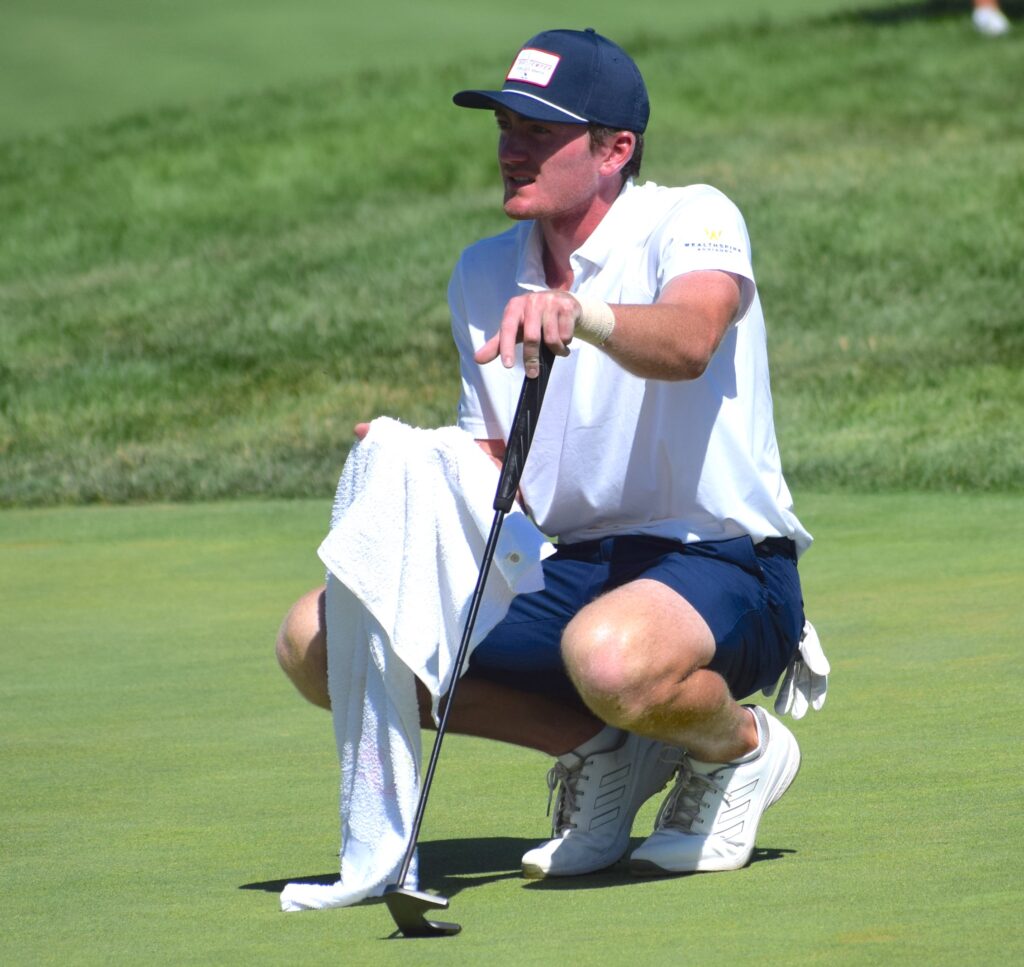 Nick Dunlap, who defeated the top-ranked amateur in the world on Wednesday, will face Jones in the round of 32.



Top-Ranked Gordon Sargent Ousted: While all three co-medalists won close round-of-64 matches — 16-year-old Blades Brown of Nashville (1 up), Jackson Buchanan of Dacula, Ga. (2 up) and Sampson Zheng of China (1 up) — a couple of the top-ranked amateurs in the world were ousted in matchups that featured two top-10 players on Wednesday.
That included No. 1-ranked Sargent (who fell 2 and 1 to No. 9 Dunlap) and fifth-ranked Dylan Mentante of Carlsbad, Calif. (who was routed 6 and 5 by No. 7 Caleb Surratt of Indian Trail, N.C.).
"Obviously (Sargent) is the No. 1 (amateur) player in the world for a reason," said Dunlap, the 2021 U.S. Junior Amateur champion, who was 5 under par for 17 holes on Wednesday. "He's a hell of a player. I wasn't expecting any gifts from him. We were just kind of throwing punches all day long and see who could withstand them at the end.
"This is why I practice is to go head-to-head with somebody like Gordon."
As for Surratt, he noted, "I definitely think that if I play my best golf it'll be hard to beat."
Also advancing to the round of 32 were identical twins David and Maxwell Ford of Peachtree Corners, Ga., with David prevailing 6 and 5, and Maxwell 4 and 3.
Fourteen of Wednesday's 32 matches went to the 18th hole or beyond.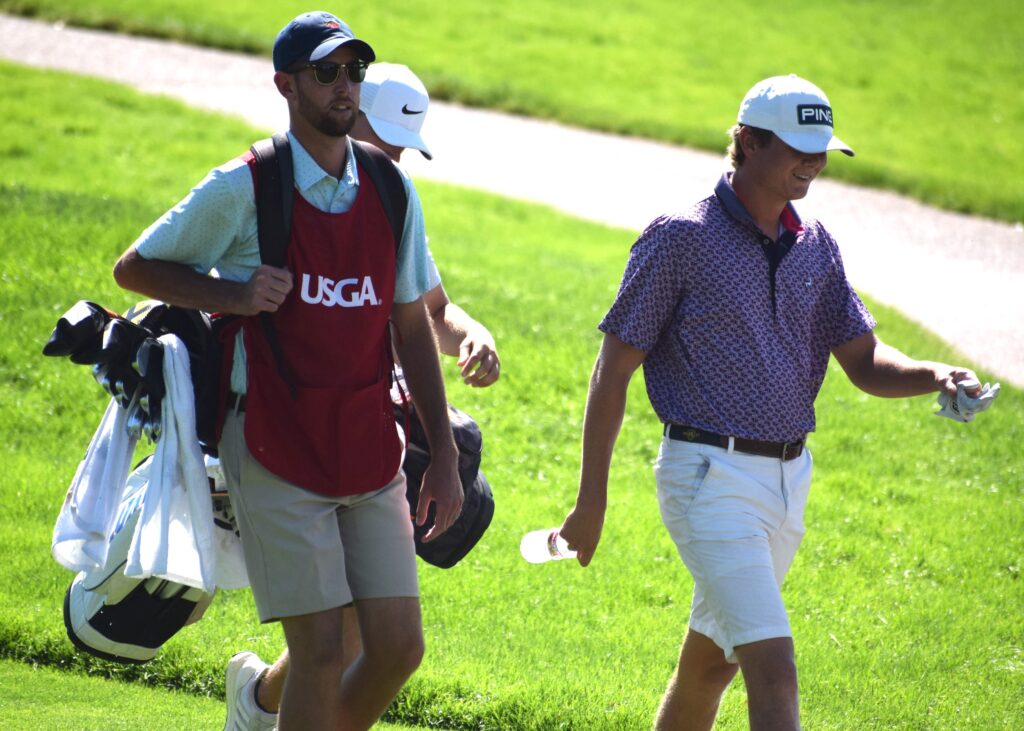 Steven Fox (left), who won the 2012 U.S. Amateur at Cherry Hills, was caddying for Bryce Lewis this week.



2012 U.S. Am Champ Returns … to Caddie: The caddie for Bryce Lewis of Hendersonville, Tenn., is no stranger to U.S. Amateurs at Cherry Hills Country Club. After all, Steven Fox, you might remember, won the 2012 U.S. Am at "Cherry," prevailing against a formidable field as the No. 63 seed.
This week, Fox was looping for Lewis, a fellow resident of Hendersonville.
"To get to come back here, I think I can offer a little bit as a caddie at Cherry Hills," Fox, a former pro who now works in commercial real estate and is a reinstated amateur, told Golf Channel. "Once I got approval from the wife, I was excited."
Alas, while Lewis made match play for the U.S. Am, his run ended on Wednesday as he fell 2 and 1 to Parker Bell of Tallahassee, Fla. Lewis had led the match 2 up after nine holes.
Given his current occupation, Fox's dreams of becoming a big-time tour player obviously never came to fruition.
"Once you win a U.S. Am, the goal is to play 20 years on the PGA Tour," he said. "Obviously, my story is a little different, but I love coming back. Whether it was to caddie or play with some members, I'd come back here any time."
Notable: After the two stroke-play rounds, the average score for Cherry Hills Country Club was 75.42, while it was 74.5 at Colorado Golf Club. …Tickets for the U.S. Amateur ($25 per day) are available at USAmateur.com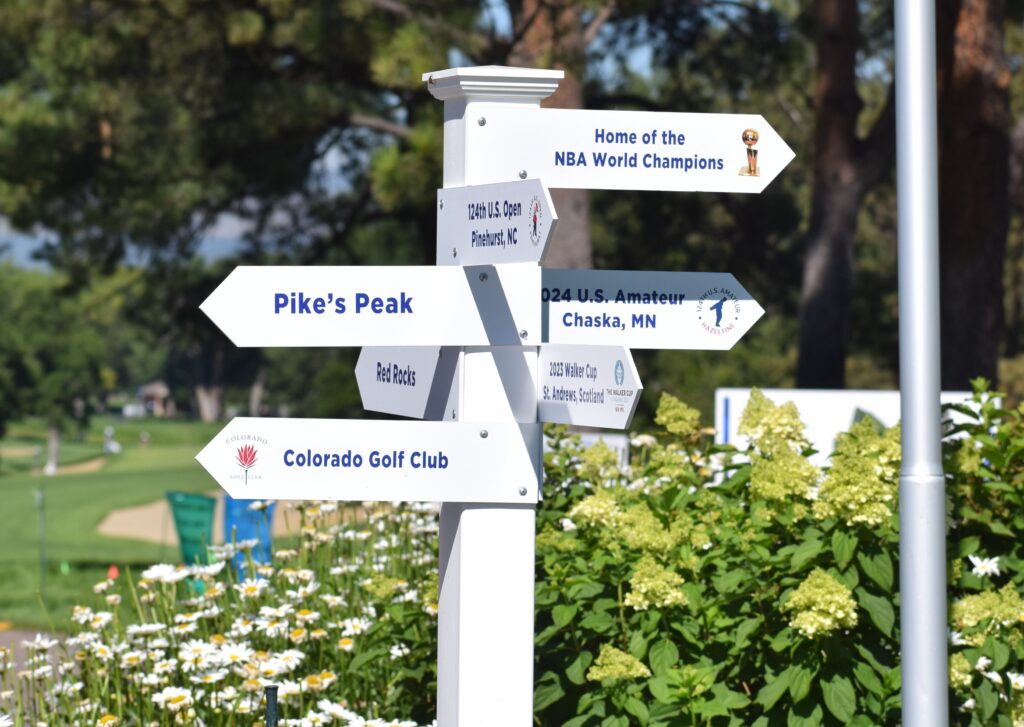 In case you need directions from Cherry Hills …
— U.S. Amateur Schedule:
Thursday: Match play rounds of 32 and 16, Cherry Hills
Friday: Match play quarterfinals, Cherry Hills
Saturday: Match play semifinals, Cherry Hills
Sunday: Scheduled 36-hole championship match, Cherry Hills
— TV Schedule for U.S. Am (MT):
Thursday: 4-5 p.m. (Peacock) and 5-7 p.m. (Golf Channel)
Friday: 3-4 p.m. (Peacock) and 4-6 p.m. (Golf Channel)
Saturday: 1-2 p.m. (Golf Channel) and 2-4 p.m. (NBC)
Sunday: 1-2 p.m. (Golf Channel) and 2-4 p.m. (NBC)
Here are the results for the players with strong Colorado ties competing in the U.S. Amateur:
ROUND OF 64 ON WEDNESDAY
Connor Jones of Westminster def. Vicente Marzilio of Argentina, 4 and 3
Ryggs Johnston of Libby, Mont. def. Colin Prater of Colorado Springs, 21 holes
Jackson Koivun of Chapel Hill, N.C. def. CU golfer Dylan McDermott of Granite Bay, Calif., 1 up
STROKE PLAY ON MONDAY AND TUESDAY
Advanced to Match Play
8. Connor Jones of Westminster, a CSU golfer 68-70–138
26. CU golfer Dylan McDermott 72-69—141
38. Colin Prater of Colorado Springs 74-68–142
Failed to Advance
139. Davis Bryant of Aurora 76-73–149
139. Pat Grady of Westminster 75-74–149
173. Jack Castiglia of Lakewood 74-77–151
173. Future CU golfer Brandon Knight 77-74–151
233. Nick Nosewicz of Aurora 75-80–155
268. Blake Trimble of Denver 76-82–158
268. Future CU golfer Parker Paxton 77-81—158
278. Gavin Hagstrom of Fort Collins 78-81–159
295. Cole Nygren of Longmont 80-82–162
For all the results from the U.S. Am, CLICK HERE.

About the Writer: Gary Baines has covered golf in Colorado continuously since 1983. He was a sports writer at the Daily Camera newspaper in Boulder, then the sports editor there, and has written regularly for ColoradoGolf.org since 2009. He was inducted into the Colorado Golf Hall of Fame in 2022. He owns and operates ColoradoGolfJournal.com