Putting woes bedevil Coloradan Connor Jones in loss to No. 9-ranked amateur in the world as his run in hometown U.S. Am ends; 7 of 8 quarterfinalists set after Ben James wins top-10 matchup; Bryson DeChambeau makes appearance
By Gary Baines – 8/17/2023
It may be difficult for Coloradan Connor Jones to find consolation after his U.S. Amateur run at Cherry Hills Country Club came to an end on Thursday, but this might help:
The last Coloradan to lose in the round of 32 at the U.S. Am — prior to Jones on Thursday — was a guy named Wyndham Clark, who exited at that stage in 2016, in his fifth and final U.S. Am. And yes, it's the same Wyndham Clark won won the U.S. Open a couple of months ago.
Jones, the 2022 CGA Amateur of the Year from Westminster and a Colorado State University golfer, had a formidable task in trying to make the sweet 16 this week as he had a brutal draw considering he tied for eighth place in the stroke-play portion of the event.
After Wednesday's round-of-64 victory, he would face one of the top-10 ranked amateurs in the world no matter what. It would either be top-ranked Gordon Sargent or No. 9 Nick Dunlap of Tuscaloosa, Ala., who ended up beating Sargent in the round of 64 and advancing to meet Jones.
And while Jones did lose — 4 and 2 — to the 2021 U.S. Junior Amateur champion after being shellacked at the beginning of the match, a good case can be made that the Coloradan might have made it very interesting if his putting was good or even average by elite-level standards on Thursday.
Specifically, Jones missed five putts of 7 feet or less on the front nine.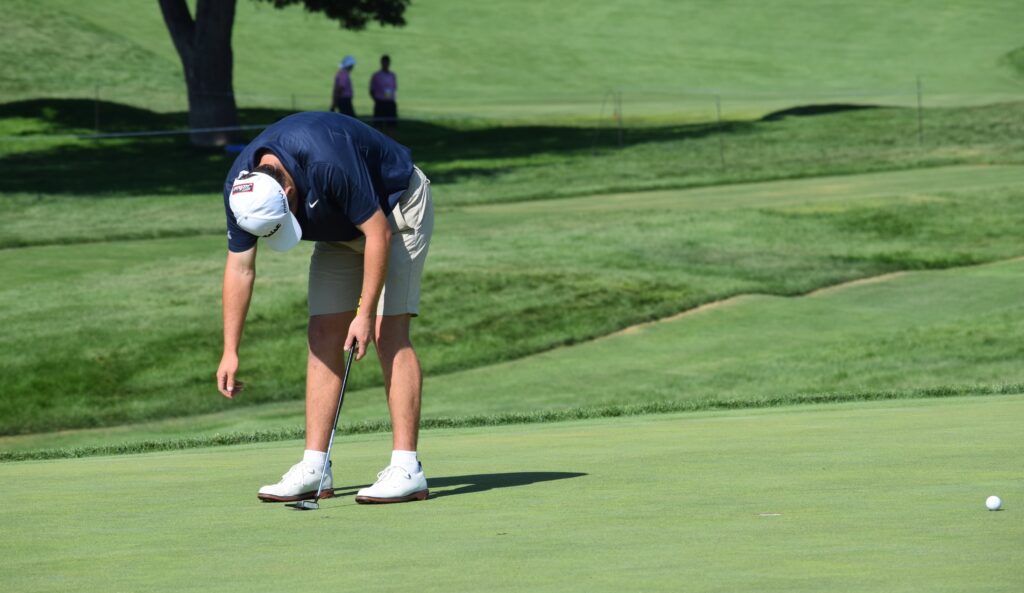 It was a frustrating day on the greens for Jones, who lost in the round of 32.



"I was pretty frustrated," he said a day after turning 22 years old. "I missed four or five 6-footers in a row. It's pretty frustrating. It's hard to beat a really good player when you can't make those type of putts.
"That's been my problem my whole life — on the greens."
The putting woes may not have been an issue against a lesser player, but Dunlap doesn't fall into that category. The 19-year-old has had a very impressive summer, winning both the Northeast Amateur and the North & South Amateur. The Alabama sophomore-to-be is playing in his fourth U.S. Amateur and, as noted, just beat the top-ranked amateur in the world.
"I knew he's a really good player," said Jones, the No. 90-ranked amateur in the world. "He's got a lot of experience in match play. He was ready to play from the first tee. You've got to be ready for stuff like that."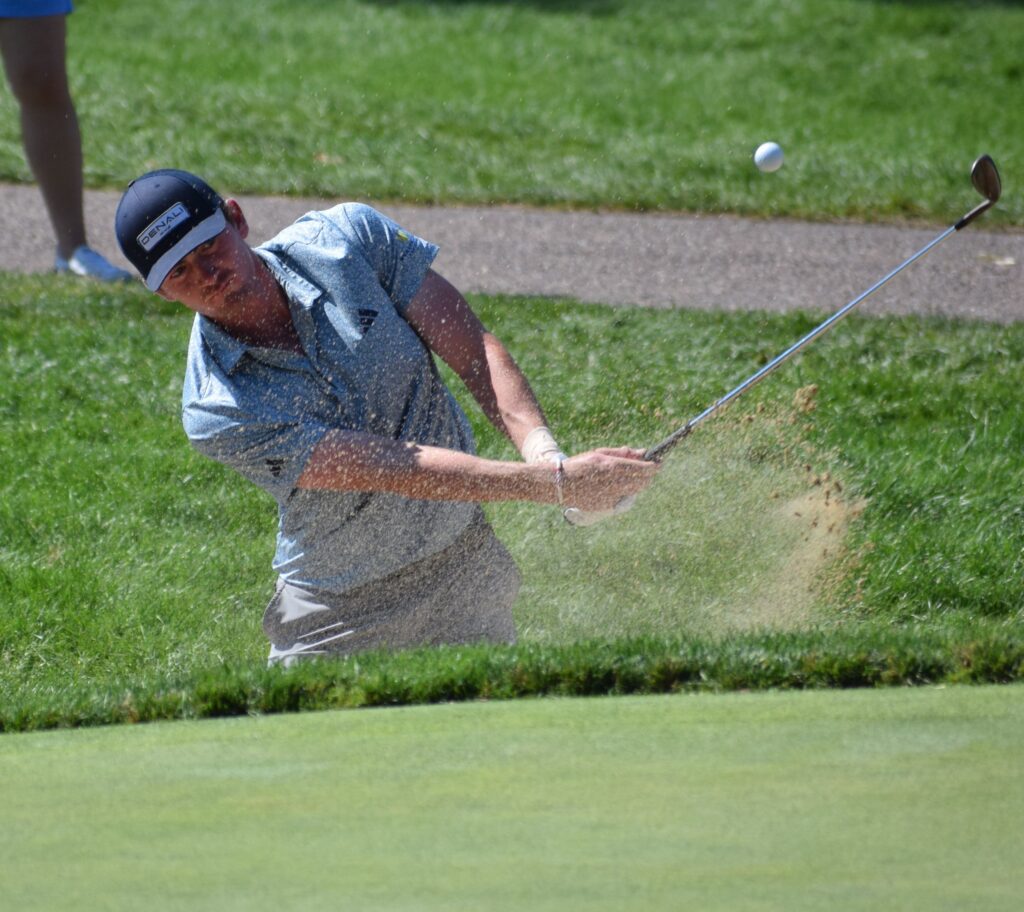 After winning two matches on Thursday — the first against Jones — Nick Dunlap is a quarterfinalist.



"That" was Dunlap winning the first four holes and being 4 under par after five. Still, Jones rallied to narrow the deficit to 1 down — and would have been much better off if not for his balky putter. He missed putts of 5 feet on No. 4, 5 feet on No. 5 (an eagle attempt), 7 feet on No. 7, 5 feet on No. 8 and 7 feet on No. 9.
It's little wonder why Jones and caddie TJ Shehee took turns kissing Jones' putter on the 10th green, hoping for a change of fortunes with the flat stick. Even though Jones did win two holes with birdies after that, one was a concession of a 2 1/2 footer on 10 and the other was a 4 footer on 13.
Obviously, if even three or four of those shortish putts on the front nine had found the cup, it would have been a very tight match on the final holes.
"It doesn't really matter what the putt is for. Anytime you have a putt to win a hole or tie a hole, it's kind of a pressure putt," Jones said. "I wasn't able to get any of those (to fall)."
After being 4 down through nine holes, Jones posted his first winning hole at No. 10, where Dunlap three putted and conceded Jones' short birdie. Dunlap pumped his tee shot out of bounds right on No. 11, making his third bogey in four holes, and Jones prevailed with a par there to get to 2 down.
And on 13, Jones hit a stellar approach to a back pin and punctuated his 4-foot conversion for birdie with a fist pump that had a little extra emphasis in it. That left him just 1 down after being 4 down after four.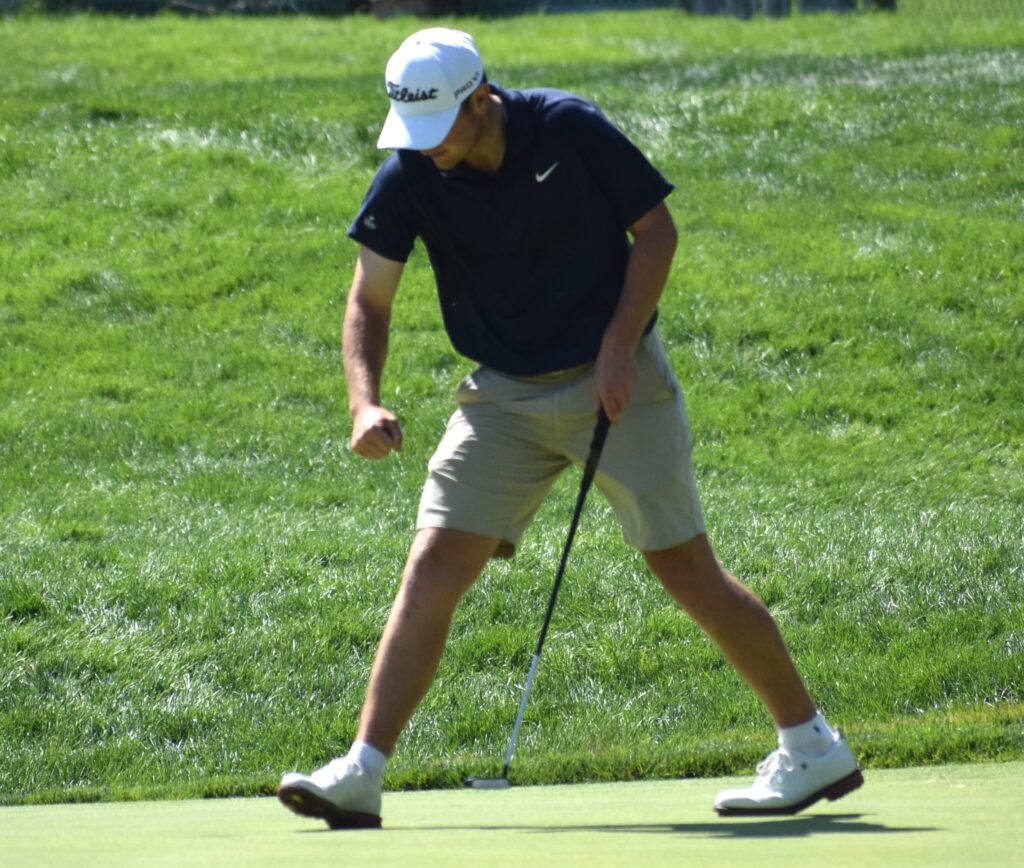 A short birdie by Jones on No. 13 cut his deficit to 1 down, but Dunlap would win the next three holes.


Alas, that's when Dunlap regained his form and he birdied his next three holes — 14 (20 feet), 15 (15 feet) and 16 (6 feet) to close things out in a hurry. Dunlap's up-and-down-and-up match added up to him being 4 under par for 16 holes.
"It was a little frustrating this morning," Dunlap said. "I gave some holes away on 10 and 11. … There's just certain shots where you just have to step up and hit a good one, and I was able to make some putts to keep me in it, and that got me where I am now."
Jones ended up 1 under for the match, and he had to think he could have easily been 4 or 5 under given how well he hit the ball on Thursday.
"I was just trying to chip away hole by hole," he said. "I felt like the momentum was on my side. I could have done it (rallied for the win), but he hit better shots than me (down the stretch)."
Now Jones won't compete in a tournament again until the college season begins next month.
"Obviously I'm a little bummed out (with Thursday's result)," he said. "I'm going home a little early right now. I've been kind of struggling all summer with my game so it feels good to play halfway decent (here).
"It was a good week for me. I'm proud of the way I fought. It's just how it is. Sometimes you don't have your best stuff."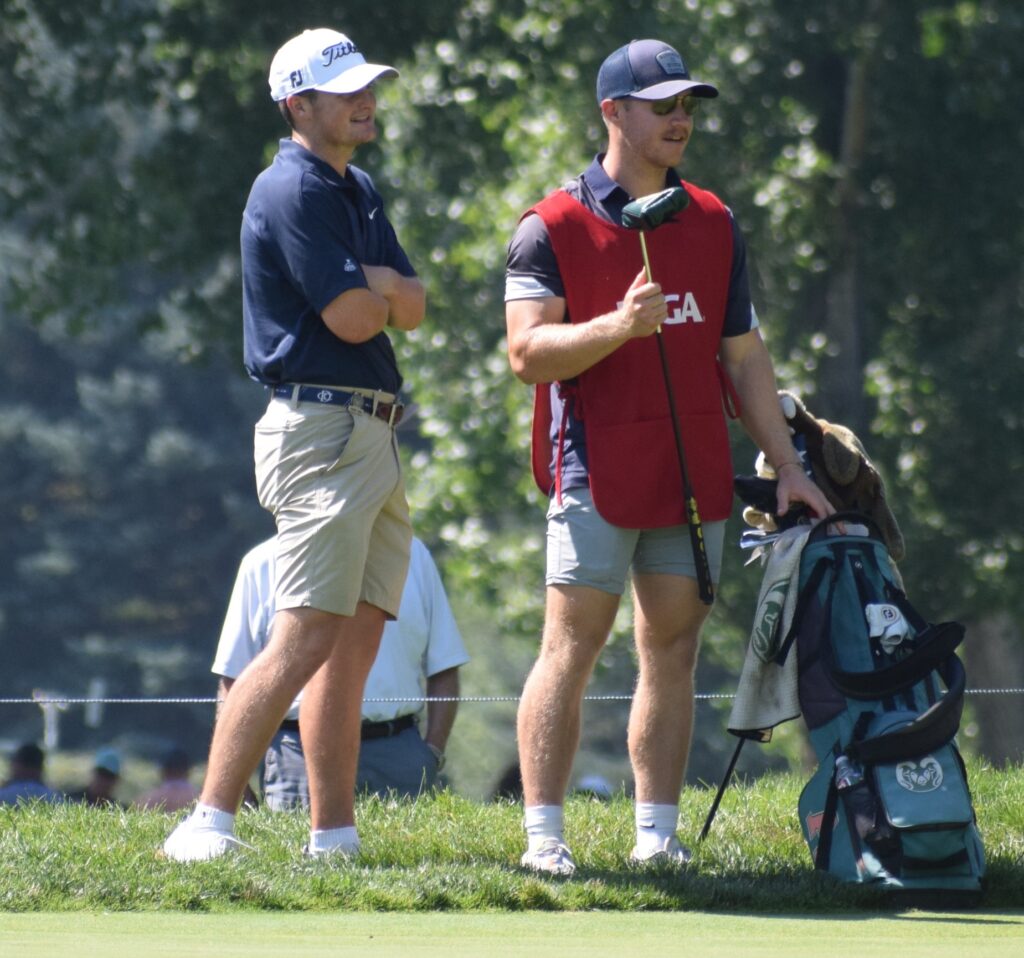 After carrying his own clubs for the first three days of the U.S. Am, Jones (left) had friend TJ Shehee caddying for him on Thursday.


After carrying his own clubs for the first three days of the U.S. Amateur, Jones had good friend TJ Shehee, runner-up in both the CGA Match Play and CGA Amateur this year, caddie for him on Thursday. Two years ago in separate qualifying tournaments, Jones caddied for Shehee and vice-versa in 36-hole U.S. Amateur qualifiers. Both of them qualified that year.
"It was a lot of fun. No complaints," Jones said of Shehee's caddying on Thursday. "Wished I would have played a little better."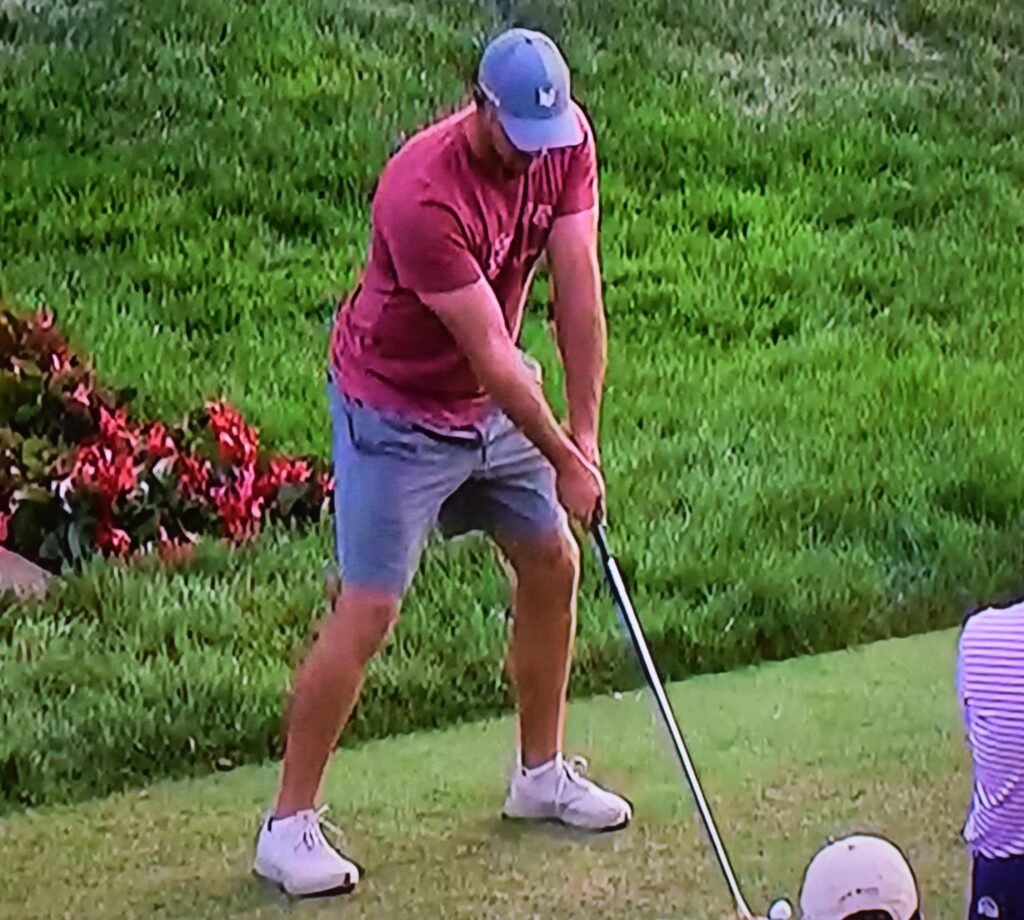 Bryson DeChambeau took a couple of cuts from the Palmer tee at Cherry Hills Thursday evening.


DeChambeau Tries to Match Arnie's Feat: None other than Bryson DeChambeau, the 2015 U.S. Amateur champion (also winner of a U.S. Open, eight total PGA Tour events and a recent LIV tournament after a final-round 58) made an appearance Thursday evening at the U.S. Am.
Besides watching some of the action, DeChambeau teed it up with an old persimmon driver from the Palmer tee at the first hole at Cherry Hills. That's where Arnie drove the green from 346 yards in the final round of the 1960 U.S. Open en route to shooting 65 and rallying from seven strokes behind for the victory.
For the record, the long-hitting DeChambeau hit one of his balls pin high, just slightly into the rough right of the green.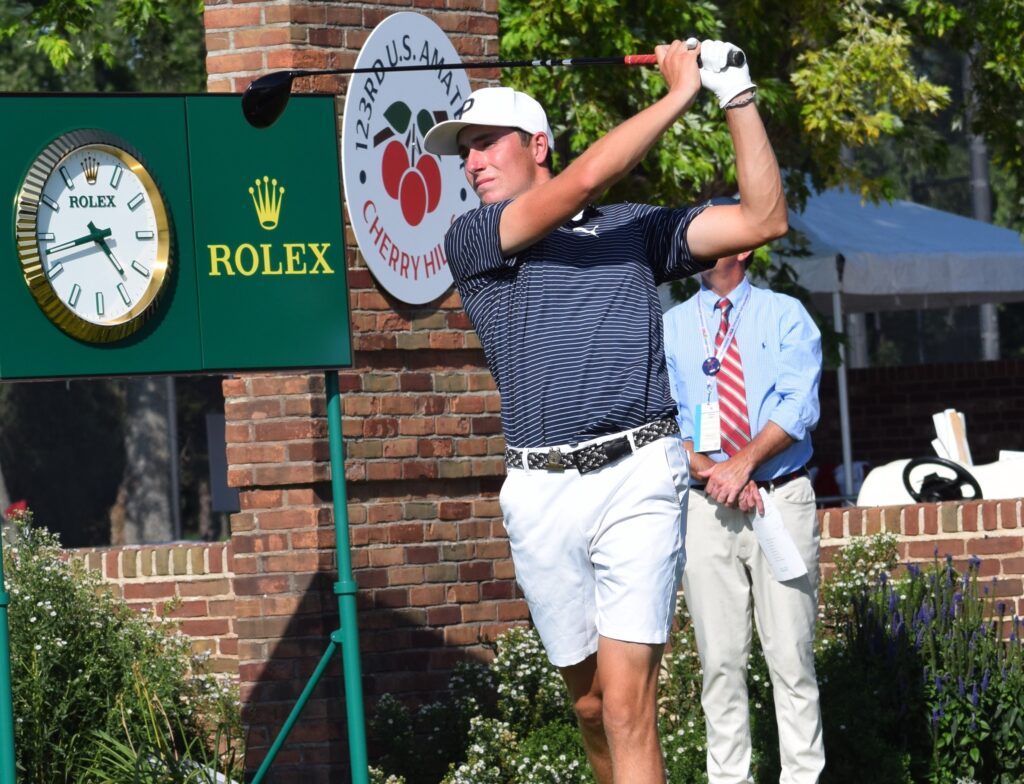 Ben James defeated David Ford in a top-10 matchup on Thursday.


Nine Players Left After Top-10 Showdown: At the close of play on Thursday, seven quarterfinalists had been determined. The eighth is still up in the air as the round-of-16 match between Paul Chang of China and John Butler of Louisville, Ky., was tied after the 18th hole. In fact, they played that hole in semi-darkness, with a few floodlights near the clubhouse illuminating the green.
Butler parred the 18th from 4 feet — to match Chang — after hitting his tee shot into the water. With it being too dark, that match will resume at 8 a.m. on Friday.
The Chang-Butler match featured some crazy shots down the stretch as Chang one-hopped his 147-yard second shot into the hole for a winning eagle on No. 16. A hole before, his tee shot hit the top of the flag and rolled off the green, and he needed to get up and down for tying par.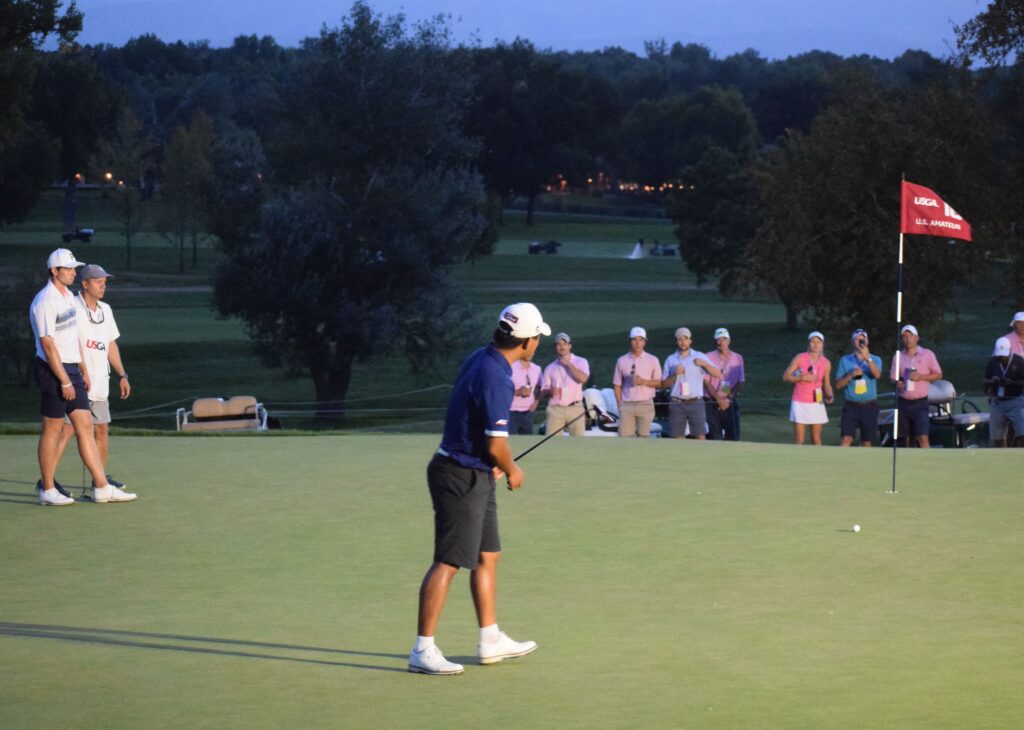 Paul Chang (center) and John Butler (left) played the 18th hole under lights Thursday night.



As for the quarterfinalists that are finalized …
— Dunlap, who defeated Jones in the round of 32, later on Thursday ended another match relatively early with a 5-and-3 victory.
— Jackson Koivun of Chapel Hill, N.C., an incoming freshman at Auburn.
— Parker Bell of Tallahassee, Fla., a sophomore at the University of Florida
— Ben James of Milford, Conn., a University of Virginia golfer.
— Neal Shipley, 23, of Pittsburgh, a former Ohio State and James Madison golfer. He used to caddie at storied Oakmont Country Club
— Andi Xu of China, a University of San Diego golfer.
— And Jose Islas of Mexico
In Friday's quarters, which start at 8:30 a.m., Koivun will face Dunlap, Bell will play James, Shipley and Xu will meet, and Islas will play the Chang-Butler winner.
Only two players in the top 10 in the World Amateur Golf Rankings made the semifinals: James (sixth) and Dunlap (ninth). Among the top 10s who lost on Thursday were David Ford of Peachtree Corners, Ga., in the round of 16 to James — in 19 holes; Caleb Surratt of Indian Trail, N.C., in the round of 32 — in 22 holes to Chang; Austin Greaser of Vandalia, Ohio in the round of 32 — to Connor Gaunt of Cabot, Ark.; and Nick Gabrelcik of Trinity, Fla., in the round of 32 — to Maxwell Ford of Peachtree Corners, Ga.
The biggest match in the round of 16 featured two top-six players in the world amateur rankings squaring off — David Ford (fourth) vs. James (sixth). The matchup lived up to its billing, with four lead changes — the fourth coming when James sank a 3-foot birdie putt on the 19th hole (the first at Cherry Hills).
That was the 10th birdie of the day between the players.
"It was unbelievable," James said of the match. "David is an incredible player. We've played a lot growing up, in junior golf, so I know his short game is phenomenal, better than mine. I knew I'd just have to use my weapon, ball strike it around.
"It was just an incredible battle. I've never had a match like that — or thought it it could even happen. … I would never dream of myself doing that."
There had been a very real possibility of identical twins, Dave and Maxwell Ford, playing each other in the quarterfinals. But both ended up losing in the round of 16, with Bell defeating Maxwell 5 and 4.

Medalist Hex Continues: All three of the stroke-play co-medalists bowed out in the round of 32 on Thursday, including 16-year-old Blades Brown, the youngest medalist in the 123-year history of the championship.
Brown fell 4 and 3 to Jackson Koivun of Chapel Hills, Calif., who had beaten University of Colorado golfer Dylan McDermott a day earlier. Jackson Buchanan of Dacula, Ga., lost to Cooper Jones of Highland, Utah, 4 and 3. And Sampson Zheng of China was defeated by Jose Islas of Mexico, 2 and 1.
A stroke-play medalist hasn't won the U.S. Amateur since Ryan Moore did it in 2004.
"You win or you learn," Brown said. "I don't like the word 'loss.' I'm going to learn from this, and hopefully next year I'll be able to come back."
How did Brown play so well earlier in the week, but struggle on Thursday?
"One day you're a stripe show," he said. "One day I shot 8-under. I think today I was maybe 2-over. That's golf."

Notable: Because of a forecast for inclement weather on Friday afternoon, tee times for the quarterfinals have been moved up and will begin at 8:30 a.m. TV coverage on Peacock will begin at 10 a.m. and run through the end of quarterfinal play, with a replay airing on Golf Channel from 4 to 6 p.m. Saturday's semifinal matches are scheduled to start at noon. Sunday's 36-hole final is set for 7 a.m., with the second 18 beginning at approximately 1 p.m. … Tickets for the U.S. Amateur ($25 per day) are available at USAmateur.com

— U.S. Amateur Schedule:
Friday: Match play quarterfinals, 8:30 a.m., Cherry Hills
Saturday: Match play semifinals, noon, Cherry Hills
Sunday: Scheduled 36-hole championship match, 7 a.m., Cherry Hills

— TV Schedule for U.S. Am (MT):
Friday: 10 a.m. (Peacock) and 4-6 p.m. (Golf Channel)
Saturday: 1-2 p.m. (Golf Channel) and 2-4 p.m. (NBC)
Sunday: 1-2 p.m. (Golf Channel) and 2-4 p.m. (NBC)

Here are the results for the players with strong Colorado ties who competed in the U.S. Amateur:
ROUND OF 32 ON THURSDAY
Nick Dunlap of Tuscaloosa, Ala., def. Connor Jones of Westminster, 4 and 2
ROUND OF 64 ON WEDNESDAY
Connor Jones of Westminster def. Vicente Marzilio of Argentina, 4 and 3
Ryggs Johnston of Libby, Mont. def. Colin Prater of Colorado Springs, 21 holes
Jackson Koivun of Chapel Hill, N.C. def. CU golfer Dylan McDermott of Granite Bay, Calif., 1 up
STROKE PLAY ON MONDAY AND TUESDAY
Advanced to Match Play
8. Connor Jones of Westminster, a CSU golfer 68-70–138
26. CU golfer Dylan McDermott 72-69—141
38. Colin Prater of Colorado Springs 74-68–142
Failed to Advance
139. Davis Bryant of Aurora 76-73–149
139. Pat Grady of Westminster 75-74–149
173. Jack Castiglia of Lakewood 74-77–151
173. Future CU golfer Brandon Knight 77-74–151
233. Nick Nosewicz of Aurora 75-80–155
268. Blake Trimble of Denver 76-82–158
268. Future CU golfer Parker Paxton 77-81—158
278. Gavin Hagstrom of Fort Collins 78-81–159
295. Cole Nygren of Longmont 80-82–162
For all the results from the U.S. Am, CLICK HERE.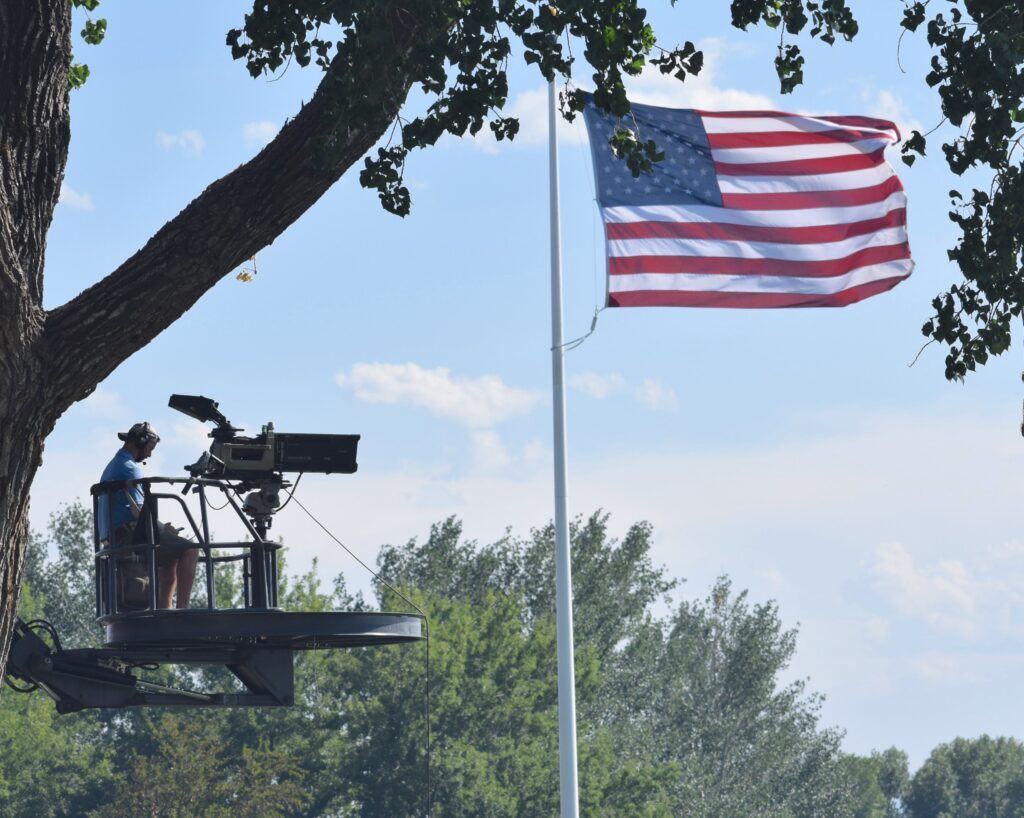 The wind picked up quite a bit on Thursday afternoon at Cherry Hills.


About the Writer: Gary Baines has covered golf in Colorado continuously since 1983. He was a sports writer at the Daily Camera newspaper in Boulder, then the sports editor there, and has written regularly for ColoradoGolf.org since 2009. He was inducted into the Colorado Golf Hall of Fame in 2022. He owns and operates ColoradoGolfJournal.com