Fan favorite Neal Shipley caps rally with spectacular shot to advance to U.S. Am final at Cherry Hills, where he'll meet Nick Dunlap, who will try to win his 2nd USGA title
By Gary Baines – 8/19/2023
It looked like a scene straight out of the Hale Irwin 1990 U.S. Open playbook. Hit a terrific golf shot at a pivotal moment at a USGA national championship, then high-five just about every fan in sight.
Thirty-three years after Irwin celebrated in memorable fashion at Medinah Country Club, it was Neal Shipley doing the honors on Saturday in the state where Irwin grew up. The Pittsburgh resident, from 93 yards out for his third shot to the island green on the par-5 17th hole at Cherry Hills Country Club, flew his ball 30 feet past the flag, then watched it spin back — hard — to within 6 inches of the cup.
That's when Shipley, who's quickly become a fan favorite with his long hair and effervescent personality, began high-fiving fan after fan, part of the throng of people — thousands strong — that were following the semifinals of the U.S. Amateur.
"After that shot, just raw emotion," Shipley said. "I was just so excited. I saw it almost go in and I knew it was tight just because it looked like it touched the shadow on the bottom of the flagstick, and everyone was going crazy. I was going crazy.
"That shot was so cool, and that scene was just something I'm going to cherish for a long time. That's unbelievable. I haven't really processed it.
"… It seems like the crowd likes me, I guess, this week. I'm just trying to use that energy when you hit good golf shots, get pumped up, get good vibes going. I think that's super, super important."
When Shipley made it up to his ball, the birdie was conceded and when his opponent, John Marshall Butler of Louisville, Ky., couldn't pitch in for birdie from the left of the green, Shipley clinched a 2-and-1 victory that will send him to Sunday's 8 a.m. scheduled 36-hole final at the U.S. Am.
Shipley can only help his outcome at Cherry Hills turns out the same as Irwin's in 1990 as the University of Colorado grad captured his third U.S. Open title.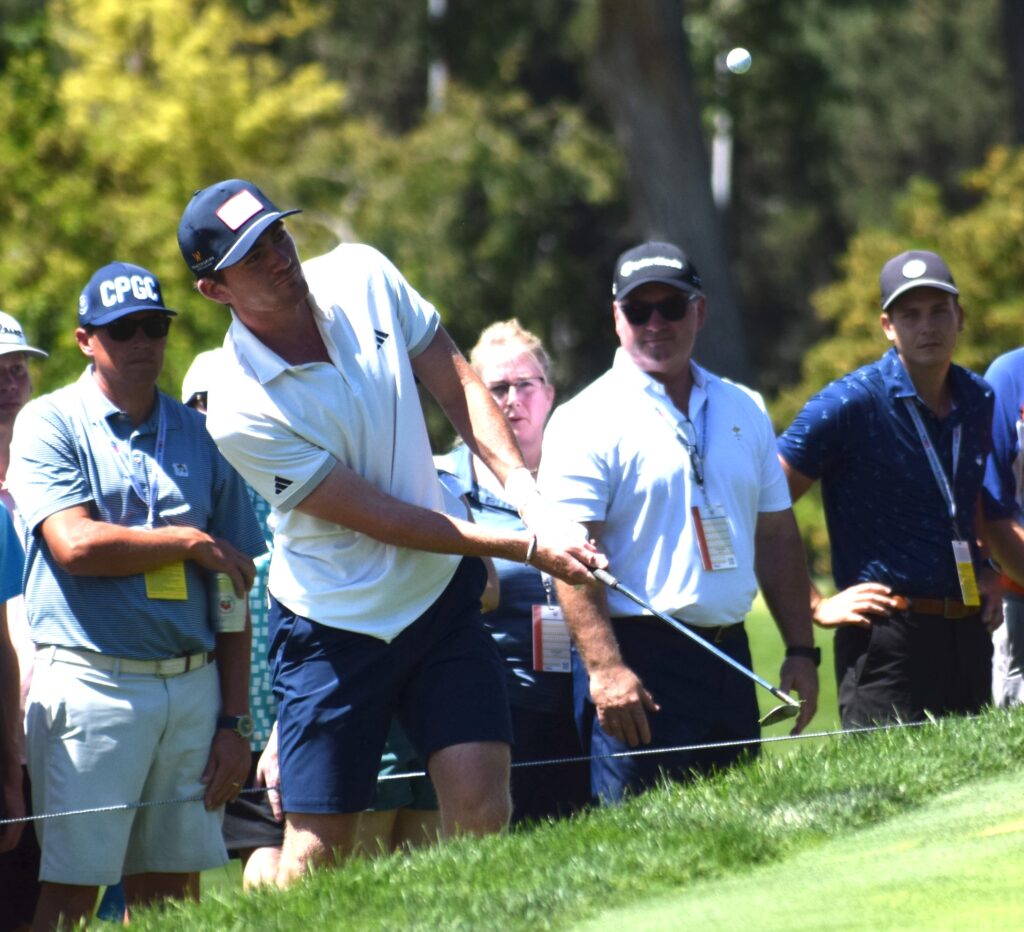 Finalist Nick Dunlap is looking to join Tiger Woods as players to have won a U.S. Junior Amateur and a U.S. Amateur.



Joining the Ohio State golfer in Sunday's title match for the most prestigious amateur golf tournament in the world will be Nick Dunlap of Tuscaloosa, Ala., the No. 9-ranked amateur in the world and the 2021 U.S. Junior Amateur champ. Three days after knocking off the planet's top-ranked amateur, Gordon Sargent, Dunlap scored a 3-and-2 semifinal victory over Parker Bell of Tallahassee, Fla.
Dunlap now owns an amazing 29-2 record in match-play competition over the 2 1/2 years.
"It's just a belief in myself. I'm a fighter," the University of Alabama golfer said. "I don't give up. No matter what the situation is, no matter what's thrown at me. I see it as a challenge.
"I just love the game, to be honest with you. I love when your hands are shaking, and that's what I practice for. That's why I get up at 5 (a.m.) and work out and hit balls at 10 at night."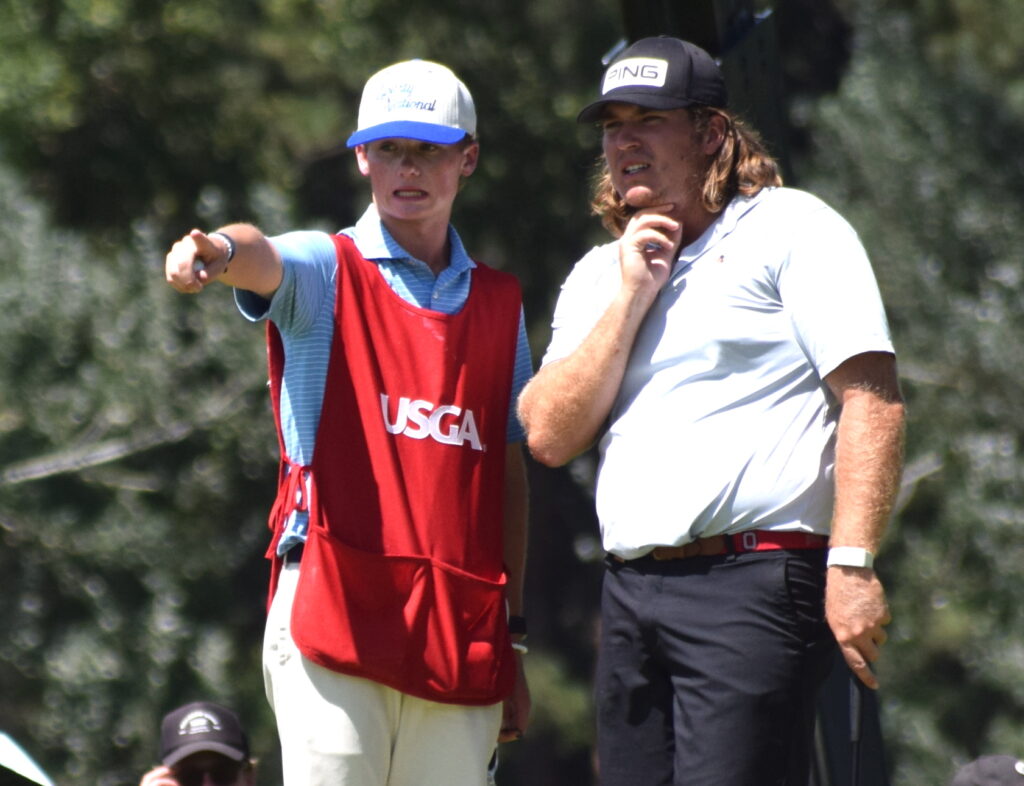 Shipley has rallied from significant deficits to win his last two matches.



By virtue of making the finals, both Shipley and Dunlap earn berths in the 2024 U.S. Open and likely the 2024 Masters. The champion on Sunday will add a spot in the 2024 British Open.
"I think I said to my caddie, 'Dude, we're playing in the Masters,'" Shipley said. "That's awesome. Augusta National is one of those places that it's so special for golf, and it's just so sacred. I'm really excited to play in that tournament."
Said Dunlap: "You watch (the Masters) on TV growing up as a kid; Augusta is Augusta," he said. "There's nothing like it. I'm fortunate enough to get the opportunity to go to St Andrews (for the Walker Cup) and Augusta on my schedule coming up. It's beyond what I could put into words. It's really cool."
For Shipley, who's ranked No. 132 in the world among amateurs after a summer in which he's been runner-up in the Trans-Miss and Sunnehanna and placed third in the Pacific Coast Amateur, Saturday marked the second straight day he's rallied from an early deficit to win his match. He prevailed in the quarterfinals 2 and 1 after being 2 down through seven holes. In Saturday's semis, it was an even deeper hole — and later in the match — as he was 3 down through 10 holes.
"I wasn't mentally defeated, but I knew I was going to have to do something pretty special and continue to hit a lot of good golf shots, and I think I did just that," Shipley said.
This time, he birdied 11 and 12 to get to 1 down. After Shipley prematurely fist pumped as his birdie try lipped out hard on No. 14, Butler sank an 18-foot par putt, glanced at Shipley, then raised his hands and said 'Let's go' to the crowd.
But Shipley squared things with a par on 15 after Butler's tee shot on the par-3 nearly went into the creek and his pitch hit the flagstick but didn't fall. Shipley also won 16 with a par, sinking a 5 1/2 footer. That all set up the theatrics on 17 with Shipley's stellar suck-back wedge approach.
Now Shipley will try to join Jack Nicklaus and John Cook (who is a walking reporter this week for the Golf Channel) as U.S. Am champs from Ohio State. And he'll attempt to be follow in the footsteps of Arnold Palmer and Jay Sigel — both whom have won USGA championships at Cherry Hills — as golfers from Pennsylvania who have captured U.S. Amateur titles.
And, like Palmer, Shipley has been a big hit at Cherry Hills.
"This is pretty special, honestly," he said. "The crowd here and the way the members have embraced us and the town, it's been really special. … It's pretty cool to be embraced like this away from home."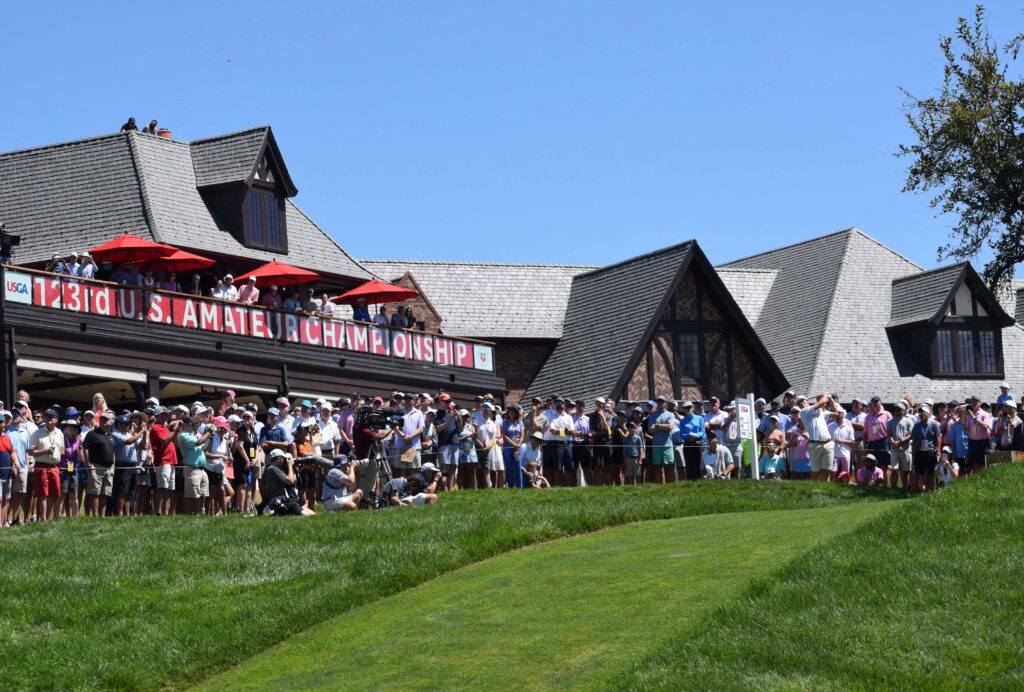 John Marshall Butler hits his first tee shot of Saturday's semifinals.


While it was obviously an amazing moment for Shipley, it wasn't so great for Butler, who lost just about an hour after leading 3 up.
"To me, this doesn't really make a difference," Butler said. "It doesn't affect my future. I still believe I'll be the No. 1 player in the world. I still believe I'll be competing on the PGA Tour, and I still believe that I'll be winning majors.
"Yeah, right now it kind of stings, but it doesn't change anything. There have been a lot of really good players who haven't won this tournament, and yeah, it would have been great, but it's whatever.
"I made some amateur mistakes for sure."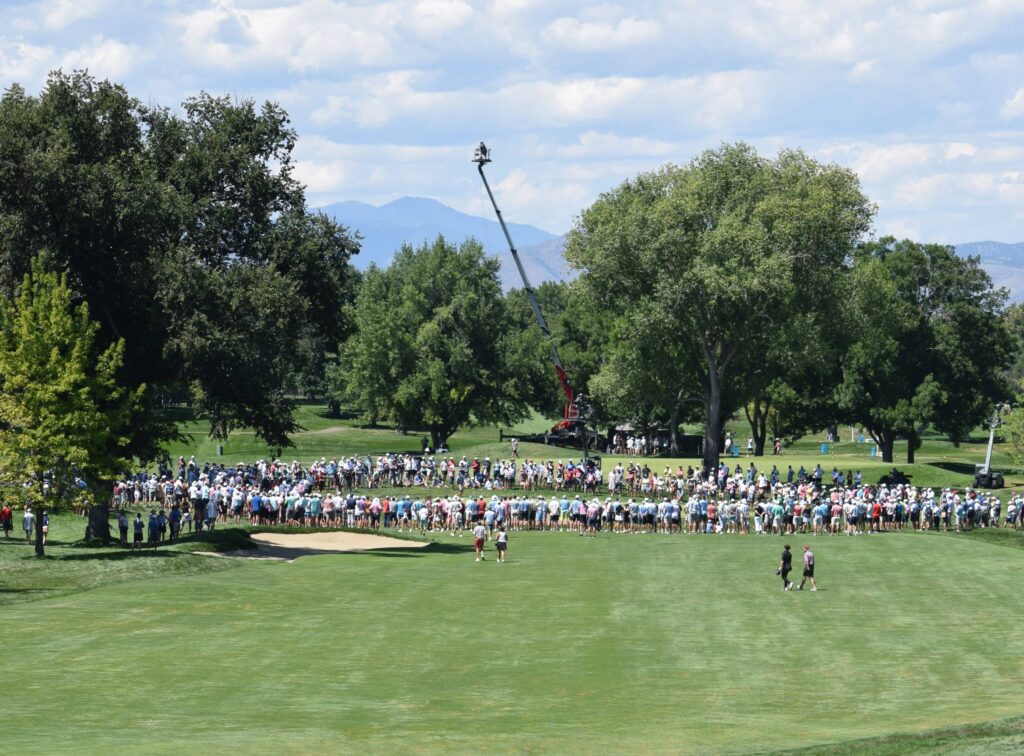 The crowds were considerable on Saturday for the two matches.


Meanwhile, Dunlap can put himself in very elite company should he win the title on Sunday. The only player in history to have won both the U.S. Junior Amateur and the U.S. Amateur is Tiger Woods, who captured each title three times apiece. Dunlap won his Junior Am two years ago.
"It would be pretty cool company," the 19-year-old Dunlap said. "It's something that's been a goal of mine for a long, long time."
Dunlap, who defeated Coloradan Connor Jones in the round of 32, was 1 down for a few holes on the front nine Saturday against Bell. But for the second straight match he made deuces on both the par-3 eighth and 12th. And after No. 5 he didn't card anything worse than a par in slowly building his lead.
Dunlap had both of his parents fly in on Friday night — along with numerous others — to support him in his quest for the title.
"Just the support I've gotten here and back home is remarkable," he said.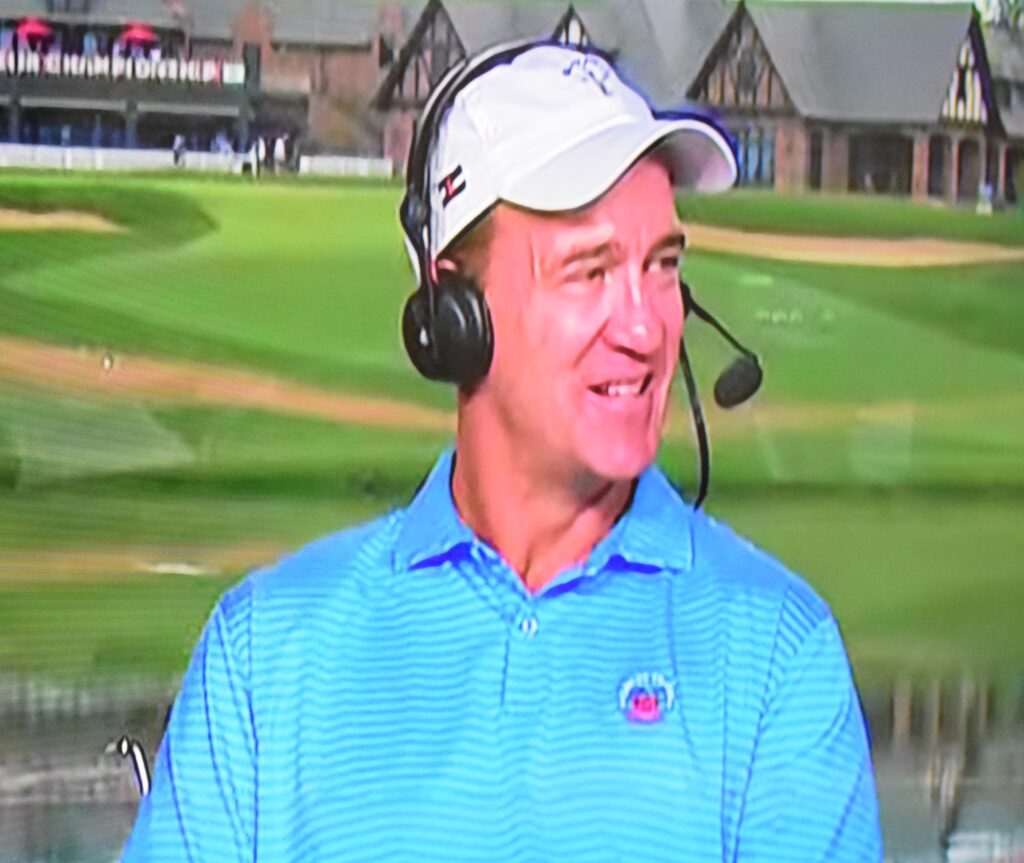 Cherry Hills member Peyton Manning on the NBC set on Saturday.
Notable: Former Broncos quarterback Peyton Manning, a Cherry Hills member who is serving as the honorary chair of the 2023 U.S. Amateur, joined the NBC telecast briefly on Saturday afternoon. "It's been a special week," he said. "It's a great week for Cherry Hills and the fans of Colorado. This is golf town for sure. These (competitors) have put on a show." … Bob Austin of Denver, a Cherry Hills member who refereed the first 18 holes of the U.S. Girls' Junior last month at the Air Force Academy, did the honors for the Duncan-Bell semifinal on Saturday. His wife Christie, who worked the final 18 holes of the Girls' Junior final, will be the referee for the first 18 holes of Sunday's U.S. Am final. Bryan Lewis of South Haven, Mich., who serves on the USGA Executive Committee, will take over as referee from Austin for the 19th hole through the end of the title match. … All four of the U.S. Am semifinalists were Americans for the fifth straight year. … Tickets for the U.S. Amateur ($25) are available at USAmateur.com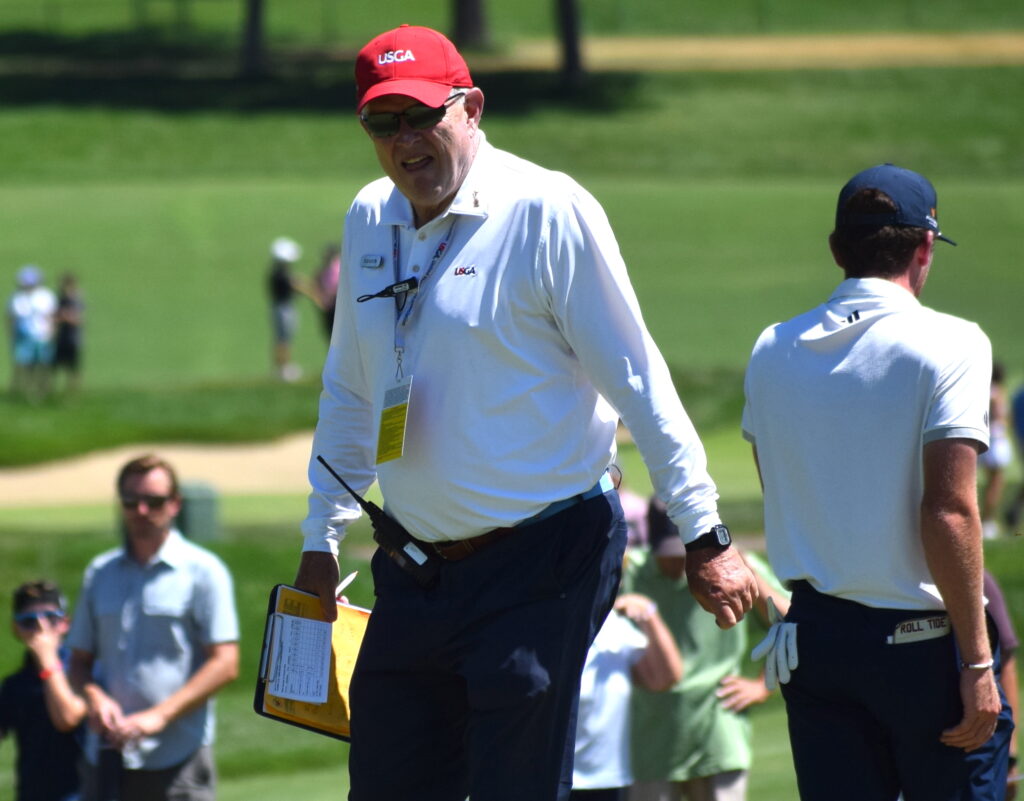 Bob Austin of Denver — and Cherry Hills — refereed Saturday's first semifinal.

— U.S. Amateur Schedule (MT):
Sunday: Scheduled 36-hole championship match, 8 a.m., Cherry Hills
— TV Schedule for U.S. Am (MT):
Sunday: 1-2 p.m. (Golf Channel) and 2-4 p.m. (NBC)


How Coloradans Fared: Here are the results for the players with strong Colorado ties who competed in the U.S. Amateur:
ROUND OF 32 ON THURSDAY
Nick Dunlap of Tuscaloosa, Ala., def. Connor Jones of Westminster, 4 and 2
ROUND OF 64 ON WEDNESDAY
Connor Jones of Westminster def. Vicente Marzilio of Argentina, 4 and 3
Ryggs Johnston of Libby, Mont. def. Colin Prater of Colorado Springs, 21 holes
Jackson Koivun of Chapel Hill, N.C. def. CU golfer Dylan McDermott of Granite Bay, Calif., 1 up
STROKE PLAY ON MONDAY AND TUESDAY
Advanced to Match Play
8. Connor Jones of Westminster, a CSU golfer 68-70–138
26. CU golfer Dylan McDermott 72-69—141
38. Colin Prater of Colorado Springs 74-68–142
Failed to Advance
139. Davis Bryant of Aurora 76-73–149
139. Pat Grady of Westminster 75-74–149
173. Jack Castiglia of Lakewood 74-77–151
173. Future CU golfer Brandon Knight 77-74–151
233. Nick Nosewicz of Aurora 75-80–155
268. Blake Trimble of Denver 76-82–158
268. Future CU golfer Parker Paxton 77-81—158
278. Gavin Hagstrom of Fort Collins 78-81–159
295. Cole Nygren of Longmont 80-82–162
For all the results from the U.S. Am, CLICK HERE.

About the Writer: Gary Baines has covered golf in Colorado continuously since 1983. He was a sports writer at the Daily Camera newspaper in Boulder, then the sports editor there, and has written regularly for ColoradoGolf.org since 2009. He was inducted into the Colorado Golf Hall of Fame in 2022. He owns and operates ColoradoGolfJournal.com