Colorado golf may be new to Nick Dunlap, John Marshall Butler, Parker Bell and Neal Shipley, but that hasn't kept them from making U.S. Am semifinals at Cherry Hills; 3 of final 4 come from SEC
By Gary Baines – 8/18/2023
When the last four players standing out of the 312-man U.S. Amateur field tee it up on Saturday at Cherry Hills Country Club, the Southeastern Conference will be represented by a threesome and the Big Ten by a single.
In other words, guys who know plenty about golf in the South and the Midwest. But before a little more than a week ago, none of them had ever played golf in Colorado. And most had never even been to the Centennial State.
But views of the mountains, nice summer weather (relative to the South and Midwest) and hitting balls crazy long at altitude can quickly grow on you.
"Playing here is unbelievable," said John Marshall Butler of Louisville, Ky., a golfer at Auburn. "It took a little bit of time to get adjusted to the altitude and how far the ball was going. But once I figured that out … The weather here too, man it's just perfect. It's like 80 degrees, sunny, a little bit of wind. I'm like, 'Dang, why can't we get this at Auburn?' No humidity. But Colorado has been awesome."
Added Nick Dunlap of Huntville, Ala., a University of Alabama golfer who is ranked No. 9 in the world among amateurs: "I like hitting driver 380 (yards)."
And, in that same vein, from Parker Bell of Tallahassee and the University of Florida: "You hit some shots and you're like, 'How did it go that far?' I've hit some of the longest drives I've ever hit in my life out here. It's weird when it's 180 and I'm hitting a smooth pitching wedge. You just don't see that a lot anywhere else."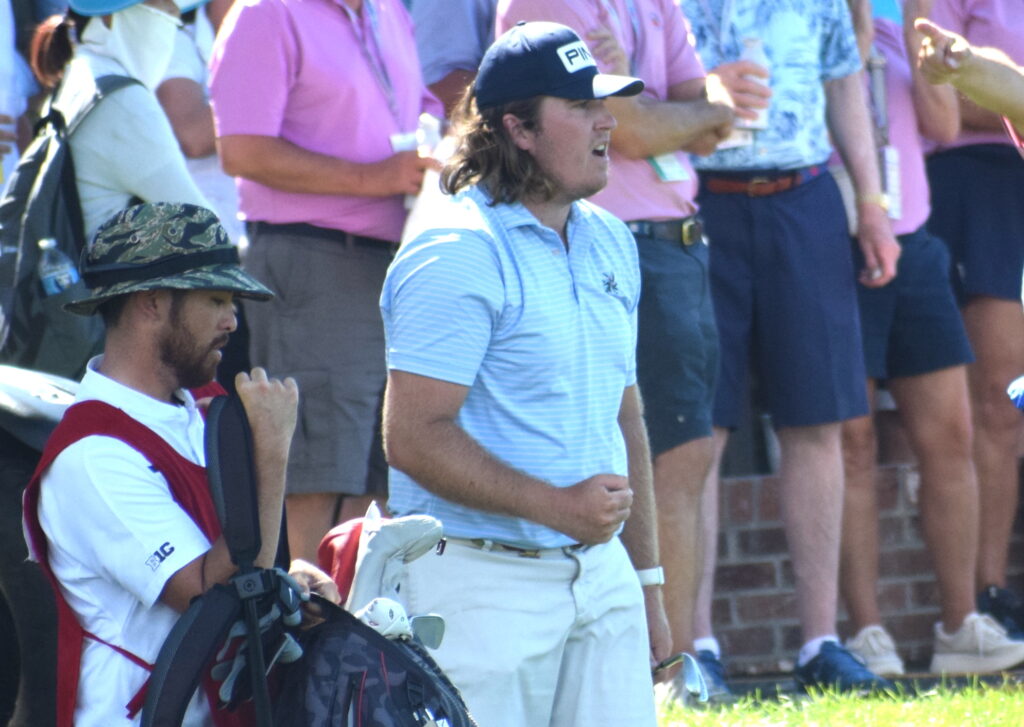 Neal Shipley of Pittsbugh reacts to a good pitch from behind No. 9 green on Friday.



From a Midwest perspective, this from Neal Shipley of Pittsburgh and Ohio State: "It's a different type of game for sure (in Colorado). You hit low shots and it falls out of the air and high shots will go further. I'm just learning some things, but I think we've got the hang of it now. I feel pretty comfortable out here.
"It's just so beautiful, especially during the summer. It's awesome, a great place."
And, of course, it's easier for an elite-level golfer to fall for Colorado when they're having success. And Butler, Dunlap, Bell and Shipley have all not only made the 64-man match-play bracket, but they've won their first four matches to make the final four at Cherry Hills.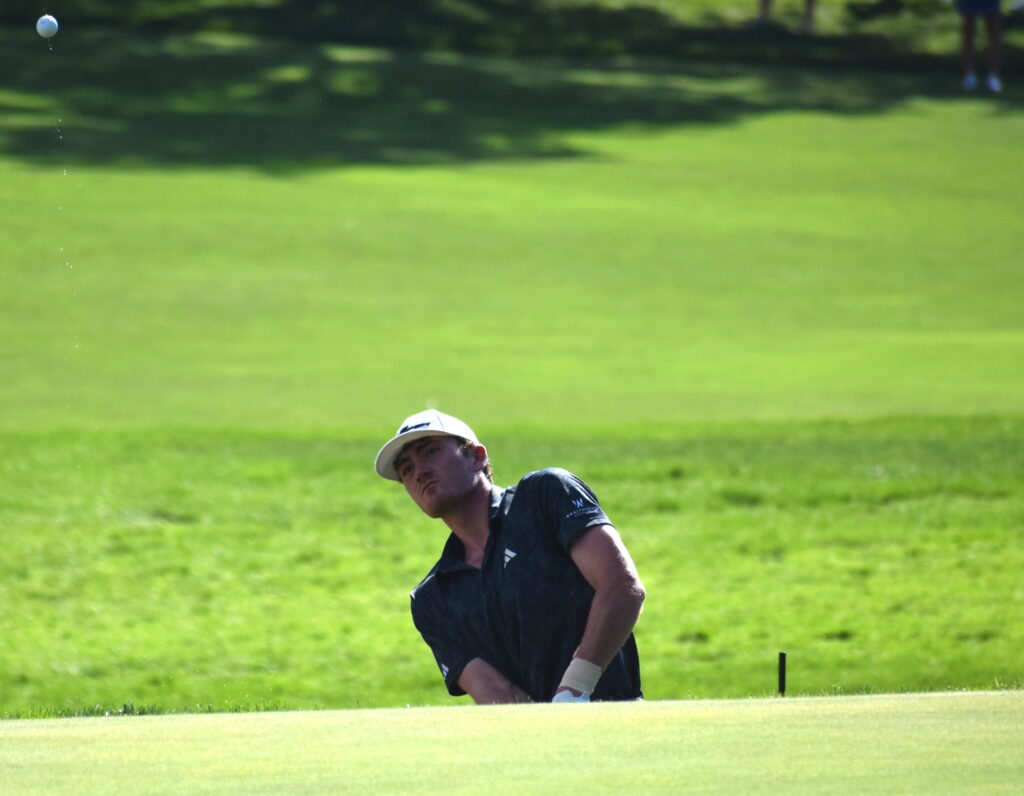 Nick Dunlap had to rally to advance to the semifinals on Friday.



On Friday, two quarterfinal matches went 19 holes, with Dunlap making birdie from 20 feet to defeat incoming freshman Jackson Koivun from rival Auburn, and Bell upsetting the No. 6-ranked amateur in the world, Ben James from Milford, Conn., and the University of Virginia. After James missed a 3-foot bogey putt that would have ended the match on the tough 18th, Then Bell drained a 6-foot birdie on the 19th hole (No. 1 at Cherry Hills) to advance.
"I really thought it was over" on 18, Bell said. "When (James) missed it, it felt like new life, and I'm sure he was pretty boggled by that."
Meanwhile, Shipley, who seems a bit out of the norm with his long hair, rallied after being 2 down through 7 holes to beat Andi Xu of China, 2 and 1. And Butler never trailed in beating Jose Islas of Mexico, 3 and 2.
In Saturday's semifinals, Dunlap will face Bell at noon and Shipley will take on Butler at 12:15 p.m.
While Dunlap is the only top-50 ranked amateur left playing at Cherry Hills, on the other end of the spectrum is Bell, who's ranked No. 534 and couldn't crack the Florida traveling team lineup for the great majority of last season.
But there he was on Friday taking down a top-10 player like James. In fact, Bell never trailed in the match, though James won 16 with a 20-foot birdie and 17 with a 30-foot eagle before both players doubled 18 to force an extra hole. Then on the par-4 19th hole, Bell sent a 5-wood to just off the edge of the green, then got up and down, sinking his 6-foot birdie.
"It was a routine putt," he said. "The only reason you're going to miss it is if you let the pressure get to you," Bell said. "I stuck to my line and rolled it right where I wanted to — and it went in. … I didn't really want it to go any further. When you get a chance like that to win it, you never know if you're going to get another opportunity, so you've got to take advantage.
"Just where I was 15 minutes before then, — like head in my hands, thinking my tournament is over — to all of a sudden I have a chance to win tomorrow and play in the (2024) Masters. Just a huge, huge emotion."
As for Shipley, he said he hasn't had a chance to get a haircut since May, and certainly isn't going to mess with his good mojo this week.
"I don't think we're cutting it anytime soon the way I'm playing," said Shipley, who's ranked 132nd in the world among amateurs after a summer in which he's been runner-up in the Trans-Miss and Sunnehanna and placed third in the Pacific Coast. "I know when I'm playing my best, especially in match play, I'm hard to beat because I keep myself in position so often."
On Friday, Shipley was 2 down after seven, but won the next three holes — despite going bogey-par-par — then closed things out with a birdie on 17.
"It's pretty surreal, honestly," making the semifinals, he said. "You've got to beat so many good players, and I've had a lot of really tough matches. This one is pretty special because I started out kind of slow and had to claw back.
"I've always had a lot of confidence in myself and my game, but I think my game has finally started to catch up to that confidence. Fake-it-till-you-make-it type of deal."
Dunlap — who knocked off the No. 1-ranked amateur in the world, Gordon Sargent, in the round of 64 — like Shipley was 2 down after seven holes on Friday. But a couple of deuces on par-3s allowed him to tie the match. And despite three-putting No. 18 for bogey to tie the hole, Dunlap's putter ended things with his 20-foot birdie on the 19th hole. Koivun couldn't get up and down from the sand and took par.
"Man, it's just so hard to win in this atmosphere, especially with the amount of people that are out here," Dunlap said. "… I think you can get overwhelmed by the situation quickly if you allow yourself to. At the end of the day, it's still golf."
But don't get the 2021 U.S. Junior Amateur champion wrong. He loves the atmosphere at Cherry Hills this week.
"I got to turn around at 18 and just look back and see all the people watching," he said. "It's really cool, the support that the members and the people around give Cherry Hills. It's such a special place. It's got so much history behind it with Arnie and Phil (Palmer and Mickelson winning USGA championships at the course) and the list goes on. And just to be a small part of it is pretty special."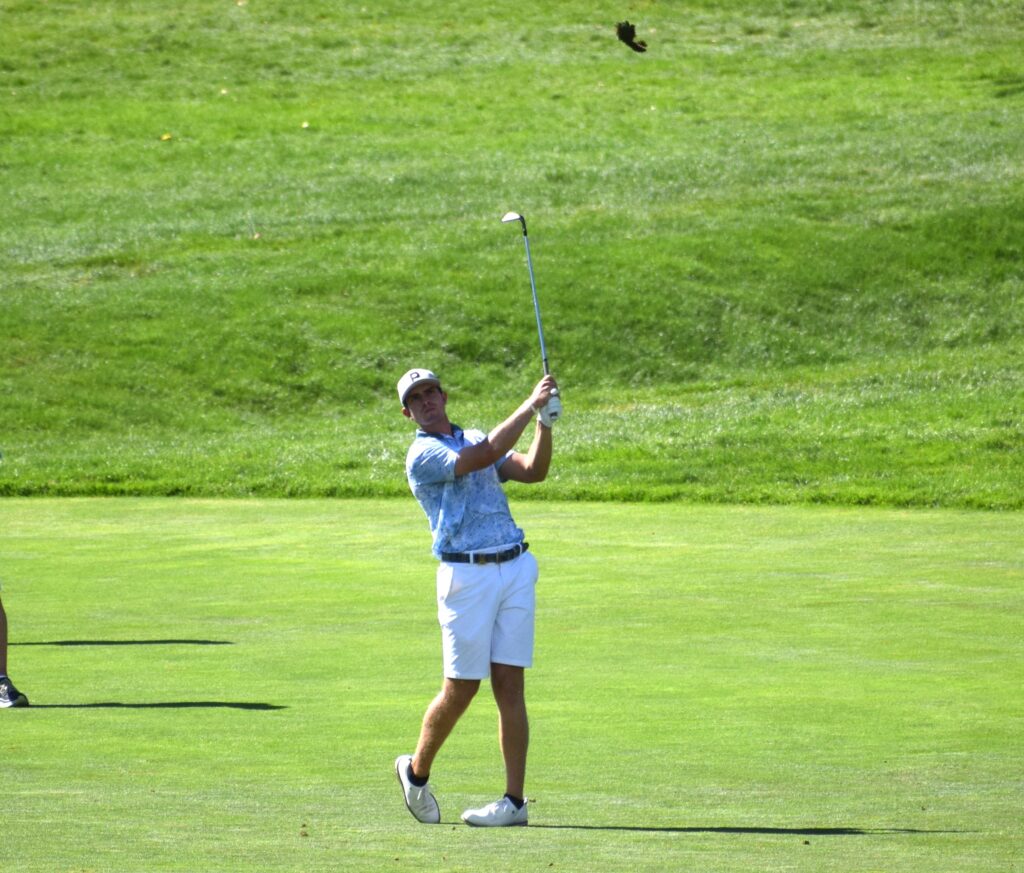 John Marshall Butler had to win two matches on Friday.



As for Butler, he had to play his quarterfinal match after finishing up his round-of-16 competition Friday morning after it had been suspended after 18 holes Thursday night due to darkness. Portable lights illuminated the 18th green late Thursday to allow he and Paul Chang to finish that hole.
On Friday morning, Butler made quick work of winning the extra hole as Chang hit his tee shot right on the par-4 10th hole and took a double bogey, allowing Butler's par to end the match.
"We had a fantastic match, probably one of the best matches I'll have of my life," Butler said. "Yeah, it was unbelievable last night. I didn't sleep too good, either. I was just so pumped up. We went straight to Chipotle and I barely touched my food, and I tried to go to bed, but I probably slept three or four hours last night, honestly. It was just so much adrenaline going."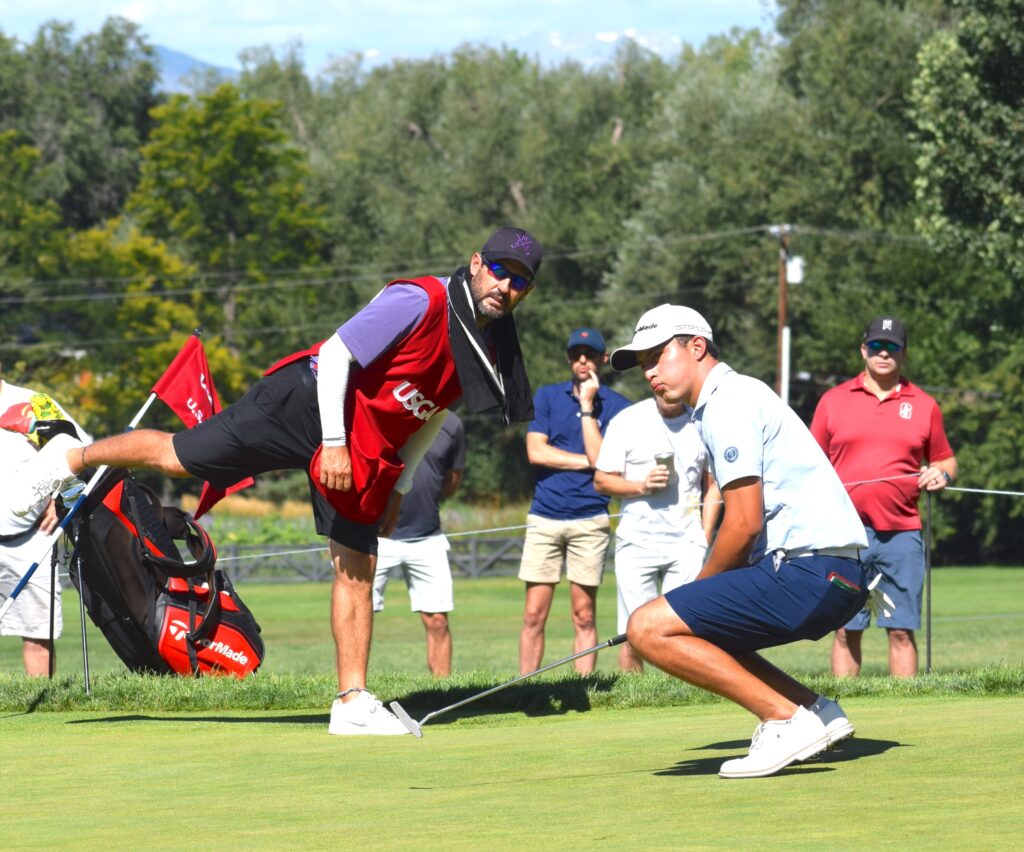 Jose Islas and his caddie couldn't cajole an eagle putt to fall on No. 5 on Friday.



And on Friday, Butler saved a little energy with a 3 and 2 victory that allowed him to skip the 17th and 18th holes.
"It'll be nice to get some rest now that this match is over," he said.
For the record, the semifinals will feature two 19-year-olds — Bell and Dunlap, along with Butler, 21 and Shipley, 22.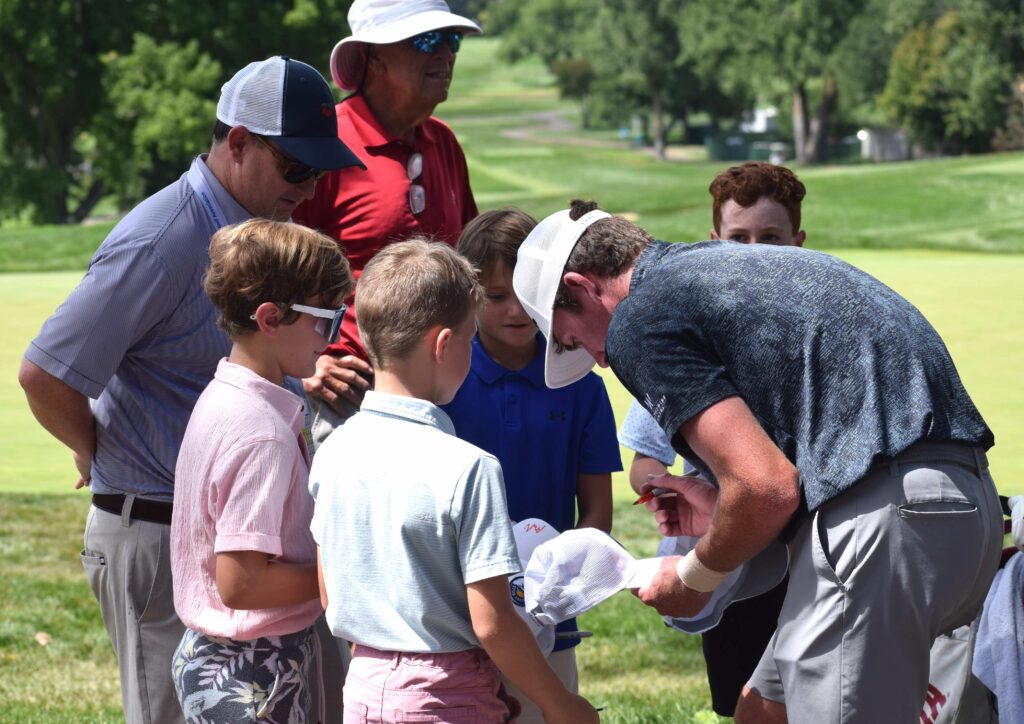 Dunlap drew a bit of.a crowd for autographs after Friday's quarterfinals.



Notable: Shipley will change caddies starting with the semifinals as his previous one has to attend a baby shower. So the semifinalist recruited a good friend, University of Wisconsin golfer Carter Pitcairn, to take over looping duties. … Dunlap's caddie this week is Jeff Curl, a former Korn Ferry Tour player whose dad, Rod, was a longtime regular on the PGA Tour and won the 1974 Colonial National Invitation. … Former Broncos quarterback Peyton Manning, the Cherry Hills Country Club member who's serving as honorary chair for this U.S. Amateur, will see his two kids being the standard bearers for Sunday's 36-hole final. … Speaking of Broncos QBs who are Cherry Hills members, John Elway was among the spectators during Friday's quarterfinals, as was former USGA president Judy Bell, a resident of Colorado Springs. … The par-3 15th hole, which played 143 yards on Thursday, was moved back 102 yards for Friday — to 245. … Tickets for the U.S. Amateur ($25 per day) are available at USAmateur.com


— U.S. Amateur Schedule (MT):
Saturday: Match play semifinals, noon, Cherry Hills
Sunday: Scheduled 36-hole championship match, 7 a.m., Cherry Hills


— TV Schedule for U.S. Am (MT):
Saturday: 1-2 p.m. (Golf Channel) and 2-4 p.m. (NBC)
Sunday: 1-2 p.m. (Golf Channel) and 2-4 p.m. (NBC)


How Coloradans Fared: Here are the results for the players with strong Colorado ties who competed in the U.S. Amateur:
ROUND OF 32 ON THURSDAY
Nick Dunlap of Tuscaloosa, Ala., def. Connor Jones of Westminster, 4 and 2
ROUND OF 64 ON WEDNESDAY
Connor Jones of Westminster def. Vicente Marzilio of Argentina, 4 and 3
Ryggs Johnston of Libby, Mont. def. Colin Prater of Colorado Springs, 21 holes
Jackson Koivun of Chapel Hill, N.C. def. CU golfer Dylan McDermott of Granite Bay, Calif., 1 up
STROKE PLAY ON MONDAY AND TUESDAY
Advanced to Match Play
8. Connor Jones of Westminster, a CSU golfer 68-70–138
26. CU golfer Dylan McDermott 72-69—141
38. Colin Prater of Colorado Springs 74-68–142
Failed to Advance
139. Davis Bryant of Aurora 76-73–149
139. Pat Grady of Westminster 75-74–149
173. Jack Castiglia of Lakewood 74-77–151
173. Future CU golfer Brandon Knight 77-74–151
233. Nick Nosewicz of Aurora 75-80–155
268. Blake Trimble of Denver 76-82–158
268. Future CU golfer Parker Paxton 77-81—158
278. Gavin Hagstrom of Fort Collins 78-81–159
295. Cole Nygren of Longmont 80-82–162
For all the results from the U.S. Am, CLICK HERE.

About the Writer: Gary Baines has covered golf in Colorado continuously since 1983. He was a sports writer at the Daily Camera newspaper in Boulder, then the sports editor there, and has written regularly for ColoradoGolf.org since 2009. He was inducted into the Colorado Golf Hall of Fame in 2022. He owns and operates ColoradoGolfJournal.com