Jay Sigel capped off a historic year with U.S. Mid-Am victory in 1983 at Cherry Hills
By Gary Baines – 07/16/2019
(Note: This is the fifth in an occasional series of U.S. Mid-Amateur articles that will appear on ColoradoGolf.org leading up to the national championship for players 25 and older being held at Colorado Golf Club and CommonGround Golf Course Sept. 14-19. Previously, we published stories on 1986 U.S. Mid-Am champ Bill Loeffler, 2019 U.S. Mid-Am host Colorado Golf Club, second Stroke Play facility CommonGround Golf Course, and Coloradan Kent Moore, who beat a co-medalist at the inaugural U.S. Mid-Am in 1981.)
When the U.S. Mid-Amateur comes to Colorado Golf Club and CommonGround Golf Course in September, it will mark just the second time that championship for players 25 and older will be contested in Colorado.
So it seems only appropriate that we take a look at the previous time the U.S. Mid-Am visited the Centennial State. And a memorable championship it was.
The 1983 U.S. Mid-Amateur was just the third ever held, and Cherry Hills Country Club south of Denver served as host.
Some of the biggest names in golf have won USGA titles and other major championships at Cherry Hills, with Arnold Palmer capturing the 1960 U.S. Open, Jack Nicklaus prevailing at the 1993 U.S. Senior Open and Phil Mickelson at the 1990 U.S. Amateur. Other World Golf Hall of Famers to have take home major championships from the club are Ralph Guldahl (1938 U.S. Open) and Hubert Green (1985 PGA Championship).
Jay Sigel, who won the Mid-Am at Cherry Hills, will go down as one of the most accomplished amateur golfers of all time. His victory at Cherry Hills was one of his five USGA championships, and only three male players have won more: Bobby Jones (9), Tiger Woods (9) and Nicklaus (8). (Sigel is pictured in a USGA photo.)
But what Sigel did in 1983 was especially impressive. Up to that point, just two people in the history of golf had won more than one USGA individual event in the same year — Chick Evans in 1916 (U.S. Open and U.S. Amateur) and Jones in 1930, with his Grand Slam including victories in the U.S. Open and U.S. Amateur.
In 1983, Sigel had captured the U.S. Amateur title in early September in Glenview, Ill. Then just 32 days later, on Oct. 6 at Cherry Hills, the resident of Berwyn, Pa., added the national championship in the U.S. Mid-Am.
"This was something I really wanted to win," Sigel said then at Cherry Hills. "I really felt the heat coming up the last hole.
"Bobby Jones was some kind of person. To even be considered with the guy is a pretty powerful thought."
In a conversation with the USGA published in 2015, Sigel reflected on his USGA double in 1983.
"To have won my second Amateur, that blew my mind," he said. "I was very, very tired. I came to Cherry Hills and got to stay with some very close friends. I certainly was still tired. Thinking about winning two USGA events, I didn't read about it and I didn't know who had done it before or anything like that. So that helped.
"I liked Cherry Hills. I liked the climate. I liked the people. It just so happened that I slipped one by. It was tough. It was a tough year. I did everything I was asked to and more as a defending (U.S. Amateur) champion from 1982 to '83. Then 1983 comes along and I defended, which was fabulous and then I did more things. I was really beat and I can't believe what happened."
Indeed, the win at Cherry Hills almost didn't happen.
Sigel's first three matches were fairly routine, putting him in the quarterfinals for the third time in three U.S. Mid-Ams. In that round, he faced Bob Lewis, Jr., of Warren, Ohio, who was a U.S. teammate of Sigel in the Walker Cup and the World Amateur. Their match extended to 24 holes, which tied the then-record for the Mid-Am. Sigel finally ended things by draining a 25-foot birdie putt on the sixth extra hole.
"I thought I was due on that last putt," Sigel said at the time. "I have hit part of the hole so many times during this tournament that the people I'm staying with were calling me, 'Edgy'. It was just a great match to play in."
Sigel had had to get up and down from behind the 18th green — no easy task at Cherry Hills — just to force extra holes.
Sigel went on to edge former pro Randy Sonnier of The Woodlands, Texas — a Continental Airlines pilot who was on strike — in the final, 1 up. The first 10 holes of that match were halved, but Sigel broke the ice by winning the 577-yard, par-5 11th as he hit a 2-iron from 277 yards to within 5 feet of the cup, and that eagle putt was eventually conceded. After Sonnier won 13 and Sigel 14, the latter came to 18 1 up. After chipping over the green on the hole, Sigel claimed the title by making a 3-foot bogey putt on the 18th hole after Sonnier missed the mark for his par from 10 feet.
"I was obviously rattled on the last hole," Sigel said. "I really choked."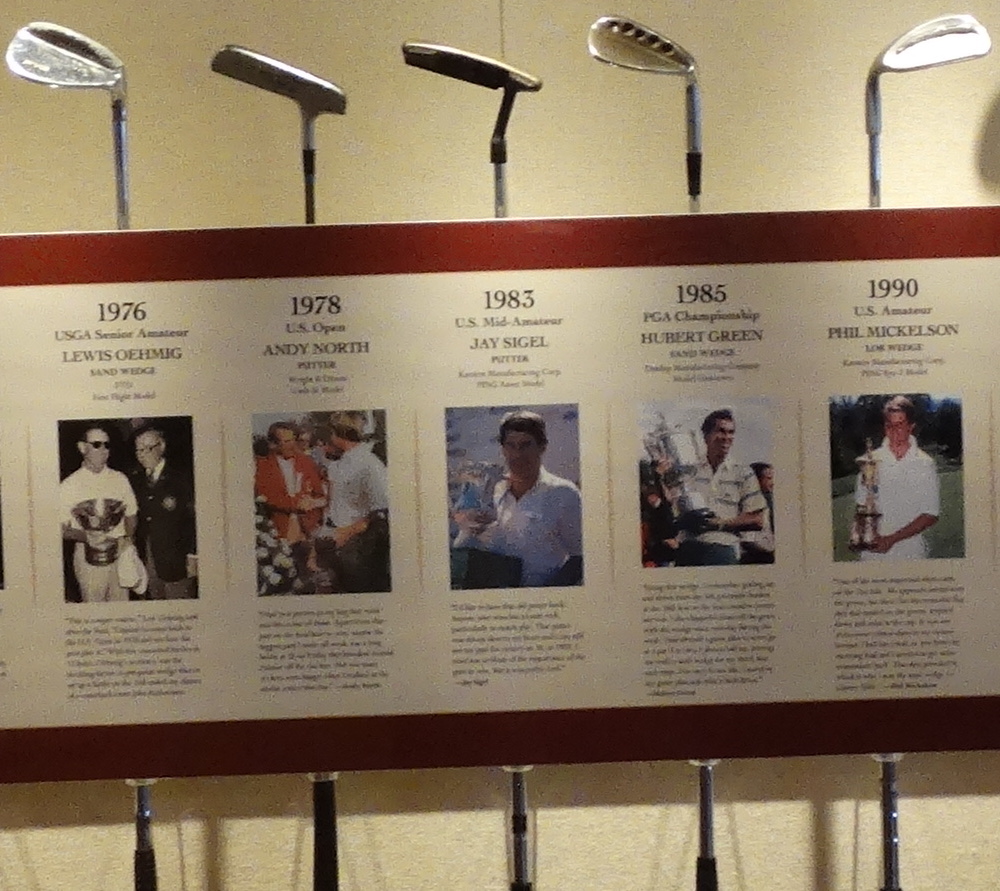 But with that, the 39-year-old insurance executive became the first player since Jones in 1930 to win two USGA individual championships in the same year.
Sigel, the U.S. Walker Cup captain in 1983 and '85, would go on to also win the U.S. Mid-Am in 1985 and '87 after prevailing at the U.S. Amateur in 1982 and '83. It should also be noted that Sigel also almost won the 1961 U.S. Junior Amateur, where he lost in the final 2 up.
"I was delighted when the (U.S. Mid-Amateur) event started in 1981," Sigel told the USGA. "It made a lot of sense. There have been a lot of really nice winners and guys that this really meant a lot to. In my case, it meant a huge amount because it kept me in the game. It was another major tournament for me and to continue competing for the Walker Cup. I say that the USGA kept me in the game, and that enabled me to do some other things as I got older."
After being a lifelong amateur to that point, Sigel turned pro in 1993 when he turned 50 and won eight times from 1994 to 2003 on what is now called PGA Tour Champions.