Colorado Golf Hall of Famer Kent Moore played in inaugural U.S. Mid-Am — and beat medalist; then-USGA president Fred Ridley singled him out decades later for his long run in the event
By Gary Baines – 04/22/2019
(Note: This is the fourth in an occasional series of U.S. Mid-Amateur articles that will appear on ColoradoGolf.org leading up to the national championship for players 25 and older being held at Colorado Golf Club and CommonGround Golf Course Sept. 14-19. Previously, we published stories on 1986 U.S. Mid-Am champ Bill Loeffler, 2019 U.S. Mid-Am host Colorado Golf Club and second Stroke Play facility CommonGround Golf Course.)
In some respects, Kent Moore and the U.S. Mid-Amateur Championship have grown up together in golf.
Moore has long been a member of the Colorado Golf Hall of Fame, having been inducted in 2004. The 63-year-old Centennial resident owns the distinction of having claimed titles in eight different CGA individual championships. In the last 46 years, he's won the 1973 Junior Match Play, the 1986 Amateur, the 1989 Match Play, the 1995 Mid-Amateur, the 2006 Senior Match Play, the 2014 Senior Amateur, the 2016 Super-Senior Stroke Play and the 2017 Super-Senior Match Play.
But in 1981, when the inaugural U.S. Mid-Amateur would be played, Moore was 25 years old when he competed in a qualifying tournament for the championship, which, coincidentally, is limited to players 25 and older. And not only did the former Purdue golfer give it a go, he qualified at Boulder Country Club for the first national Mid-Am, joining fellow current Hall of Famers M.J. Mastalir and Tom Reed in advancing to Bellerive Country Club near St. Louis, host of last year's PGA Championship.
"Up to that point really all I had won was the Junior Match Play, and I was playing in everything, so that was kind of a breakthrough for me in a couple of ways," Moore said recently.
"I ended up beating the medalist," Jay Rustman of Roselle, Ill., in the round of 32. "I made it to the (round of 16) and got beat by O. Gordon Brewer, who became a fairly well-know amateur. He won the U.S. Senior Amateur (twice, in 1994 and '96, and was the U.S. Mid-Amateur runner-up in 1985). It was great fun for me having never really qualified for anything like that."
And now, 38 years and a boatload of golf accomplishments later, Moore hopes he has at least one more U.S. Mid-Am left in him. Despite being north of 60 years old, with the national championship being held at Colorado Golf Club and CommonGround Golf Course in September, he's going to give qualifying another go this summer.
"Absolutely," he said. "My chances are very, very slim, but you and I have both seen some guys sneak in there. Hey, maybe you have a really good putting day or something and you might make it, so I'm for sure going to try. There are so many good players in that 25-40 age category, but I'm going to try.
"One of the biggest accomplishments I've seen in the last 20 years was Robert Polk winning the CGA Mid-Amateur at 52 (in 2007). If you could qualify in your 60s for one of those events — almost 40 years since the first one — that would be fun. You'd have to have a lot of things line up for that to happen. But heck, at my age it's like all fun so you just give it a shot."
The U.S. Mid-Am certainly holds its share of memorable experiences for Moore. He's played in five of them over the years — 1981, '86 (when fellow Coloradan Bill Loeffler won), 2004, '05 and '06 — and made the 64-man match play bracket in his two appearances in the '80s.
But despite not making match play in 2004, that was one he'll never forget. The reason was not something that happened on the golf course, per se, but at the players' dinner that year.
Fred Ridley, the 1975 U.S. Amateur champion who has gained considerable prominence in recent years as chairman of Augusta National Golf Club, in 2004 was the president of the USGA. As such, he was serving as a master of ceremonies for the U.S. Mid-Am players' dinner at Sea Island Golf Club in Georgia.
"The dinner was over and Fred Ridley was MC'ing it," remembers Moore (pictured above in 2004 at Sea Island). "I've always thought he was an impressive, articulate guy. So the dinner is over and he goes, 'Oh, one more thing I'd like to do.' Out of the blue he goes, 'Is there a Kent Moore with us at dinner tonight?' I was kind of shocked, and he goes, 'If you're here, would you come up?' I came up and he goes, 'I just want to introduce you as the only person in the field that played in the first Mid-Amateur and 23 years later is playing with us this year. Congratulations.' He shook my hand and it was like one of the biggest awards I've ever gotten in my life — and it really wasn't an award.
"I think he's a very aware guy (and one of the few U.S. Amateur champions in recent decades to never turn pro). Among golfers, there's goals that you have that only golfers kind of understand that are even significant, and I think he realized that was probably meaningful to me that 23 years later I was still able to qualify for that. He's like, 'I think that's very impressive.' It was just incredibly nice of him to do that."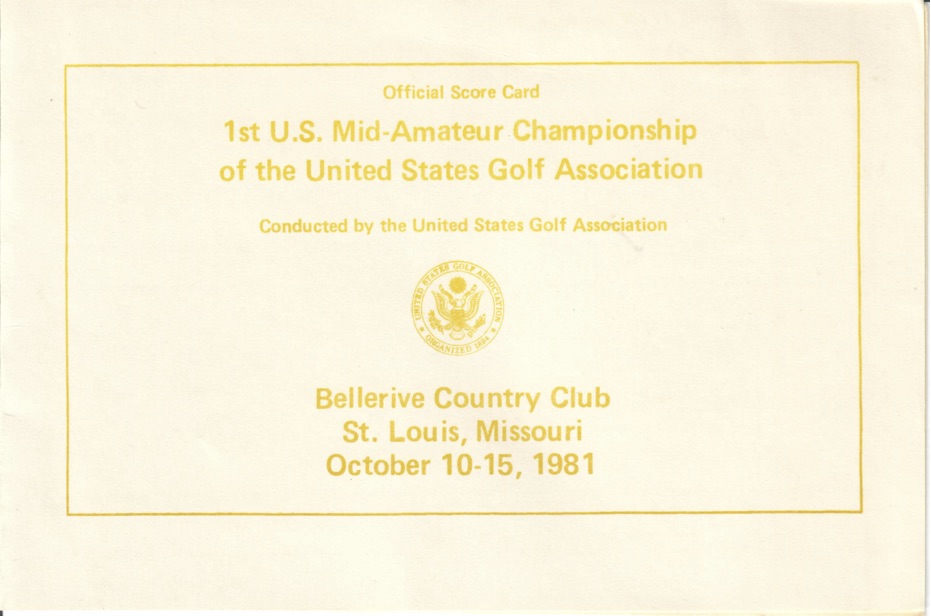 Playing-wise, though, the inaugural Mid-Am in 1981 — the first new USGA championship in 19 years — was the highlight for Moore. Ironically, Ridley also qualified for that first one, shot nearly the same score in the stroke-play portion of the event (151 for Moore vs. 152 for Ridley), and ended up in the same quadrant of the match-play bracket as Moore.
The Coloradan took down Chris Young of Jacksonville, Fla., in his first match, then came up against Rustman, who shared stroke-play medalist honors that year with Jay Sigel, who would go on to win two U.S. Amateurs and three U.S. Mid-Ams during the 1980s.
"I think I was a bit naive, and that was very helpful," Moore said. "It was so much fun to be there. And once I got there, I played fairly decently and got a lot farther than I thought I would.
"I played (early in the week) with a big, skinny guy from Tennessee, and he goes, 'Well, let's have dinner tonight,'" Moore remembered of his 1981 experience. "We go to dinner and it was late and they'd made the pairings and I got the medalist (in a possible second-round match). I remember, I was like, 'Oh my goodness, it looks like I'm going to be going home, I've got the medalist.' And (the golfer from Tennessee) looks at me and with his drawl he goes, 'Kent, big trees do fall.' I was like, 'What a great line.' I said, 'I'll remember that tomorrow.' That was kind of what inspired me to win that match."
And against Brewer in the round of 16, Moore was in position for another victory.
"I had Brewer a couple down with like four (holes) to play," Moore said. "I remember it started raining. In retrospect, if I was a little more experienced, I might have managed it a little better and won. But I'm like, 'I really should have won the match.' But obviously he was a good player. He was extremely serious. Looking back on it, it was a huge deal for him to be there, and he was intent on winning the whole thing (he ended up making the semifinals). And I was kind of like, 'Man, I'm just having a good time.' I guess there was a lesson to be learned there that you don't take those chances lightly."