Matthew Wilkinson goes up by 4 in Colorado Junior PGA boys tourney; Sofia Choi leads tight girls competition
By Gary Baines – 6/29/2021
The Country Club of Colorado in Colorado Springs is proving quite a test in this week's Colorado Junior PGA, the first major of the year for the Junior Golf Alliance of Colorado.
Out of the 90 players competing in the event — 60 boys and 30 girls — a grand total of one is under par following Tuesday's second round.
That would be Matthew Wilkinson of Centennial, the 2020 Colorado Junior Match Play winner who last week qualified for the U.S. Junior Amateur.
The golfer from Arapahoe High School shot a 1-over-par 72 on Tuesday, leaving him at 2-under 140 after two days. He'll take a four-stroke lead into Wednesday's final round. That was despite Wilkinson playing his final eight holes in 5 over par on Tuesday. He finished the round with six birdies, three bogeys and two double bogeys.
Two players share second place at 144. Wes Erling of Colorado Springs, who like Wilkinson landed a spot last week in the U.S. Junior Am, is looking for his second straight JGAC major title after winning the Tour Championship last fall. He posted a 1-under 70 on Tuesday. Tied with him is Charlie Tucker of Castle Pines, who shot his second consecutive 72.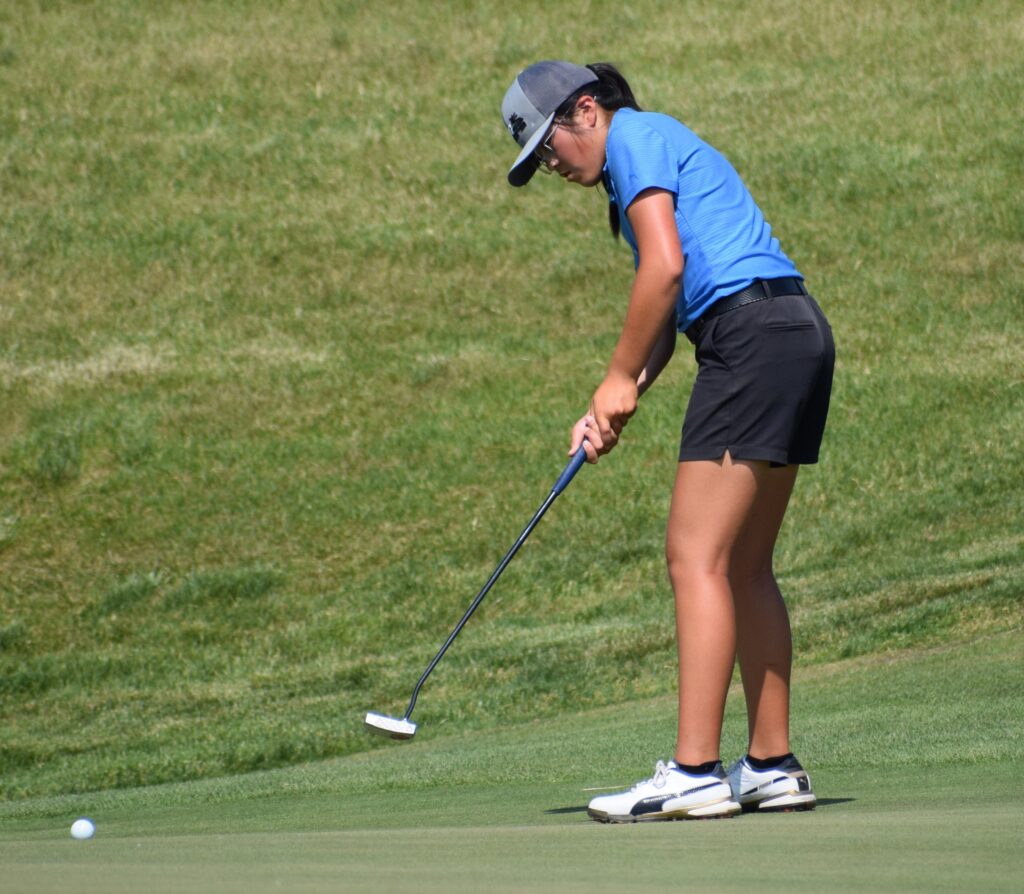 In the girls competition, Sofia Choi of Littleton, runner-up in each of the last two 4A girls state high school tournaments, grabbed a one-stroke lead. The golfer from Mullen fired a 2-over 73 on Tuesday, putting her at 5-over 147 overall. She carded three birdies and five bogeys in round 2.
The player who beat Choi for the 4A state title last week, Jessica Mason of Westminster, sits one stroke behind after her second-consecutive 74. Emma Bryant of Aurora — winner of two JGAC majors in her career, including last fall's Tour Championship — is another stroke back in 149 after posting a second-round 76.
After Tuesday, the fields were cut to the low 30 players on the boys side and the low 15 and ties on the girls.
Besides the Colorado Junior PGA titles, on the line Wednesday will be two spots in each tournament for the national Boys Junior PGA and Girls Junior PGA. The boys national championship is set for July 12-15 in Lexington, Ky., while the girls tourney is scheduled for July 27-30 in Louisville, Ky.
For all the scores from the Colorado Junior PGA click on the following: BOYS, GIRLS.