Coloradan Hailey Schalk, CU teammate Issy Simpson and Canadians Michelle Liu and Lauren Kim qualify at Walnut Creek for U.S. Women's Amateur
By Gary Baines – 6/30/2021
Hailey Schalk is no stranger to breakthroughs at Walnut Creek Golf Preserve in Westminster. Four years ago this month, the golfer from Erie became the first Coloradan — female or male — to win the AJGA Hale Irwin Colorado Junior.
And on Wednesday at Walnut Creek, Schalk landed a spot in the U.S. Women's Amateur for the first time.
"I do like this course, and I know I can play well here, especially after the AJGA," the 19-year-old said after qualifying. "It's nice having played here a bunch of times. I definitely felt more comfortable here."
And to add to the joy of the moment, one of Schalk's University of Colorado golf teammates, Issy Simpson from London, joined her in earning a spot in the U.S. Women's Amateur, which is set for Aug. 2-8 at Westchester Country Club in Rye, N.Y.
In fact, of the four players who advanced, there were two sets of teammates: the aforementioned Buffs duo, plus two Canadian junior national team members Michelle Liu and Lauren Kim, both from British Columbia.
At age 14, Liu gained medalist honors with a 4-under-par 68, while Schalk, Simpson and the 15-year-old Kim matched 70s.
It will be the second U.S. Women's Am for Kim, and the first for the other three golfers.
"It's awesome to go," said Schalk, who earlier this month finished 10th at the CoBank Colorado Women's Open. "I've always lost by a few (in qualifying), so it's definitely nice. I'm really looking forward to it. I love USGA events. I think they're the best events by far. They run them really, really well, the courses are always really nice and they're so fun."
Schalk has now qualified for five USGA championships — this Women's Am, a U.S. Girls' Junior and three U.S. Women's Amateur Four-Balls, though she's just competed in one of those Four-Balls because last year's tournament was canceled and this year's conflicted with the women's Pac-12 Championships.
In order to qualify on Wednesday, it was a bit of a roller-coaster ride for Schalk. After holing a 30-yard pitch shot for eagle on No. 3, she birdied No. 4, bogeyed 5 and made a couple of 2-foot birdies on 6 and 7 that left her 4 under par through seven holes. But bogeys on 8, 12 and 13 left her needing a birdie on the par-5 18th — which, as she'd later learn, would keep her out of a playoff.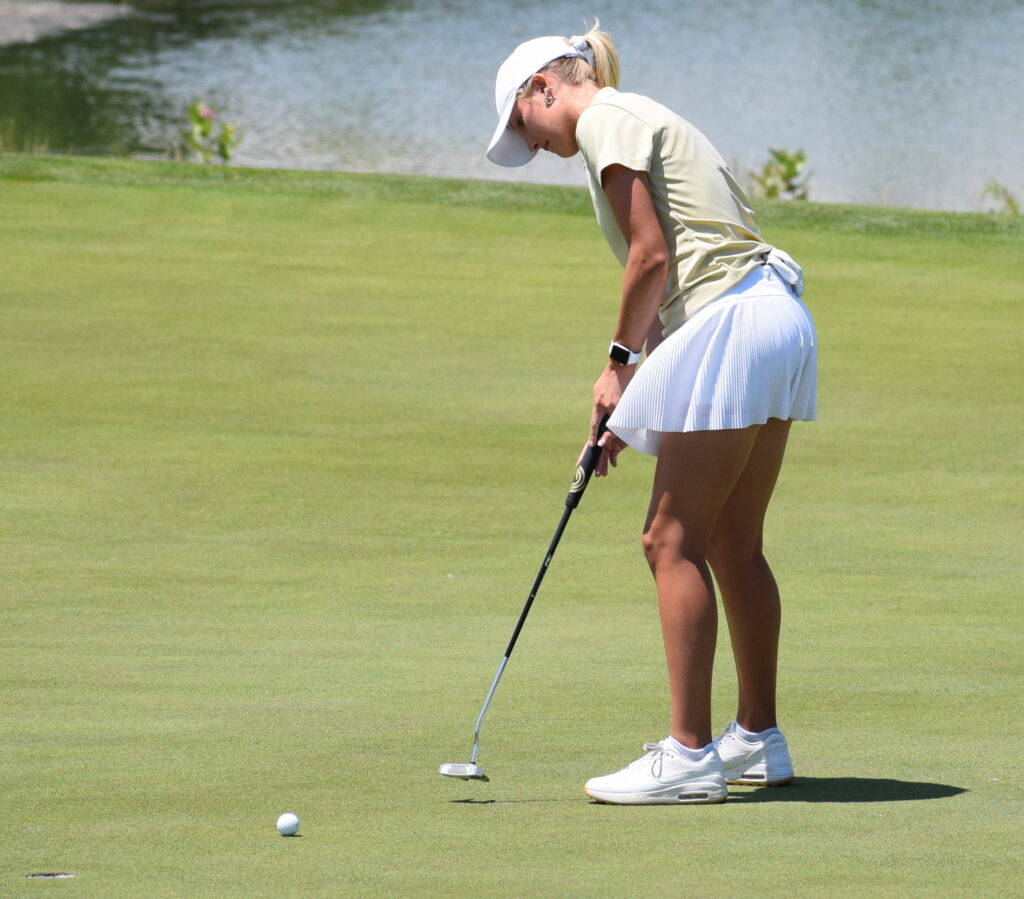 From 230 yards out, she hit a 5-wood just in front of the green for her second shot on 18, then pitched to 5 feet and sank the birdie putt.
"I knew I had to birdie 18 so I went for it (in two)," she said. "I've never gone for that green before."
Meanwhile, Schalk's teammate Simpson birdied 12 and 13 to get to 2 under par, then made 5- and 4-foot "knee-knockers" for par on 16 and 17 to stay there.
"I've played in four USGA qualifiers where I missed out by one — U.S. Opens, Women's Ams and Junior Girls' — so that was definitely in my mind coming down the stretch," said Simpson, who is headed for her first USGA championship of any sort. "But I managed to bury those putts in the heart of the hole. That was a relief."
Simpson, the stroke-play co-medalist in last year's British Women's Amateur before being knocked out in a round-of-64 match, finished Wednesday with five birdies and three bogeys. She was planning to spend the next month and a half back home in London before returning to Colorado, but Wednesday led to a significant change in her summer schedule.
"The plan was six weeks (in England), but now it's three to be there," the 20-year-old said. "It's a good problem to have.
"This means everything because it's been a goal of mine since I first tried qualifying for a U.S. Girls' when I was 16. It's massive. I'm really excited."
Kim, meanwhile, made a nearly-month-long trip to Colorado pay off in a big way. During June in the Centennial State, Kim won the girls division of the AJGA Hale Irwin Colorado Junior at Walnut Creek by 12 strokes, then qualified for both the U.S. Girls' Junior at Lake Valley Golf Club and the U.S. Women's Amateur at Walnut Creek.
"I think it's quite successful these past three weeks here," she said. "I really enjoyed it. I met a lot of good people and played some good courses and obviously played pretty well."
So now, before turning 16, Kim has qualified for the U.S. Women's Amateur twice — and that's with last year's qualifying tournaments canceled. She first advanced to the Women's Am two years ago at age 13.
"I feel really excited to go back," she said after her three-birdie, one-bogey day. "I'm ready to go out there and crush it."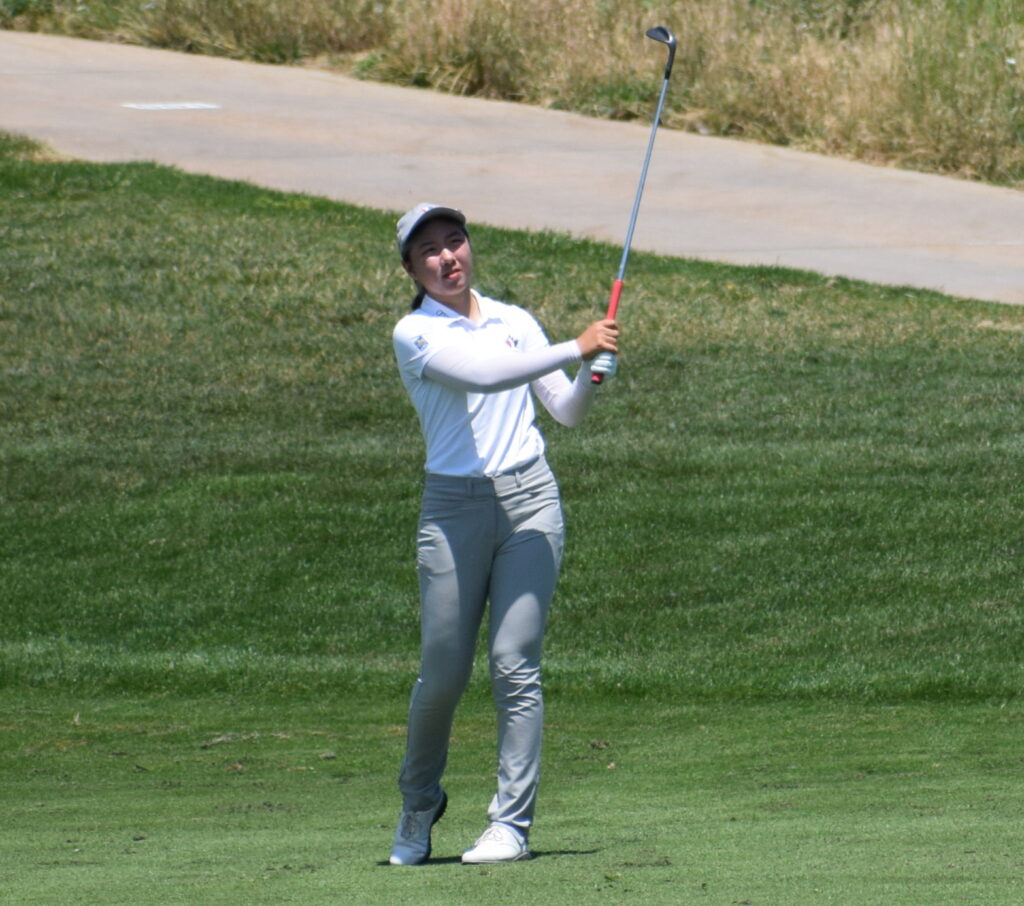 Liu, meanwhile, likewise just spent more than weeks in Colorado, with Wednesday marking her ninth round at Walnut Creek. In her case, she finished second among the girls at the AJGA Hale Irwin Colorado Junior and second alternate in U.S. Girls' Junior qualifying (at Lake Valley Golf Club) before winning Wednesday's Women's Am qualifier.
"You win some, you lose some," she said philosophically.
This time at Walnut Creek, Liu racked up six birdies while making two three-putt bogeys — which isn't too shabby for a 14-year-old. It will be her first USGA championship.
"It definitely means a lot, especially since I didn't qualify for the Girls' Junior again this year," she said. "It's a huge event and has lots of great players, It means quite a bit to be able to tell myself I can play at a pretty high level."
All told, 43 competitors vied for the four available U.S. Women's Am spots on Wednesday.
Among those watching some of the action on Wednesday was part-time Colorado resident Hollis Stacy, a World Golf Hall of Famer who has won four women's major championships, including three U.S. Women's Opens.

U.S. Women's Amateur Qualifying
At Par-72 Walnut Creek Golf Preserve in Westminster
ADVANCE TO NATIONAL CHAMPIONSHIP
Michelle Liu, Vancouver, B.C., Canada 68
Hailey Schalk, Erie 70
Lauren Kim, British Columbia, Canada 70
Issy Simpson, London, England 70
ALTERNATES (In Order)
Chayse Gomez, Yorba Linda, Calif. 71
Sophie Dalfonsi, Bend, Ore. 71
For all the scores from Walnut Creek, CLICK HERE.