Coloradans McCoy, Ott punch tickets to U.S. Amateur; it will be Ott's third straight trip; Texan Martinez also advances
By Gary Baines – 07/08/2019
AJ Ott of Fort Collins qualified for his third consecutive U.S. Amateur on Monday and anticipates it will be his last — for now, at least. Meanwhile, Cal McCoy of Highlands Ranch earned a spot in the first of what he hopes is several trips to the world's most prestigious amateur championship.
All in all it was a good showing Monday at Fort Collins Country Club for the in-staters in the second and last Colorado-based qualifying for the 119th U.S. Am, which will be contested Aug. 12-18 at Pinehurst Resort in North Carolina.
Ott and McCoy were joined by Daniel Martinez of Austin, Texas, a Mississippi State golfer, in earning the three available qualifying spots out of a field that originally numbered 83. (The qualifiers are pictured at top, from left: Ott, McCoy and Martinez.)
McCoy, a University of Denver sophomore-to-be, had the only round in the 60s in the 36-hole qualifier, a 4-under-par 67 in the morning that included six birdies. And he backed that up with an even-par 71 that gave him a two-round total of 4-under 138, good for medalist honors by four strokes.
Ott, a senior-to-be at Colorado State who figures he's played Fort Collins Country Club more than a hundred times over the years, and Martinez matched 70-72–142 totals.
Steve Irwin of Golden, who has competed in three U.S. Amateurs, will have to play a waiting game to see if he makes it four as he's the first alternate after rounds of 71-72.
Under the circumstances, Ott will especially relish his third trip to the U.S. Amateur.
"This will be my last one probably," the 21-year-old said. "If I don't turn pro I probably won't play next summer. I'll probably start working. It'll be bittersweet for sure, but I think it will be cool going back to Pinehurst because I've been there so many times. I used to play the U.S. Kids (Golf World Championship) there when I was 10-11-12 years old. To go to two California spots (Riviera and Pebble Beach) and now North Carolina will be pretty special."
Ott, the 2018 CGA Les Fowler Player of the Year, had an up-and-down day, playing his first seven holes in 3 under par, double bogeying his 18th and 19th holes, then making birdies on two of his last three to just qualify. Overall, he finished with eight birdies, four bogeys and two double bogeys, using his knowledge of Fort Collins CC to earn three straight trips to the U.S. Am.
"I know this course like the back of my hand," he said. "It's awesome (to advance). I didn't have my best stuff today but I finished really strong. I didn't think it was going to be enough. It played tough today."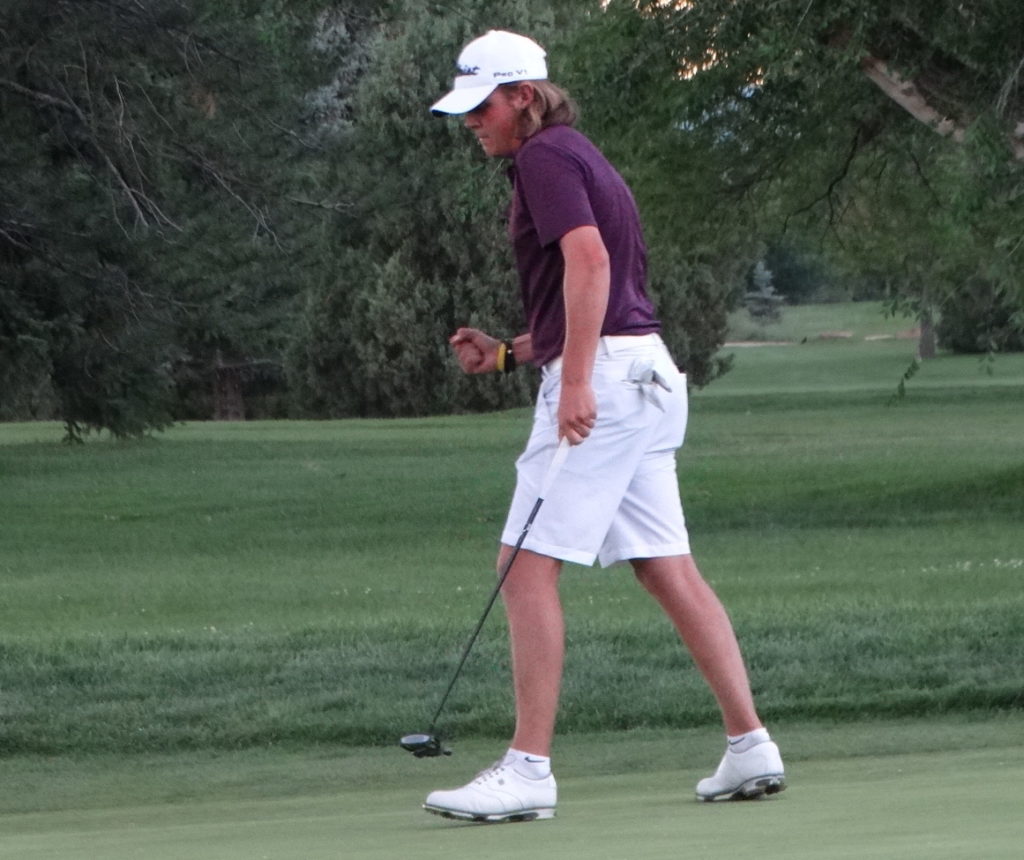 As for McCoy, he continued a run of stellar golf in recent months. In late April he won the Summit League individual title and led DU to the team championship. Last month, he finished runner-up in the CGA Match Play. And on Sunday, he not only qualified for his first U.S. Amateur, but his first USGA championship.
"It means everything honestly" to advance to the U.S. Am, said the 19-year-old, who last year missed the final berth by one stroke at Fort Collins CC. "Everything I've practiced for and played for … It's the best thing ever, so far."
And if McCoy keeps playing like he has, perhaps a berth in match play at the U.S. Am isn't out of the question.
"I think my game is in a really good spot," he said. "When I'm striking it well, it's just a matter of is my short game holding up and keeping me in the round? Am I making a few more putts? I've been doing that the past couple of weeks and it feels good."
On Monday, McCoy finished with seven birdies and just three bogeys, which was an accomplishment considering the rough at the course was more penal than usual. McCoy is no stranger to playing well at Fort Collins CC as he tied for fourth place there in his college opener at the Ram Masters Invitational in September.
"The rough today was really thick around the greens. And if you weren't in the fairway it was really hard to get it on the green," he said. "I was hitting it really well. It can always be better, but I struck it really well and putted it really well. 
"I'm excited to give myself a really good chance again, even though I've been doing that for a long time. It feels good to play well when it really counts."
Meanwhile, on a day that featured two lightning delays, Martinez chalked up an eagle, seven birdies, seven bogeys and a double bogey in an eventful round for the 20-year-old. It will be his first U.S. Amateur.
Last week, when Columbine Country Club hosted the other Colorado-based U.S. Amateur qualifier, advancing were Colin Prater of Colorado Springs, Hayden Springer of Trophy Club, Texas and Andy Spencer of Prairie Village, Kan. For a roundup on that qualifying tournament, CLICK HERE.

U.S. Amateur Qualifying
At Par-71 Fort Collins CC
ADVANCE TO NATIONAL CHAMPIONSHIP
Cal McCoy, Highlands Ranch 67-71–138
AJ Ott, Fort Collins 70-72–142
Daniel Martinez, Austin, Texas 70-72–142
ALTERNATES (In Order)
Steve Irwin, Golden 71-72–143
Jon Lindstrom, Broomfield 72-71–143
For complete results, CLICK HERE.