Colorado Springs' Prater happily finishes in twilight to qualify for his second U.S. Amateur; Springer, Spencer also advance at Columbine
By Gary Baines – 07/01/2019
Colin Prater enjoys playing golf quickly, so Monday evening proved to be right in his wheelhouse. 
With the 36-hole U.S. Amateur qualifying tournament at Columbine Country Club being delayed for 2 1/2 hours in the afternoon by the threat of lightning, it seemed a certainty that the event would have to be concluded on Tuesday morning.
That appeared especially true for Prater, the 2016 CGA Amateur champion who was in the last group of the day. The 24-year-old from Colorado Springs had not yet even completed three holes of his afternoon round, and play didn't resume until about 5:55 p.m. 
Considering sunset was scheduled for 8:32, getting in 15-plus holes of competitive golf in that short a period certainly didn't look promising.
But Prater (pictured above) did the improbable by not only finishing his second round — well past sunset, at about 8:55 p.m. — but playing well enough in the process to qualify for his second U.S. Amateur.
"I kind of just got in a good rhythm," he said.
In fact, Prater shot a 4-under-par 68 in his second round — the same score he did in his first — for an 8-under 136 total, which gave him second place in the 83-man field. And with the top three finishers earning berths in the U.S. Am — set for Aug. 12-18 at Pinehurst Resort in North Carolina — it was good enough for another trip to the top amateur championship in the world.
Prater previously qualified at Columbine for the U.S. Am in 2016.
"It's awesome — such a good feeling," the former University of Colorado-Colorado Springs golfer said. "I struggled in the (CGA) Match Play a little bit (last month), but worked on some things. I had to lean on my short game a little bit today, and it held up to the test."
Joining Prater in advancing on Monday were Hayden Springer of Trophy Club, Texas, northwest of Dallas, and Andy Spencer of Prairie Village, Kan.  Springer, a former Texas Christian University golfer who outdueled 2018 U.S. Amateur champion Viktor Hovland to win the Big 12 Conference individual title in April, landed medalist honors Monday at 10-under-par 134 (67-67). Spencer, a University of Kansas golfer, took third place and the final U.S. Am berth with a 138 total after carding a couple of 69s.
So how was Prater able to not only finish on Monday night — technically more than 20 minutes after sunset — but play his final 10 holes in 4 under par to qualify for the U.S. Am?
"I could still see the grass on the green and still was able to read the putt," he said. "I've played at times where you literally can't really see where the hole is. It was kind of hard to shoot the pin from the fairway with a rangefinder, but I kind of went old school and paced it off and hit it on the green.
"We played 16 holes in three hours" following the lightning delay. "We just kind of kept on playing. It was great that the group in front of us completely withdrew. If all of them don't withdraw, we don't finish (on Monday). We were moving really good (and the group in front) was moving, so it was awesome. I never thought we'd be here completing 36 today."
For the day, Prater finished with 11 birdies and three bogeys.
"I made some poor swings here and there my last nine, but I was able to get it around and get it in the hole," he said. "I putted well today. I probably only missed one or two putts inside of 10 feet all day."
The other time Prater qualified for the U.S. Amateur, he did so with Wyndham Clark and Tristan Rohrbaugh at Columbine in 2016. Clark is now on the PGA Tour and has posted top-20 finishes each of the last two weeks.
"This time I wasn't nearly as nervous" as in 2016, Prater said. "I don't know if it was just because we were trying to finish. I literally did not have time to (overthink) the shot. It was just step up, pick a good line and hit it. That helps me because when I play at home, I'll go out in the evening and play 27 holes in 2 1/2 hours. You hit a shot, you don't really think about it, you get your yardage, you hit your next shot. So it worked out."
So the U.S. Am will be a fun way for Prater to finish up the summer before starting a new job teaching science at Doherty High School in Colorado Springs. By the way, he's also applied to be the girls golf coach at the school, which certainly wouldn't be a bad hire. After all, not many girls high school teams in the state can say their coach recently competed in the U.S. Amateur.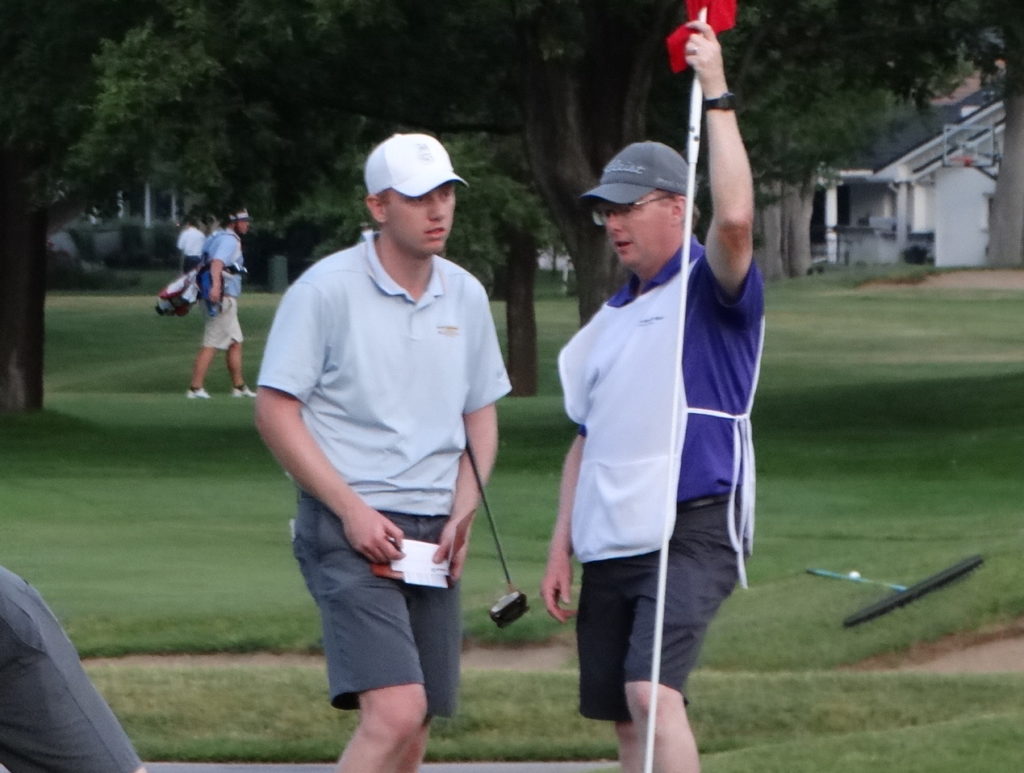 As for Springer, the U.S. Amateur will likely be his amateur finale before turning pro and playing for money.
"It's nice to get a chance at the best amateur tournament one more time. Then I'll turn pro right after that," said Springer, who will finish his final semester at TCU in the fall before graduating in September.
Given what's happened before and since the Big 12 tournament in the spring, Springer certainly has reason to be proud of winning that conference title as a senior. After all, he was paired with Hovland in the final round and prevailed by one stroke. This is the same Hovland that not only won last year's U.S. Amateur, but was low amateur in both the Masters and the U.S. Open. The former Oklahoma State player turned pro immediately after the U.S. Open last month.
"It was nice to get to play with (Hovland) just to see how the guy plays because I know that he's the best right now," Springer said. "It was a boost of confidence that one-on-one I could take him."
But the Big 12 victory was hardly a one-hit wonder for Springer. Last year, the Texan won the Trans-Mississippi title. And in 2016 he Monday qualified for the FedEx St. Jude Classic on the PGA Tour.
On Monday, Springer didn't seem to miss a beat after having just played Columbine just once — and only finishing 14 holes. And he'd only competed in Colorado once before. But he finished the day with an eagle (from 40 feet on No. 13 in the afternoon), 11 birdies, a bogey and a double bogey. He punctuated his day with a 20-foot birdie on his 36th hole, No. 9. 
"It's actually pretty fun coming from sea level to here because you hit it so far," Springer said. "It's fun to be able to pull 8-iron from 200 yards. At home it's like 165-170. On No. 1 in the morning I hit 4-iron about 285 yards. I was kind of surprised."
This year's U.S. Amateur will be the second for the 22-year-old Springer, who also competed in 2017.
As for Spencer, he carded an eagle, 11 birdies, five bogeys and a double bogey on Monday.
A second Colorado-based U.S. Amateur qualifying tournament will be held July 8 at Fort Collins Country Club.


U.S. Amateur Qualifying
At Par-72 Columbine CC in Columbine Valley 
ADVANCE TO U.S. AMATEUR
Hayden Springer, Trophy Club, Texas 67-67–134
Colin Prater, Colorado Springs 68-68–136
Andy Spencer, Prairie Village, Kan. 69-69–138

ALTERNATES (In Order)

Noah Hofman, McCook, Neb. 65-74–139
Coby Welch, Highlands Ranch 70-70–140
For all the scores from Columbine, CLICK HERE.