38 years after competing in the first U.S. Mid-Amateur, 63-year-old Moore qualifies for 2019 championship, joining fellow Coloradans Lysaught, Call and Axlund; Call, a member at Colorado Golf Club, will be playing national championship at his home course
By Gary Baines – 08/19/2019
There was no shortage of intriguing storylines that came out of the U.S. Mid-Amateur qualifying tournament on Monday at The Club at Inverness in Englewood.
Of the four golfers who qualified for next month's Colorado-based national championship, you had this:
— Colorado Golf Hall of Famer Kent Moore of Centennial, who played in the first U.S. Mid-Am in 1981, qualified again this year at age 63, which is no small feat considering the tournament is limited to players 25 and older.
— Former University of Colorado golfer Matt Call of Castle Rock, who has the distinction of having been the player of the year for both the CGA and the Colorado PGA — in separate years, obviously — qualified for his first USGA championship in 19 years, and it will be contested at his home course, Colorado Golf Club in Parker.
— Ryan Axlund of Englewood qualified for his third USGA championship, and two of them will have been held in his home state, the 2012 U.S. Amateur at Cherry Hills Country Club and this year's Mid-Am at Colorado Golf Club. Axlund is a former member — and a former club champion — at The Club at Inverness where Monday's qualifier took place. In another oddity, Inverness was the course where Axlund qualified to get into the 2012 U.S. Am.
— And David Lysaught of Denver made qualifying for his first USGA championship a particularly memorable experience as he'll be sticking very close to home for family and friends to come watch.
Lysaught made a 60-foot chip-in for birdie on No. 16 en route to earning medalist honors on Monday with a 1-under-par 69. Moore, in the first group to tee off, birdied the first three holes — including a 2-footer on the 227-yard third — and overcame a double bogey to shoot 70. Call and Axlund each chalked up four birdies in also carding 70s.
(The qualifiers are pictured above, from left: Lysaught, Axlund, Moore and Call.)
The national tournament is set for Sept. 14-19, with Colorado Golf Club hosting each of those days and CommonGround Golf Course in Aurora serving as the second course for the stroke-play portion of the championship Sept. 14 and 15.
Beyond the four qualifiers, two players earned alternates spots for the U.S. Mid-Am. The nine golfers who shot 71 on Monday played off for those two spots, with Steve Irwin of Golden prevailing on the fifth extra hole after fellow former CU golfer Norton Rainey of Colorado Golf Club hit two tee shots out of bounds there. Irwin, a former CGA Player of the Year and the son of three-time U.S. Open champion Hale Irwin, has played in a dozen USGA championships, including the 2011 U.S. Open.
Moore, a vice-president on the volunteer CGA board of directors, has previously competed in the U.S. Mid-Amateur in 1981, '86, 2004, '05 and '06 and now is adding another one at age 63 in 2019.
"It's so much fun for me," he said. "Thirty-eight years (between his first and latest Mid-Ams) is a long time. In 2006 when I qualified at age 50, that was good, but no big deal. A lot of guys are doing that. But to do it almost 40 years later (after the first one) is really, really fun. And of course I'd love to play Colorado Golf Club."
Not only did Moore play in the first U.S. Mid-Am in 1981, but that was his first USGA championship. And he went on to beat the stroke-play medalist in the round of 32 and made it as far as the round of 16.
When Moore was interviewed about the U.S. Mid-Amateur in April, he noted he was going to try to qualify for this year's championship, but downplayed his possibilities.
"My chances are very, very slim, but you and I have both seen some guys sneak in there," Moore told ColoradoGolf.org in the spring. "Hey, maybe you have a really good putting day or something and you might make it, so I'm for sure going to try. There are so many good players in that 25-40 age category, but I'm going to try.
"One of the biggest accomplishments I've seen in the last 20 years was Robert Polk winning the CGA Mid-Amateur at 52 (in 2007). If you could qualify in your 60s for one of those events — almost 40 years since the first one — that would be fun. You'd have to have a lot of things line up for that to happen. But heck, at my age it's like all fun so you just give it a shot."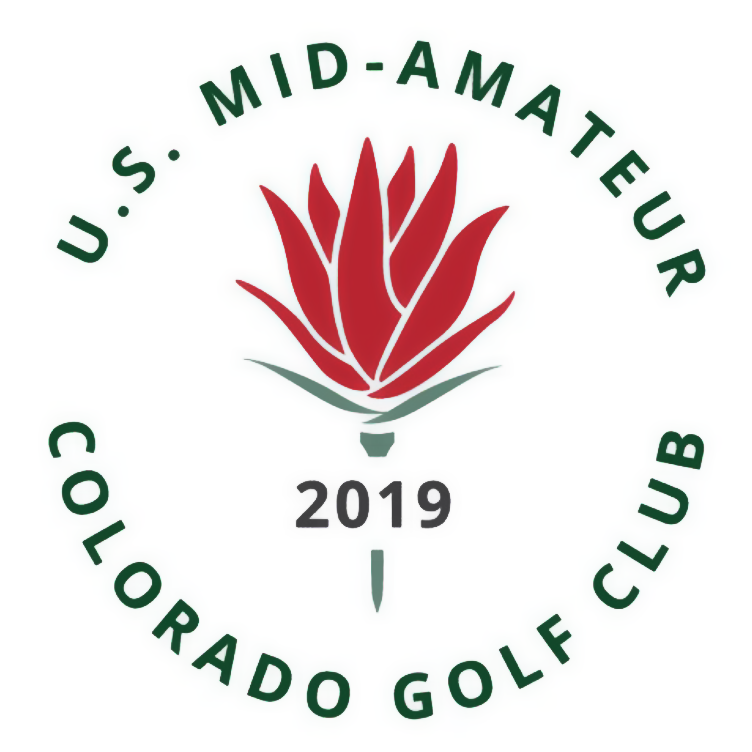 And now the longshot has become a reality for Moore, who will certainly be one of the oldest players in the field at the U.S. Mid-Am next month. It will be his 11th USGA championship overall.
Interestingly, Moore's age-related accomplishment comes directly on the heels of another. On Sunday, he won his sixth club championship at Cherry Hills Country Club — to go along with five victories in the senior club championship — and thus became the oldest winner of that event, according to Cherry Hills head golf professional John Ogden.
"I don't think anybody has ever won them both" — the overall and senior club championship — in the same year, said Moore, who has captured eight different CGA individual championships during his career. "But I've played a ton of golf (recently, with 18 holes on Friday and 36 each on Saturday and Sunday, so to shoot 70 today … I thought I might come out and hardly be able to make it around. I'm happy with that. Obviously I would have liked to have done better on No. 7 (a double bogey). But to start out with three birdies was really nice.
"I really like this place (Inverness). One time they had the Colorado Open here and I shot 66, which is my best competitive round probably ever. It sets up well to my eye."
To read a story on Moore's past experiences at the U.S. Mid-Amateur, CLICK HERE.
In contrast to Moore, Call will be playing in his first U.S. Mid-Amateur next month. In fact, he had never even tried to qualify for the event, but with the national championship being played at his home club, he certainly wasn't going to miss giving this one a try.
And the attempt proved a dream come true for the 41-year-old, who was the CGA Player of the Year in 2000 and the Colorado PGA Player of the Year in 2006 and '07. Call competed in five USGA championships while a CU golfer — the 1999 U.S. Open, two U.S. Amateurs and two U.S. Amateur Public Links. He turned pro in 2002, played in the 2007 PGA Championship, qualified for a 2008 Nationwide Tour card, then regained his amateur status in 2011.
In 2012, he joined Colorado Golf Club.
And now, 19 years after last competing in a USGA championship, Call will play in his sixth — and at his home course no less.
"Now I've got three kids and my wife and they're going to come out," he said with a smile. "And a USGA championship is so special. I just got off the phone with my wife and I said, 'You don't know how bad I wanted this one today, honey.' And I did. I wanted it too bad because I made some mistakes out there. So I'm thrilled.
"For me it's just so cool. I've never tried to qualify for a U.S. Mid-Am, and to have it at Colorado Golf Club is pretty darn special. I just couldn't be more thrilled. Here in Colorado where I grew up and at Colorado Golf Club, it's going to be a lot of fun."
To add to that fun, Call has enjoyed some success this year at CommonGround, where he advanced to U.S. Open Sectional Qualifying.
"I'm excited. I'm ready to get into match play" at the U.S. Mid-Am, he said.
Call estimates he's played Colorado Golf Club more than a couple of hundred times in his lifetime.
"I'd love to say it's a gigantic advantage, but it's not," he said. "These are the best mid-amateurs in the country. There will be some advantage for sure. I've played a lot of rounds of golf out there, and knowing some of the nuances of the greens and where you've got to leave it in the fairway to have a good approach shot will certainly be an advantage. And (I know) how to play (the tricky par-5, No.)16 from the new tee."
As for Axlund, he too was looking forward to Monday's qualifier, given his past membership at Inverness, having won a club title there and qualifying for the 2012 U.S. Amateur at the course.
"I have comfort out here knowing I've been through these qualifiers on this golf course before, so to come back out here knowing I have another chance, you feel good," the 38-year-old said.
This will be Axlund's second U.S. Mid-Am — he played in 2017 in Atlanta — but it's certainly an oddity to have qualified for multiple USGA championships and to have the majority of them be contested in your home state.
"It's a pretty awesome situation to get yourself into," he said. "I'm super excited to be able to get into a USGA event that's local. It's always a special event, but it's more special to (compete in one in Colorado) because you get so many more people who support you when you're local. That's the fun part — being able to have friends and family following you. It's awesome."
As for Lysaught, he'll be experiencing a USGA championship as a competitor for the first time after his four-birdie, three-bogey day at Inverness on Monday.
"I don't really get to play too much tournament golf anymore, so it's going to be awesome," the 34-year-old said. "It would be fun to travel to a venue somewhere else (for his first USGA championship), but representing the state and having the family come check it out is going to be pretty cool."
But in Colorado or elsewhere, competing in that first USGA national tournament is an experience not to be forgotten.
"It's huge," he said. "I play in two or three tournaments a summer now, and it's always the USGA qualifiers that I kind of circle on the calendar. I'm just ecsatic, to be perfectly honest."
Lysaught played golf at Spring Hill College in Alabama after earlier qualifying for the national Junior PGA Championship. But he said qualifying for the U.S. Mid-Amateur "is by far the highlight" of his golf career.
Monday was the second and final Colorado-based qualifier for the U.S. Mid-Am. Last week at Omni Interlocken Golf Club in Broomfield, advancing to the national championship were Nick Nosewicz of Aurora, Charlie Sahlman of Denver, Michael Harrington of Colorado Springs and Charlie Santaularia of Lakewood.
Coincidentally, the medalist at Omni shot 69 — just like on Monday — and the three other qualifiers shot 70 — again, just like Monday.
Two Coloradans have qualified in other states for the U.S. Mid-Am so far: Stephen Powers of Denver, who shot 68 and finished third on Aug. 12 in Channahon, Ill., and Jay Livsey of Wheat Ridge, who was medalist with a 69 in Wahiawa, Hawaii on Aug. 6.


U.S. Mid-Amateur Qualifying
At Par-70 Club at Inverness in Englewood
ADVANCE TO NATIONAL CHAMPIONSHIP
David Lysaught, Denver 69
Kent Moore, Centennial 70
Matt Call, Castle Rock 70
Ryan Axlund, Denver 70
ALTERNATES (In Order)
Steve Irwin, Golden 71
Norton Rainey, Parker 71
For complete scores from Inverness, CLICK HERE.